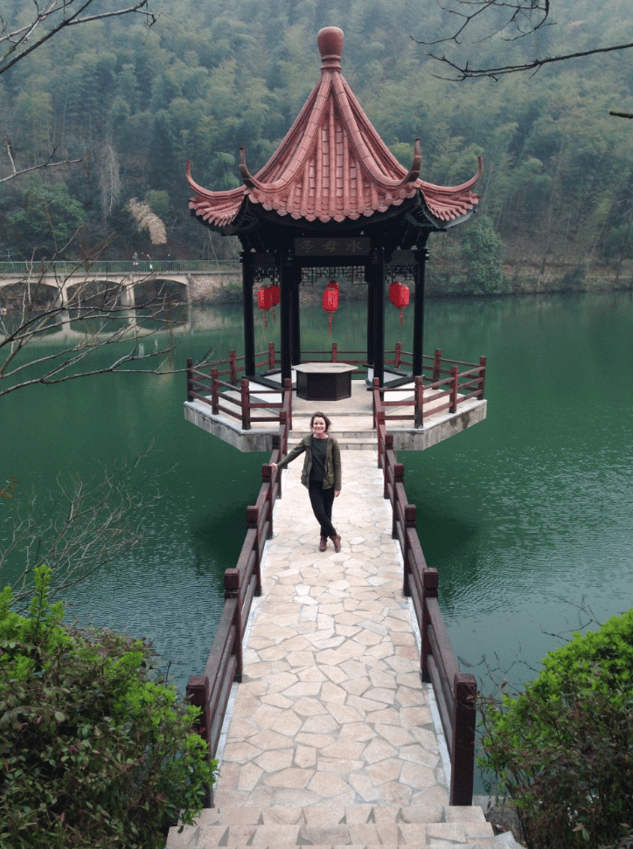 If you're in the Shanghai or Wuxi area, consider adding this bamboo forest to your trip.
When in China, there are just some things you have to see. The Great Wall of China, the Forbidden City, and of course, a bamboo forest.
A visit to China has got to be on your bucket list. Everything from ancient Buddhist temples to an actual world wonder is right there at your fingertips. Add on teaching English to adorable kids, eating amazing noodles and tons of inexpensive shopping? Sign me up!


---
Ready to come join us for your semester abroad in China?
Come see what our volunteer program is like!
---
When I was living in China as an ILP Volunteer, this amazing bamboo forest was just a couple of hours away, aka the perfect weekend trip. Pack your camera because it turns out that seeing so much bamboo in one place is super gorgeous.
Exploring Yixing
Basically this place is a national park full of bamboo, pagodas and palaces and rope bridges over inky black lakes, aka super awesome.
Buy Your Tickets
Get a student discount (half off!) on your entry ticket and get to exploring. Tickets are around $12 without the discount.

The park is open from 8:00 to 4:30 or 5:30, depending on the season (Summer season is open later).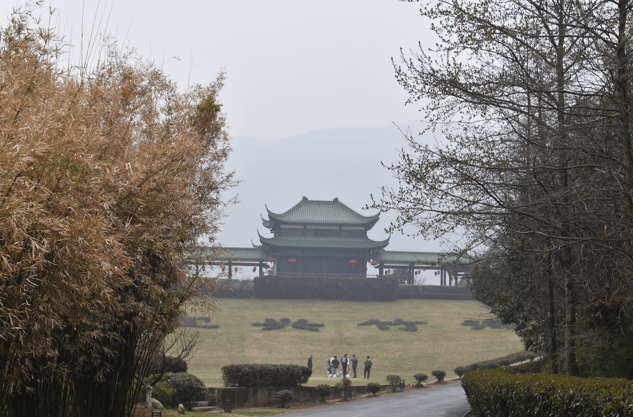 Highlights — Take the Gondola
You can walk through trails straight through bamboo but don't forget to see the sites from up top. I bought a one-way gondola ticket and hiked the rest of the way down and highly recommend it. The forest of bamboos create a leafy ocean across rolling mountains when you see the forest from above. It looks like you can just dive right in and swim around in all the bamboo. We packed a picnic to eat while we rode to the top; it will take a few minutes to reach the tall pagoda on top of a bamboo covered mountain.
Gondola prices are around $11 for a roundtrip ticket.
You can also rent bicycles for about $1 (or $2 for a tandem bike).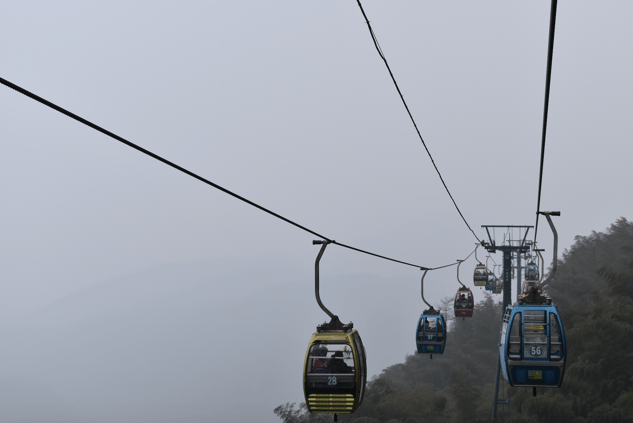 Insider Tips — Bring Your Camera
Take pictures of yourself pounding on the massive drums that are at the base of the huge pagoda and then start walking down. The hike down is beautiful and gets you right in the thick of all the bamboo. It's pretty steep, so take breaks and give encouragement to those who are climbing up — that would be a workout!
Fun fact: there's a reputed "oxygen bar" halfway down the hike where a sign suggests you take a minute to breath the freshest air. You'll also get stopped for photos which is always a fun time.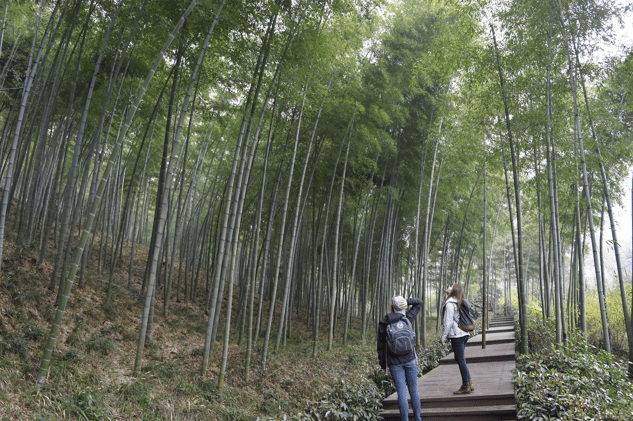 How To Get To Yixing
My ILP group and I spent a day or two in Wuxi (I highly recommend hanging out with the massive bronze Buddha statue there) before catching a bus to Yixing.
Take A Bus
Buses go from Wuxi to Yixing every 20 minutes or so; we bought our tickets from a kiosk at the Wuxi bus station. If you can't find a ticket vendor, ask someone for help because the kiosks are all in Chinese. Or match up the characters for "Wuxi", "Yixing" and "bus" like we did and pray you get the right tickets (We used the "Pleco" app to help us out with that — get more details on apps you need while traveling here.
From the train or bus station in Yixing, hop on city bus #1 for a bus ride that whizzes you past strawberry fields if you go in the spring (the bus ride is an hour and a half, and is very cheap — around $4-5).
Peek out the window and slowly start to see more and more bamboo. It's not very tall or dense at first, but suddenly you get to the last stop and you hit an ocean of tall, green bamboo. It's huge and looks like something out of a movie.
Take A Train
Many trains also go straight to Yixing if you just want to visit for the day. Day trips are awesome; it's way fun to get out of your city and cram a Saturday full of exploring China. This website makes booking train tickets super easy — and this blog post can help you read a Chinese train ticket even if you don't speak Mandarin.
Don't Make My Mistake
Check out the bus schedule before you go and don't lose track of time when adventuring in the bamboo. We missed the city bus and ended up hiring a private car to take us to the train station back to Wuxi. It worked out, but the city bus is way cheaper (about $3-4 USD for the whole ride home).
This bamboo forests isn't as well known as the Forbidden City in Beijing, but a trip to Yixing makes for the perfect day trip if you are living in the Jiangsu Province.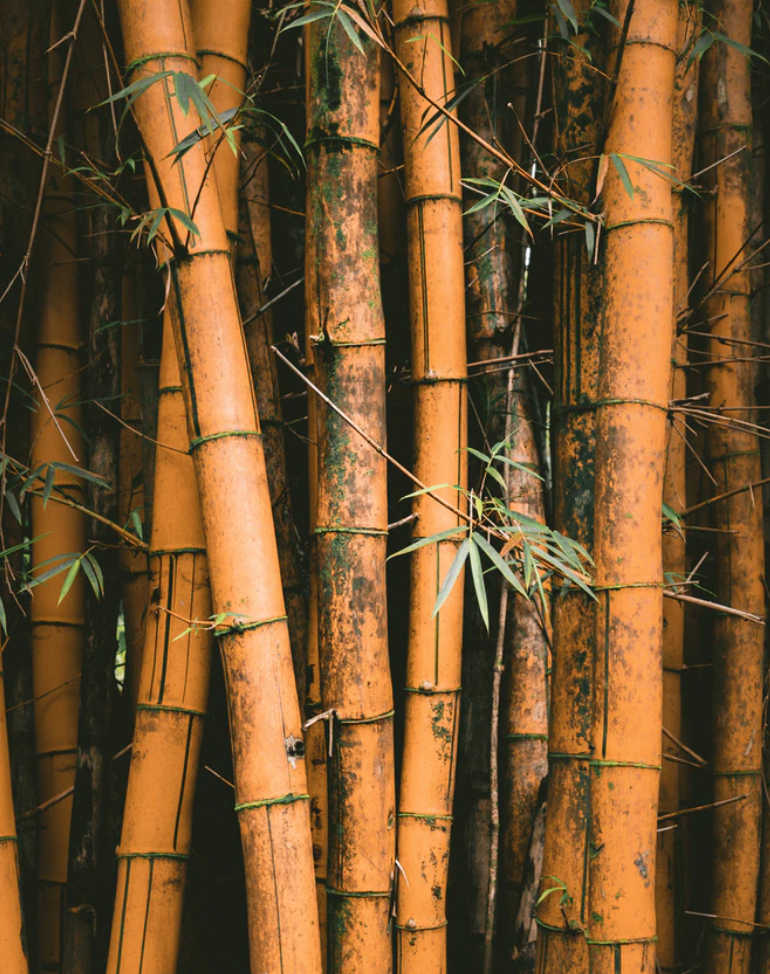 Come explore China for the semester
While teaching English abroad, hang out in Wuxi for a couple of days, then venture out to Yixing and make a weekend of it. ILP Volunteers are only teaching English part-time with every Saturday and Sunday off, plus vacation days to see even more. Get more info about volunteering in China with International Language Programs right here: