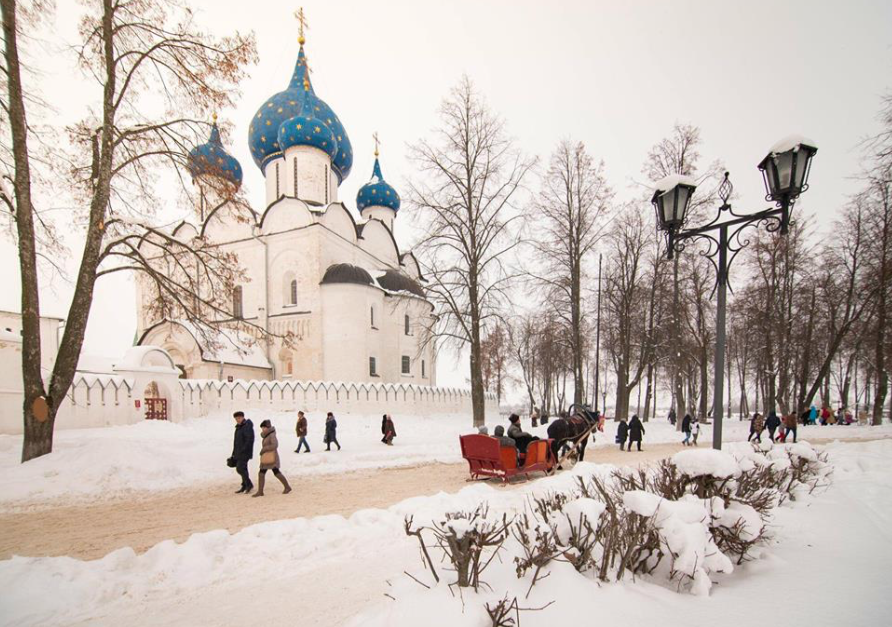 Spend a weekend biking across fields of dandelions, or riding horse-drawn sleighs if you visit in the winter time. It's a must-see spot!

Suzdal is charming, adorned with stunning onion-topped cathedrals and home to some of Russia's most impressive bits of history. The entire center of this almost-village is like a massive, open-air museum filled with gorgeous architecture, art, preserved history, and more.
In a nutshell, if you love the idea of strolling quiet streets lined with towering cathedrals and charming wooden churches, Suzdal is for you.
---
Thinking you need more time in this country?
See what volunteering in Russia is all about.

---

Here's what you need to know about traveling to this Golden Ring city:
A Bit Of History

Getting To Suzdal Via Moscow

Getting Around The City

What Is There To See?

A Tip Or Two (Come for the Festivals!)
A Bit Of History
Instead of characteristic block apartments you'd find in other Soviet-designed cities, you'll see a pastoral Russian village that looks like it did 700 years ago. There's an official ban on buildings other than two stories, unless it's a cathedral, which creates Suzdal's unique skyline of onion-domes.
Suzdal is one of the jewels in the Golden Ring Of Russia, a group of cities that have served an important role in forming Russia's Orthodox church and preserving specific historic events. Today, that means tourists can visit a city full of church, buildings, and homes that make Suzdal so quaint and picturesque.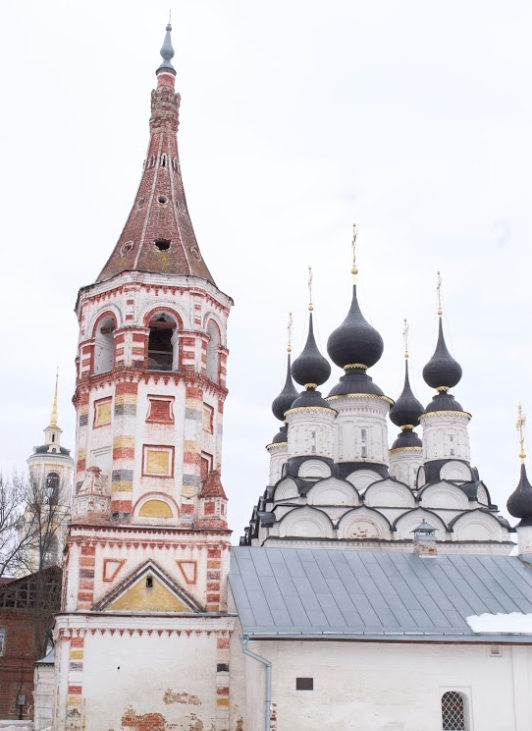 Getting To Suzdal, Via Moscow
If you're touring Russia's Golden Ring (tons of companies take tourists there), Suzdal will most definitely be a stop … but the city itself is easily reached from Moscow if you just have a weekend free. Found just northeast of the capital city, you can easily reach Suzdal from the city of Vladimir. Vladimir is another city close to Suzdal, and a part of the Golden Ring. It used to be Russia's capital in the medieval times and is worth visiting too, if you have the time.
Arrive By Train
There are no direct trains to Suzdal from Moscow, so you'll need to train to Vladimir, then bus to Suzdal. Several trains leave Moscow daily — plan on paying anywhere from 350 - 2,000+ Rubles for a ticket. We're a fan of the less expensive tickets!
Prices depend on the class, type of train, and how long it takes to get there. Even on the less expensive ticket, the train ride is only around 3 hours, but you can pay more to get there in just over an hour.
These trains leave from Moscow's Kursky Railway Station; book tickets online here.
Then Take A Bus
From Vladimir, you can take a bus to get you to Suzdal. The bus station is right across from the train station, and tickets are around 70 rubles. The ride takes about 50 minutes.
You can check out bus information here, but buses depart Vladimir daily, from about 6:30 AM to 9:40 PM every 30 minutes, but check the time at the bus station to be sure.
The bus station in Suzdal is about a mile away from the city center.
You can also take a bus straight from Moscow to Suzdal (from the Schyolkovsky Bus Station), but it'll be about 4.5 hours on the bus, without traffic. Plan on paying around 600 rubles. Double check at the station, but there's a direct bus to Suzdal that departs at 7:30 AM and one at 8:00 PM.
Getting Around The City
The city center is small, and very easily navigated. Most of what tourists are here to see are lined along Lenin Street which is very walkable. The bus station where you'll get off is about a mile from everything you'll be seeing, so you can walk …. or just take a taxi (it'll be cheap).
Most of the attractions in Suzdal are located along the Lenin St (ул. Ленина), so if you're walking that's a good place to start. You can also visit a couple of monasteries and visit the city center by riding on the #2 bus. Rides are inexpensive, around 20 rubles.
If you will be visiting in the winter, one utterly charming way to get around is via a sleigh ride. You'll find drivers all over advertising their prices that start very, very high. Expect to be offered a 30 minute ride for a few thousand rubles, though you can usually bargain it down to be around 500 rubles (or at least under 1,000). It's enchanting!
This map shows you how central everything is — just walk west from the bus station (or taxi) and you'll run into what you want to see.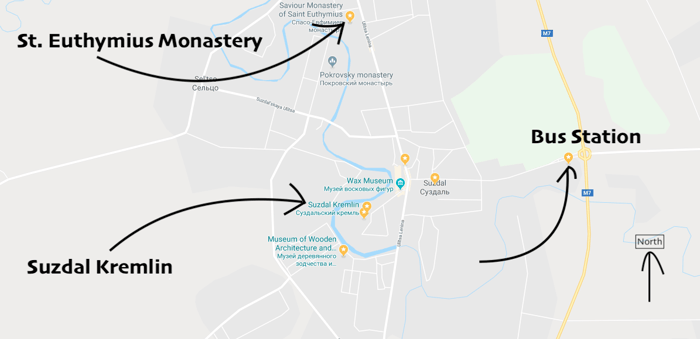 What Is There To See?
Get out your cameras. The main attraction in Suzdal are picturesque pastoral scenes and decorated onion-domed cathedrals. Here are the highlights:
Walk on Kamenka River
Particularly pretty in the winter months, the Kamenka River is frozen, letting you glimpse into rural life in a completely unique way. As you stroll along the frozen banks, you'll find fishermen cutting holes into the ice and pulling out fish, or in the warmer months, you might find rows of women doing their wash.
Inside the Suzdal Kremlin
The bare bones of this Kremlin have been around since the 10th century, and like all the other kremlins you'll run into in Russia, it started as a fortress and was the center of the city, home to the most important religious and administrative sites. Today, a handful of the buildings inside the Kremlin are UNESCO sites, and are well-worth seeing.
Here are a few of the gems you'll find inside the Kremlin:
Cathedral of the Nativity Theotokos

Wooden Church of St. Nicholas

Church of the Assumption

The Belfry

The Bishop's House

Nativity of the Virgin Cathedral
In particular, the Nativity of the Virgin Cathedral is especially stunning, adored with blue domes with glittering gold stars and trimmings. The Wooden Church of St. Nicholas is also impressive, a huge church that's reminiscent of the wooden churches that used to be all over Russia.
Hours: 10:00 AM to 6:00 PM.
Closed on Tuesdays, and the last Friday of the month.

Cost: 250 rubles for the museum complex, but 100 rubles to enter the Nativity of the Virgin Cathedral.
Oh and don't forget to get a view of the complex from across the river — I got some of the best pictures from my trip to Suzdal from that viewpoint.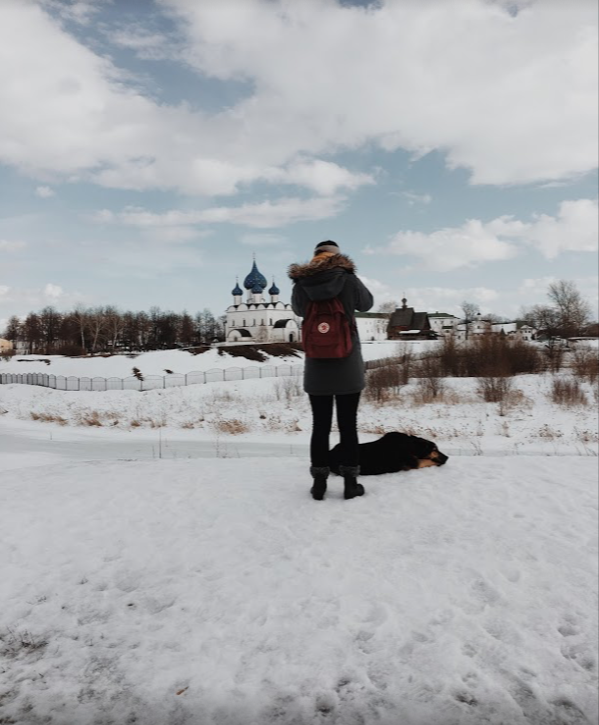 Saviour Monastery of St. Euthymius
This monastery actually includes 10 museums and buildings which are impressive, to say the least. It's similarl to the Moscow Kremlin, with relics and churches inside where you spend hours if you're so inclined. It easily became the largest monastery in all of Suzdal thanks to donations made by Ivan the Terrible and a few other donors … it's been around for quite a while!
Just 400 rubles gets you an all-inclusive ticket which is well worth the price. Don't miss the chance to visit when you can hear the bells peal out across the whole city! (Times listed below). You can also get more information about which exhibitions are on during your visit on their official Russian website.
Inside, you'll find quite a few noteworthy sites, we think these are worth paying particular attention to:
The Savior Cathedral

Assumption Refectory Church

Transfiguration of Our Savior Cathedral

Monastery Dungeon
Hours: 10:00 AM to 7:00 PM, Sundays - Thursdays.
Closes at 9:00 PM on Friday and Saturday.
Closed Mondays and the last Thursday of every month.
Listen to the bells: 10:30 AM, 12:30 AM, 1:30 PM, 3:00 PM, 4:30 PM
Get more information about the Monastery's history and buildings inside on this Lonely Planet article.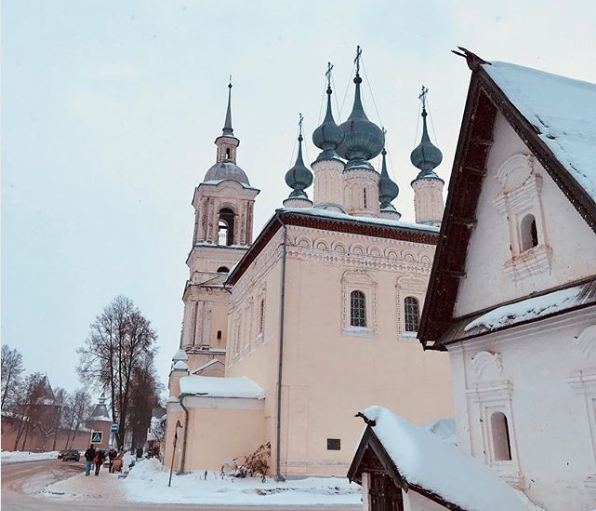 A Tip Or Two
For when you're hungry —
There's a small cafe outside of the entrance of the Saviour Monastery of St Euthymius selling typical Russian snacks like blini. You'll find a few local cafes serving up hot drinks to help keep you warm in the winter months.
Getting around —
Really the best way to experience this city is to just walk along Lenin Street and make your way towards the cathedral tops. Since the other buildings are no more than two stories high, so you'll be able to see the tops just peeking over.
Local festivals —
This city is small, with just 13,000 residents, meaning you'll get a pretty local and authentic celebration if you time your visit right with a local festival or holiday. You can check this site out for posted festivals, or talk to your Local Coordinator if you're an ILP volunteer.
We've had groups visit mid-February and be present for a spring celebration, Maslenitsa. It's called "blini" week so you'll find blini stands all over, and can take part in a ceremony where a "witch" was burned at the stake to welcome in the warm weather.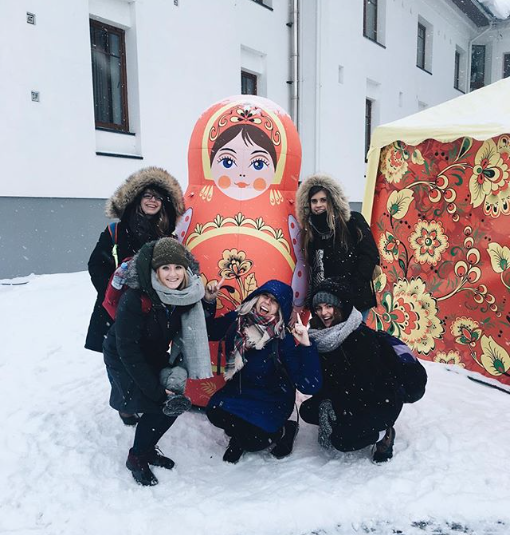 Come to Russia with us!
ILP volunteers live in Russia and teach English part time, leaving plenty of free time during the week and every weekend off to explore what Russia has to offer. There's also built-in vacation time during the semester so you can see even more of Russia + your favorite European countries like France, Greece, Italy, Spain, and more.
Get your questions answered about volunteering with us, right here: