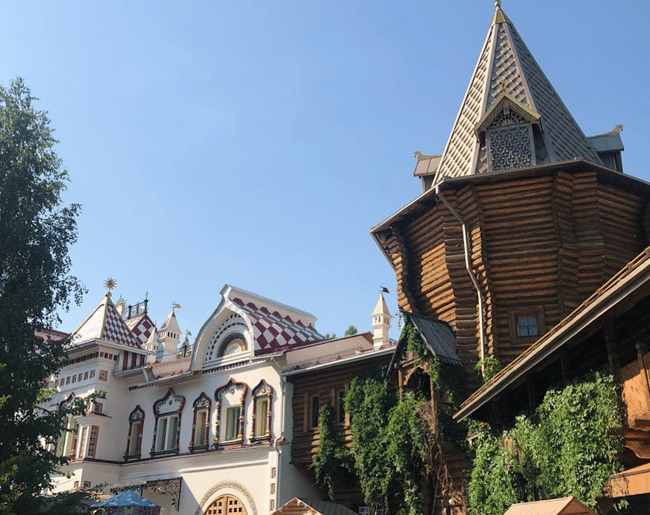 If you want to know where to shop in Moscow, just visit Izmailovsky market.
Hidden in a gingerbread-esque wonderland is a maze of shopping streets crammed full of your favorite Russian souvenirs. While there are lots of places to shop in Moscow, the shops at Izmailovsky are our favorite for a few reasons.


---
We love all the things there are to do in Moscow!
Get our insider's guide to Moscow.
---

Navigating Moscow can be a bit tricky, but we have figured that all out for you, plus have put together insider tips to make your trip here a total success.
What Is Izmailovsky Market

How Do I Get There? + Hours and Costs

What Can I Buy There?

Insider Tips

Other Shopping Spots To Check Out
What Is Izmailovsky Market?
Even if you're not going to buy anything, you need to visit Izmailovsky Market. It's a collection of vendors and shopping streets, punctuated with colorfully whimsical buildings that give the area an overall "gingerbread village charm" especially when things are dusted with snow. It made our list of the most popular (and prettiest) buildings in all of Moscow, if that tells you anything.
The area is broken up into a few different sections. The most iconic is the Izmailovsky Kremlin, a collection of whimsical buildings you can spot from far off. It sort of looks like a Russian Disneyland, don't you think? This area is often home to several holiday celebrations and festivals. One of the buildings in a church, another is home to restaurants, one you can climb up and get a view from up above, one is a shop full of speciality handicraft items … you get the picture.

Outside of the Kremlin area, you'll find a maze of markets and vendors all lined up, waiting to sell you anything you could want.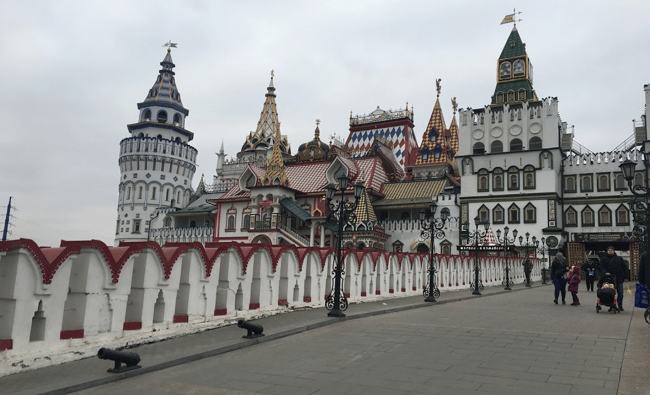 How Do I Get There? + Hours and Costs
The Moscow Metro makes this easy, once you know a few things (learn how to navigate the Moscow Metro here) but essentially, you'll want to find your way to the Partinzanskaya stop (it's on the dark blue line). Don't be tempted to get off at the Izmaylovskaya stop (which sounds like your stop), but you want the Partinzanskaya stop.
Anyways, once you arrive at the Partinzanskaya stop, exit and walk left. You'll cross the street towards the big tall buildings. Walk along the pedestrian path (go under a small wooden doorway) and walk for about five minutes. Then you're officially at the "Izmailovo Vernisazh" market. Hooray!
Cost
There is a 10 ruble admission fee. There is a small fee (25 rubles) to use the restrooms there.
Hours
Izmailovsky market is closed Monday, Tuesday, Thursday and Friday
Open Wednesday, Saturday and Sunday: 9:00 AM to 6:00 PM.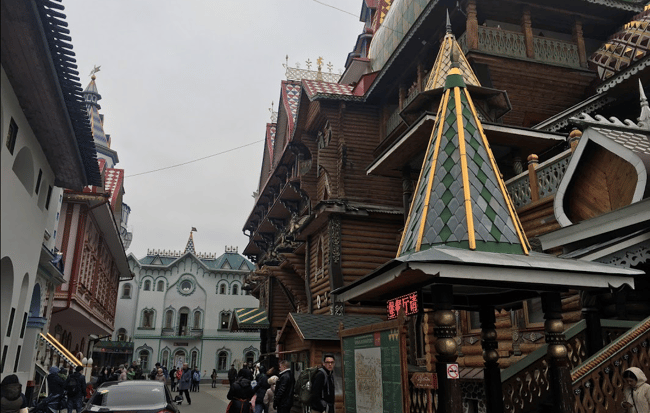 What Can I Buy There?
So much. It's dizzying maze of pathways, completely packed with vendors selling what seems like everything you could ever want. Real (or fake) fur hats, Russian tee shirts, hand embroidered scarves, rows of painted nesting dolls, unique paintings of the Russian countryside from local artists, Russian instruments, imported rugs, handcrafted bowls and spoons, touristy magnets, lacquer jewelry boxes … and more.
Izmailovsky is you're one-stop shop for souvenirs, that's for sure.
What Are Prices Like? Can I Bargain?
You will find a huge range of prices available for souvenirs; Unlike the overly expensive (and touristy) Arbat street, his place caters to local Russians hunting for high quality art, valuable antiques and important Iranian rugs, as well as tourists looking for a fridge magnet of Moscow and nesting dolls the look like Harry Potter. Plan on paying 400-500 rubles for a nice nesting doll.
Vendors seemed to know enough English to tell you what they were selling and the price; in the more "flea market" section of Izmailovsky market you can definitely bargain down the price. The more established shops in the "Gingerbread city" are set prices, so what you see is what you pay.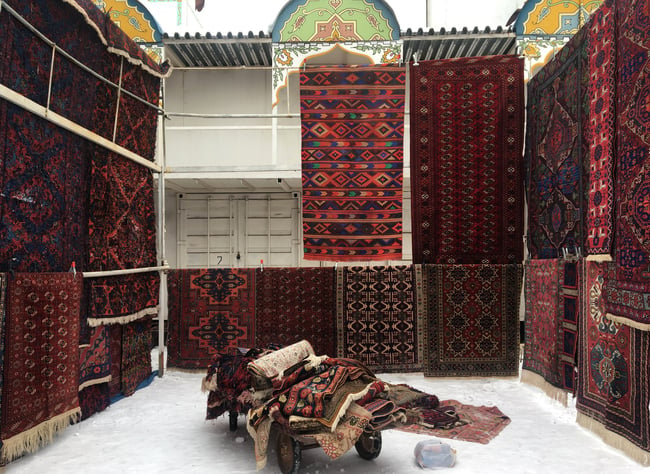 Insider Tips
Bring Cash
Only a few vendors will accept your card, plus a surcharge (that can really add up), so Russian Rubles are going to be best. You can find an ATM at the back near the metro station area, but not at the market itself. We suggest bringing smaller bills too, so you don't have to haggle down prices then ask for change.
Grab Lunch
There are a few restaurants and food vendors around, so come hungry if you want to try some local food. Among the maze, there's an inside/outside restaurant serving Russian barbecue. You'll find grilled veggies, bread, BBQ'd meat with a tangy sauce that's sort of like ketchup. Yum! In the winter months you can also find hot cider in little kiosks in the "Gingerbread" village section.
The Gingerbread Village has more restaurant options (like a sit-down place) if you don't really want street food, like kabobs or Russian BBQ.
Visit On The Weekend
The place is only open on Wednesdays during the week, but you'll find so many more vendors on the weekends; it's worth finding time on a Saturday or Sunday for a visit.
Dress For The Weather
It's an outdoor market, so you'll need to dress appropriately. Make sure you are dressed to be outside for a couple hours, whether it's snow, rain or shine on the day you visit.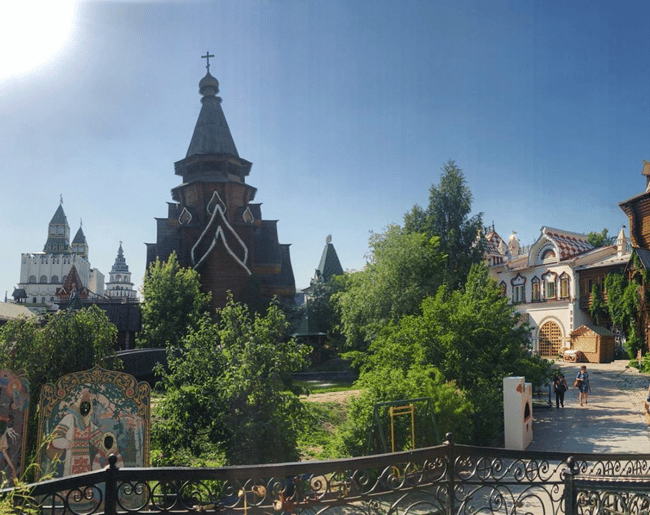 Other Shopping Spots To Check Out
There are some malls in Moscow, but as far as souvenir shopping goes you'll probably also hear about oh so famous Arbat Street.
Here's the truth about Arbat street: Once a pedestrian street where cute little babushkas would sell their handmade creations as street vendors, Arbat street has unfortunately now become a bit of a tourist trap. It's one of the most famous shopping streets in Moscow, so you'll find crowds here and high, high prices for souvenirs. It's become quite modernized and is even home to tons of American places like a Hard Rock Cafe, McDonalds, Shake Shack (probably the only place you can find Root Beer in Russia), Dunkin Donuts, and lots others.
It's still a cool place to come hang out at though. You'll also find statues, cutie European streets, and huuuuuge Matryoshka dolls even up to 6 feet tall. If you've got quite a bit of time in Moscow, I'd say check out Arbat street for fun ... but if you're short on time I'd skip it.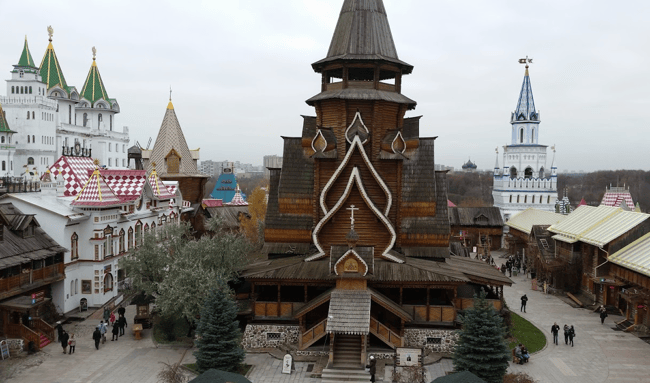 Think a week or so isn't long enough to spend in Russia?
We're with you. Russia's a country where you could easily spend a few months in, and still leave wanting more. Spend a semester volunteering in Russia, teaching English, and exploring the city, like this whimsical market.