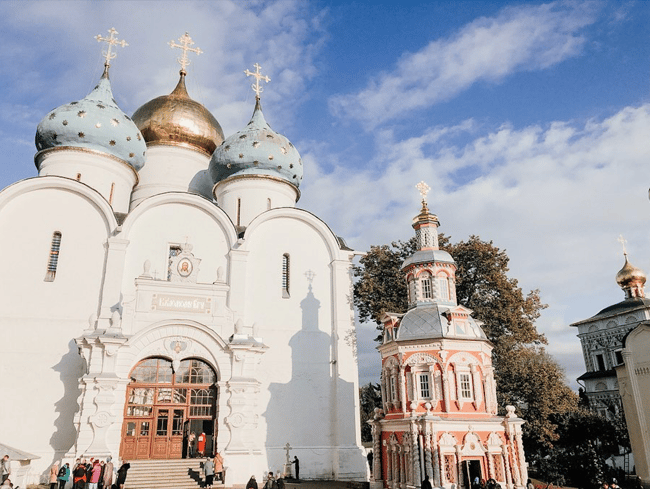 From Moscow, this is a charming little day trip you can make happen on any Saturday or Sunday. Something you should make sure happens, especially since Sergiyev Posad holds the title as the most "Orthodox city" in all of Russia.
You may think you know the stereotypes about Russia, but I think you'll be more than surprised when you look just for a second what this country has to offer. Before I left to volunteer in Russia for a semester, I knew I'd see the towering architecture in Moscow, bundle up between museum visits, and tuck into bowls of borscht … but I had no idea how many charming little cities dotted the countryside (and how much I'd fall in love with this place). Sergiyev Posad is just one of those quick trips you'll have to fit into your itinerary.


---
Yep, I spent a semester living in Europe (and it's as dreamy as it sounds)
All about volunteering in Russia with ILP
---

One major perk of visiting Sergiyev Posad is that it can easily be done in a day if you're coming from Moscow. Just hop on a quick, 1.5 hour train ride and you're ready for an afternoon of perusing pastel streets and a picture-perfect monastery riddled with history. It's a quiet, welcome break from the bustle you can find in the capital.
What Sergiyev Posad Is Famous For
Holy Trinity Lavra of St. Sergius
This star-studded Lavra is unique from the handful of others you may be visiting while in Russia. It's a collection of towering bell towers, gold glittering domes, and a cathedral that's even painted blue and adorned with stars creating quite the complex to be explored. It's the highlight of this city (like most cities found on the Golden Ring of Russia) but this Lavra does boast a few elements you can't find anywhere else. Inside is around 50 buildings, but don't miss out on seeing the Trinity Cathedral or the Assumption Cathedral.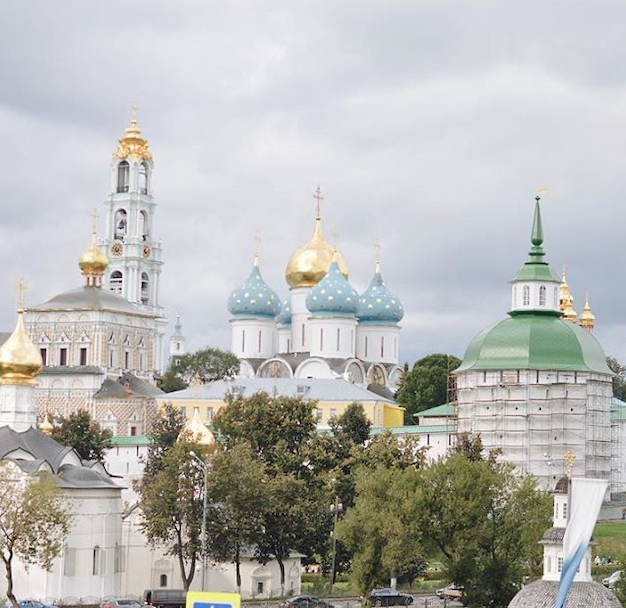 Trinity Cathedral
Inside the St. Sergius Lavra, you'll find the Trinity Cathedral, built way back in 1422 and famous for the Trinity icon painted by Andrei Rublev. You can spot this cathedral peeking out from the right hand corner of the picture below — see the shiny gold half domes adorned with a cross?

When you enter the church look at the bottom row of the iconostasis. It's the first icon (to the right of the gate that leads to the altar). You can always look at the lower icon to the right of that gate to know the name of the church (that icon placement is the one the church is devoted to, hence the name of the church).
The Trinity cathedral also has an infamous streak, as a favorite of Ivan the Terrible. He was baptized, married, and often worshiped here. The paintings by Rublev, the famous icon painter, help add to the hype surrounding the Orthodox holidays: many come to Sergiyev Posad to see them on Easter and Christmas.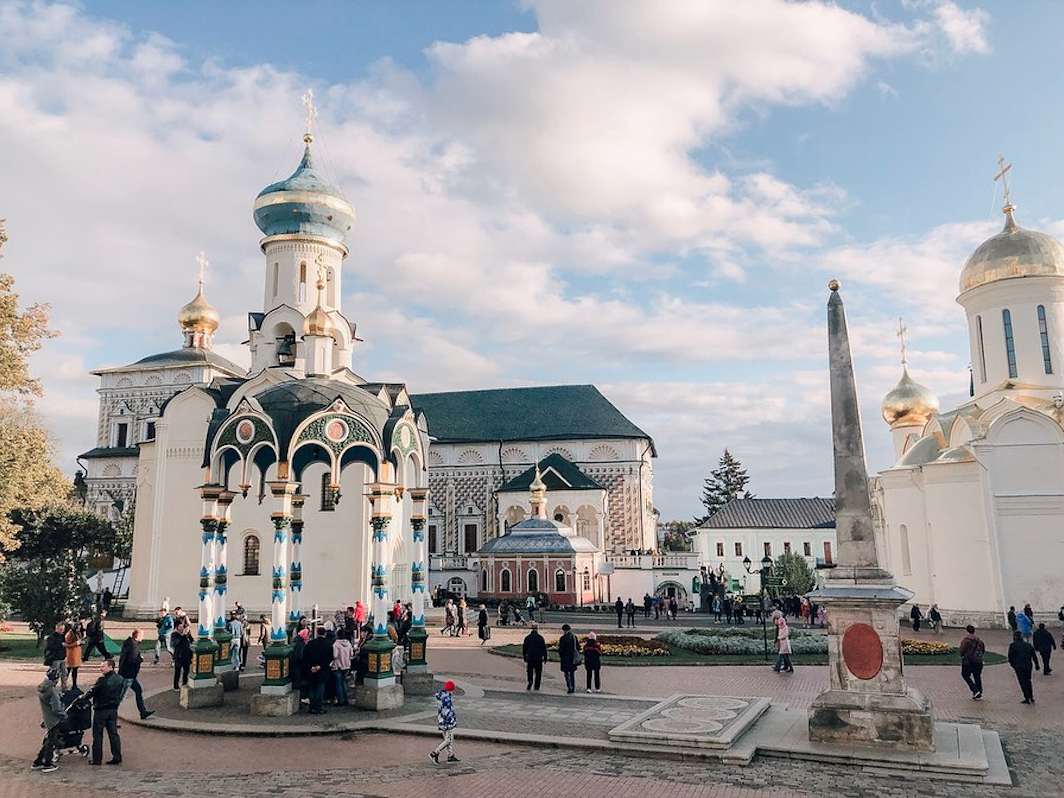 The Assumption Cathedral
You'll find around ten churches inside this St. Sergius monastery complex each displaying a unique side of Russian architecture spanning from the 15th to 18th century .. but you'll want to highlight the Assumption Cathedral. It was commissioned by Ivan the Terrible, with striking blue domes and stars, dedicated to the Virgin Mary. It's also home to stunning murals painted on the ceilings so don't forget to peer up while you're touring the interior.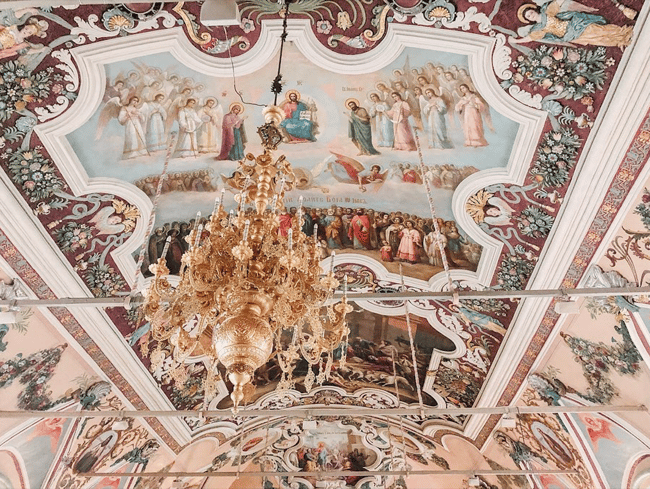 The Toy Museum
After touring some Russian architecture and history, visiting this little toy museum is a highlight one ILP group loved. While Sergiyev Posad has a history twinged with Ivan the Terrible, it's also known as one of the most famous toy making cities in Russia. Supposedly this is where the famous Russian nesting doll got its start! According to the legend, the craftsman Sergey Malkyutin was inspired by a set of Japanese wooden dolls, which personified the Gods of Fortune. The seven dolls decreased in size and nesting inside of each other. Malkyutin was inspired to come up with a Russian version, and the matryoshka doll was born. The original matryoshka was made up of eight figures: the outside is a woman holding a rooster with seven children inside.
Now this toy is a famous symbol of Russia and this toy museum is home to some of the earliest matroyshakas ever made and the evolution to the modern versions you can buy today.
Cost: 150 rubles
Hours: 10:00 AM to 5:00 PM
(Closed Mondays and Tuesdays, and the last Friday of the month)
Address: 123, Krasnoy Armii av. (Rus: Просп. Красной Армии, д. 123)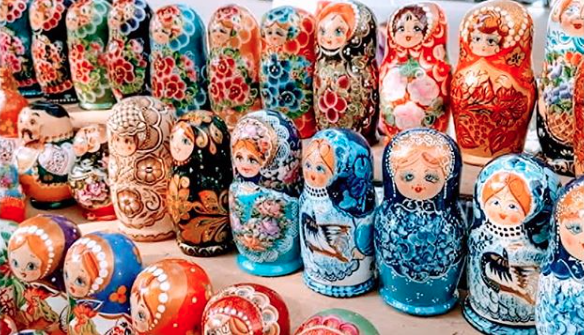 Trek Up To Pancake Hill
If you were to visit this post in Sergiyev Posad a few decades ago, you'd find a collection of the best pancake houses in the city. If you're in the know when it comes to Russian food, you'll know that Russian pancakes are called Blini, and are more like what we know as crepes (and are a food you can't get enough of). This smattering of blini shops gave this mound its official name: Blinnaya Hill. Now it's a popular observation deck where you can get a view of the Trinity Lavra of St. Sergius.
Find It: Blinnaya Hill, Voznesenskaya Street

A Few Other Things To Know Before Visiting
If You'll Be Visiting The Monastery …
Here's what Abby H. suggest, an ILP Russia alumna: "The Monastery is absolutely beautiful! We spent the entire time there and loved it! Make sure you bring scarves to cover your hair and you can bring a water bottle if you want to get holy water from the fountain (it's safe to drink)."
Don't Visit On The Holidays
You'll want to avoid visiting this city on any major Orthodox holiday. Due to the historic and religious background of Sergiyev Posad, huge crowds of tourists and visitors flood the streets and it'd been much too crowded to enjoy a peaceful visit. This is particularly the case for the Orthodox Christmas celebration and Easter, but you can get a calendar of Orthodox holidays here so you know when Christmas and Easter hits.
Getting Around The City
The city isn't very large and most of the sites you'll be seeing are rather close to each other. The train station is around a kilometer away from the Lavra if that helps you orient yourself (so about a 15ish minute wait). Most things are along the main road, пр. Красной Арми.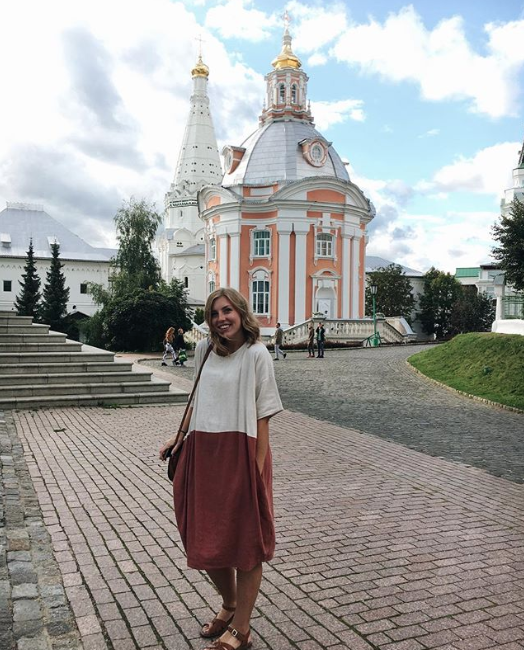 Taking A Day Trip Here
From Moscow
You're looking at a short, 1.5 hour train ride. If you head to the Yaroslavsky train station (it's on the Red/Brown Komsomolskaya metro stop) you can buy tickets directly at the ticket window for around 370 rubles for a roundtrip ticket. Just make sure you're heading towards the domestic train tickets, not the long-distance ones. It's about 21 stops, but we suggest taking a picture of the map before leaving the train station so you can watch the signs as you pass through the stations — they aren't in English, so you'll get the chance to test out your Russian.
You can also book tickets online here if you'd rather book in advance.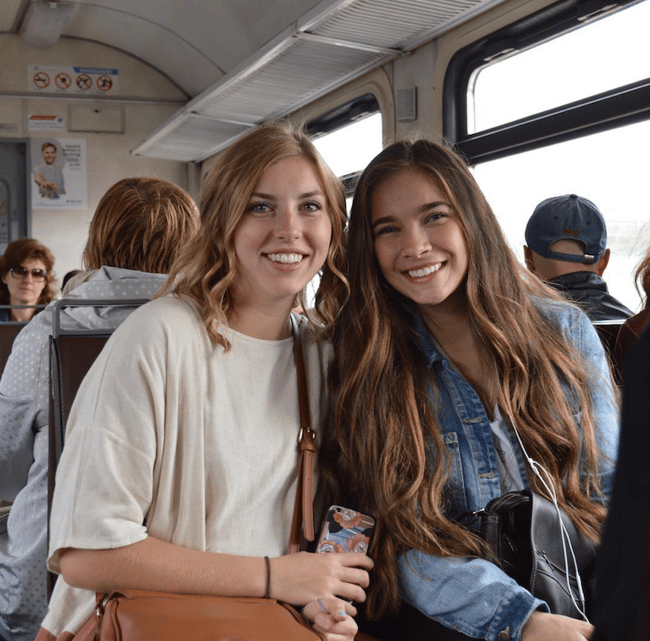 You need longer than a week to really see Russia
This European country has always been high on my list of places to visit, but I can't tell you how glad I am that I wasn't just here for a week. Spending a whole semester in Russia meant soaking up every aspect of this country, plus as an ILP volunteer, I got free time, weekends off, and vacation days to really explore Russia and the rest of Europe. Come see what teaching English is like with ILP by chatting with someone who has volunteered with us.