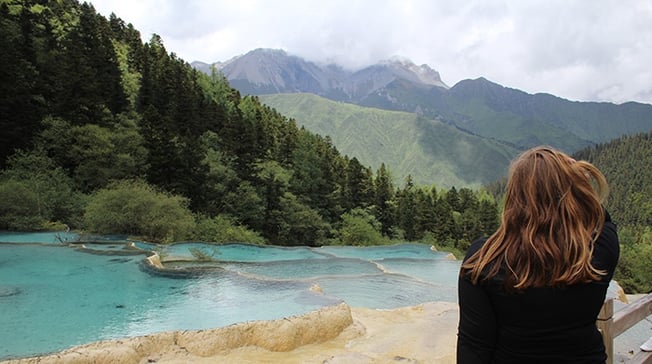 There's this place up in the mountains way deep in central China with cascading turquoise pools...it's the kind of place Pinterest dreams are made of. If you're preparing to volunteer in Asia, you better be considering Huanglong for your travel destination.
---
*Quick ILP Update — we have closed our semester abroad program in China and are not updating info found in this post. We're keeping this post live as it may be a helpful resource for you, but know that information was last up to date at the time this post was published.
---
Why Should I Pick Huanglong For My Vacation?
You've got so many options if you're picking the best China destinations (this is one huge, beautiful, diverse country). Well the first reason to see Huanglong is if you like seeing places that NO ONE ever sees...this is where you go.
Huanglong is beautiful, but it's not as easy to get to so that means that you won't see any American tourists here. I have a feeling you've never even heard of Huanglong right? Yeah, no one has.
If you want to see beautiful mountains, get colorful photos, avoid crowds, and have a major adventure while you're exploring a foreign country - Huanglong is where it's at. It's also very well-maintained and easy to navigate so once you're here it's a total stress free day.
It's located in central China so if you're also interested in seeing Pandas in Chengdu and exploring Jiuzhaigou National Park, this is a perfect addition to tack onto those destinations.
Okay I'm Sold, How Do I Get There?
This is the trickiest part ... but don't worry — if I can do it, you and your ILP group can do it, too.
Huanglong is located in central China, like I mentioned. The nearest major city is Chengdu, so that's a great jumping off point if you're headed there anyways. Currently there's only 2 options - take an 10 ish hour bus ride from Chengdu or take a pricier flight to the Jiuzhaigou-Huanglong airport (from major cities like Chengdu, Guangzhou, Beijing, and Shanghai - check out trip.com for some flight deals). It really just depends on which is more important to you...saving time or saving money. They are working on a bullet train to the area (which will be the best option) - but that's not set to be ready until around 2019.
Jiuzhaigou is a National Park in Jiuzhaigou city that's near Huanglong and those are really the two biggest attractions in the area. If I were you, I wouldn't see Huanglong without also seeing Jiuzhaigou Park. I recommend staying in Jiuzhagiou city (which is where that national park is) and then making a day trip out to Huanglong from there.
Check out this post for more help: how to get to Jiuzhaigou (plus tips).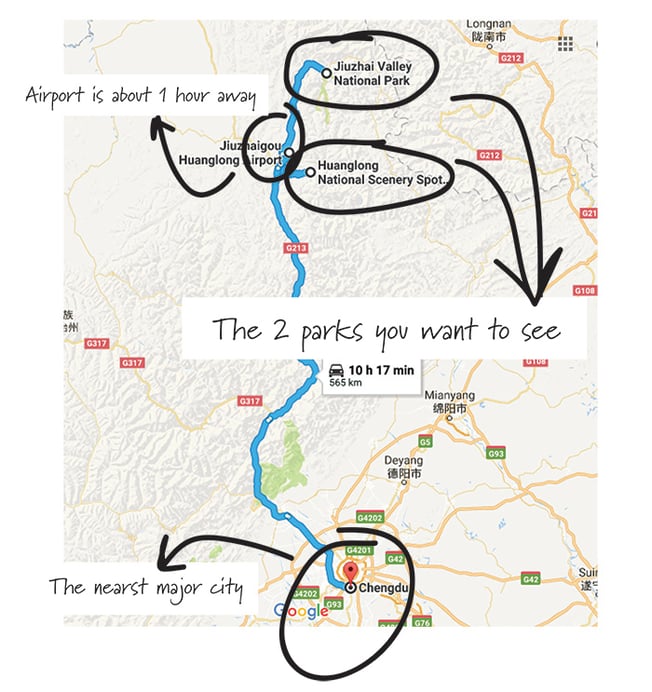 Okay now that you've got yourself to this part of China...
Here's what I did in a quick nutshell:
Flew into Jiuzhaigou airport in the evening and had a driver (pre-arranged through our hotel) pick us up and take us to Jiuzhaigou city.


The 1st day of our trip we explored Jiuzhaigou National Park. When leaving the park we hired a local driver to take us to Huanglong.


The 2nd day, that driver picked us up at 8 AM from our hotel. We drove to Huanglong, explored, and he brought us back to Jiuzhaigou - getting home around 6 PM. If you only have 2 days, you could also have them take you directly back to the airport that evening instead.


3rd day we explored Jiuzhaigou for a second time and then caught a ride to the airport for our evening flight.
Driving to Huanglong
If you're taking a long distance bus from Chengdu, you can find a line that stops in Huanglong (make sure it stops there when you buy the ticket). In this case you'll need to make sure you arrange a place to stay near the mountain because you need a full day to explore. There's something called the Jiuzhaigou ringway. Google that and you'll see the loop route that buses run from Chengdu.
If you're coming from Jiuzhaigou city or directly from the airport, hire a driver. Well ... I should tell you that you can actually take a bus from Jiuzhaigou to Huanglong for less than $10, but personally I wouldn't do that. Why? The road between the two areas is 2 lanes and winds up a steep, steep hill over a mountain pass that gets up to about 15,000 feet and then heads back down. I would imagine car sicknesses is pretty frequent on the bus.
It's only about 80 miles away, but because you're going so slow through the mountains, it's about 2-3 hours 1 way by car (I have a feeling it's much longer by bus because we're passing all those buses in our car any chance we could).
I really liked having a driver because he stopped for us at the top of the mountain pass so that we could see the beautiful view. There was mountain goats and beautiful spots where you might want to request to pull over for a quick pic along the way.
Also, I've heard that when the Huanglong park closes, traffic can get backed up quickly because there's only 1 road that you can take and so that can make your trip even longer. I liked having a car so that we could leave ahead of the crowds and zip out of there. It's actually still pretty affordable if you're able to split the cost with others in your group driving with you. You can get a car for around 300-500 yuan depending on how many people are going - so maybe split $60 4 ways. It was well worth it to me.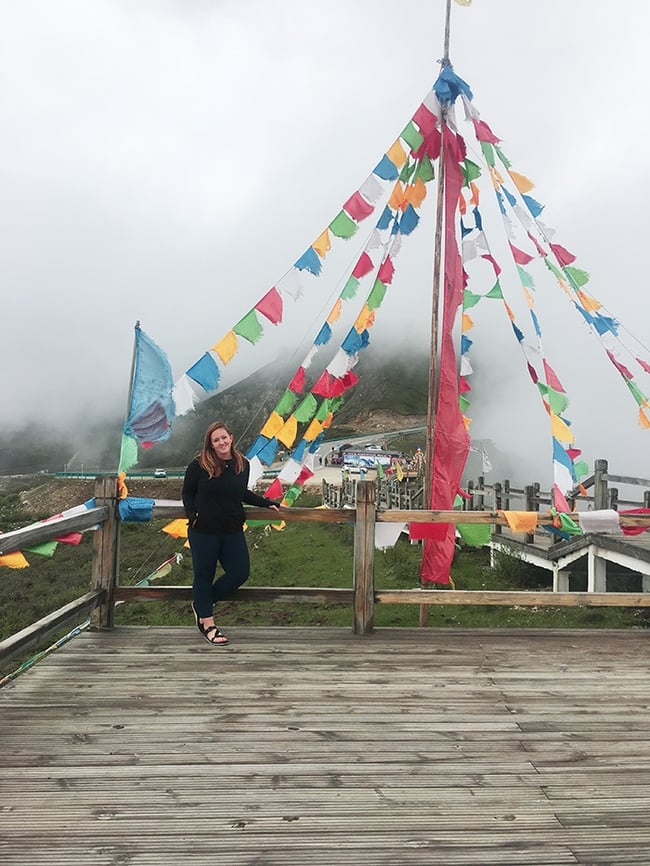 How Do You Find A Driver?
First ask your hostel or hotel if they can help you hire a driver. It might be a bit more expensive if the price is set, but then you don't have to worry about haggling with someone. If they can't help you, you can find a driver in Jiuzhaigou city.
On our first day there, we went to Jiuzhaigou National Park. As we were leaving the park at the end of the day there was a ton of tour guides at the park exit holding signs of places they could take you. I just sort of looked around and picked one that grabbed my attention. He asked if I wanted to go to Huanglong in a private car and I said, "YUP!" Here's the thing...no one speaks English in Jiuzhaigou. It was pretty tricky trying to haggle over the price and decide on the plans, but he whipped out his phone that had a good translator on it and we were set. He was pretty motivated to work with us because we were hiring him for an entire day. You can also see if a taxi driver is interested if you only have a group of 4 people.
Before I went, I read a blog post where they said that locals were resistant to take them to Huanglong. They said people were telling them to just stay in Jiuzhaigou National Park because that's better...but they were adamant about going to Huanglong and said they were really glad they went. I thought that was kind of strange that people were saying don't go...but I had the exact same experience! It was so strange - when our drive picked us up the following morning he started saying things like maybe you don't want to go to Huanglong. It's far. It's not good. The pools might not be full of water. You should go to this other place that's closer called Fairy Pools instead.
At first I was hesitant...maybe he was just trying to help us out? But then I remembered the other bloggers experience and just kept saying, "No. I want to go." Everything was great with our trip and I'm really glad we went. I think drivers just don't really want to go there because the road is so steep and far, so they try to talk you into doing other things. It's worth it though so don't waiver on what you want.
Once You Get To Huanglong...
Have your driver drop you off at the Ticket Office. Bring cash - there were ATMs but they didn't work.
You can hike the whole thing if you want - but this is what basically everyone does and what I FOR SURE recommend: take a cable car ride up to the top and then just walk back down. From April to November the entrance fee + 1 way cable car ride is 200 yuan (about $30).
Seeing The Sites At Huanglong:
This is the easiest part. They have a wooden pathway that you have to stay on (no venturing out on the mountain here) and there's no turn offs so you literally cannot get lost. It runs by every single cascading pool that you'll want to see. Just follow the pathway from the top where the cable car drops you off all the way back down to the exit at the bottom.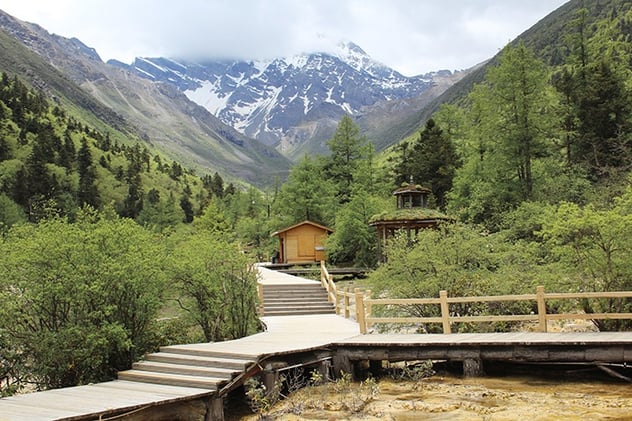 There is one pool that has a turn off where you can choose to walk to it or not. It's the very first one at the very top. It's easy to see, but you just walk up a bit of stairs to get to it. Don't skip it because it's one of the most famous views on the mountain and it's not far to get to. Just go see it. Then follow the same path all the way back down the mountain. You don't even need a map....that's how easy it is to navigate.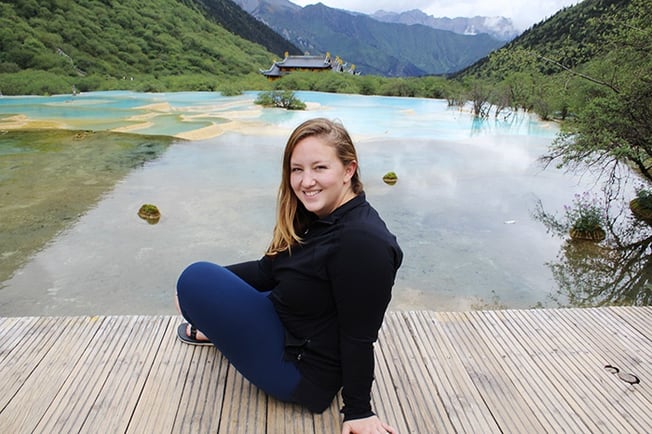 A Few Last Tips For You:
Bring some food in your backpack. You'll need at least 1/2 a day at Huanglong (it's a full day since it takes so long to drive there). There's not a ton of places to eat in the park, but there is some treats like fresh strawberries, bananas, Snickers, and water for sale at several shops along the way.


Elevation at Huanglong is very high so watch your breathing. I read quite a few posts online that said you should actually bring oxygen with you. I decided to skip that and was I totally fine, but I will say there was a couple times where I noticed it was more difficult to breathe and my chest felt heavy. I'm a decent hiker, but just go slow if you feel light headed. There is oxygen bars at the top if you need to take a break.


Bring toilet paper. This little piece of advice is actually good for everywhere you go in China. The bathrooms at Huanglong are very well maintained, especially for Chinese standards, but per usual there's often no t.p. so bring your own.


Bring layers and sunscreen. The weather was pretty cold because we were so high in elevation, but the sun was beating down on us. We went during the middle of summer and I still wore long leggings and a zip up jacket for most of the day.


Try to leave by about 3 PM so you can avoid any traffic at the end of the day.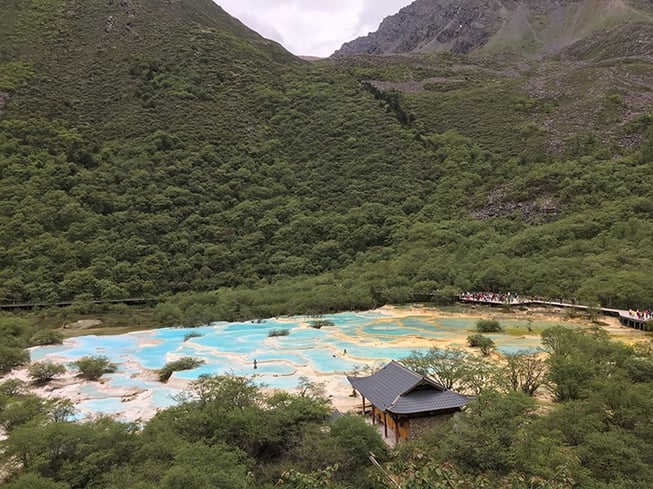 Ready for more world adventures?


We (International Language Programs) host volunteer programs in a handful of different parts of the world. Our volunteers are college-aged individuals who teach English part-time and have weekends plus vacation days off to travel. This means that you get to teach the cutest kids during the week, then hop on a train, plane, or bus to explore everything that country has to offer! Learn more on our Instagram: