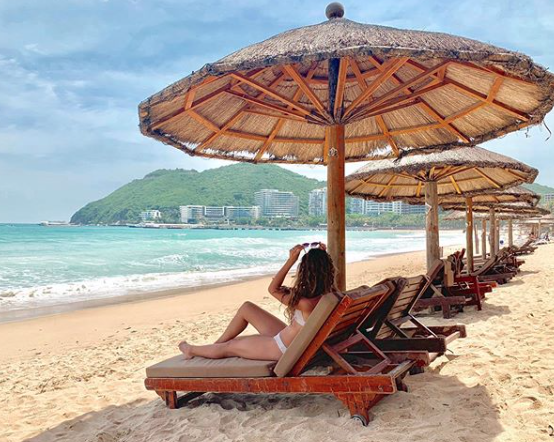 Who knew you could have a Chinese vacation lounging on golden sands and sipping smoothies?
---
*Quick ILP Update — we have closed our semester abroad program in China and are not updating info found in this post. We're keeping this post live as it may be a helpful resource for you, but know that information was last up to date at the time this post was published.
---
There's something for everyone in China, even for the beach lovers. While you could probably expect to love the bustle of Beijing, and the sites found in Shanghai, a vacation here is totally different than what you'll find on the mainland. A vacation on the island of Hainan means a few days of sun, sand, tropical hikes, hanging out with monkeys, and a few more adventures in a place called Sanya.
We've broken up the best of what there is to see and do around Sanya (which is our favorite spot in the island) so you can really experience the best of the best.
The Best Beaches
Things To Do In + Around Sanya
Places To Stay
A Few Tips

The Best Beaches
You'll want to head down to the southern most tip of the island of Hainan to a region known as Sanya. The best beaches of the island are found here:
Sanya Bay
Fringed with a coconut forest, you'll find soft sand, calm waves, and your idyllic beach vacation on Sanya Bay. It's huge crescent beach (about 10 miles long) that's very popular with all kinds of tourists. It's found just west of the city making it a very accessible spot to lounge on the sand and soak up the sun. The water here is clear and calm, and makes for a perfect swimming beach. One major perk of this beach? There are so many things happening here at night — think live music along the coastline, people dancing, restaurants open late, and the best people watching around. It's a fun mix of locals and tourists (particularly from Russia) enjoying the warm tropical evenings.
While there are a few beaches around the island, most ILP volunteers tend to stick to Sanya Bay since it's close to the city center, sports lots of restaurants and things to do, and is a central location. That being said, if you do want to visit another beach or two in the area, Yalong Bay and Dadonghai are the ones to visit that are close.
Yalong Bay
Just about 15 minutes way by car from Sanya Bay is another favorite spot, a blue-water beach with soft sand that's known for snorkeling, thanks to the clear water. The big name resorts are found on Yalong Bay (here's where you'll find the Ritz Carlton, an MGM Grand, Marriott, and Park Hyatt to name a few). It's one of the prettiest sections of the island, with high rise resorts claiming parts of the sand for private beaches (for guests only) but there are stretches for all tourists. It's another calm beach that's great for a day of swimming.
Dadonghai Beach
Popular with Russian tourists looking to escape a cold winter, Dadonghai beach is rather close to the city center making it a very popular option. You'll find a truly tropical beach with a curving bay, swaying palm trees, mild waves, and a winding trail that leads you through the rocky point at one tip of the bay (find small tide pools hiding tiny starfish and skittering crabs). It's a great swimming beach, with lots of places that will rent out an umbrella and chairs for the day, with shops and restaurants that line the sandy shores.
Getting Here: Catch a public bus (#4 or #15) and get off at Dadonghai Bus Station("大东海"站). Or, take bus #2, #8, #15, #17, #18, #19, #24, #25, #28 and then get off at Dongdonghai Square Station ("大东海广场"站).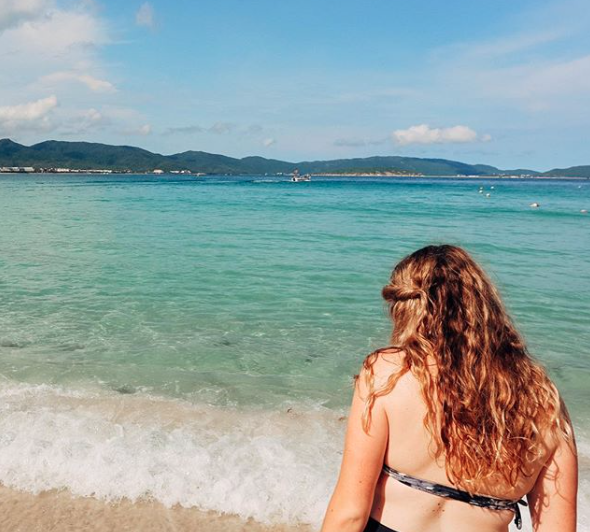 Things To Do In + Around Sanya
Yalong Bay Tropic Forest Park
Trek though the thick, lush, green jungles found on Hainan. There are thick forests dotting the island, but a favorite place to hike is in the Yalong Bay Tropic Forest Park, complete with pathways through the verdant trees, a glass walkway over the tree tops and animals like colorful birds, sneaky chameleons, and butterflies. You could easily spend a full day here, wandering through the park, stumbling on viewpoints of the ocean, balancing on a rope bridge walk, and things like the Dragon Stone Carving. You'll find luxury hotels available for people who want to spend a night in the trees, but we're fans of visiting just for the day. Like a few other parks in China, your entrance fee doesn't cover all of the attractions: plan on paying extra for the glass bridge, the rope bridge, and a few other sections of the park.
One suggested itinerary is take a sightseeing car (find it at the western gate of the entrance) and get off at Orchid Valley. Spend some time there, then take a bus to Guojianglong so you can walk the Guojianglong Rope Bridge. At the Haitang Station, another bus can take you to the main peak — get off it at Redaitiantang Station to visit Giant Buddha Stone, Dragon Carving Square and Canghai Tower … but it's just a suggestion. Most ILP groups just head here, grab a map, and find a few hikes on their own and see what they find!
Hours: 8:00 AM to 5:30 PM
Cost: 150 RMB to 170 RMB depending on high season (October to April) or low season prices (May to September). There are full-package priced tickets (about 250 RMB or more) that include some of the park's attractions if you're willing to pay more. Ticket prices include access to the inter-park buses who can shuttle you between some of the attractions.

Getting Here: Public buses can take you from the city center to the park entrance (look for buses on the tourist line, numbers 15, 27, 24, and 25). Taxis are also an option, but it's best to have the name in Chinese to help clear up any confusion: 亚龙湾热带天堂森林公园

Nanshan Temple
Come visit this massive Buddhist temple complex on your visit to Sanya for a morning of towering sculptures, intricate temples, and manicured gardens. The whole space is enormous, completed in 1998 as a way to make the 2,000th year Buddhism had been a religion in China.
It's a calm, peaceful, and meditative space that would take about four hours to see the whole thing, so plan at least two hours to get a good taste of what the temple complex has to offer. There are loads of iconic statues and temples found in the park but one to make sure you admire is the striking Guanyin Goddess Statue, found at the end of the park on a platform that's surrounded by the sea linked to the mainland. The statue has become a symbol of the island of Hainan.
Address: Yazhou, Sanya, China
Hours: 8:00 AM to 5:30 PM
Cost: 129 CNY from October to April, and 108 from May to September.
Getting Here: Take the 25 bus to Nanshansi (Nanshan Temple) — a taxi from Sanya should be about 120 RMB per way if you'd rather.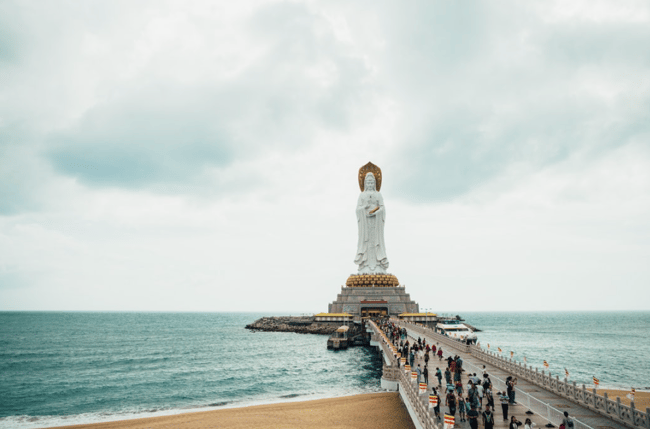 Island Hop to Wuzhizhou
Found just off the coast of Hainan, this is a favorite spot for a few ILP volunteers who want to get a break from Sanya's touristic vibe and experience a smaller island feel. It's known as one of China's best reefs for diving, but is also a spot for peaceful beaches and water sports and diving. The island is rather small, and walkable.
Here's what one volunteer said about her visit here: "We stayed in a hotel that was literally right on the beach. You step straight from the patio on to the sand then into the water. Even though there are beaches everywhere this was by far the most beautiful beach that I have ever been to. The sand was like walking through powdered sugar and the water was like a bathtub".
You'll need to arrive by ferry, so take a taxi or a public bus to Wuzhizhou Island dock (it's about a 30 minute drive). The ferries depart every 20 minutes or so starting at 8:30 AM with the last ferry leaving at 4:00 PM. The ferry ride is just under 20 minutes, then you're there!
It's a 144 CNY ticket from May to September, an a 136 CNY ticket between October and April for a roundtrip ferry ticket.
The Nantian Hot Springs
Come really relax in the hot springs. Found just outside of Sanya (20 minutes or so) is a hot spring park, full of multi-temperature pools and water slides hiding between a thick forest of coconut trees. There are 60+ pools (waterfall pools, perfume pools, herbal pools, ice spring pools, etc), but all boast the same health benefits: rehydration for your ski, and serious relaxation.
Don't miss a famous fish pedicure: you can get them all over China but this hot spring has a pool or two where you can have dozens of little fish nibble on your skin. Most places are just big enough for your feet, but here, you can dive right on in and get a full-body fish experience if you're brave enough! Make sure to bring your own waterproof shoes to wear around the park, a swimming suit, and a towel (items are available for purchase if you need to rent a towel).
Address: Nantian Hot Spring Tourist City , Haitang Area Sanya (2 kilometers away from TengQiao highway)
Hours: 8:30 AM to 11:00 PM
Cost: 198 RMB
Getting Here: Taxi is an option but typically is pretty expensive (just make sure they have the meter on). We're a fan of taking a free shuttle bus from the Pearl River Garden Hotel (Zhu Jiang Hua Yuan Hotel). They leave every few hours — one report said buses leave at 8:30 AM, 9:30 AM, 10:00 AM, 2:30 PM, 5:00 PM and 7:00 PM.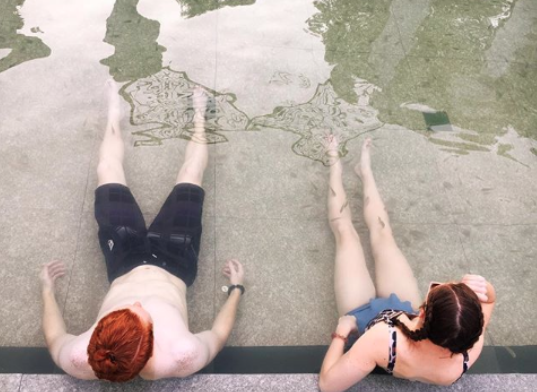 Places To Stay
Sanya Backpacker's
Another recommended place to stay for a few days, volunteers loved that this hostel was close to the beach (and has options for you to rent floaties, surfboards, and umbrellas), an outdoor place to hang out and play pool, and a friendly English speaking staff. Book on Hostelworld.
Blue Sky Hostel
A favorite for ILP volunteers, find a helpful staff at Blue Sky Hostel that puts together group dinners if you want to get to know other travelers. You'll get help figuring out bus routes and restaurant recommends, and enjoy tidy dorm rooms, and just a short walk to the beach — we're talking under 5 minutes. Rooms start at $5 for shared dorms, book on Hostelworld.
AirBnBs
A handful of our ILP volunteers have stayed at AirBnBs, which is an option if you want access to a kitchen, or want to all stay in the same room. Find a place to stay here.

How To Get Here
Catch A Flight
Being and island, flying is going to be a great option. The Sanya Phoenix International Airport (SYX). It's less than 10 miles outside downtown Sanya which makes it really quick and easy if you're staying there. We love booking flights on trip.com, but look around. If you're coming from the north, a direct flight from Shanghai is around 3.5 hours while a flight from Beijing is around 4-4.5 hours. Prices are going to vary wildly depending on the time of year you go. For example, we found a flight in August for as low as $100-150 USD roundtrip from Shanghai, but then when we looked in April the flights jumped up to 2-3 times as much at $300+ USD. Keep in mind that the high season (October-April) is going to have higher pricing.
From the airport it's really easy to get to the hostel or AirBnB you've booked. There's a city bus that's quite affordable (4-5 CYN) that leaves every 10 minutes from 6 AM - 11 PM and it'll take drop you off in Sanya Bay (you can also catch the bus coming back to the airport too). Check out more details on that route here. You can also catch a taxi, although more convenient that's also going to be the most expensive option. Some hostels also arrange airport pickup, so just make sure you inquire about that!
Take The Train
Yep, you can actually take a train from mainland China! Even though the island isn't attached to the mainland, they'll connect you via ferry for the last small stretch of the trip.
Time wise it's going to be much longer ... if you're coming from Beijing the route getting there is nearly 40 hours! It might be a decent option if you're already in a southern city like Guangzhou, but you'll have to decide if the cheaper price is worth it. For example, on Trip.com I looked up a train route from Guangzhou. Below you can see that the cheapest option is a hard seat, at $30 USD for 14 hours ... and Trip has this handy feature of showing you flight options on the same day at the very bottom, so you can quickly see that if you booked a flight instead it would be as low as $82 USD for 2 hours.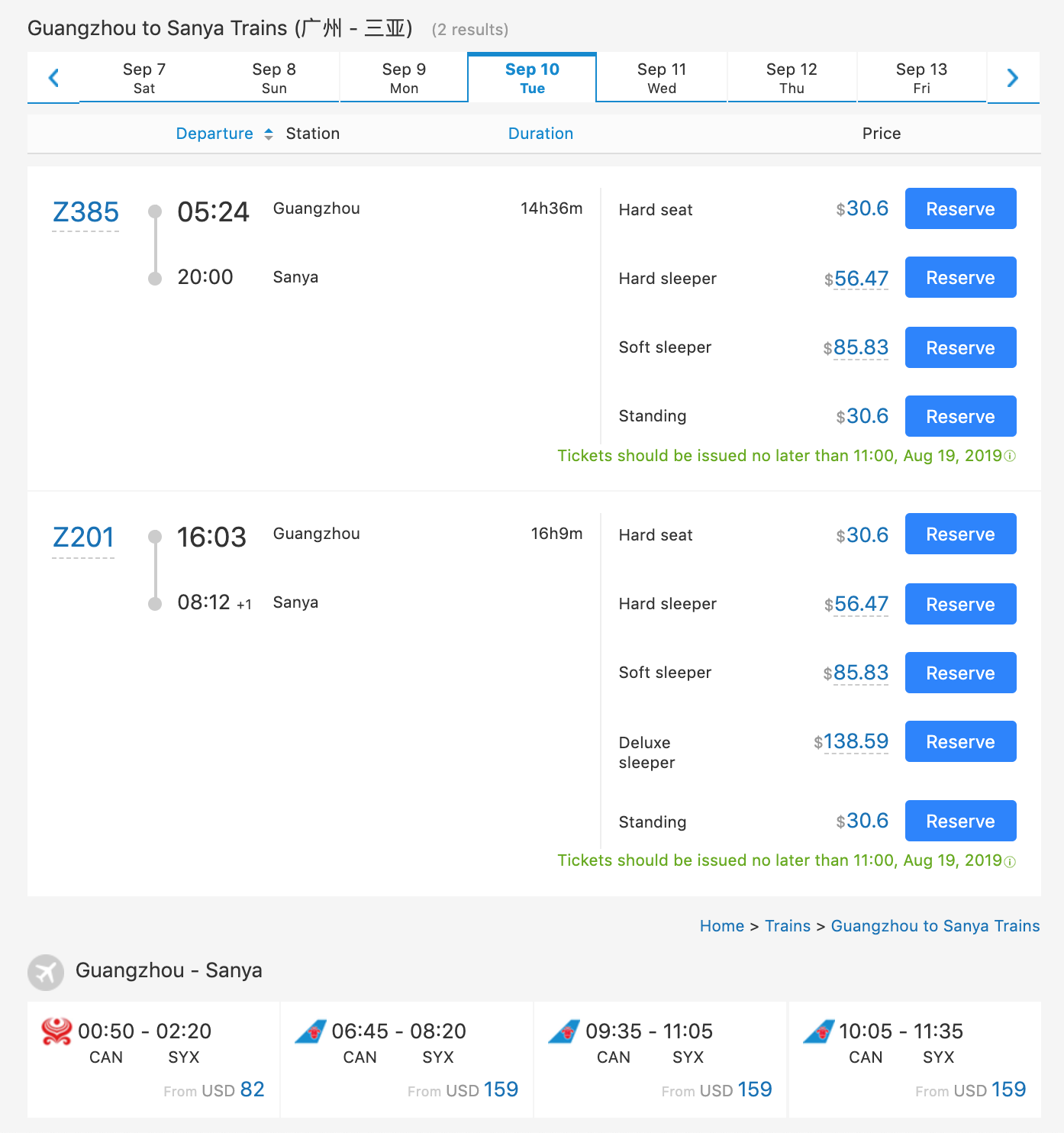 Honestly though, if it was me I'd probably just book a flight. Mostly because I only have so much time in China and I would rather spend it sitting on the beach vs sitting on a train. But the other thing to keep in mind is that those prices shown above are one way. Often times the roundtrip flight to Sanya is similar to the one way flight, so by the time you're buying 2 train tickets to go to and from Sanya, it might not be that far off of what a flight costs.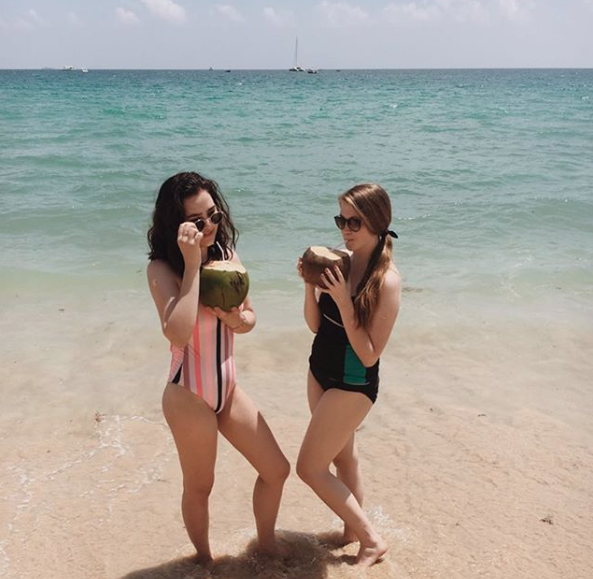 A Few Tips
Bring All The Things
It's tropical, warm, and humid here …. paradise, right? You'll want lots of sunscreen (it's expensive and hard to find without whitening agents in China), aloe vera, and bug spray to help you adjust to that tropical paradise during your time here. In the summer months, volunteers were glad they vacationed with some bug spray in their bag to combat the mosquitos.
Oh and we weren't kidding about the sunscreen. You're closer to the equator here and if you're lounging and relaxing the sun, you can very easily get badly burned. Be careful!
Heads Up On Crowds
This island getaway might not seem like a vacation spot in China, but it's still a part of China. You'll find this place flooded with tourists in the high season (October to April or so). It's not a reason not to visit, but you'll just need to keep in mind that the same tourist crowds you handle when vacationing on the mainland are the ones you'll experience here. Some volunteers come with the expectation to find empty secluded beaches, but you'll find lively families ready to hang out on the sand and karaoke all night long, China style!
How Long To Stay?
Volunteers are split — some have made a really quick weekend out of visiting (not bad if you're already near southern China and can take a 1-2 hour flight) but we're thinking 3-4 days is the time frame you should be aiming towards. You'll get a full day of beach time, plus be able to fit in a couple of half day adventures like visiting the hot springs, hiking around the jungles, or exploring the Buddha temples.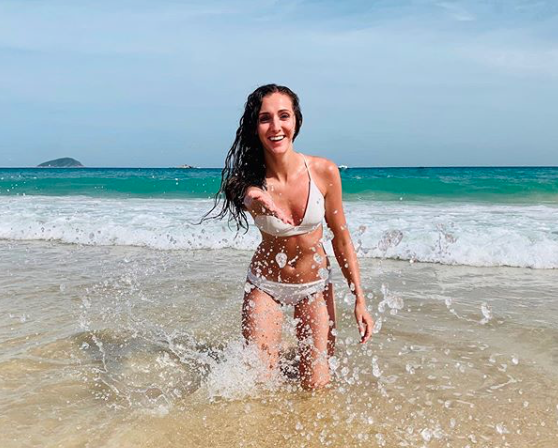 Ready for more world adventures?

We (International Language Programs) host volunteer programs in a handful of different parts of the world. Our volunteers are college-aged individuals who teach English part-time and have weekends plus vacation days off to travel. This means that you get to teach the cutest kids during the week, then hop on a train, plane, or bus to explore everything that country has to offer! Learn more on our Instagram: