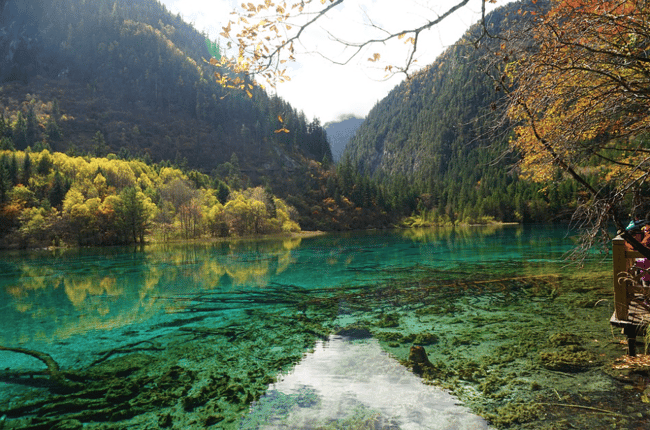 Planning a trip to Jiuzhai Valley National Park in China? Lucky you! This is one of my favorite vacations in China. That being said, there's several tips to make the most of your experience.
Jiuzhaigou is an insanely colorful park in China that is worth a visit. Actually there's a million places in China that are worth a visit, but China tends to be a bit intimidating if you do solo travel. Instead you could volunteer! As a volunteer with ILP you'll get a good mix of experiencing the culture, serving the people (by teaching English to kids), and exploring the country all within the safety of a group of other volunteers.
---
*Quick ILP Update — we have closed our semester abroad program in China and are not updating info found in this post. We're keeping this post live as it may be a helpful resource for you, but know that information was last up to date at the time this post was published.
---
I absolutely loved my vacation in Jiuzhiagou. Not only are the colors beautiful, but it's maintained really well. Also, the cultural is historically Tibetan so it almost feels like you've stepped into another country (even though you're still in China). I already wrote up directions for navigating the park, but there are a few things I wish I would have known before I went though, so here's my wisdom for you —
Go Early
Even on a normal weekday, it's popular (just like national parks always are). Plus the park is really big, so you'll want a full day here anyways. If you arrive when the park opens you'll be able to avoid the crowds a little bit more (at least at the entrance lines).
During peak season May 1 – November 15, the park is open from 7:00am to 7:00pm.
Bring Cash
You'll need cash on hand to purchase your entrance ticket and any snacks or food for the day. I did see an ATM machine, but it was out of order. They couldn't process my debit card (although it was working fine, so I think you need to have a Chinese bank card).
Entrance cost during peak season (April 1 – November 15) is 220 yuan which is about $32 USD.
You'll also need to pay for the shuttle bus (trust me, you want this) which costs 90 yuan. So, the total amount of cash you'll want to have on hand for your entrance fee is 200 yuan (if you're getting the student discount ticket plus bus fare) plus extra cash for snacks and beverages (maybe 50-100 yuan or so). You can also shop for souvenirs at the Visitor's Center so you may want cash for that as well.
Bring Lunch
There are a couple places to eat near the Ticket Office before you enter the park and the Visitor's Center in the center of the park, but your options are very limited and they're also the types of Chinese snacks that foreigners tend to not find very appealing (like hot dogs on a stick).
You can bring food into the park so I recommend packing a sack lunch, snacks, and water because you're likely going to be exploring the park all day. You can find snacks like Snickers and Oreos as well as a vending machine for water bottles and soda throughout the park if you need it (so having small bills is good for that).
Take a Screenshot of the Map
They aren't handing out free maps (or any that I saw even for sale) so it works best to have a screenshot of the park map or a printed out version. I had cell service in the park (with Verizon), but it was slower so it's just easier to already have the map saved.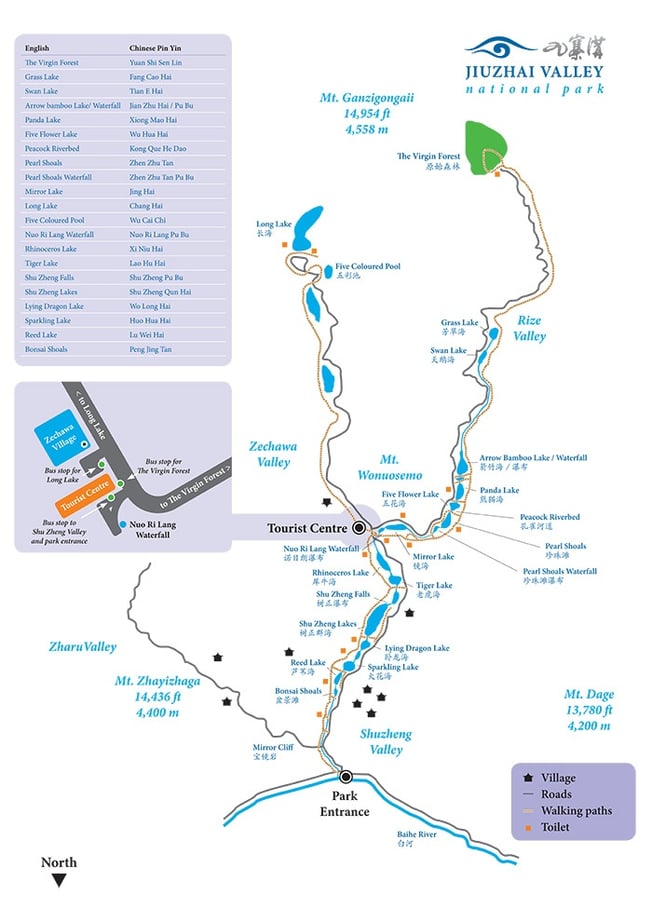 Photo credit for the map via jiuzhai.com
Plan Out Your Must See Spots
This park is big - so big that you can't see everything in one day. Do a little research and pick out some spots that you want to see most so that you know exactly which shuttle bus stops to get off at and not waste time guessing. There are 3 main areas that you can organize your trip into: Zechawa Valley, Shuzeng Valley, and Rize Valley.
These were the spots I loved and recommend:
Zechawa Valley
Long Lake: This lake is big (actually the biggest in the park) and quite stunning - one of my favorites. It's large enough that it's very easy to get away from the crowd and get photos without tons of strangers in them. 1 of your 2 options for shuttle buses from the entrance goes directly here for the first stop anyways, so you might as well enjoy it before heading to the next destination.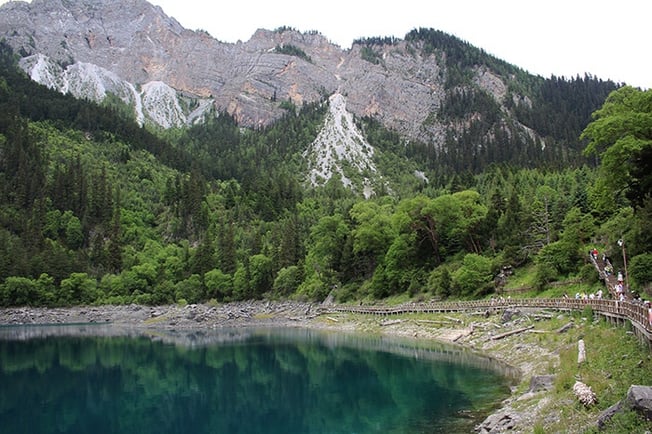 5 Colored Pool: This is one of the most popular in the park because the colors are incredibly vivid and bright. Like really unbelieveable unless you go see it for yourself. This photo below is just a raw image from my camera, not edited at all ... crazy right?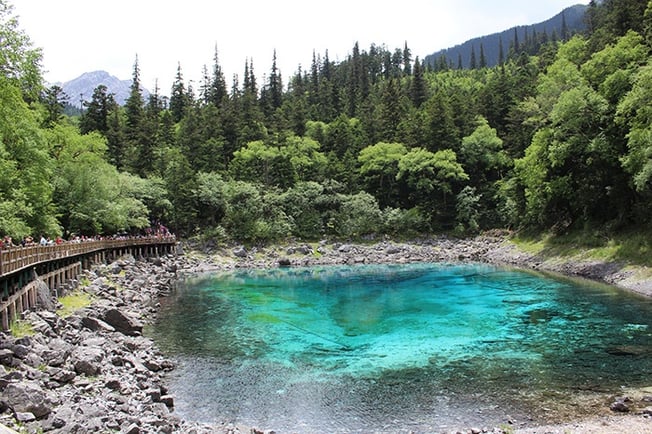 Shuzeng Valley
Nuo Ri Lang Waterfall - If you're going to see just one of the waterfalls, this is the one you go to. It's the biggest and in Tibetan the name means 'grand and magnificent'.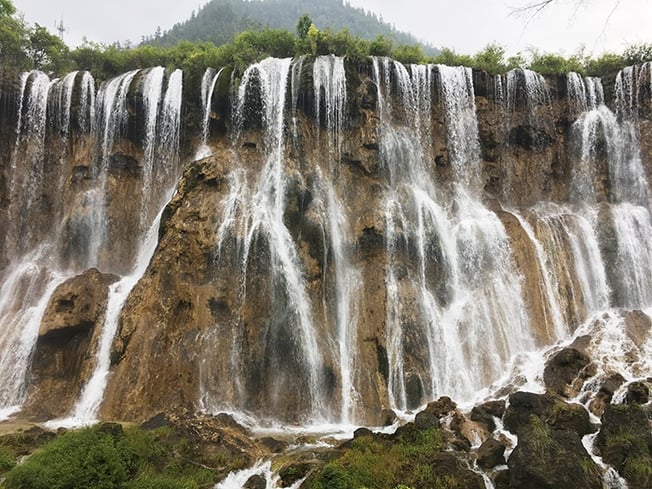 Tiger Lake: Yet another beautiful lake with a beautiful view point. This one is named Tiger Lake because in the fall the trees which have turned orange and red reflect on the lake and it's said to look like tiger stripes. So, if you're visiting during the fall you may want to come check this place out (but I loved it in the spring, too).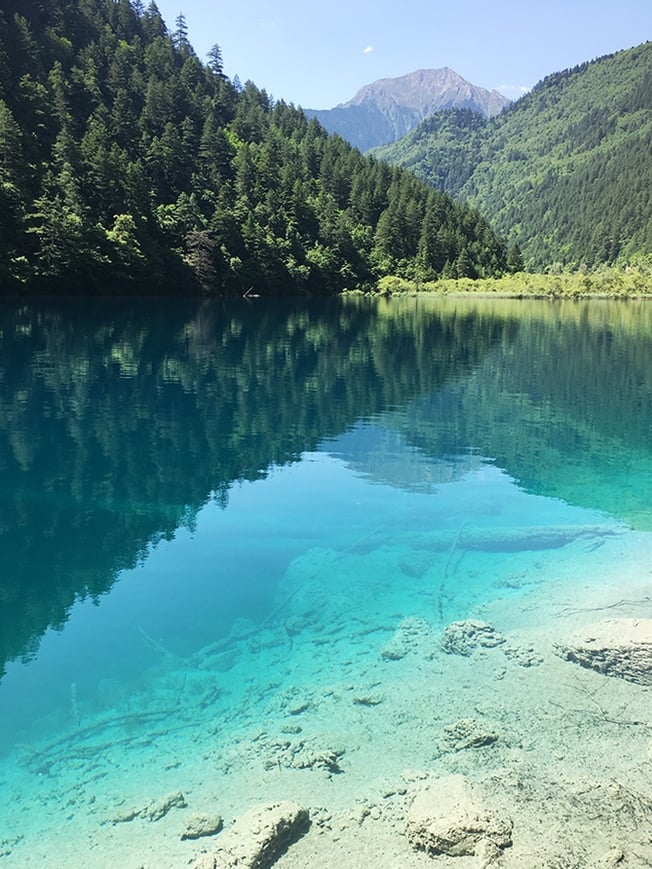 Shuzeng Village: This was probably my favorite thing (other than the lakes, of course). There are Tibetan villages in the park that you can walk around and explore. Some people are still living there, so be cautious to not just walk into their backyard trying to get a photo next to a cool door. Obviously they're used to people, but just be courteous.
Actually, there wasn't really any tourists walking around the village. We thought it was AMAZING but I'm thinking Chinese locals aren't that interested, so this is perfect place to escape the crowds. You'll see a temple area with many Tibetan prayer flags, shops, and a little village you can walk through.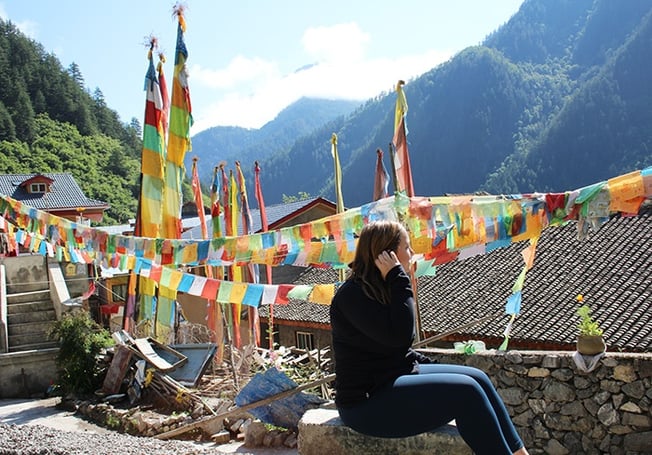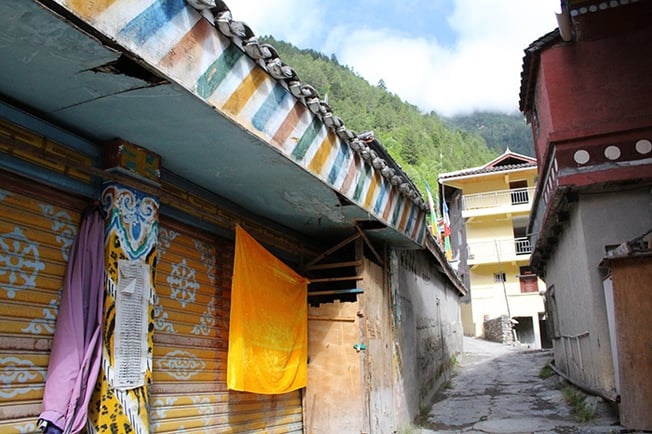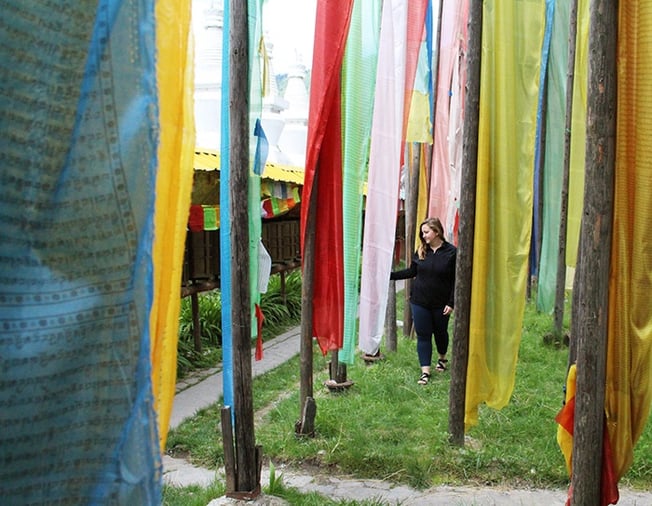 Rize Valley
Panda Lake: Again, very turquoise and clear water makes this another favorite. The water was so clear that some people were feeding the fish (although there's a sign to not do that...oops) and you could see everything.
This park is actually a natural home for pandas, so that's where the name for this lake comes from. Although...don't get your hopes up too much because it's very rare to see a panda here now-a-days. This was a great stop to have lunch in the shade by the lake.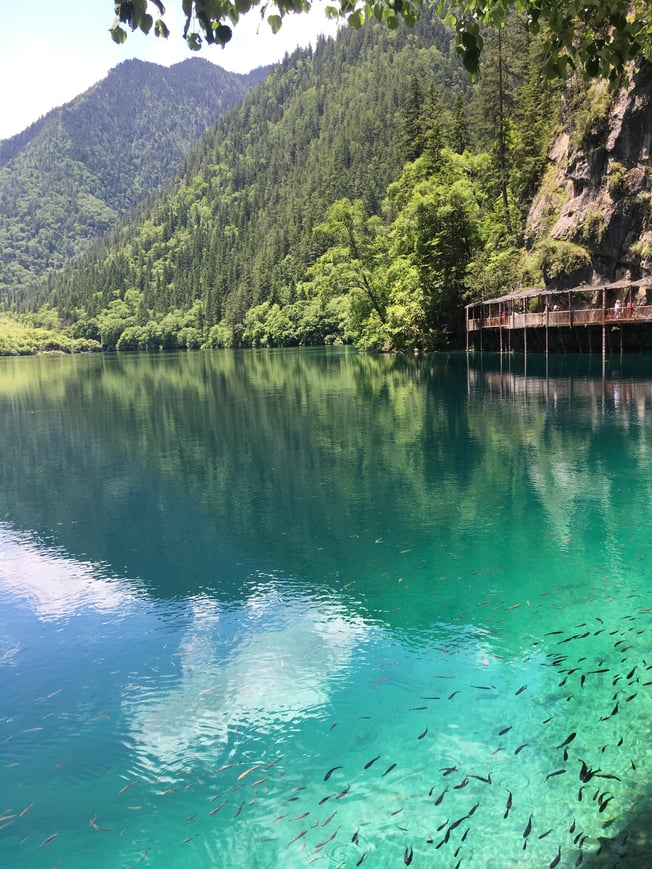 Five Flower Lake: When I was on the shuttle bus, an older Chinese gentleman thought it was pretty cool that I was American (because zero foreigners come there) and he tried to talk to me...but unfortunately I'm a typical American who doesn't speak any Mandarin. Anyways, when we got to the shuttle stop for Five Flower Lake he was very concerned that I wasn't getting off and very adamant that I go see this site. I'm so glad that I followed him because it was beautiful! And very busy because it was very popular. Again...this photo below isn't edited!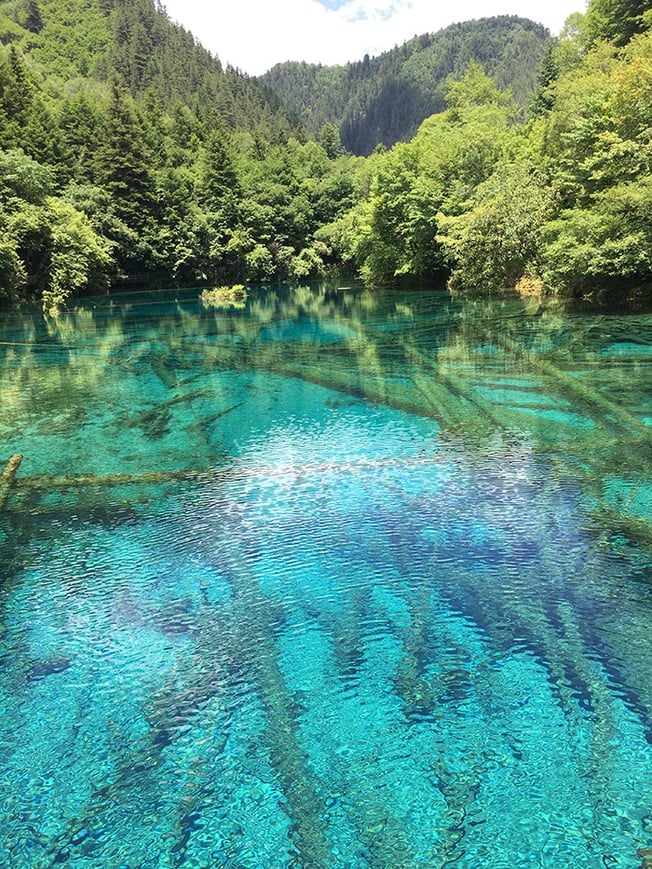 Mirror Lake: You can probably guess why it's named mirror lake...because the water is so clear and the light hits it just right so that the trees are mirrored beautifully on the lake.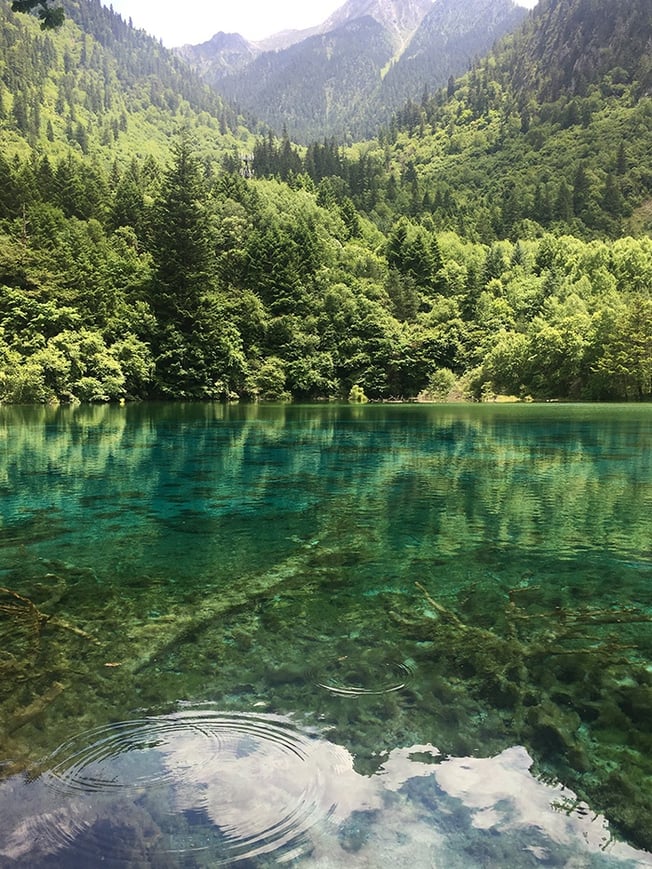 You really only need 1 or 2 days
I would recommend having two days to explore the park because then you're not so rushed and you really can see most everything (plus it was a long journey to get here anyways). With 1 day you're a bit rushed, but if that's all the time you have that's okay because you can definitely still get a good feel for the park.
If you only have 1 day...
Choose 5 must see spots and make a goal to hit those. Anything extra that you are able to see is just a bonus. Also clearly map out your route with the places you want to go so that you're not wasting time going back and forth to different sides of the park on the shuttle.
If you have 2 days...
On the first day, take the shuttle buses on the left side of the entrance parking lot. They'll take you all the way up to Long Lake in the Zechawa Valley. Then you can just work your way back down and see the Shuzeng Valley as well.
On the second day take the shuttle buses on the right side of the entrance parking lot. They'll take you to the Visitor's Center where you can jump on another shuttle bus and head up to explore the Rize Valley. Again, take the shuttle as far north as you want and then work your way back down. If you have time at the end of the day, do some shopping at the Visitor's Center before heading out of the park.
Just FYI - if you're going during the peak season (May-November) then your entrance fee is only for 1 day. So if you're coming two days that means you'll have to buy a ticket again the next day.
Prepare For Any Weather
This applies to really any time of the year. I went during the summer and I still had times where I put a sweatshirt on. All during just one day it was hot and sunny enough to wear a tank top, cold enough to wear a sweatshirt, and rainy enough to need an umbrella. The weather just kept changing, so be prepared for it all. Bring sunscreen and sun glasses because you'll be exposed to the sun at a higher altitude for most of the day.
Bring Good Walking Shoes
The nice thing about this park is that you can walk as much or as little as you want. If you're tired you can take the shuttle everywhere and it drops you off nearly right at the scenic points. But, it's also really fun to walk along the paths and get away from the crowds. Even if you take the shuttle to most places, you'll still be walking a fair amount so comfortable shoes are a must.
I wore Tevas and was just fine.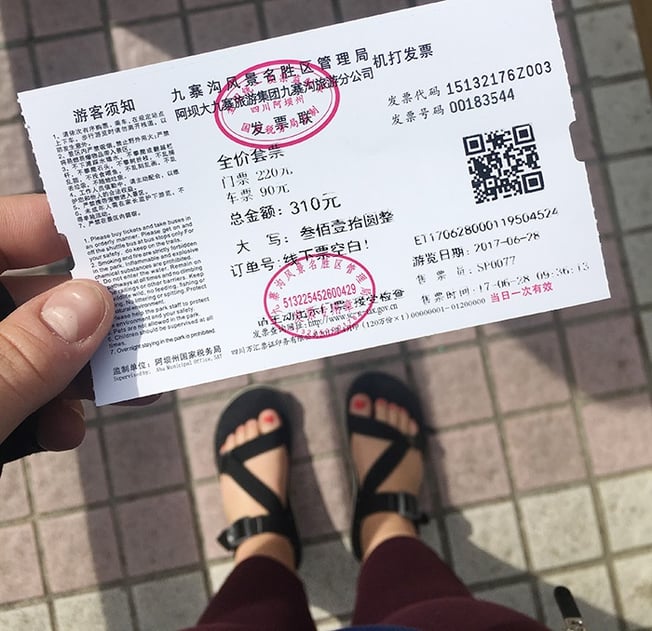 Know How To Avoid The Crowds
Popular places like this can get crowded, especially if you happen to go during a national holiday. You'll be really frustrated if you're trying to take a photo in front of pretty scenery and other tourists are walking into your shot to get their photo.
I found that most Chinese visitors used the shuttle buses and didn't want to hike around. So that meant that when a shuttle bus arrived, a huge crowd of people came running and formed around the first great looking view. Pro tip - don't be the first one to run off the shuttle bus. Wait around, let them all fight to take their pics, and then after they run to catch the next shuttle bus...that's your chance to have peace and quiet for a few minutes until the next shuttle comes by. You can also just walk a little further. There's often just as great of views (if not better) past the crowds because they just haven't found them yet or they don't want to walk that far.
Also, take the pathway if your next destination is in walking distance rather than the shuttle. There will be hardly anyone out walking so you get to enjoy the park without the crowds that way.
Okay! Those are my tips for you and I hope they help. If you've been, what tips would you give someone traveling to Jiuzhaigou Park?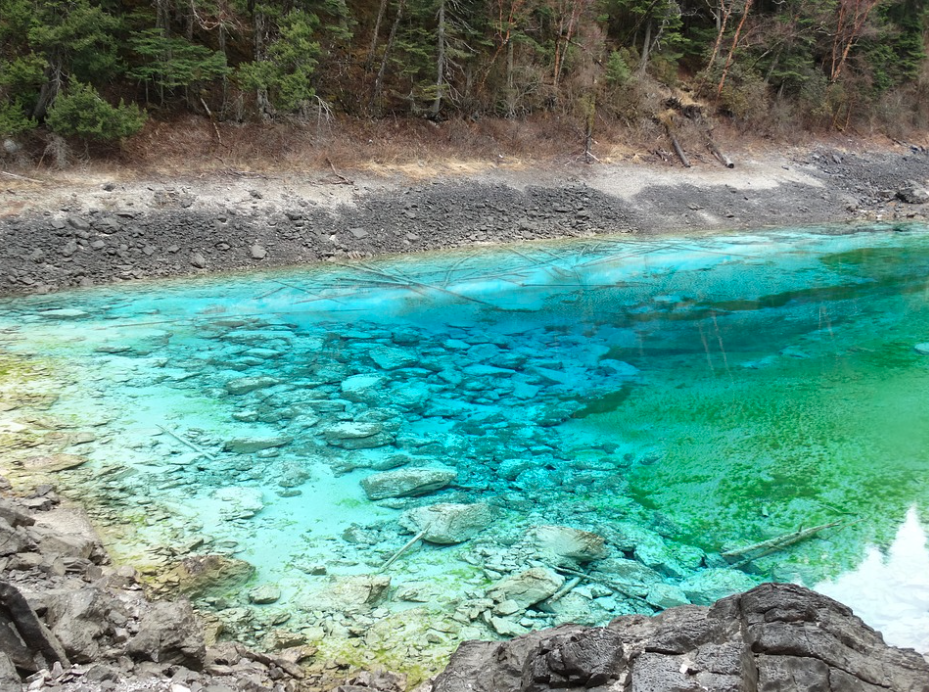 Ready for more world adventures?
Ready for more world adventures? We (International Language Programs) host volunteer programs in a handful of different parts of the world. Our volunteers are college-aged individuals who teach English part-time and have weekends plus vacation days off to travel. This means that you get to teach the cutest kids during the week, then hop on a train, plane, or bus to explore everything that country has to offer! Learn more on our Instagram: