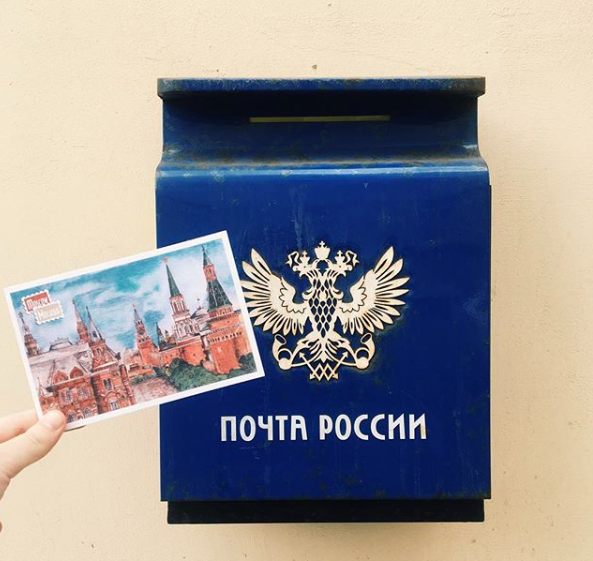 Not only are there are about a hundred things to do in Moscow, it's also the best jumping off point to these favorite weekend destinations.
Moscow is one of my favorite cities in the entire world … but that doesn't mean that you don't want to spend a weekend exploring some of the other amazing cities in and around Russia on your semester. As an ILP volunteer, you're set up with a teaching schedule part time during the week, letting you explore all Moscow has to offer, and every Saturday and Sunday off, which is more than perfect for the occasional weekend getaway.


---
See what life in Russia is like with ILP
Volunteering in Russia
---

So many of Moscow's adventures are easily done before you even start teaching which means you have weekends clear to visit some of these spots.
St. Petersburg, Russia
An absolute can't miss city in Russia is St. Petersburg. Sometimes called "the Venice of north" thanks to the network of canals that spiderweb through the city's historic streets, St. Petersburg is just a very short flight or overnight train ride away from Moscow.
You'll have a busy weekend seeing some of the world's most amazing art in the enormous Hermitage palace, touring other famous palaces like Peterhof, and gazing up at the literal millions of mosaic tiles that create the murals inside the Church of The Savior On Spilled Blood. Some volunteer groups love St. Petersburg so much, they visit on multiple weekends. Get your ultimate St. Petersburg Guide here to make sure you hit all the highlights.

Getting Here: Flight or train are your best bets. It's just over an hour to fly there (look for airlines like Pobeda, UTair, or S7) or you can go by train. Sapsan has a fast train that gets you to St Petersburg in about 4 hours, but an overnight train is cheaper. Fall asleep on the train and wake up about 9 hours later in St. Petersburg.
+ Another Nearby Spot
On the way from Moscow to St. Petersburg is a little city called Veliky Novgorod. It's one of the most important historic cities in Russia (known as the birthplace of the country, which is hecka rad) plus it's an easy stop over between Moscow and St. Petersburg ... and just happens to be home to the oldest church in Russia. Talk about an ideal day trip from either city.
Here's info about visiting Veliky Novgorod.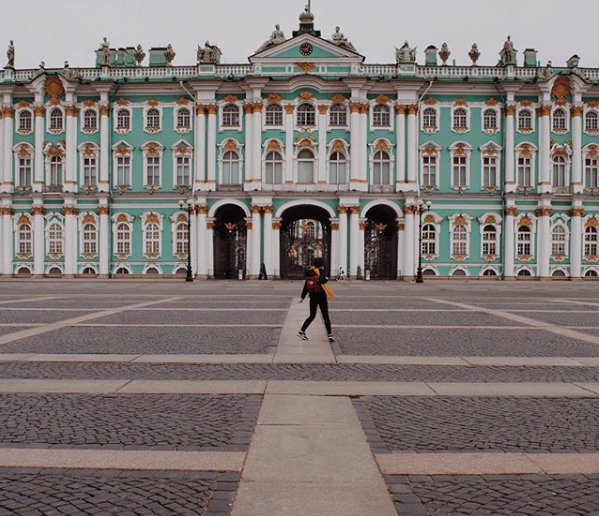 Suzdal + Vladimir, Russia
Come visit two of the "Golden Ring" cities found just outside of Moscow. Known for classically beautiful onion-domed churches, I'm a huge fan of both Suzdal and Vladimir. There are lots of history found in these two cities which were important stops along the trade routes that went in and out of Moscow for hundreds of years.
You'll find ornate wooden churches built completely without nails, and charming city streets built in the old dacha style (with colorful walls and decorated wooden windows). In both cities, there are multiple churches topped with a cluster of onion domes — exactly what you're looking for in a historic Russian city. Spending one day in Suzdal and one day in Vladimir makes for a busy weekend visit. Come see what Suzdal is all about in this post.
Getting Here: Suzdal is 1-3 hours away by train, and from Suzdal, you can easily reach Vladimir by bus or train. It'll be about an hour drive and buses tend to leave very frequently for Vladimir (every 30 minutes or so, but best to double check).
Check out our guide to Vladmir to help you plan your trip there.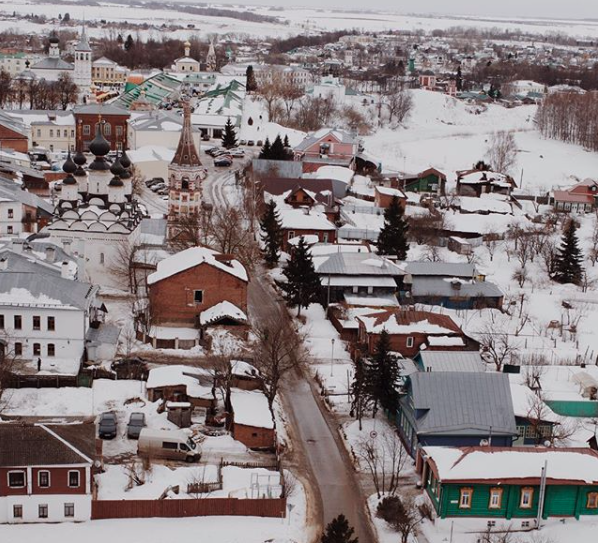 Sergiyev Posad, Russia
I had no idea how many charming little cities dotted Russia's countryside (and how much I'd fall in love with this place). Sergiyev Posad is just one of those quick trips you'll have to fit into your itinerary. Just hop on a quick, 1.5 hour train ride from Moscow and you're ready for an afternoon of perusing pastel streets and a picture-perfect monastery riddled with history.
Tour the star-studded Lavra, the famed Trinity Cathedral and a few other buildings which create one of the most picturesque collection I've seen in Russia. This city is cute — full of buildings that looked like intricately iced cakes. It's a quiet, welcome break from the bustle you can find in the capital. Get the details on visiting Seriyev Posad here.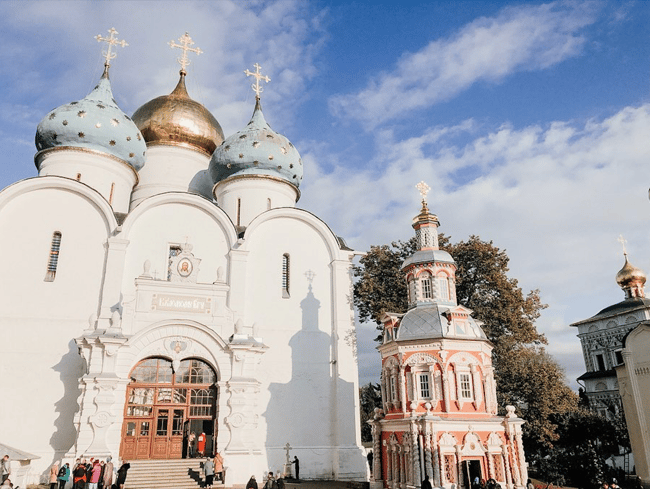 Kazan, Russia
Our newest favorite city to visit in Russia. The feel of this city is completely different, and thanks to a strong Tartastan influence, you'll find gorgeously decorated mosques along with cuisine that feels completely opposite from the Russian food you're eating in Moscow.

One thing you can't miss is taking a taxi out to the Temple of Religions, which combines architectural details from Jewish synagogues, Orthodox and Catholic cathedrals, Muslim mosques and Buddhist temples all under a bright and colorful roof. But that's just a taste of what this city has to offer you — we have all the things to see and do in Kazan right here.
Getting Here: from Moscow, the 1.5 hour flight to Kazan makes it an ideal vacation spot for our volunteers. Or, you can take an overnight bus that'll get you there in about 12 hours.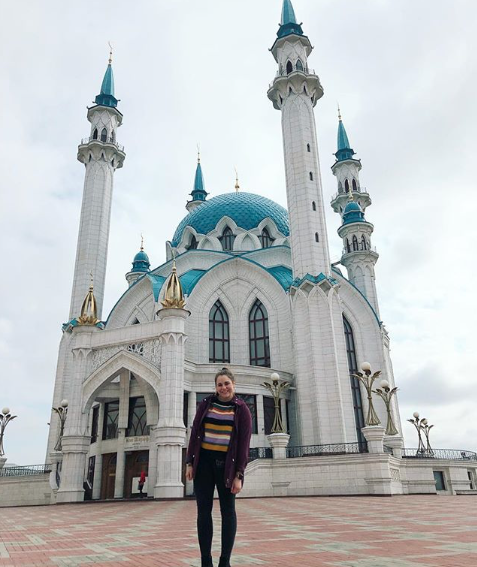 Yaroslavl, Russia
A historic city but one that is often overlooked by tourists. Yaroslavl is a quaint city sporting more of those onion-domed churches I know you all love, and gives all visitors a glimpse into what Russia used to look like. You'll find crumbling monasteries, churches where you can climb the bell tower for a view of the city, and quiet streets untouched by tourism. Come visit Yaroslavl for yourself.

Getting Here: About 3-4 hours away by bus.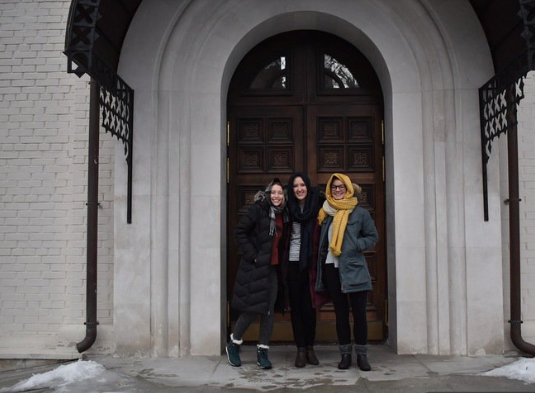 Kostroma, Russia
Just a 5-6 hour train ride will land you in the cutest town you didn't know you needed to see. It's also only about 1.5-2 hours from Yaroslavl, so if you were making plans to visit there you might want to tack Kostroma onto that weekend trip as well. It's right on the Golden Ring of Russia and is full of cathedrals and sites that are beautiful, but also away from the busy city of Moscow.
Get more on our Kostroma guide here.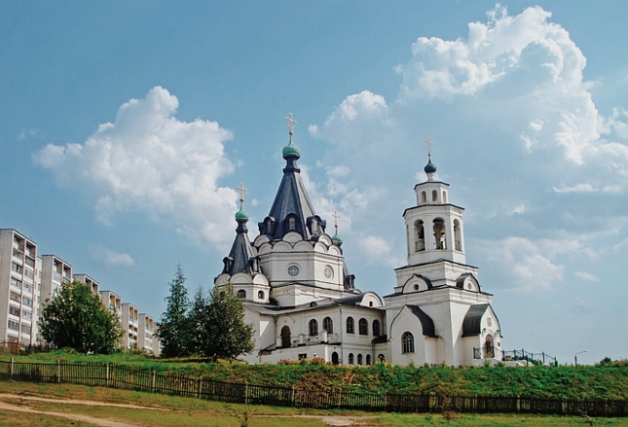 Kaliningrad, Russia
Hop on a plane and get to one of the highlights of Russia in just over 2 hours. Kaliningrad is sandwiched between Poland and Lithuania and makes for quite the weekend trip especially if you love history and pretty architecture. The city's history is steeped in quite the folklore, first dating back to the 13th century where it was ruled by German knights. It's been under the rule of Poland, belonged to Prussia, then again to the German empire. It was a total hub of science and culture for Germany, Lithuania, and Poland (and was home to Immanuel Kant), until it was annexed to the USSR in World War II.

Find all you need for a trip to Kalinigrad here.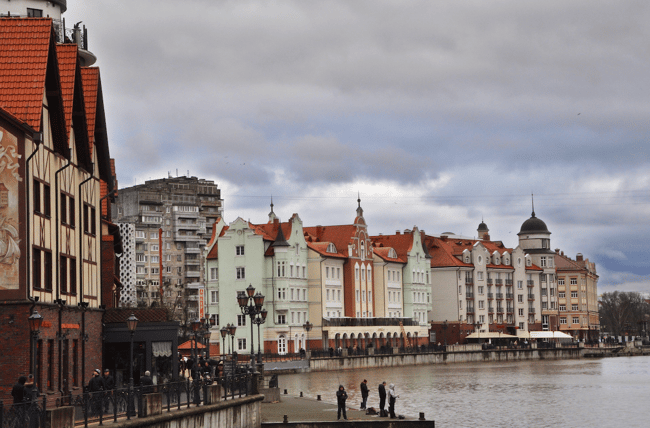 Tallinn, Estonia
One of the most charming in cities, if you're asking me. Tallinn leans into its medieval history, so when you're walking down the narrow streets of the Old Town, past sharp church spires poking out above the pastel streets, you may see someone dressed up as a jousting knight or one of the king's musicians.
These tour guides are all too happy to take you to the sites of Tallinn, but the real experience of this European city is just wandering around on your own to get the best views, stumbling across rad fruit markets, and finding a cool cafe for lunch. Tallinn was one of my favorite (and prettiest) cities I visited on my semester in Russia and makes for the perfect weekend getaway. See what you can't miss in Tallinn, Estonia here.
Getting Here: Best to fly and get here in less than 1.5 hours if you find a nonstop. Even options with a layover can get you to Tallinn in just over three hours.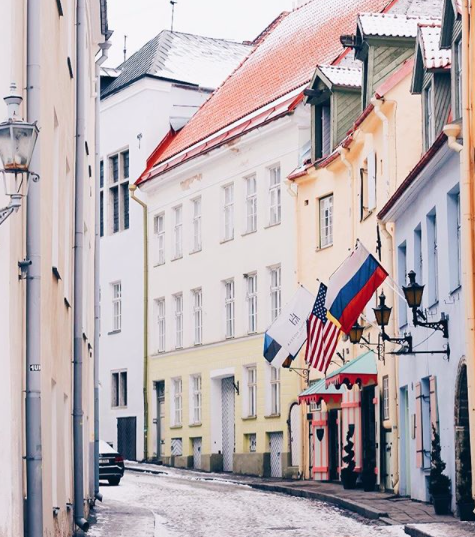 Helsinki, Finland
Come visit another favorite city, just north of Moscow. Found right on the coast, Helsinki's hiding boat trips to magical, hobbit-like islands in the summertime, and icy streets lined with Christmas markets in the winter. This Finnish city has shops and markets filled with everything from cinnamon cardamom buns and the most beautifully designed clothing and artwork — I visited on the weekend and wanted to stay forever — come see what you can't miss in Helsinki.
Getting Here: A nonstop flight is under 2 hours (look on airlines like Finnair or Aeroflot). You can also take an overnight train where you'll arrive in 14 hours or so (though roundtrip flights are typically cheaper than roundtrip trains).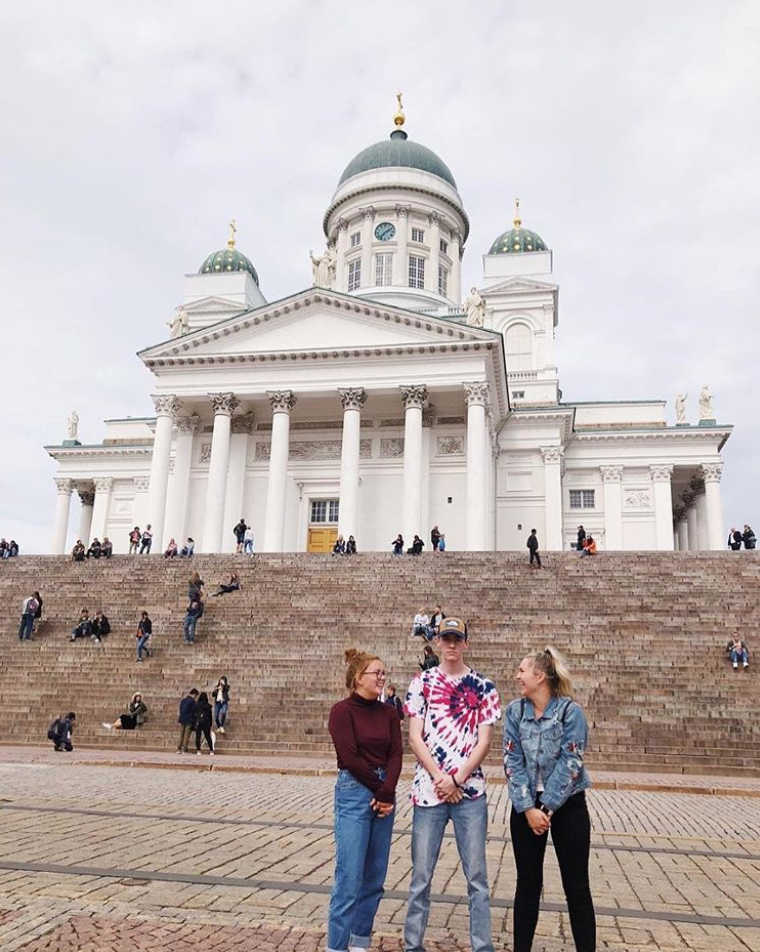 Vilnius, Lithuania
One of the gems of the Baltics, visiting Vilnius means exploring castles, kayak trips down winding rivers, climbing around the Hill of Three Crosses, soaking up WWII history in a handful of museums, plus warming up in cafe after cafe. A weekend is long enough to see what Vilnius is like, and maybe take a day trip to nearby sites, like the beaches in Klaipeda or Trakai Castle. Our favorite things to do in and nearby Vilnius are here.
Getting Here: A 1.5 hour flight gets you into Vilnius (Caution — most train options will have you cross through Belarus, which requires you to have a visa even if you are just traveling through. Best to just fly and avoid the expensive and fussy visa process).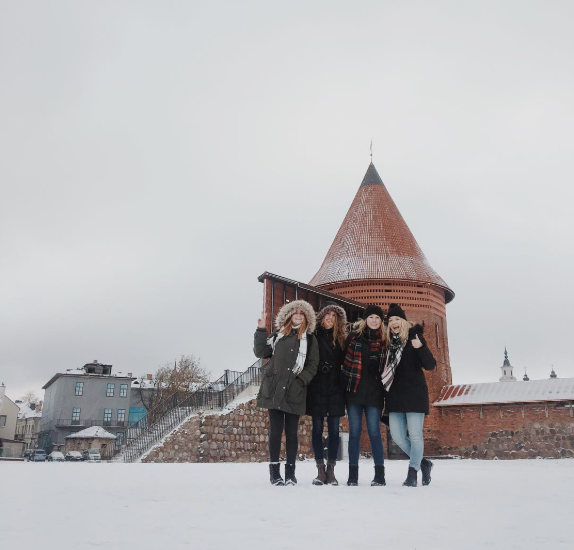 Riga, Latvia
Another gem in the Baltics, the city of Riga is full of sprawling parks and gorgeous architecture. Their cute Old Town is stacked high with pastel-colored buildings with impressive names (like the House of the Blackheads ... how can you resist visiting?). Riga is the ideal spot for a quiet weekend in Europe; come photograph gorgeous buildings, peek into churches, duck into cafes serving homemade cake and tea, or huge central markets. Get our recommendations for Riga here.
Getting Here: Airlines like Aeroflot, UTair, Air Baltic, RusLine, Finnair, often have nonstop flights that will get you there in about 1.5 hours.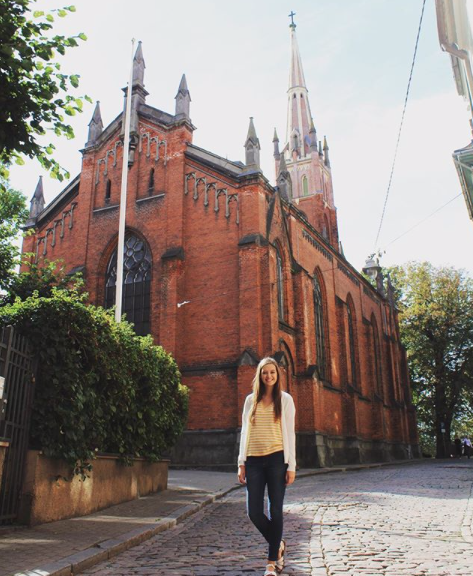 Here's your chance to live in Europe for a semester
Come join other college-aged volunteers for a semester in Russia! You'll spend part of your time teaching English, and part of your time exploring Russia and taking trips all around Europe.