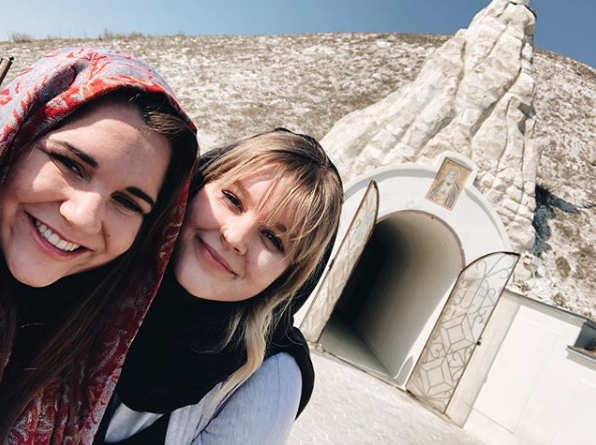 Turns out this country is hiding more surprises than you think.
Tucked away in the hillside of southern Russia is a network of caves with ancient murals embedded in the rocky cliffs, topped with those classic onion domes you'll see all over the country … but these ones are jutting right out of the stoney side of the hills. Nicknamed "the Jerusalem of Russia", the Kostomarovskiy Spasskiy Monastyr is our newest spot we're rather in love with.
---
Come experience the real Russia for an entire semester
Volunteering in Russia
---

This spot is truly a unique one, tucked away off the beaten path, giving you a glimpse at local life if you make the trek out there. It's a quiet place to visit and contemplate, and photograph — the surrounding green hills and combination of churches stacked against the rock is just gorgeous. We've talked to Kat G. who spent a semester volunteering in Russia and spilled all the secrets to visiting the Spasskiy Convent.
A Bit About The Convent

Helpful Tips For Your Visit

Getting Here
A Bit About The Convent
The site has been a religious hide out for centuries, rumored to be a safe haven for monks and nomads as early as the 2nd century. There's a pervasive yet unconfirmed rumor that one of the apostles came here after Christ's death — but what is certain is the damage inflicted on the caves in WWII. They were ravaged by the war, but were reopened in 1946 ... only to be burned down in the 1960s. The church has been restored and reopened since the 1990's.
The convent itself is a collection of little churches that have been carved out into the side of the mountain. The main cathedral is pretty big (big enough to fit around 50 people) while the smallest churches are little, more closet-sized. Here's what Kat said about her visit "You basically just go into each one, and they have prayer candles that you can light, and different artwork that was amazing. It's very relaxed and you just spend a few minutes in each little church. Everything is outdoors, so you could definitely picnic outside the church grounds after your visit!
"It was really peaceful too: there weren't a lot of people when we went, and so we felt pretty alone which was fun. There's a little church and cross at the top of this hill that you have to climb too, and it was very peaceful and spiritual, for all of us in the group! It's also this amazing view and you can look out for miles in all directions. The grounds are really well kept, and there were women cleaning the churches the whole time we were there. It's very different than any other church/cathedral that I've been to, the walls are white and since they are caves, it's really dark except for the glow of candles which just adds the warmest glow, I really liked the atmosphere, it was unlike anywhere I've been!"
To learn more, the official website is where you should visit, just know it's in Russian so you'll need to get it translated.


Helpful Tips For Your Visit
Costs
There isn't an entrance fee, but there is a donation box to put some rubles in. It's to help keep it renovated so please add your donation.
You'll also want to bring some rubles for the little gift shop. According to Kat, "you'll find rings, head scarves, and there were lots of Easter eggs when we were there too which were SO beautiful (we went in April)" you'll find postcard/photos that are only three rubles (and looked better than any pics you could get on your phone). Kat says "the shop and souvenirs obviously aren't free, but they are Russia prices, so nothing too expensive".
When To Visit
Visit the beginning of Fall semester or the end of Spring semester. We're thinking September, early October and then maybe April and May for the spring months would be the best times to go. The entire site is outside and rather remote, so you'll want to visit in good weather and dress for the conditions. This ILP group visited in April and it was beautiful.
Also, if you're coming from Voronezh, Russia area this is your newest Saturday activity. This ILP group left around 9:00 AM and got back after 6:00 PM. Driving from Voronezh, it's about a three hour ride there, and a three hour ride back. Plan on spending 1-3 hours at the church, (on the longer side of things for people who want to picnic on the grounds).
What To Wear
You'll want to dress for the weather outside, and know that it does get chilly inside of the caves (in April, Kat and her group could see their breath inside of the caves). It would be a good idea to wear another layer (like a cardigan) you wouldn't need outside, but would want when you entered the caves.
Ladies, you need to be in a long skirt and have a head scarf (and just look relatively nice in general). Guys, no shorts and you'll need to remove any hats. Wear comfortables shoes because you do a lot of walking.
What To Bring
Rubles for the donation, an extra layer for inside of the caves, and bring snacks. There isn't really anywhere to buy food until you get back into the nearby cities, so bring something to eat on the way there, a picnic lunch, and something to eat on your ride home.
Insider tip: this area is an active religious site, so please be respectful. Be aware of what and where you're taking pictures (some girls have been chastised by the nuns for taking pictures where they shouldn't be).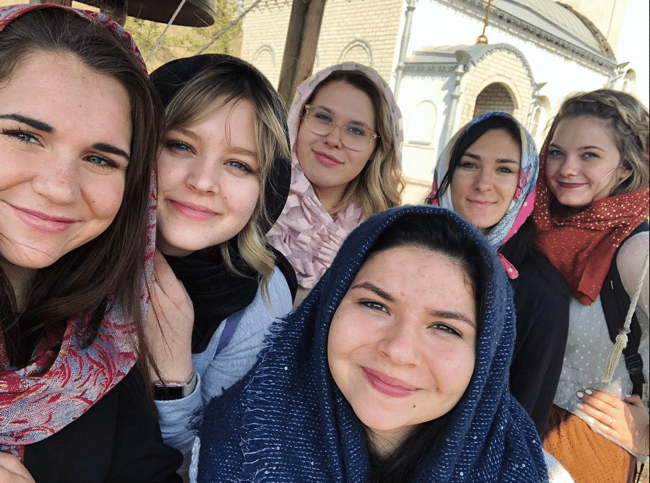 Getting Here
Driving
This isn't a huge tourist site at all, so the logistics of arriving are a bit trickier. One ILP Group was able to get help hiring a van to take them from Voronezh to the site, and back. The drive is gorgeous: passing lots of little villages and the countryside of Russia. ILP volunteers are in a good spot, because they're in close contact with their ILP Coordinator and other school staff who can help you arrange a car who can take you there and back.
From Voronezh, it's about a three hour drive there and back. Here's the Google location link to help you orient where it is. The convent's official website also has location info (but you'll need to get the page translated).
If you're coming from Moscow, it's a bit further and this is more of a weekend trip for you. Voronezh is the closest, large city in the area so you'd want to head there first (by bus or by flying) and then arrange a driver to take you out to the caves.
Good to know: Coming by bus is possible, but really not ideal. The 3ish hour drive can quickly become 3-5x as long if you're having to bus from city to city and wait for the infrequent buses in the area ... not to mention you'll need to take a taxi out to the caves anyways. Best to find a driver who can take you directly there.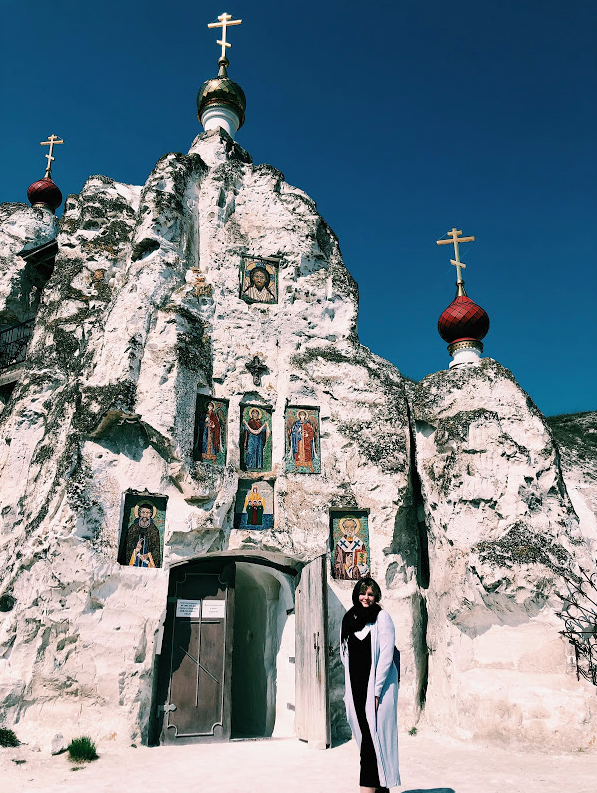 Ready to come live in Europe for a semester?
Call the country of Russia home while you're an ILP volunteer, spending part of your time teaching English (no experience necessary) with weekends off and vacation days to travel all around Russia + Europe.