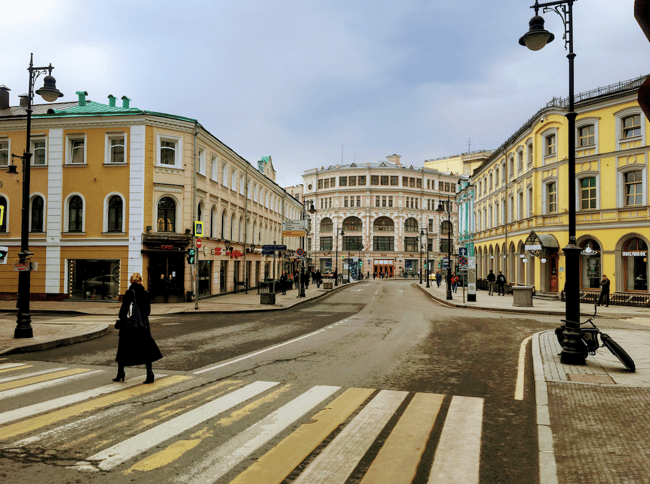 Get lost in alleyways filled with colored cathedrals that look like gingerbread houses, painted apartment buildings dripping with bougainvillea, and a smattering of cafes you'll want to go back to. Can you see why I love this part of Russia?
One of my top things to do when I was living in Russia was walking around, trying to find which corner cafes had the best cake, figure out which cathedral was my fav, and try to visit all the museums this city has to offer. This particular weekend, some girls in my ILP group and I stumbled on a part of Moscow that had all of this and more. Turns out, we'd stumbled into one of the trendiest (and most historical) neighborhoods in all of Moscow, a place called Kitay-Gorod.


---
Want to spend your weekends wandering around European cities?
Come spend a semester as an ILP volunteer!
---

I'm so glad we found this place earlier in our semester so we could go back again and again. Kitay-Gorod is known for a meandering maze of alleyways, making it a good place to wander around and get lost in artist studios, record stores, cafes, or whatever catches your fancy. Another highlight? Kitay Gorod is found right around the corner from places you'll likely recognize (who goes to Moscow and doesn't hang out on Red Square?) but for a handful of reasons, this was the corner of the city I liked more. Here's all the info you'll need for a lovely afternoon in Kitay Gorod.
Just A Little Background
The name of this part of Moscow is a good place to start. "Kitay" is the Russian word for China, and "Gorod" is the name for city. So even though it may translate to what would you think could be Moscow's Chinatown, that's not the case. This part of Moscow is old, with roots way back in the 11th century where the word "Kita" meant plait, like a braid, or a winding web of city streets ... or the word could be translated to the old word for the wooden stakes that helped build the original walls.
It's been a crucial part of Moscow for centuries, first as an early settlement which evolved to be a center of trade in the 14th century (known as the Bolshoi Posad or the "Large Merchant's Quarter). The quarter's location by the Moscow River certainly helped with the growth of the merchant class until the whole area was destroyed by an enormous fire in 1610 ... then again just 200 years later, in 1812. Kitay Gorod is resilient, however. For centuries, it's been the spot to be which holds true today.
Visiting now means peeking between buildings colored bright blue or cantaloupe-orange while you listen to the songs of the street musicians playing on the corners. There are gorgeous estates and rows of upscale boutiques and shopping spots, and corners that are very low-key, with artist's studies in old factories, or worn down cafes with seats outside where locals play a game of chess. There are definitely parts I liked more, which is why I pulled out a few highlights below.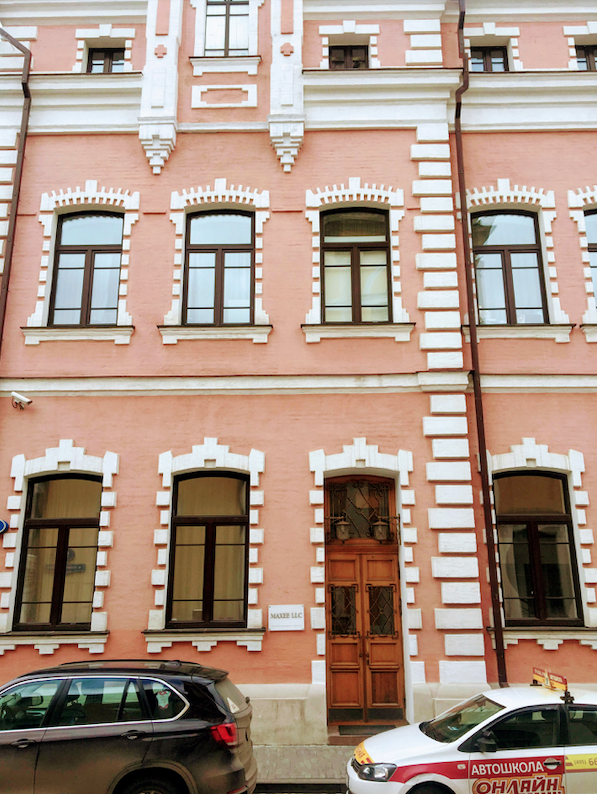 Top Things To See And Do
This Record Store
Mir Kino is a spot we spent a few hours in, peeking between the rows and rows of old records. Mir Kino is one of Moscow's last remaining record stores, stashing modern albums, rare finds from the 1970's and a handful of Soviet pressings from the 1980's.
Address: Ulitsa Maroseyka, 8, Moscow

Hours: 10:00 AM to 9:00 PM
A Walking Tour Or Two
If you'd like to get an idea of what kind of things are waiting for you in this part of Moscow, take a walking tour. The New York Times published this guided walking tour of Kitay Gorod that gives you the info on how to leisurely stroll past monasteries, bell towers, art-nouveau hotels, and more. I'd highly recommend it.
Khram Zhivonachal'noy Troitsy V Nikitnikakhis
You'll see a lot of onion-domed churches spread throughout this city, but this particular one is a favorite. It's one of Moscow's best-preserved 17th-century churches, opened back in 1628 built by the merchant Grigory Nikitnikov. The church briefly served as a museum of Medieval Russian Art in 1920, until 1991 where it was returned to the Russian Orthodox Church.
Address: Pereulok Nikitnikov, 3, Moscow, Russia, 109012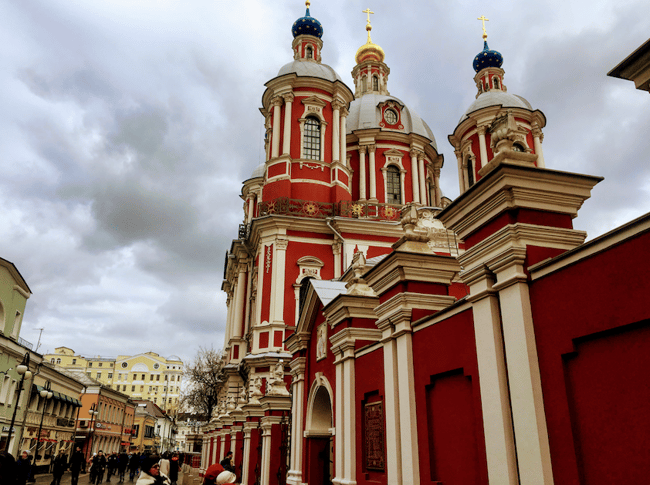 Don't Miss The Cafes
My very favorite thing to do around this part of Moscow was to come hungry and just wander around. It was something we did a few times as an ILP group, and through our wanderings, we found a few to recommend:
Natakhatari
Plan on eating tons of Georgian food while in Russia. I had never had this type of cuisine before but after one bite, was totally hooked. One of my go-to Georgian restaurants was a place called Natakhatari (I'd recommend the momo dumplings and the Khachapuri).
Address: Bol'shoy Cherkasskiy Pereulok, 13, стр.4, Moscow

Hours: 11:00 AM to 12:00 AM
Kofemaniya Novaya Ploshchad
Come here for the ambiance and some of my go-to Russian treats. This restaurant has a sweeping floor of black and white tiles with gorgeous arches lit by huge chandeliers. I'm a fan of the sweets here, whether that's syrniki (cheese pancakes topped with sour cream and jam) for breakfast, or a slice of cake in the afternoon or evening.
Address: Malyy Cherkasskiy Pereulok, 2, Moscow

Hours: 8:00 AM to 11:00 PM (10:00 AM to 11:00 PM on weekends)
Центральный рынок
Also known as the Central Rynok Market, this spot has taken the bones of a Soviet food market and turned it into a trendy spot full of food stalls, towers of fruits and veggies, and rows of other goodies. You'll find food stalls rimming around the perimeter of this space (and in the upstairs) so plan on wandering around the middle to admire the groceries before getting hungry and trying out the coffee shops, bakeries, and noodle stands for lunch. It was a favorite place I went back to a few times.
Address: Rozhdestvensky Blvd, 1, Moscow, Russia, 107031

Hours: 10:00 AM to 11:00 PM, (midnight on the weekends).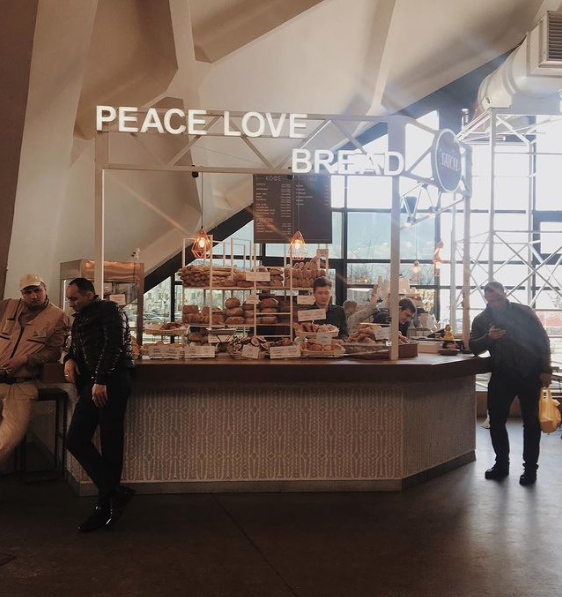 Getting Here
You may run into Kitay Gorod by exploring some of the top sites to see in Moscow. The quarter of Kitay Gorod is boarded by Theater Square (home to the Bolshoi theater), Lubyanka Square (where you'll find the KGB headquarters), and encompasses nearby Red Square.
You can get here via a few metro stations (see the map below) but I liked to hop off the Kitay-Gorod metro stop (lines 6 or 7). I've pointed out the different metro stations below so you can figure out which one would be the best to use depending on which section of the city you want to explore.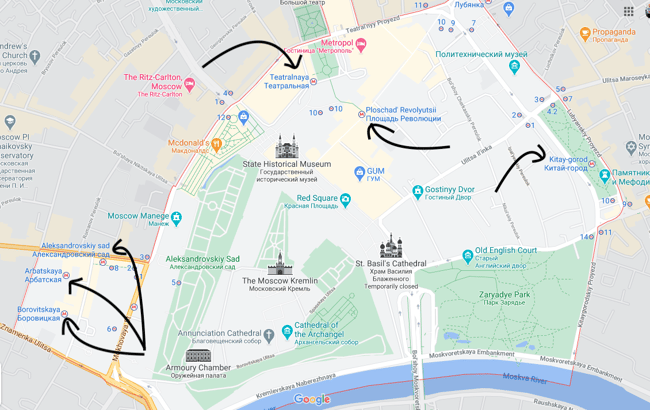 I loved my semester abroad in Russia
When I heard about the chance to spend a semester traveling around Europe as a volunteer, I was sold. Learn more about teaching English with ILP and getting time to explore places like Kitay-Gorod during the week and taking vacations to your favorite spots in Europe, right here.