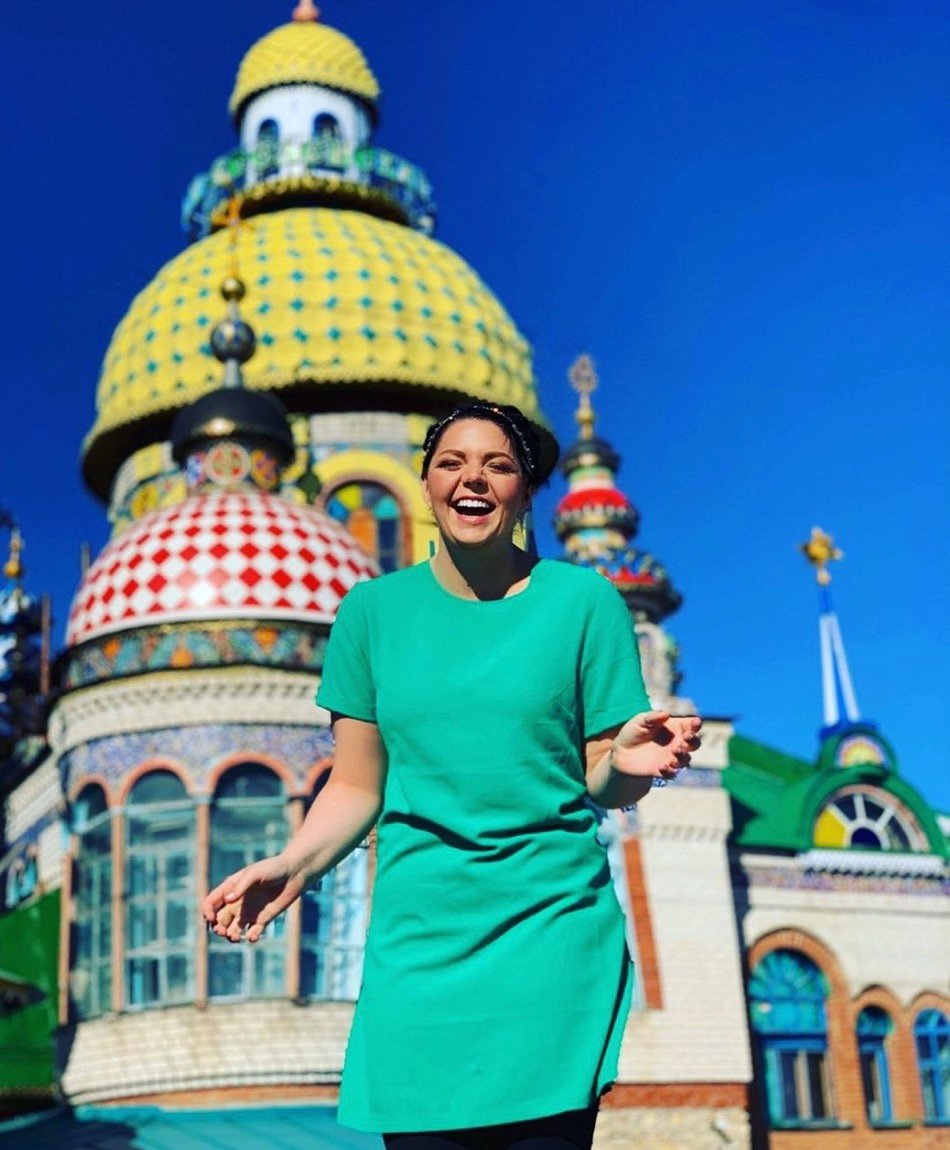 You know all about the cathedrals in Red Square and what a trip to St. Petersburg will be like, but the surprising adventures in Kazan will knock you off your feet.
In a country so huge, we are so glad we stumbled on Kazan. There's a lot you'd expect from this country (who isn't obsessed with the whimsical colors of St. Basil's cathedral?) but honestly spending a semester in Russia opened my eyes to so many things that completely took me by surprise. And Kazan is just the tip of those surprises.
---
You can't really experience Russia in a week or two

Come see what volunteering in Russia is all about (and have plenty of time to fall in love).
---
With strong Eastern influences and a totally different feel than other spots in the country, Kazan is the weekend getaway spot that is our current obsession. And luckily for you, we have all of the best tips to making a trip here a total success.
Things You Can't Miss In Kazan
Places To Eat
Somewhere To Stay
Tips For Your Trip
Things You Can't Miss In Kazan
Kul Sharif Mosque + Kazan Kremlin
"Kremlin" means fortress, so you'll see most Russian cities have a kremlin and the one in Kazan is something you have to see. Behind the stony walls that rim around the oldest part of the city, you'll find the towering (and gorgeous) Kul Sharif Mosque. This blue and white beauty is open to non-Muslim so stepping inside you'll find delicate stained glass details in the windows, intricate carvings in gorgeous patterns, and the golden verses of the Koran adorning the ceiling. It's beautiful.
You can also go up the spiral stairs inside the mosque which gives you a better view of the interior, so spend your time looking around the base level before climbing up to admire the details closer to the top.

Cost: It's free to enter the kremlin and the mosque, but please make sure you are dressed properly if you'd like to go inside of the mosque: Ladies, you need to have a head scarf and have your arms (to the wrist) and legs (to the ankle) covered.

Hours: Open from 9:00 AM to 6:00 PM, but as it is an active mosque, visiting hours are impacted by hours of worship.
Address: Ulitsa Sheynkmana, Kazan, Respublika Tatarstan, 420014

A Tip: Next to the mosque they have a long line of tables with vendors selling their hand-made goods, a lot of it was different from the stuff you buy in St. Petersburg and Moscow and such. You'll find leather goods (bags, wallets, key chains, bracelets, etc), handmade metal goods like pocket knives, and a lot of small figurines (and yes, you can bargain on the prices).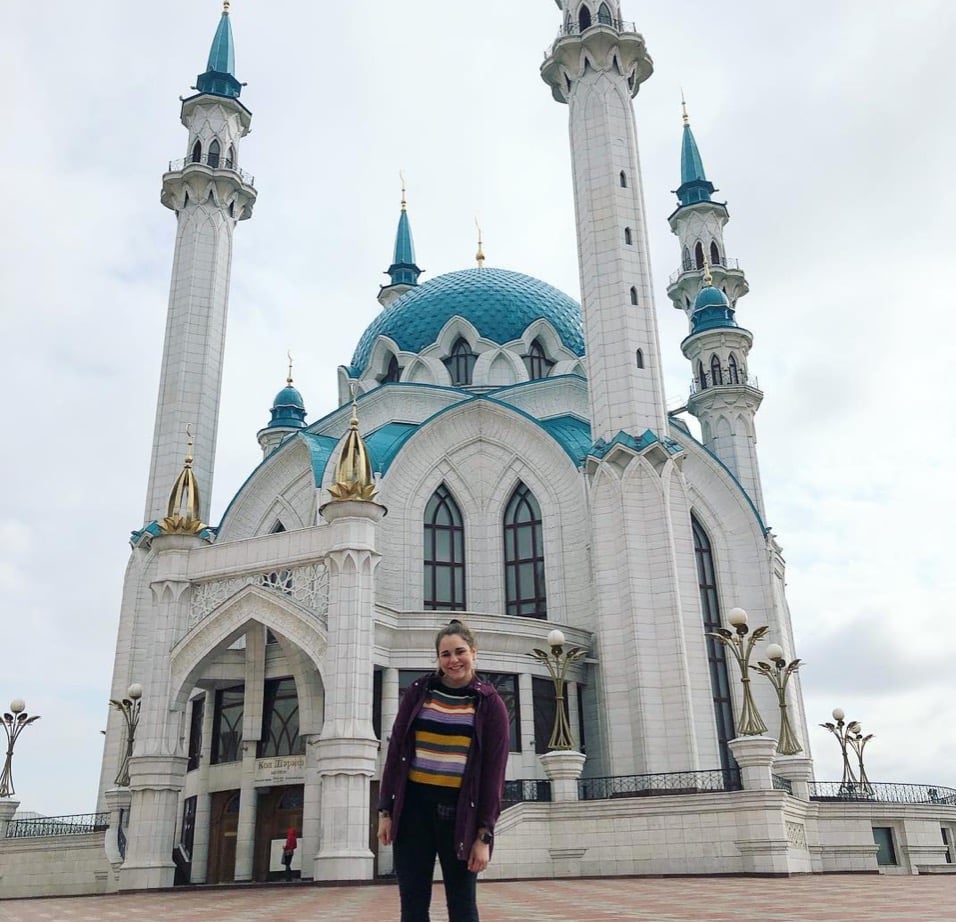 The Temple Of All Religions
This gem is kind of out of the way but one of the ILP volunteers visiting Kazan said "if you only do one thing in Kazan, I HIGHLY recommend taking the trip!"
The place is incredible: the building itself combines details from several major religions so you can stand and admire aspects of a Jewish synagogue, Orthodox and Catholic cathedrals, Muslim mosques and Buddhist temples. The bright colors and unique design on the outside are also stunning, but don't miss the details, art and symbols inside this temple.
Cost: Donation of 100 rubles
Hours: 8:00 AM to 8:00 PM
Address: Staro-Arakchinskaya Ulitsa, 4, Kazan, Respublika Tatarstan, 420079
You can get here via train or bus, but we love the speed and convenience of taking a cab (which would take about 45 minutes).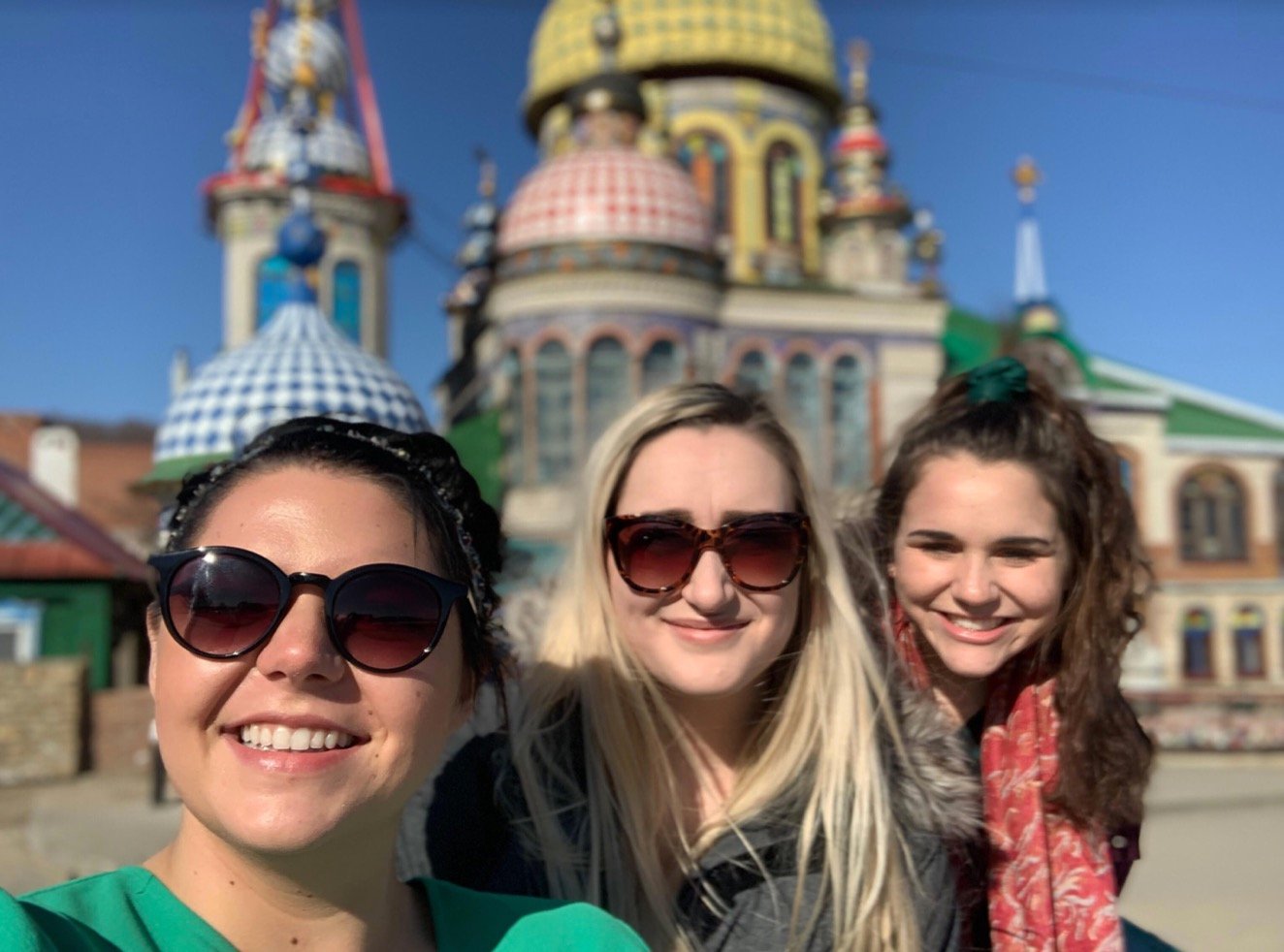 The Ferris Wheel Around The World
Kazan is split by a river and on one side, you can find the "Ferris Wheel Around The World" that overlooks the river; While pretty in the day, go during the evening so you can see the city lights glowing on the water. The cabins that you ride in are heated in the winter months, and each one is dedicated to a different big city from "around the world" and plays music in that cabin consistent with that city. So cool, right?
Hours: 10:00 AM to 11:00 PM, Monday through Friday
10:00 AM to Midnight, Saturday and Sunday
Cost: Daylight tickets are 290 rubles, and evening tickets are 390 rubles
Getting Here: It's right next to the Riviera Aqua Park. When you get to the parking lot of the park, walk all the way down to the Ferris wheel and you buy the tickets right in front of it.
You may want to take a taxi, but if you'd rather, bus Number 28, 28а, 43, 54, 74, 74а, 97 will get you there (just get off at the "Aquapark Riviera" bus stop).
Climb Up Bogoyavlenskiy Sobor
We love the view you can get from the bell tower of this cathedral (it's also just right next by the hostel we recommend below). It's the tallest spot in the area so the view you get is killer. Just a head's up, the staircase is narrow and winding (and slippery when wet).
Hours:
Cost: 100 Rubles to climb up the bell tower, free to enter
Address: Bauman St, 78 к.2, Kazan, Respublika Tatarstan, 420111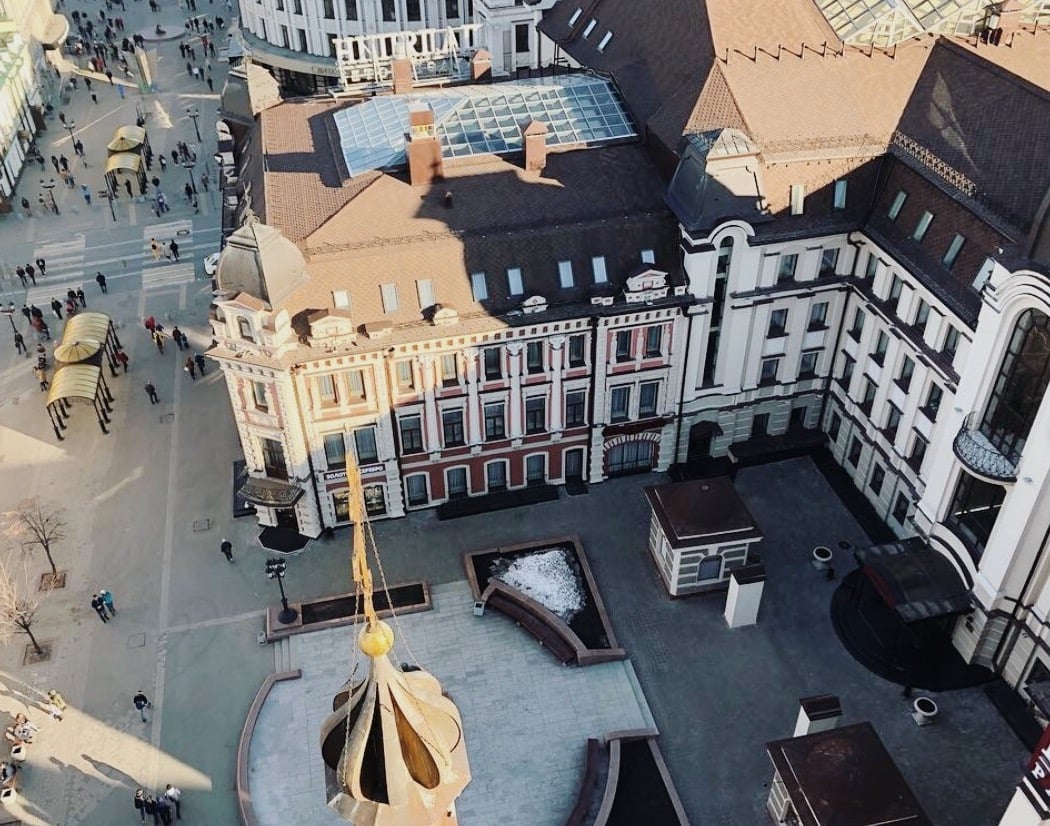 Places To Eat
Kazan is located in one of Russia's republic, Tartastan, which is distantly different food than you'll find in some Russian cities . One place that we recommend trying for local Tartar food is Dom Tartaskoy Kulinarii (Дом Татарской Кулинарии).
It's very traditional Tatar food (you'll have options on the menu like lamb and horse) but you can also test out traditional dishes that use proteins like chicken and pork that are cooked with the region's spices and methods. Yum. The restaurant has loads of fun teas to try, and a delicious flatbread filled with eggs and spices, too.

Hours: 11:00 AM to 11:00 PM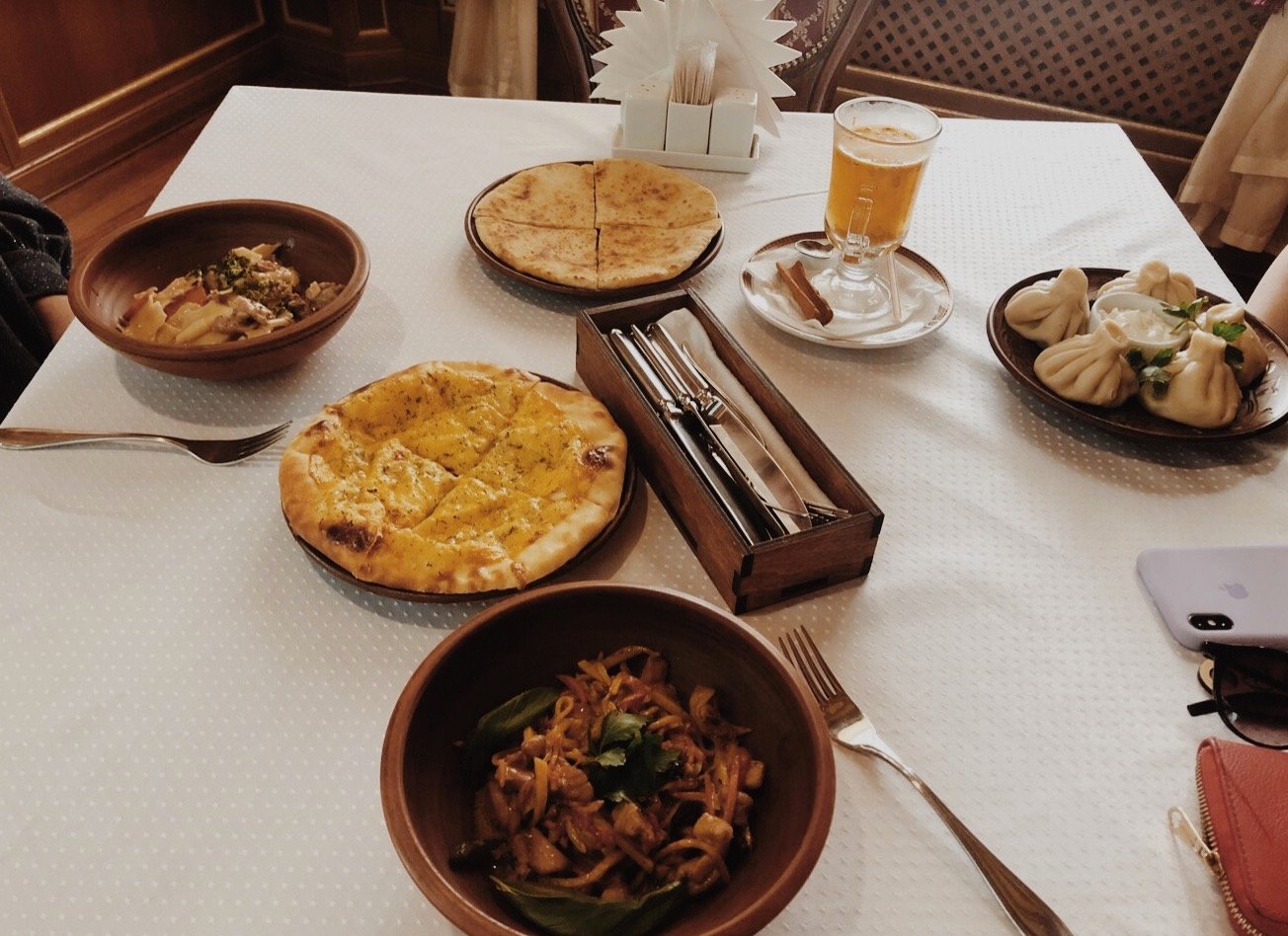 Somewhere To Stay
You're welcome to hunt around for your own spot (we love hostel world for booking hostels) but one ILP group stayed at the Backpack Hostel Kazan on Baumana street which was a huge hit. The employees "and other travelers were so nice, and the city center is right outside, which was very convince. They let us check in early the day we got there, and leave our luggage after we checked out for free" so one group of ILP volunteers didn't have to carry their bags all day until their evening flight.

Prices are great too, with rooms around $8 for a mixed dorm room of six.
Pst: Baumana street is also some place you should visit: it's the main street in the city and you'll find it dotted with shops, eateries, and little souvenirs stands. Peek around for delicate souvenirs like handprinted glass bowls with Arabic script — super unique to the area and stuff you won't find in places like Moscow to St. Petersburg.
Tips For Your Trip
Getting Around The City
Kazan does have a metro (just one line) so you'll probably want to use that to get you nearer to the airport, but if you stay near the city center you'll find that most places you'll want to visit are close.
Plan on doing quite a bit of walking, but the streets and views are gorgeous, so it's not too terrible to walk. ILP groups visiting in the past also found it convenient (and affordable) to just take a taxi if it was too far to walk.
If you'd like to navigate using the metro, we love the Yandex Metro app. It has maps for Moscow, St. Petersburg, Kazan and a few other cities. Get it here for Android and here for IOS and just find the "Kazan" map.
How Long To Stay
Hear it from Sydney, an ILP Russia volunteer: " Honestly I loved Kazan, and as much as I love Orthodox Russia and all of the pretty and colorful cathedrals, it was really cool to do something different and go to a place with an Islamic influence like Tatarstan. We found cheap flights and left early Saturday morning and came back late Sunday night. It was a quick weekend trip and it was the perfect amount of time to be there. I wouldn't spend more than two days there."
Getting To Kazan
From Moscow
A flight is your quickest bet, just a 1.5 hour flight there from Moscow. You can find round trip prices anywhere from $70 to about $160 or more. You can also take an overnight bus (about 12 hours, and $20 if you'd rather).
From Voronezh
Best to snag a flight — it's just over four hours from Voronezh to Kazan and prices seem to hang around the $160 range (but keep an eye on Skyscanner for any deals).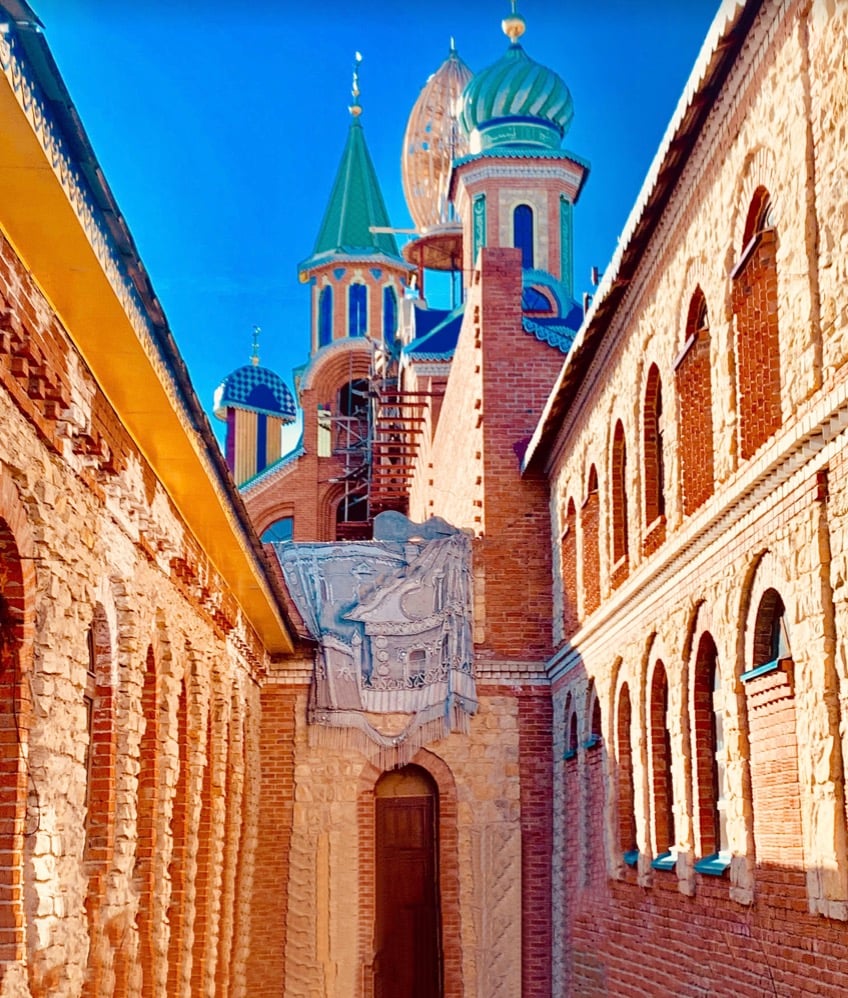 We're in love with this country
...and we're pretty sure you will be too. ILP volunteers in Russia get their flight, visa, housing and meals all taken care of which means you're all set to come teach English part time and spend the rest of your time visiting places like Kazan on the weekends, and all the European cities you have on your list during vacation time.