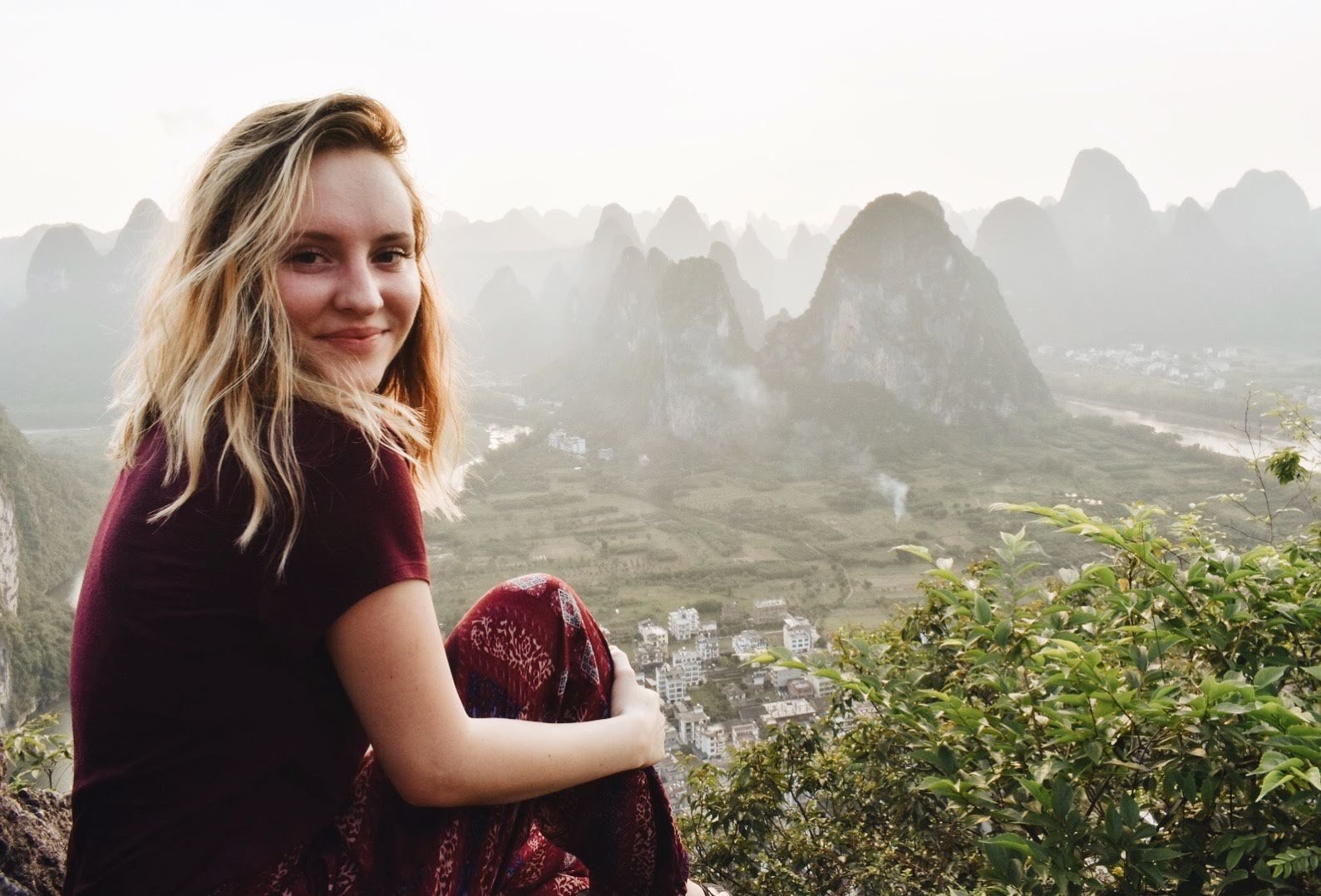 Seen the landscape above and wondered where you need to go to see that beautiful view? The answer is Xingping, China!
---
*Quick ILP Update — we have closed our semester abroad program in China and are not updating info found in this post. We're keeping this post live as it may be a helpful resource for you, but know that information was last up to date at the time this post was published.
---
While it's really hard to choose where you want to spend your vacations in China, Yangshuo is a favorite and this incredible spot is right next to it. When visiting Yangshuo, take a day or two to visit Xingping, a small Chinese fishing village located just a couple miles away!
When I was an ILP volunteer in China, I loved XingPing so much that I made sure go again when I was back in China for my second trip. Here are some of my insider tips on visiting this cute fishing village:
How To Get There (+Getting Around XingPing)

Things To Do In XingPing
Where Should I Stay?
Extra Advice
How To Get There + Around
Xingping is a small fishing village. The nearest town is Yangshuo which is also rather small (though much bigger than Xingping). Guilin is the largest town in the area and acts as a hub if you're coming in from other parts of China via plane, train, and bus. Many travelers head to Guilin first, then Yangshuo, and then Xingping from there. Oh and as a side note, both Guilin and Yangshuo are absolute favorite destinations, so I recommend making time in your trip to stop by those spots as well.
Taking a public bus from Yangshuo will be the cheapest and most convenient route. The bus leaves every 20 minutes from the main bus station in Yangshuo (抗战路) and only takes around 40 minutes. And, in true Chinese fashion, it's super affordable at about 8 yuan. The buses run from 6:00 AM to 7:30 PM, but make sure to double-check before just in case there are any changes. Pay your driver directly once you board.
Once in Xingping you can explore on foot!
What To Do In Xingping
Explore
Xingping is quite similar to Yangshuo, but gives an even more off-the-beaten-path feel. There's a small area with a few streets where you can wander, grab a treat, and find souvenirs for sale at little shops.
Cormorant Fishing on the Li River has been practiced for years here. At night, the fisherman goes out on their boats with some cormorant birds. Once in the middle of the river, they let the birds out and they jump into the river and catch fish. It is a really neat experience to watch — You'll be able to spot these fishermen all along the Li River, so no need to book a tour or anything.
As tourism has increased in China, locals have caught on that visitors are interested in getting photos with both the fisherman and the birds. Just know that you may see setups like this where you can pay for a staged photo.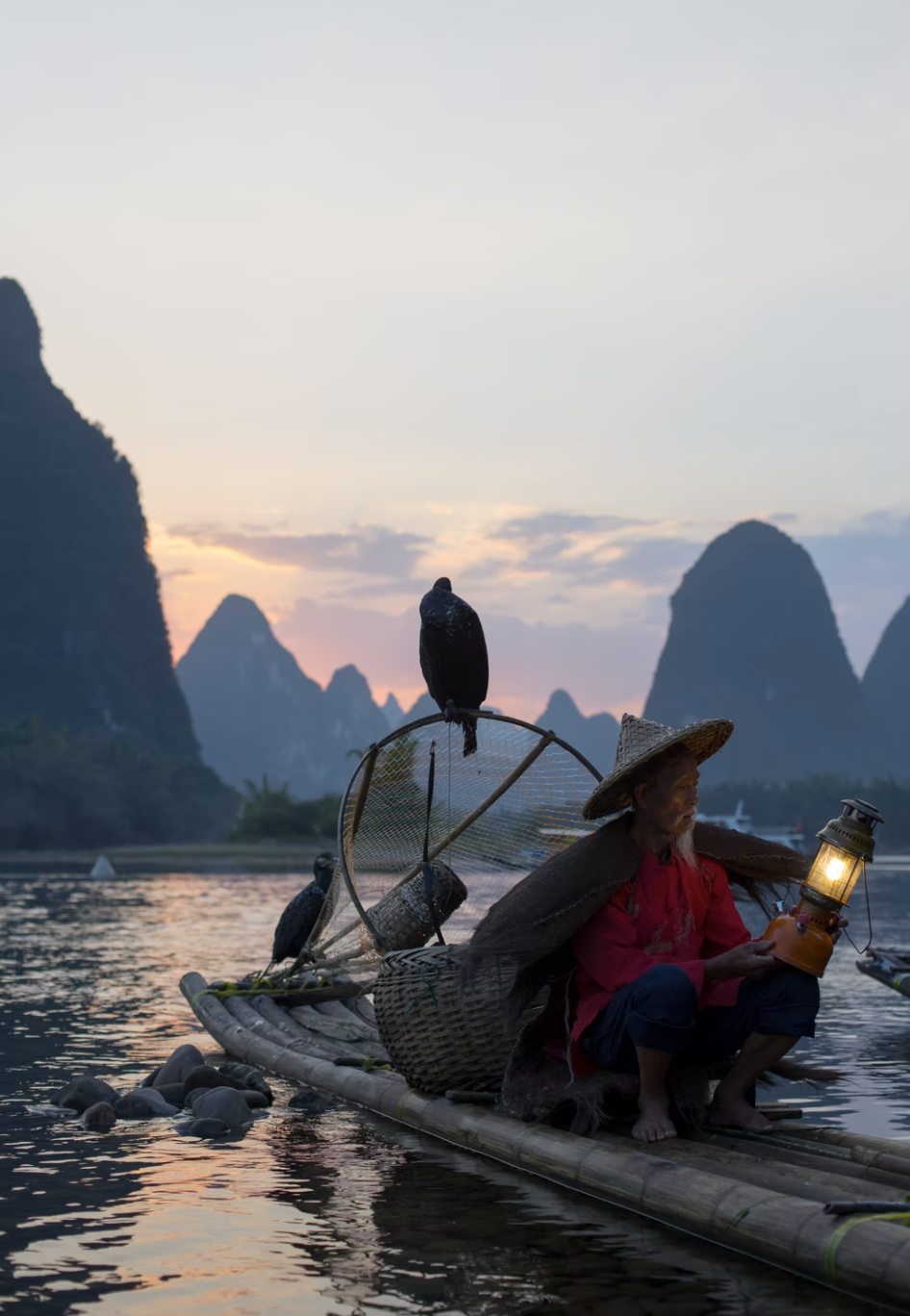 Another awesome thing about Xingping is that it is the place where the picture on the 20 yuan bill was taken. Make you sure you have a 20 and snap a picture to show all your friends! This spot is a bit outside of town though along the road that follows the river, so it's best done if you're taking a taxi that knows exactly where to stop.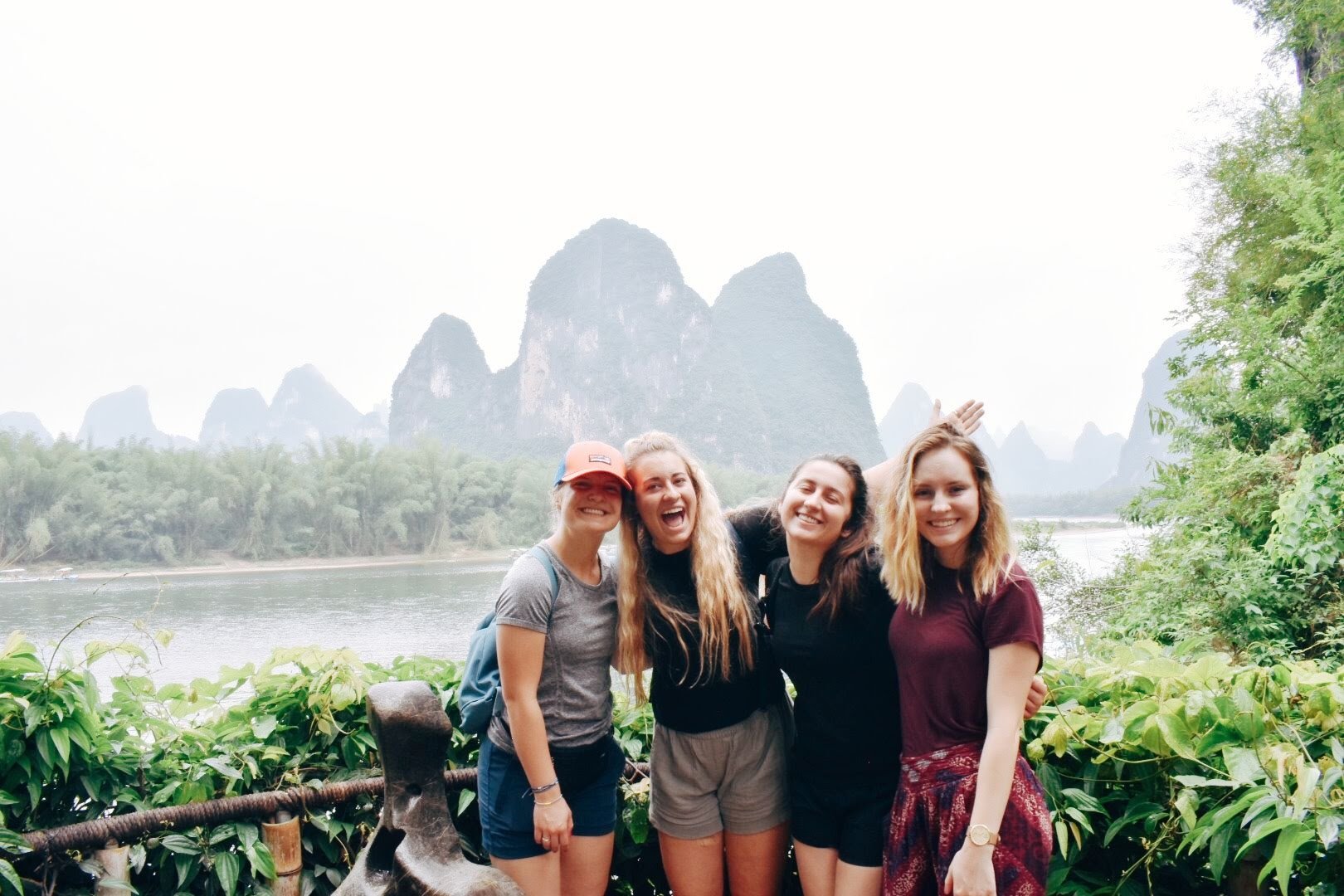 THE Hike
Most of my friends want to come to Xingping because they saw photos of this particular hike, so I'm not surprised if that's a pull for you too.
It can be pretty tricky to find the hike entrance so pay attention (and turn on your adventurous spirit). The hike starts at the Li River where the boats dock. Once you get off the bus, walk down the main road and follow the river - when you see a white circular entrance in the wall you'll know you're in the right place.
Don't be afraid to ask locals for help if you are having trouble finding it. Jerem, a previous ILP volunteer who hiked this a few times, has some tips to share.
"The name of the mountain in Chinese is called Lao Zhai Shan. The first time I found it, I just asked the locals. The entrance to the stairs is near the pier where they take you on the bamboo boat rides across the Li river. It almost looks like you are going somewhere you shouldn't ... you walk through a little walkway to a hotel restaurant but just look closely for the weathered signs pointing you in the direction of the hike. "
The actual hike is pretty intense, with over 1,100 stairs you're definitely going to get a workout in! If you're going quick it will take about 45 minutes, but you will probably want to take it slower than that. Plan on taking water, as China is HOT and you could even pack a lunch to help you refuel. There's a gazebo at the top which is an awesome place to eat and relax.
Once you get to the top all those stairs will be worth it! The view is incredible, one of the best you can find in the area. Soak it all in, because that amazing view isn't a dream, it's real life.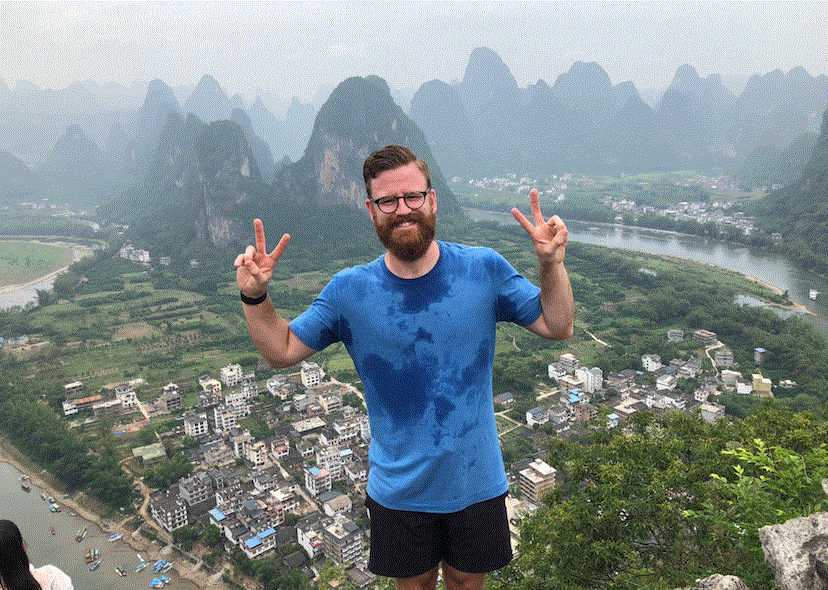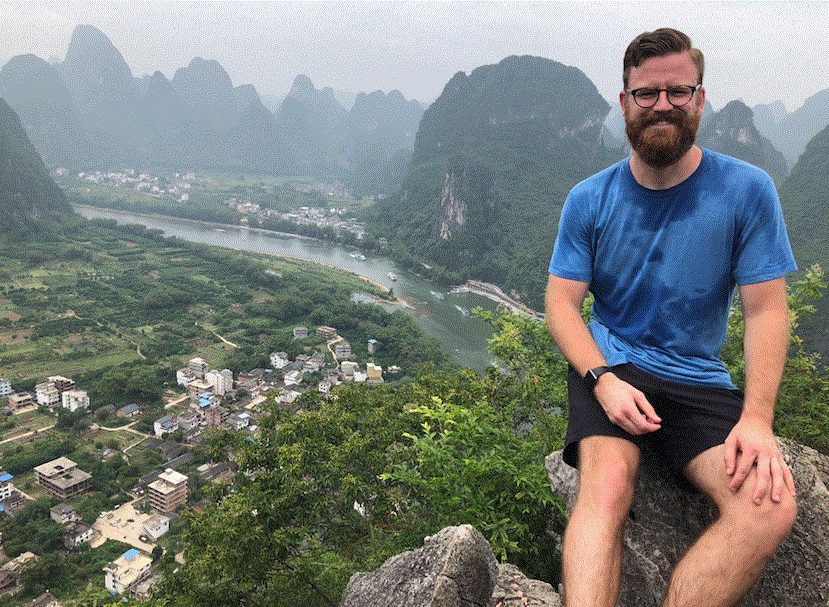 Where Should I Stay?
Xingping This Old Place International Youth Hostel is hands down the coolest hostel, in my opinion. The owners were so nice and helped me figure out how to do all of the activities I mentioned. They also show movies in the main lobby throughout the week. Oh, and they have an awesome brick oven stove where they cook the most amazing pizza! Trust me, after eating Chinese food for weeks on end, this pizza was a little slice of "western" heaven.
You can also pick out your own hostel — we love booking on Hostelworld.com (use this checklist to make sure you're picking a good hostel!)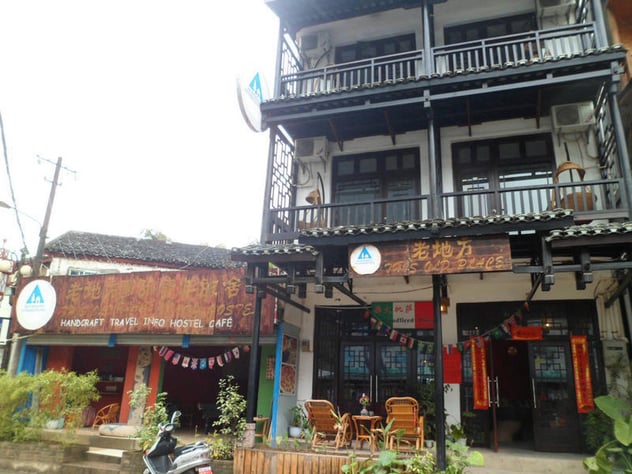 Ready for more world adventures?


We (International Language Programs) host volunteer programs in a handful of different parts of the world. Our volunteers are college-aged individuals who teach English part-time and have weekends plus vacation days off to travel. This means that you get to teach the cutest kids during the week, then hop on a train, plane, or bus to explore everything that country has to offer! Learn more on our Instagram: