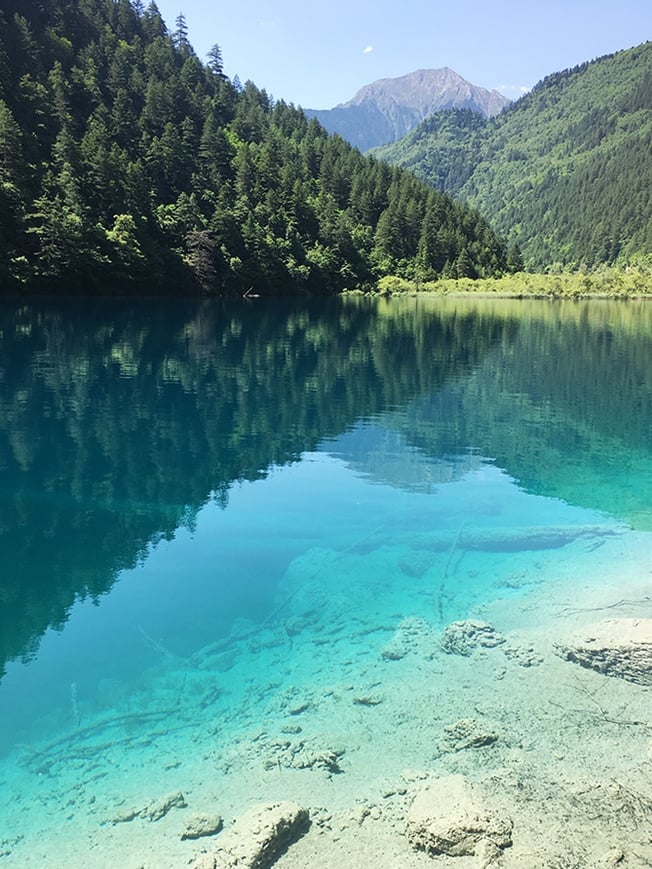 Juizhai Valley is another incredible vacation spot to add to your travel bucket list...and dare I say one of my top 3 favorite China travel destinations?
I recently visited Jiuzhai Valley National Park in China and now I'm recommending it 10/10. When I was planning my trip I saw some pics of this place with a name that I for sure couldn't pronounce and such deep turquoise blue lakes. It definitely didn't look like what I picture China to be so my interest was peaked.
The more I read, the more I realized that foreign travelers hardly ever visit ... so the adventurer in me got even more excited. I had a feeling that the photos I saw online were probably highly edited to make the lakes look even bluer, but I thought it'd be worth a trip anyways.
To my surprise the photos I saw actually aren't edited so heavily. They really are that blue. That colorful. That incredible. Yep, I was blown away. China, you've done it again.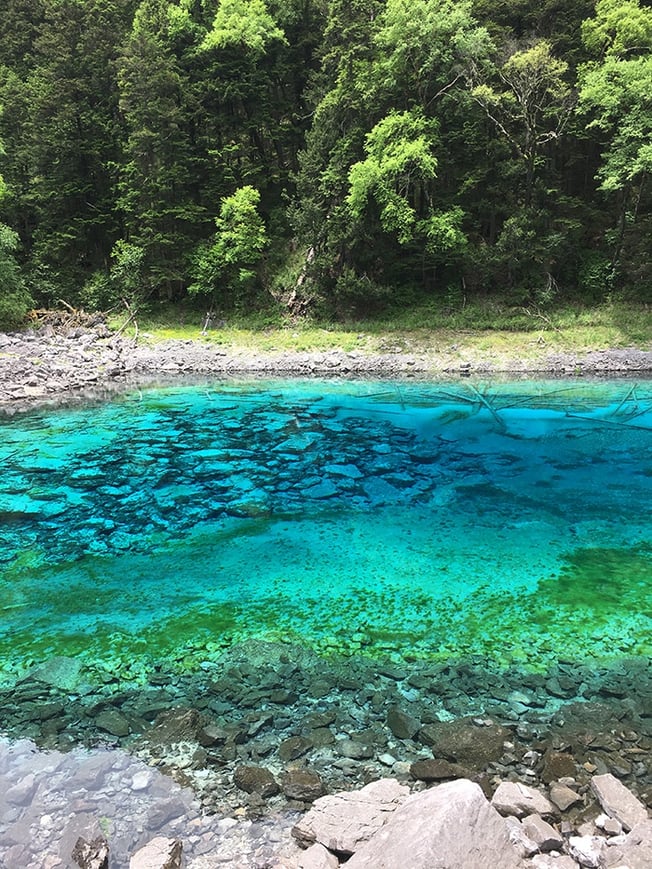 If you're interested in China, you may want to check out volunteering in China with ILP — that's how I got to see some of the secret spots this country is hiding. Anyways, onto how to plan your trip here:

Getting to Jiuzhai Valley National Park
The park is in a city called Jiuzhaigou, so you'll also hear the park called that as well. Getting here is a little bit tricky because it's way out in the mountains in central China, with not much around (pretty much how you'd expect a national park to be).
They are working on a high speed train to the area, aiming to be finished by the end of 2019 (which will make the trip from Chengdu only 2 hours). That will likely be the most popular choice for getting there, but until then you can go by bus or book a flight.
Bus
The nearest major city is Chengdu (which is where you go see the pandas!), so it works well to tack onto a trip there. If you're taking a bus, you're most likely taking it from Chengdu. There's a couple bus stations in Chengdu heading to Jiuzhaigou, but you'll likely want the newer station which is Xinnanmen Bus Station (新南门车站) close to the city center (to get there take metro line 1 and get off at Huaxiba Station).
It takes about 8-10 hours to get to Jiuzhaigou city for about $20 (what a steal!). If you're on a budget and you've got time to spare, you might take this option. There's two lines that head there - west and east. If you have a choice for either, you want west because it's a bit shorter.
Airplane
If you're short on time and traveling a far distance, air is going to be your best bet. You can book a flight on Trip, but there's a few things to know first. It's a small airport (like the smallest airport I've ever been in), so flights aren't coming frequently. You typically can only get a flight from certain cities (Chengdu, Chongqing, Xian, Guangzhou, Beijing and Shanghai) and there's only a flight or two per day even during peak season, so you really have to be creative when planning your trip here.
If there's not a flight option or a good flight time on the day you want to go, see if you can get to another city instead. For example, instead of flying from Shanghai, does it work to travel to Xian and see that rad city for a day and then fly to Jiuzhaigou from there?
Flights are pricey because the airport is so small. Expect to pay $200 plus for a one way trip. If you're short on time but also on a budget, consider taking a bus to get there and then booking a flight back. Another thing to be aware of is that because of frequent bad weather and storms, it's not completely uncommon for flights here to be delayed or even canceled. It's often rainiest during the summer (May-Aug), so your chances are best going during the spring or fall.
The airport is about an hour away from Jiuzhaigou called Jiuzhai Huanglong Airport (JZH). It's in the middle of nowhere so I really recommend arranging a pickup from the airport because you can't count on always being able to catch a taxi on the fly. Ask the hostel/hotel where you're booked if they can arrange a car and have someone waiting to pick you up with a sign with your name on it.
Getting To The Park From Jiuzhaigou City
The best place to stay is Jiuzhaigou, which is a small town right at the park entrance. It's really easy to get a taxi to the park for cheap and if you're close enough, many people just walk. Ask your hostel for directions.
I recommend finding a hostel that is as close to the park as you can get because there's really no other attractions in the town. It's harder to find anyone in Jiuzhaigou who speaks English, but if you show the name of the park in Mandarin to a taxi driver, they'll know exactly what you want. Screen shot the name of the park below:

Jiuzhaigou (九寨沟 Jiǔzhàigōu)
Getting Around The Park
Before entering the park, you can purchase tickets at the ticket office. It's very easy to find (to the left before you get to the entrance lines). The ticket office will have a sign flashing in red with English that says (of course) "Ticket Office". Your ticket will include the price of entrance plus a fee to use the shuttle buses.
Then head to the entrance lines. You can get in any open line, but the line you get in depends on which part of the park you go to. The park is HUGE and so they've set up a shuttle bus system that is very organized.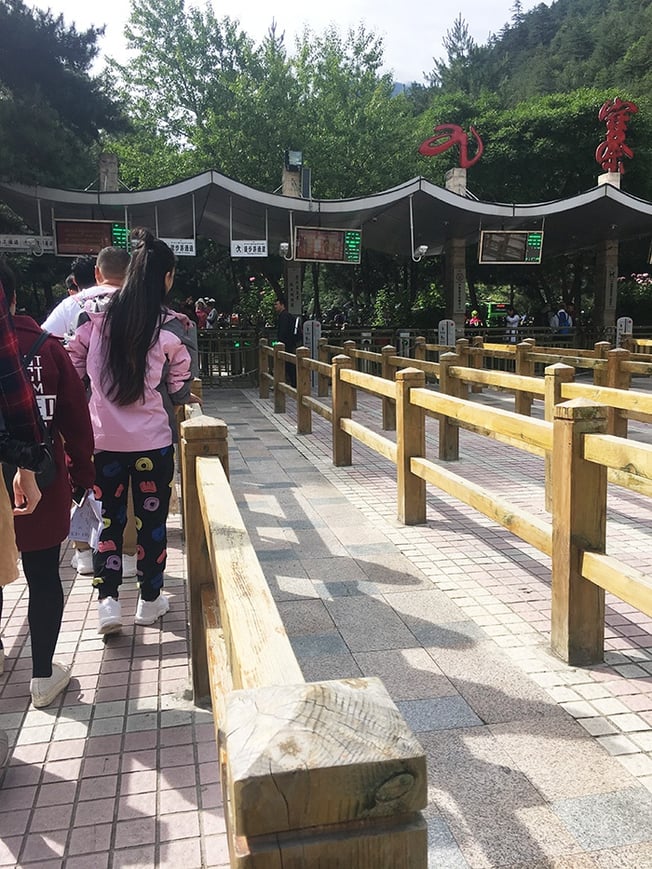 All of the entrance lines merge into two big lines, heading to either the left or the right where you wait to jump on a bright green shuttle bus.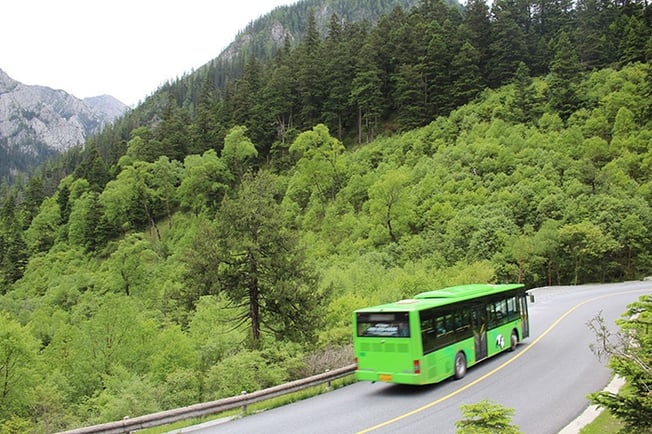 More About The Buses
The shape of the park is a "Y", so with the shuttle buses it's actually very easy to navigate, despite its size.
If you get in line for the shuttle buses on the left, they will take you all the way up to Long Lake, without stopping. On the map you can see that is the last stop on the left side. If you get on the shuttle buses on the right, they will take you directly to the Tourist Center (which is right where the park forms the central point of the Y). Here everyone gets off and you can decide where you want to go, but you could jump on another bus near the Visitor Center to take you all the way up to the Virgin Forest (the last stop on the right side of the map).
There is a shuttle bus stop at every major attraction (they're all on the map above). Buses come frequently, so it's easy to jump on and jump off all over the park. The shuttle bus stop signs are even in English, so if you've got a map and you know where you're headed...it's incredibly easy to get to where you want to go. If you're not very sure if you're getting on the right bus though, the bus drivers likely don't speak English but you can just point to the map where you want to go and they'll nod yes or no if you're on the right bus.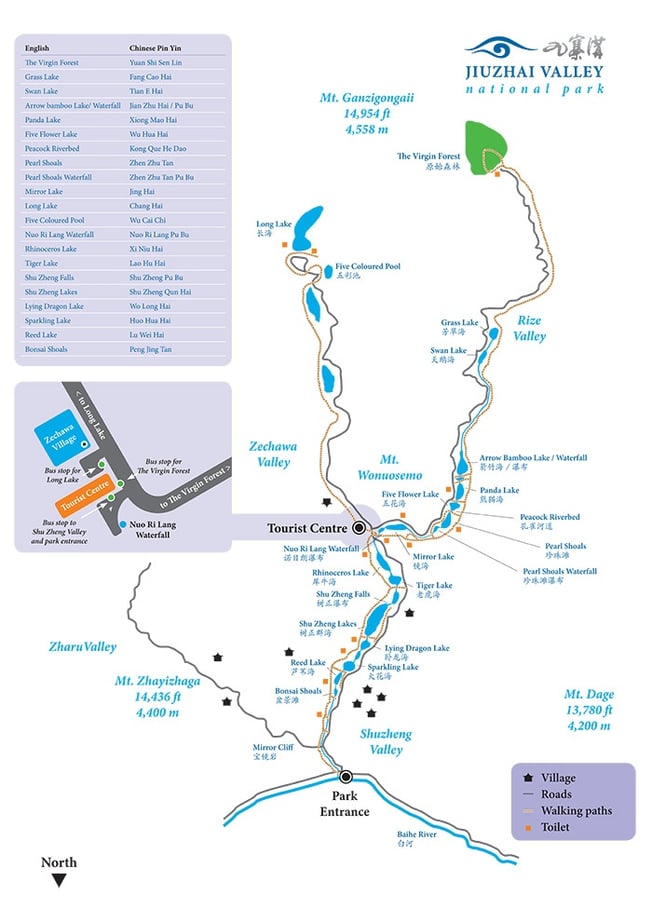 Photo credit for the map via jiuzhai.com
Walking Paths
There are also walking paths which are very well maintained. This is fancy hiking ... you're definitely not trail hiking here. As you can see by the yellow line on the map above, you can walk the entire park if you want instead of taking a bus (it'd just take you a long, long time to do it). So for example, you could take the bus to the stop at Long Lake and then walk along the path to nearby 5 Colored Pool, rather than taking the shuttle bus to it. Just stay on the path and you won't get lost.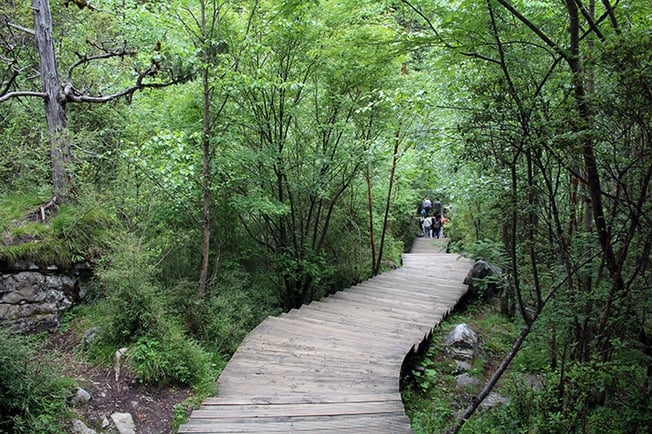 + A Few More Tips (And Pictures)
Enjoy your time at Jiuzhai Valley! I can totally see why it's a UNESCO Heritage Site. These directions should get you there, but I've got a ton of pro tips for making your day at the park a success. Check out my Jiuzhaigou tips here.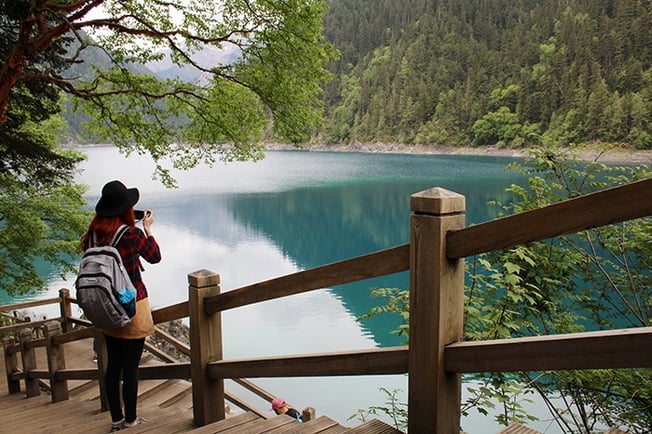 There's so many things to see in China; you really can't see it all in just a short little trip.

Have you considered staying awhile and teaching English abroad? International Language Programs (ILP) has opportunities for you to live in China for a semester as a volunteer and really experience the culture and the country. Teach English to cute little kids and have vacation time to travel places like Jiuzhaigou with the security of a group of other college age volunteers like you. You don't need to speak Chinese or have any experience!
Click right here and we'll have one of our representatives get in touch with you to explain our volunteer opportunities in China, how to make it work with your college budget, and why they loved volunteering there with ILP. We're not pushy and won't make you commit to anything, we just wanna help you make your dreams come true, too.