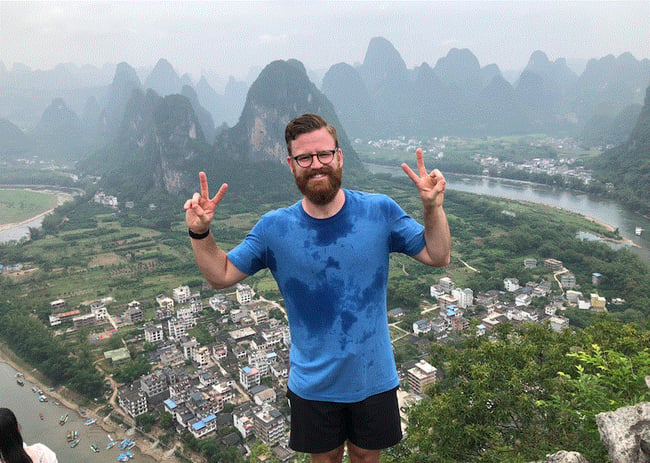 China is hiding more things than just the Great Wall.
You'll already have a lot to do on your trip to Yangshuo, it's one of our favorite places if you didn't know — and we think you'll love it too, as long as you're a fan of tropical mountain hikes and mango smoothies. Another big perk of a vacation down to Yangshuo is the chance to hop over to the nearby city of Xing Ping and hike to get one of my favorite views in all of China.


---
Wondering how I saw so much of China?
Come volunteer in China like I did!
---
Here's what you need to know about the hike.
Getting to Xing Ping
Finding The Hike + Good To Know Details
Staying In Xing Ping
Getting to Xing Ping
It is best to get to Xing Ping Zhen from Yangshuo. Xing Ping is a small town (even smaller than Yangshuo) nearby. Taking a public bus will be cheapest and most convenient. The bus leaves every 20 minutes from the main bus station in Yangshuo (抗战路) and only takes around 40 minutes to get to Xing Ping. And, in true Chinese fashion, it's super affordable at about 8 yuan.
The buses run from 6:00 AM to 7:30 PM, but make sure to double check before just in case there are any changes. Pay your driver directly once you board.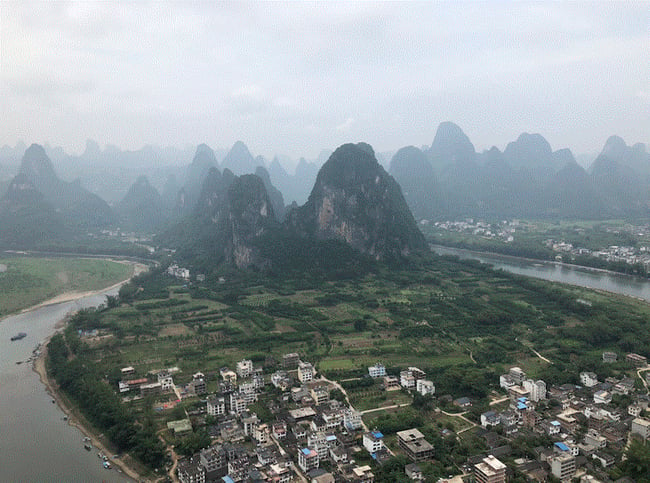 Finding The Hike + Good To Know Details
It can be pretty tricky to find the hike entrance so pay attention (and turn on your adventurous spirit). The hike starts at the Li River where the boats dock. Once you get off the bus, walk down the main road and follow the river - when you see a white circular entrance in the wall you'll know you're in the right place.
Don't be afraid to ask locals for help if you are having trouble finding it. Jerem, a previous ILP volunteer who hiked this a few times, has some tips to share.
"The name of the mountain in Chinese is called Lao Zhai Shan. The first time I found it, I just asked the locals. The entrance to the stairs is near the pier where they take you on the bamboo boat rides across the Li river. It almost looks like you are going somewhere you shouldn't ... you walk through a little walkway to a hotel restaurant but just look closely for the weathered signs pointing you in the direction of the hike. "
How Long Does It Take?
The actual hike is pretty intense, with over 1,100 stairs you're definitely going to get a workout in! If you're going quick it will take about 45 minutes, but you will probably want to take it slower than that. Plan on taking water, as China is HOT and you could even pack a lunch to help you refuel. There's a gazebo at the top which is an awesome place to eat and relax.
Once you get to the top all those stairs will be worth it! The view is incredible, one of the best you can find in the area. Soak it all in, because that amazing view isn't a dream, it's real life.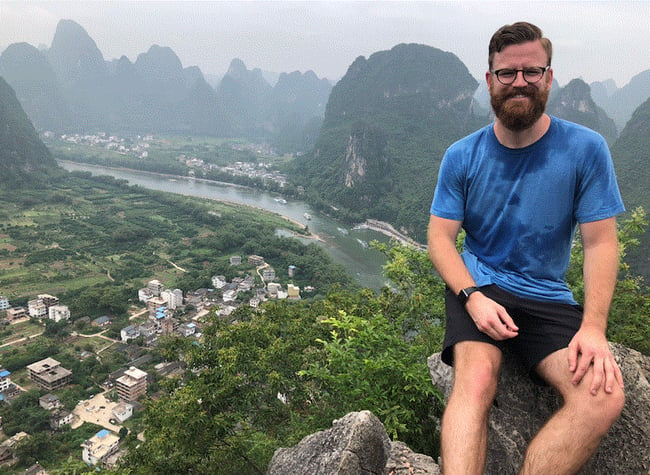 Staying In XingPing?
You can just go for the hike and come back, or spend more time exploring around the city. There are hostels if you'd like to stay the night, or you can take that same 30 minute bus ride back to Yangshuo. There's a cute little shopping street so make sure to bring cash if you want to explore that part of Xing Ping.
Jerem says this about the city. "It's definitely doable in one day but I think it would be fun to stay in Xing Ping considering not a lot of people do it. I was just in a time crunch both times so we just went on the hike and saw old down town ... I would love to explore more there!"
It's totally up to you and your ILP group when it comes to deciding how much time you'll spend in Xing Ping, but if you do stay for more than the hike here are a few more things to check out.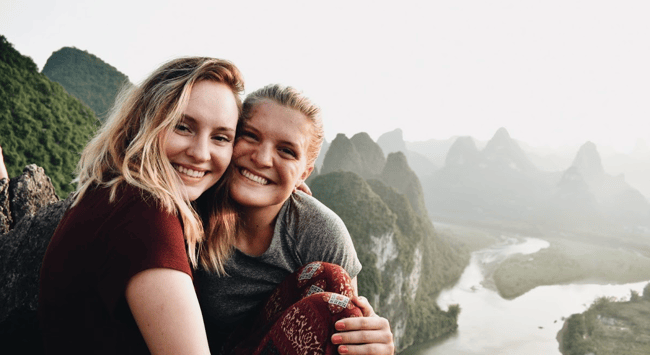 Ready for your own semester in China?
Volunteering abroad with ILP is the perfect way to experience China, while making a difference in the lives of those you're teaching English to.