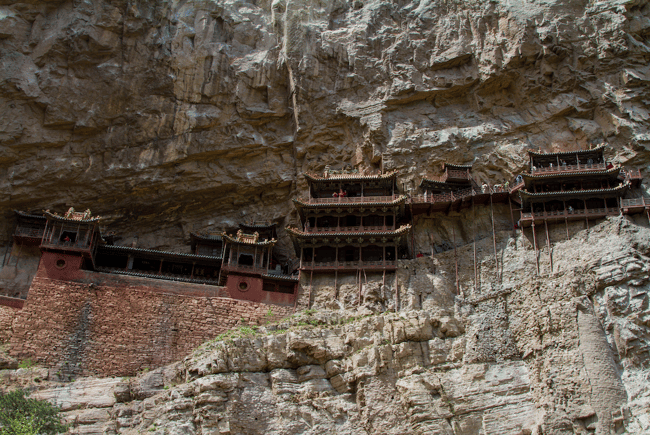 Just another surprise that China is hiding — you'll want to snag your camera (and avoid looking down) when visiting the Hengshan Hanging Temple.
---
*Quick ILP Update — we have closed our semester abroad program in China and are not updating info found in this post. We're keeping this post live as it may be a helpful resource for you, but know that information was last up to date at the time this post was published.
---

The Hengshan Hanging Temple in Datong (near Beijing) is a must see for anyone who wants to take a step into Chinese culture and see one of the most impressive Buddhist temples in the country. Don't miss it.
Can You Tell Me A Bit About This Place?
The Hengshan Hanging Temple in Datong is exactly what it sounds like — a hanging temple. This monastery stands at the foot of Mt. Hengshan, and since it hangs on the west cliff of Jinxia Gorge more than 160 feet above the ground, it is called the hanging temple or monastery. Pretty cool right?
The temple was first built in 491 and has survived more than 1400 years of intense winds and storms, making it an architectural wonder and a must see. The temple's unique mixture of Buddhism, mechanics, and aesthetics give visitors a glimpse into some of the great cultural achievements of the Chinese people. Come and see for yourself how the ancient Chinese people half-inserted crossbeams into the cliff side, using the rock as the foundation and as the temple's main source of support.
Although Buddhism was the original religion practiced within the temple, the temple is actually dedicated to not just one religion, but three, with Confucianism, Taoism, and Buddhism all practiced within the temple and represented in 78 statues and carvings throughout.
The Layout
The whole thing is a giant wooden structure, composed of around 40 rooms. You can easily divide the whole temple up into three different sections: the Southern part, the Northern section, and the Changxian Bridge. The Southern part is full of three floors and is home to the Chunyang Palace, focused on worshipping Lü Dongbin who is one the Eight Immortals of Taoism. There is also a huge hall known as Sanguan Hall. Find a huge clay sculpture here dating back to the Ming Dynasty.
The Northern part is where you'll find Wufo Hall which is famous for worshipping the Five Dhyani Buddhas. Another highlight here is Sanjiao Hall which stands as symbol of unifying Buddhism, Taoism and Confucianism.
Changxian Bridge is the wooden plank bridge that connects the two sections.
Why Was It Built Here?
Surprisingly, building a temple/monastery on the side of the cliff has ultimately helped protect the temple from rain, snow, floods and has helped diminish damage that is caused by long sun exposure. Mountains are also known to hold sacred meaning to the Chinese, and Hengshan Mountain is one of the five sacred Taoist Mountains, so having a temple on the mountain makes sense.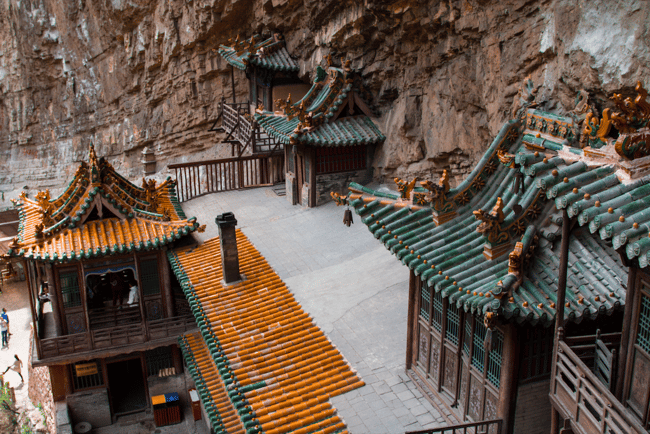 Details About Visiting
Cost: 125 yuan (March - October), 115 yuan (November to February)

Operating Hours: 8:30 AM to 5:30 PM when visiting November to May. 8:00 AM to 6:00 PM if you're visiting June to October.

I recommend spending about 2-3 hours exploring the temple. It's recommended to visit between March and October (temperatures dip in November to February, so if you're visiting then, make sure you bundle up and are ready for a bit of snow).
How To Get Here
First, get to Datong. Datong is fairly well connected with the rest of China, especially if you're coming from a big northern city like Beijing. Trip is the easiest way to book a train ticket in China, or you can also book a flight here, also via Trip.
To help route your trip, here's a breakdown of major cities that are somewhat close:
Beijing — 6.5 hour train
Xi'an — 6 hour train
Shanghai — 3 hour flight
Ordos (via Hohhot) — 7 hour train
Once in Datong, take public bus 8 from the Datong Bus Station on Yantong Road where you can hire a van or taxi to take you on to the hanging monastery. Round trip taxi trips shouldn't cost you any more than about 150 Yuan (about $21), which isn't bad if you split it with your ILP Group.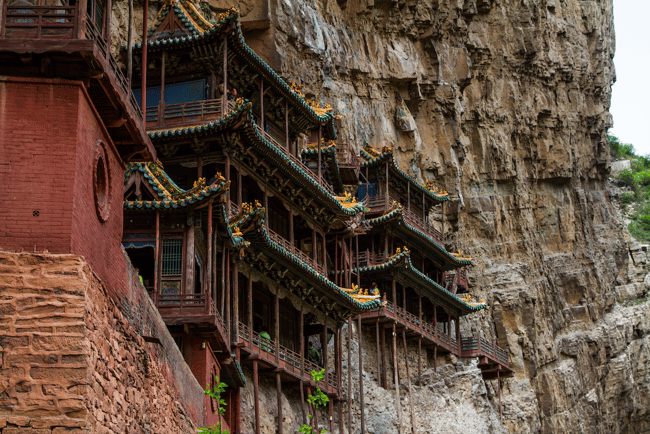 +A Nearby Adventure
Want more time in Datong? This city is also the jumping off point to see the Yungang Grottoes — a dizzying network of caves crammed full of Buddhist statues. It's unreal and was one of the coolest places I visited when I was in China. That link has tons of pictures that'll instantly convince you to make it happen (and details on how to actually make it happen). Handy, right?
If I were you, I'd spend 2-3 days in Datong and make day trips to the Yungang Grottoes and this hanging temple.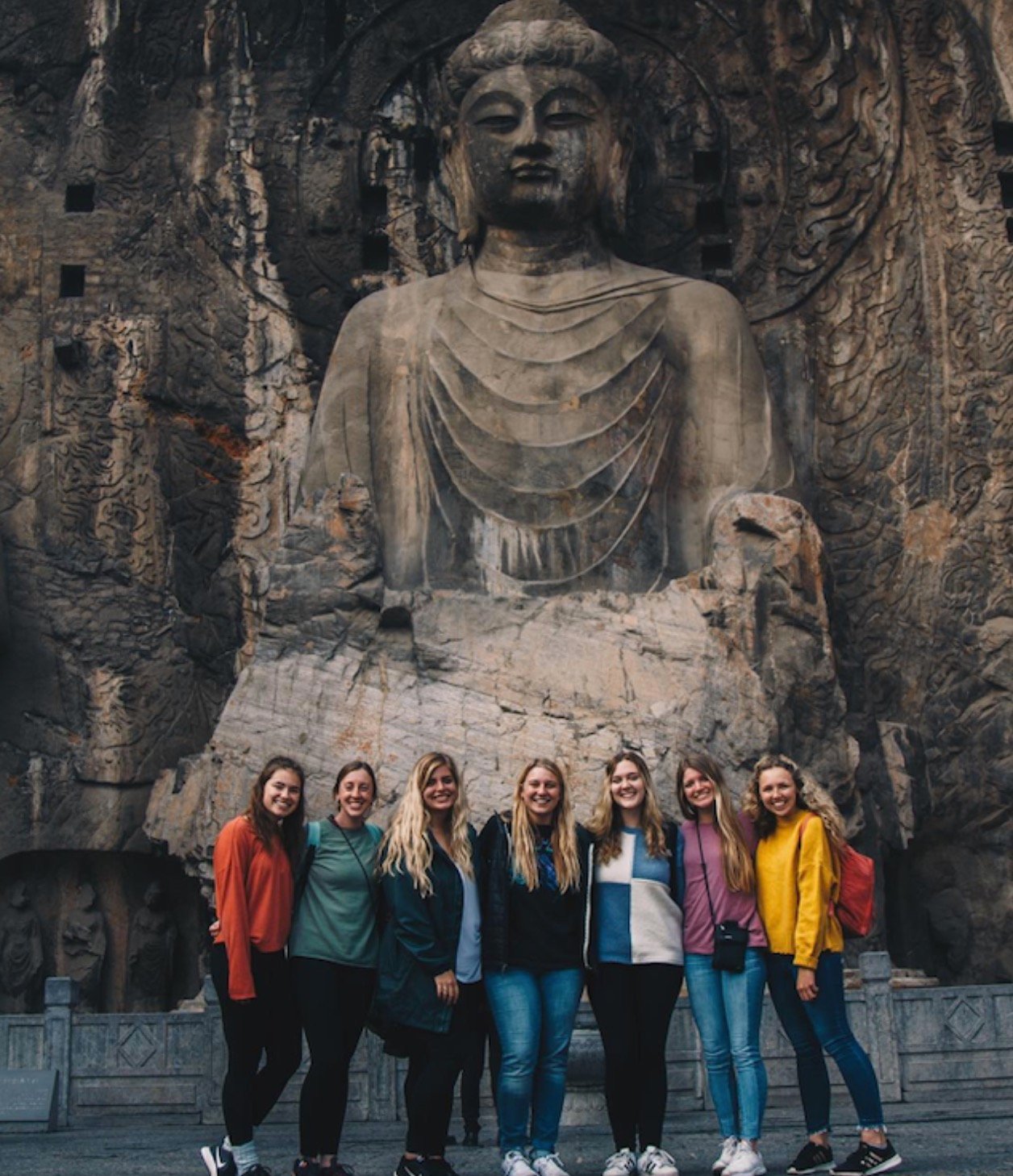 Ready for more world adventures?


We (International Language Programs) host volunteer programs in a handful of different parts of the world. Our volunteers are college-aged individuals who teach English part-time and have weekends plus vacation days off to travel. This means that you get to teach the cutest kids during the week, then hop on a train, plane, or bus to explore everything that country has to offer! Learn more on our Instagram: