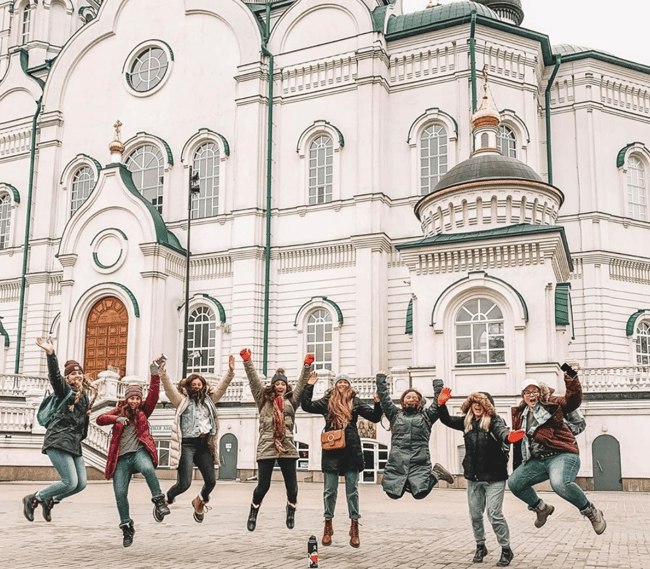 Headed to Voronezh, Russia to spend your semester abroad teaching English with ILP? Get ready to fall in love.
There are loads of perks when it comes to traveling with International Language Programs (ILP). Adventures galore. Teaching a class full of darling kids. Living with your very own host family, and of course, getting the chance to see Russian culture firsthand. But being able to adventure in your very own city and find hidden gems right where you're living? Well, that's one of the best perks.
ILP Russia volunteers definitely get the chance to backpack Europe on vacation, but those living in Voronezh can't miss discovering the sites of their very own city. "Russia has plenty of icy landscapes and snowy streets, [but] this country has far more to offer than the frozen stereotypes let on" (Madison R, past volunteer). For our volunteers in Voronezh, there are spectacular sites to see just outside their door. Of course you can visit places like Moscow or Paris on your ILP vacations. Just don't let yourself miss out on what your own city has to offer, because our volunteers say their fave adventures happened just around the corner. Walking the streets of Voronezh.


---
Curious about a semester in Russia and if it's right for you?
Get more info by texting an ILP representative
---
With so many amazing sites in one place, we know you're excited to see it all for yourself. That's why we talked to our Voronezh volunteers and made you a post of all the go-to spots and must-do adventures.
What To Expect
While you're exploring keep an eye out for all the cathedrals, statues, and shows. Plus all the incredible places to shop and eat! "There are so many monuments and statues everywhere in Voronezh. We found a few on TripAdvisor, but found many more just by walking around. There is always something that you will be able to see or hear about and you can just walk there. Walking around Voronezh is the greatest! Everything is a gem! It is so beautiful in such an old, rustic way." (Kyanna, previous volunteer).
With all this walking and exploring you might wonder, "What about the cold weather?" Don't worry, we've got you covered. We asked past volunteers about this too, and we will definitely let you know what to expect farther down in the blog. And spoiler alert ... it's not always cold in Russia, but for now, get your boots on and get ready for:
Photo Worthy Sights

Around Voronezh

After I returned home from my time on ILP in Mexico, I quickly realized I did not take nearly enough photos! I found myself bringing up stories about the cute cobbled streets, the fantastic food, and the cutest kids, only to have no photos to show! Pictures can bring back a lot of your memories from your trip, and your friends and family will want to flip through every moment with you. That being said, we know pictures are important! That's why we made a list of things to do in Voronezh that you better have your camera ready for.
Statues
Voronezh is full of statues you've probably never heard of before! Here's a few statues to start out with before your exploration brings you to find your own.
Therapeutic Chair — This statue is quite unique. The legend has it that it can cure you of your greed 100% just being sitting in the chair or putting your hands on it. Address: Lenina St., 1, Voronezh 394000, Russia
See more on Tripadvisor
Vladimir Vysotsky — This spot celebrates the creative life of the Russian singer, songwriter, poet, and actor. Address: K. Marksa St, Voronezh, Russia
White Bim, Black Ear — This statue is of Bim, the dog and sits in front of the puppet theatre. He was created to be about life size and to sit right on the ground (instead of on a pedestal) so that children walking by could easily pet and admire him. You'll notice it has definitely worked as one of his ears is more of a gold-ish hue after years of passersby rubbing that bronze area. He's meant to symbolize kindness and mercy!
Whit Bim, Black Ear is a classic Russia story featuring the dog named Bimthe who is searching for his owner. Along his journey he has hardships and adventures. Like most dog movies, you'll want to bring some tissues. What is it about dog movies that get us so emotional? This one is no exception. Check out the story here.
Address: Revolution Av., 50, Voronezh 394000, Russia
See more on Tripadvisor
Monument To The Kitten — Another monument dedicated to commemorate a film. At this spot you'll find not only the kitten, but a tree and a bird as well. And of course a statue wouldn't be as fun without a legend right? Apparently if you touch the kitten's left paw you'll receive good luck and one of your wishes may even come true. It's worth a shot.
Address: Lizyukov St., Voronezh 394000, Russia
See more on Tripadvisor
Cathedrals
There's nothing more iconic than Russia's cathedrals. You'll definitely want to have your camera ready for these. With all the arching windows, elegant artwork, and rich history wrapped into these places, Voronezh's cathedrals can transport you to a new world.
We're obviously big fans of all the jaw-dropping cathedrals in Voronezh, but there's one cathedral you really shouldn't miss. Be sure to stop at the Wooden Church (pictured below). There's nothing else like it! Find it here: Gospodnya Ulitsa Lomonosov, 1/3, Voronezh, Voronezh Oblast, Russia
But of course you'll stumble across many others during your time in Voronezh and we're smitten with them all! This page highlights quite a few for you.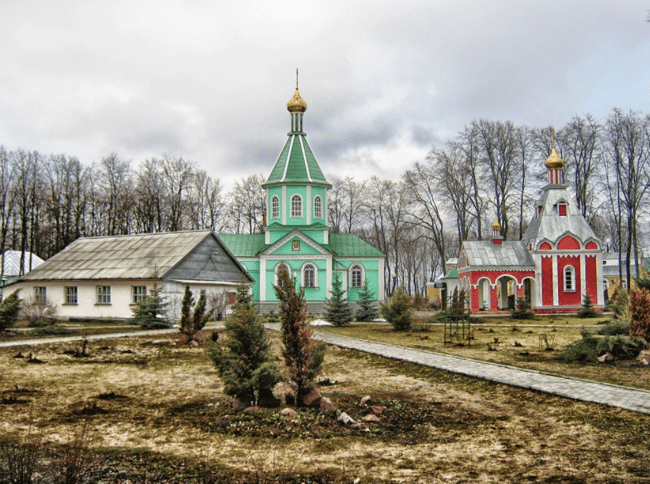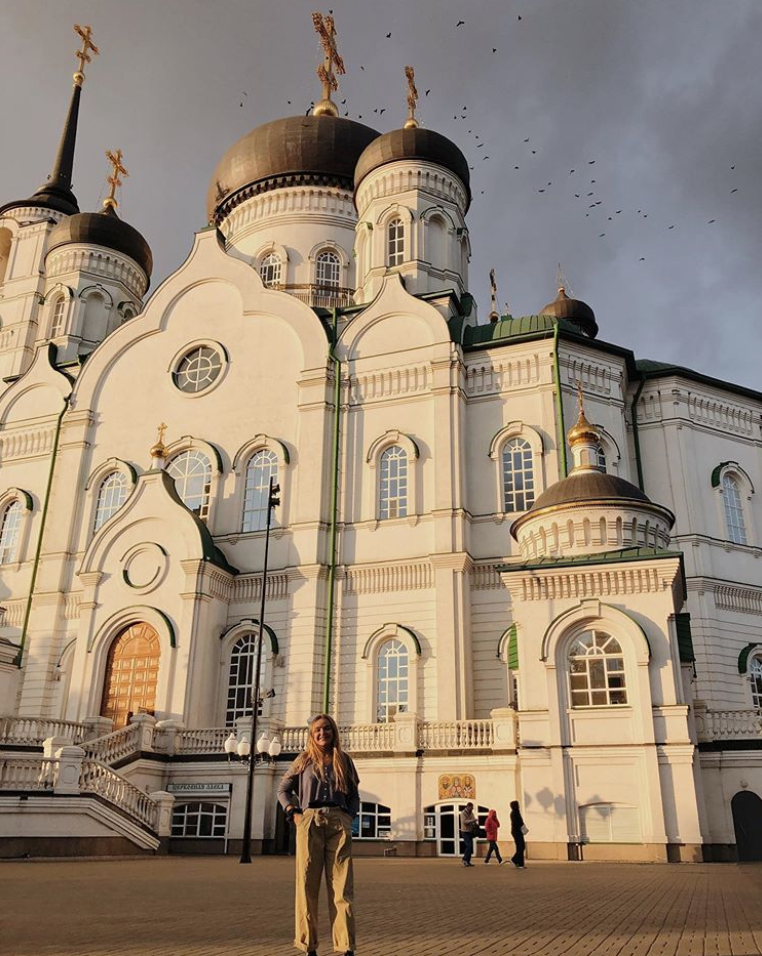 Fun Things To Do
One thing you'll definitely want to experience while living in Russia is the food. Katherine, a previous Russia volunteer, said that the food was one of the best parts of living in Russia! She even gave us her list of all the top spots to get a bite to eat! We hope you're hungry.
Places To Grab A Bite
There are endless kiosks around Voronezh where you can find snacks like drinks, bread rolls, crackers, candy and chocolate! Be adventurous and try new spots as you walk around. You'll undoubtedly find your own favorite spots along your daily route that way.
Robin Sdobin
If you have a sweet tooth this bakery is calling your name. You'll find a variety of things, but Katherine raves about the croissants so we say start there.
There are a few locations, but ILP volunteers loved this one because it was right by their bus stop: Ulitsa Minskaya, 11, Voronezh, Voronezh Oblast, Russia, 394000
Oh and we've also heard good things about Sugar Bakeshop! Just the name alone has me sold, so I'd check that one out too.
Ital'yanskiy Dvorik
Just because you're in Russia doesn't mean you can't have Italian. Check out Ital'yanskiy Dvorik for your Italian cravings.
See reviews on Tripadvisor
There's a few locations, but Katherine loved this one: Prospekt Revolyutsii, 44, Voronezh, Voronezh Oblast, Russia, 394000
Pelmen-bar Olen
Pelmeni (or dumplings) is one of the most popular Russian dishes out there. It will become a favorite food of yours during your semester. The Pelmen-bar Olen is a restaurant you CAN'T miss while in Voronezh. Seriously.
They offer tons of different fillings in the Pelmeni and you're going to want to try them all. You can get them filled with potato, pork, chicken, and more for savory versions, or stuffed with cherry, cream cheese, other fruits, etc. if you're in the mood for something sweater. Oh, and it's only about $3 a plate.
Here's the address: Komissarzhevskoi St., 8, Voronezh
Maksimir
Have you even been to Europe if you haven't had macaroons? Head to Maksimir for this tasty treat. Volunteers swear the macaroons here are the best they've ever had.

Find them here: Ленинский пр-т., 174П, Voronezh, Voronezh Oblast, Russia
+ Lots more
Bonus: If you're an ILP volunteer, your Head Teacher will have access to the "Area Book" for Voronezh where past volunteers have been documenting their favorite spots to eat all over town. There's a huge list of bakeries, cafes, American food, Russian food, and all sorts of places. Try them out while you're there and add more to the list that you found on your semester. You'll have home cooked meals with your host family (that's included in your program fee), but we love going out to eat as part of the experience and so that's available if you and your group want to try some restaurants during your trip!
Shopping Markets
Pyat'yu Pyat'
Whether you need a new shirt, want some new shoes, or feel like making those cookies you miss from home, make a stop at Pyat'yu Pyat'. This market is one of three on the same street, but we recommend skipping the first two and heading straight for this one, it tends be our volunteer's favorite.

Find it here: Ulitsa Perevertkina, 1/1, 394042, Voronezh, Voronezh Oblast, Russia, 394042
Maksimir
Want something a little bigger than the local market? Remember how I mentioned Makismir for getting macaroons? Well what's even better than the macaroons is the fact that this place is a three in one stop. That's right. Maksimir has a mall, bakery, and grocery store. Your group might have different things on their shopping lists, but fear not. Maksimir has you covered!
You can find it here: Ленинский пр-т., 174П, Voronezh, Voronezh Oblast, Russia
See A Show
The Chamber Theatre
Ballets, operas, and plays, oh my! The Chamber Theater found on Karl Marx street is one of the more diverse theaters in Voronezh and one of the most popular. It has high reviews from tourists and even if seeing a show isn't your normal go to, it's a classic must-do activity while you're in Russia.
Want to see a ballet but not sure which one? We've got a guide here that covers the must-see classics. Moscow is a famous spot to see ballets, but you can also see one in Voronezh, and lucky for you it'll likely be much cheaper than in Moscow!
Address: Nikitinskaya St., 1, Voronezh 394036, Russia
Proletarij
Want to have a movie night with your friends? There is a movie theatre in town! The biggest thing to know ahead of time though is that none of the movies are in English ... and there's no subtitles. So there's that. Still worth going to? Although you won't find any movies in English, past ILP groups have told us that it was still a fun thing to do (and even went back a couple times). You'll find popular American movies played here, so that might be your best bet to understanding what's going on if you don't speak Russian. One group saw Aladdin while it was out and loved it because they already knew the storyline. Plus, did you know watching movies in another language is one of the top strategies people use to become more fluent in that language?
Address:
Prospekt Revolyutsii, 56, Voronezh, Voronezh Oblast, Russia
Charming Bookshops
You might not be able to speak or read Russian but, if you're a bookworm, an afternoon in a bookstore would be a relaxing afternoon activity. Consider buying a book as a souvenir for your mom or if you're feeling up to it you can try and learn the language from it.
Directions to the cutest bookstore here: Ulitsa Pushkinskaya, 2, Voronezh, Voronezh Oblast, Russia.
Hang At The Park
Brace the cold, or wait for a sunny day because a little fresh air and nature is good for the soul! Alyye Parusa Park is our pick. Grab an ice cream at the snack booths, take paddle boats on the pond, people watch, try out the climbing course, and of course, bring a picnic! This park is huge, green, and there is seriously a ton to do. You will probably find yourself here more than once.
Address: Arzamasskaya St., 93, Voronezh 394033, Russia
Attend Church
Yep, even in Russia you can attend a branch for the Church of Jesus Christ of Latter Day Saints (if you'd like to). Church might be in a pastel yellow building making your experience a bit unique, but you'll find that it's a little piece of home if you were attending church before coming to Russia.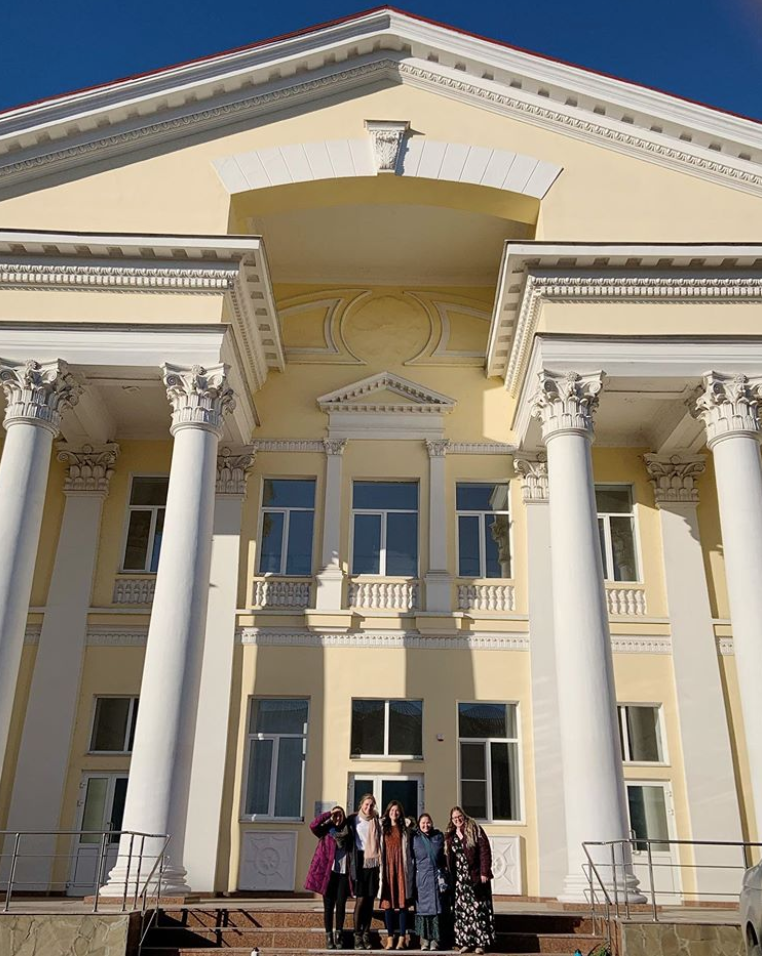 Nearby Adventures
Moscow
I know you've already heard of Moscow, and you're probably already wanting to plan a visit right? You should! Moscow is beautiful, huge, and not so far away. You can fly if you want, but bus is going to be much more affordable. Here are more tips to help you plan that trip.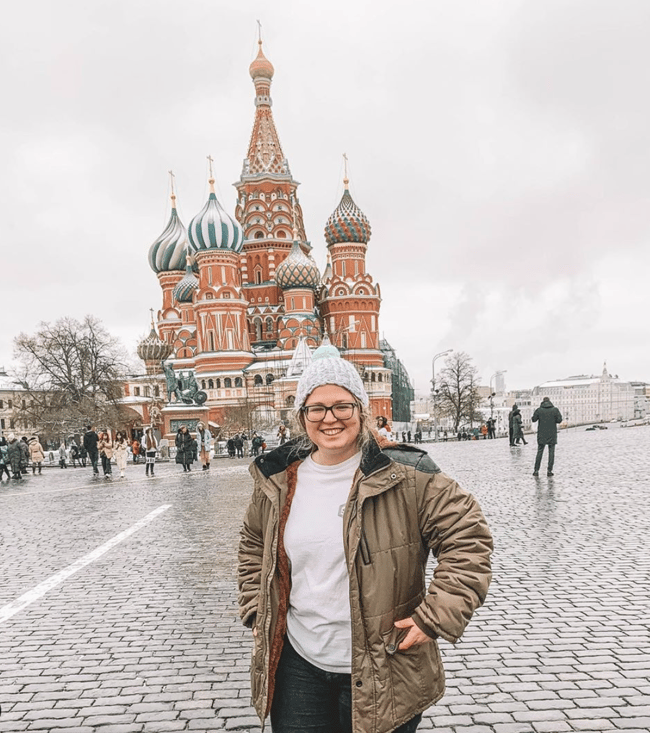 Sochi
You're just a flight away from this city that the 2014 Olympics made world-famous. This area sits right on the southwestern coast of Russia, giving you views for days of the Black Sea. Get all the details about a trip to the seaside resorts of Sochi, Russia right here — sometimes you can find more direct flights that are only about 4 hours meaning it's an easy weekend getaway spot.
The Oldenburg Castle
What used to be a summer home for the imperial family is now a glimpse into Russia's historic past, and you're close enough to visit any Saturday or Sunday you want. Here's the info you need to see this place for yourself.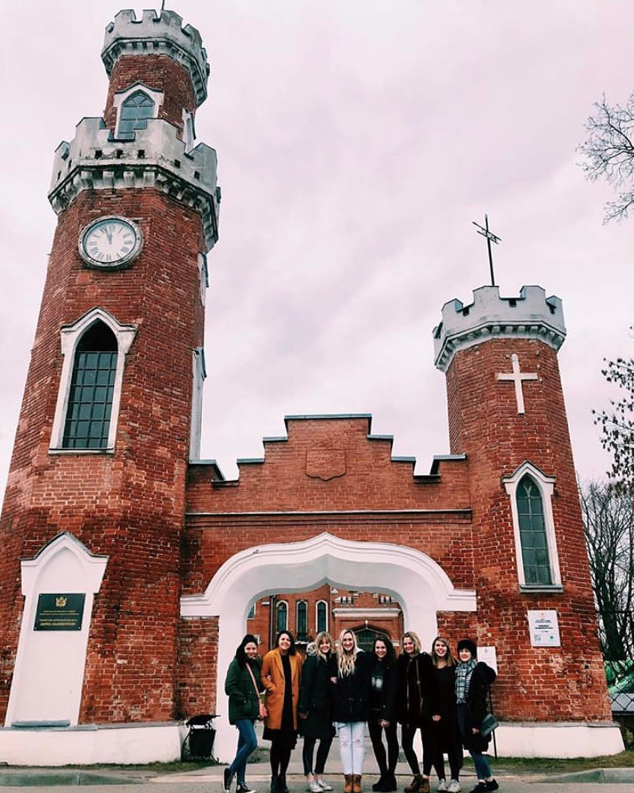 Kostomarovskiy Spasskiy Monastyr
You're in a prime starting off point to go see "the Jerusalem of Russia". It's one of Russia's raddest hidden gems if you ask me and lucky for you, you can visit any weekend you want to because it's only about 2.5 hours away when you're living in Voronezh! See more details on planning your visit here.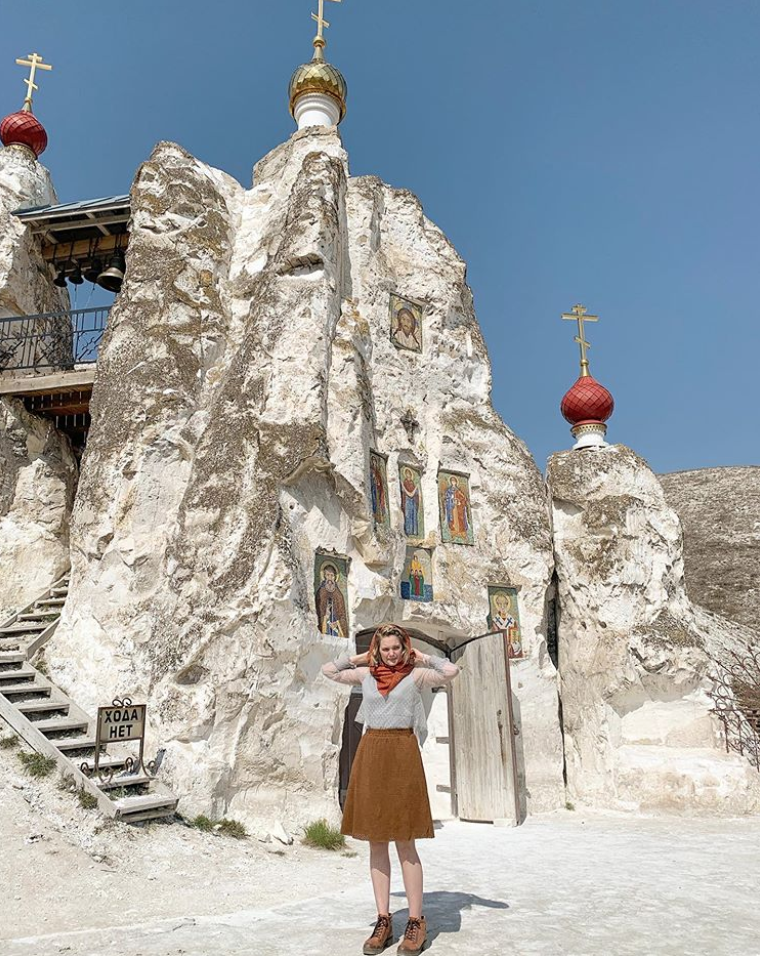 Preparing For The Weather
Alumni volunteer, Madison R. testifies that, "Russia has plenty of icy landscapes and snowy streets, [but] this country has far more to offer than the frozen stereotypes let on."
Russia can get pretty cold but we promise that's not all there is. What is the weather like in Russia? You might be surprised to hear that you'll want to pack and prepare for all types of weather, even warm weather! Here's a bit of a guide on how to dress for a Russian winter, but we also asked a few volunteers about their semester:
Spring semester (January-June), "This was an ideal time to be there because I was able to experience Russia's changing seasons; contrary to popular belief, Russia does get very warm and humid. At the beginning of my stay I bundled up to beat the cold and was reminded by enthusiastic babushkas that wearing a hat and scarf is not optional. By the time I was getting ready to leave, the trees lining the road were in full bloom!" -Katherine
Fall semester (August-December), "When we first got to Voronezh, I was expecting the cold. We went out and about, and I brought a sweater to wear... only to be dying of heat by noon!" -Rylie
You can expect August to be in the 70's, September 50's, and lower in December. That's not too bad, probably better than what you were expecting! ILP volunteers have actually really liked the contrasting weather and we hope you do too!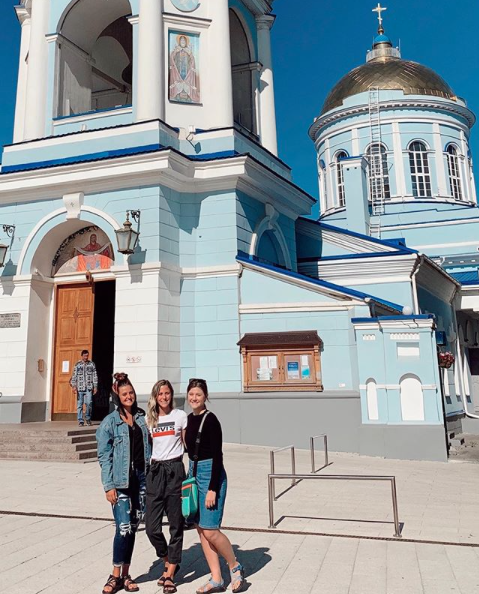 Voronezh is waiting for you!
International Language Programs can take you to Voronezh, Russia next semester! The experience you'll have on the program might just change your life! Hear from current volunteers about their experiences and see cool pictures taken in Russia (and all our other countries across Europe and around the world) via our Instagram account.
My instagram is so much more fun than it was before I went on the program to Mexico. I documented as much as I could and ILP shared those things my group did on their Instagram! If you're interested in seeing a little more about life on ILP, just follow our instagram!