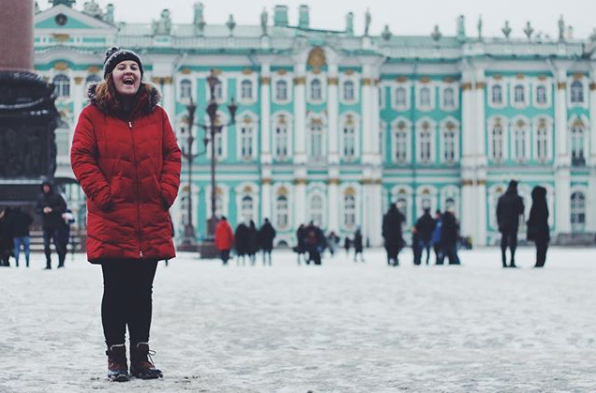 St Petersburg is known as "Gorod Muzei" which means museum city ... but there is one museum you've got to see for yourself if you're traveling to Russia anytime soon.
Visiting Russia on your own can be a little tricky — even though it's well worth the hassle of getting a visa and flight over there. It's one huge country that is just absolutely packed with incredible things to see in every bustling city. One city in particular is a favorite to visit; the historic St Petersburg


---
Volunteering with ILP makes going to Russia so easy!
We'll handle your visa, flight, housing, meals and more if you come volunteer and teach English here (seriously!). See what volunteering in Russia is like, here.
---

ILP volunteers who live in Russia for a semester have the chance to see some incredibly famous places. Make sure you plan a weekend trip or a vacation to St Petes and check out the Hermitage. It's one of our favorite can't miss spots!
What Is The Hermitage?
This museum is actually housed in the lavish Winter Palace ... but there more pieces than will fit in the 1,500+ rooms, so collections are often rotating and have spilled out into "outer-room" exhibitions. There are some 3 million pieces of art spread out in about 10 buildings! One ILP volunteer wrote on her blog that, "if you only spent thirty seconds in every exhibit, you would have to go every day for 8 years" to see it all. Woah.
Some pieces have been around since the very beginning of this museum, when Catherine the Great started collecting items to showcase in 1764. The bulk of the pieces are found in Palace.
Not only are the pieces housed in this palace incredible (you'll see paintings by Leonardo da Vinci and Rafael. Sculptures by Michelangelo. See Rembrandt's works and Monet's pieces, and everything from ancient Egyptian artifacts to opulent gifts from the times of Tsarist Russia), the building itself is a work of art.

Don't forget to admire the gold plated and ornate details, glittering chandeliers and impressively intricate tiles and ceilings.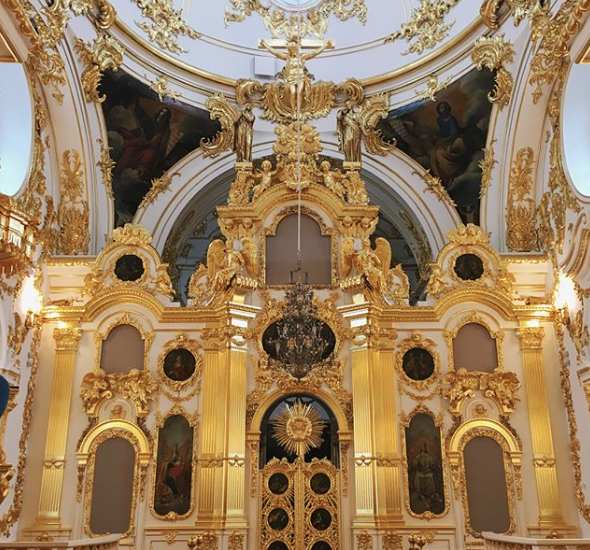 Getting Tickets
The ticket offices are located in the Main State building; basically you'll walk through the arches that face Palace Square, walk through the courtyard and enter the building .... but just look for the line, it's hard to miss.
The line to buy tickets is notoriously long, especially in the summer months. We suggest buying tickets online in advance, so you can just skip the queue and go directly inside, especially if you're visiting in months like May or June when it's busy in St. Petersburg.
You'll make your purchase online and will get an emailed voucher (print that off) and present your voucher and some ID (like your passport) in an office inside the courtyard. You'll see signs or can ask where to go if your'e not sure.
How Much Are Tickets?
There are a couple of levels of tickets depending on what you want to see (see all your options here) but the main ticket that allows you entrance into the entry ticket to the Main Museum Complex and the branches (the Main Museum Complex, the General Staff Building, Winter Palace of Peter the Great, Menshikov Palace, the Museum of the Imperial Porcelain Factory) is 700 rubles or about $17 dollars.
Your ticket includes the right to take pictures.
Student Discounts
If you haven't heard, these ISIC cards can save you money if you want to spend a semester volunteering in Europe — you'll get discounts at tons of museums and other must-see spots. In the past, volunteers have even gotten free entrance with their ISIC insurance or ID card.
According to the official website, students of any nationality receive a free ticket inside.
Head's up, you cannot get free student tickets online ... so if you qualify for that you'll need to wait in line.

Tip: The line to get in (and to buy tickets) tends to die down around 4:00 PM; think about planning your visit later in the day and waste less time waiting in line.
Buying Separate Tickets
If you want to see the Gold or the Diamond Treat Rooms, you have to book a separate ticket, available inside the ticket shops inside the Museum. But, if you will be visiting the Kremlin Museum in Moscow, you might be okay skipping these in St Petersburg (they are very similar).
Going A Tour Or Not?
We highly, highly recommend going with a tour guide through this museum. There are literal millions of things to admire, and so much of what you'll see will lose its importance if you don't understand the history.
You can get tour information here. At the very least, you can buy an audio guide that will help explain the significance of what you are seeing.
You can also do your own research and follow this self-guided tour if that fits better in your budget or itinerary, which hits the highlights, though there are several thousand other things worth seeing.
Opening Hours of the Museum
The museum is closed on Mondays
Tuesday, Thursday, Saturday, Sunday hours: 10:30 AM to 6:00 PM
Wednesday and Friday hours: 10:30 - 9:00 PM
There is free admission the first Thursday of every month, through May 18 and December 7; but the lines get extremely long.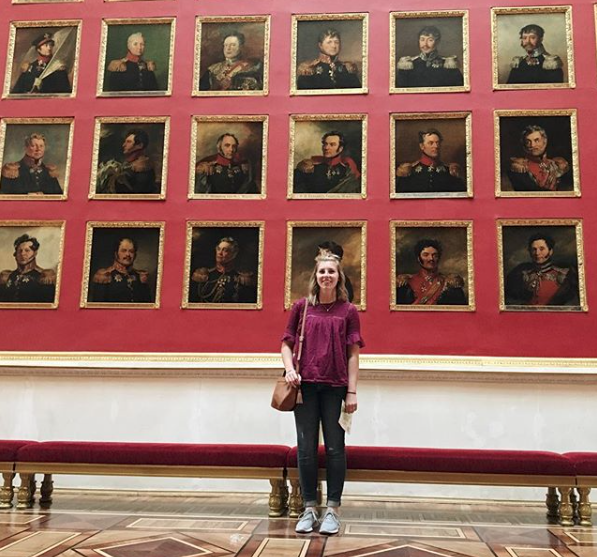 What Should I See?

With over 3 million things to see spread out in multiple buildings, we suggest spending your time in the Main Building, called the Winter Palace. Here are some things that you shouldn't miss, but believe us, this barely scratches the surface.

To help you out, when you get your ticket, you will also get a small map to help you navigate your way. You can also download this app.
The Peacock Clock
Found in the east wing, this unbelievably ornate and detailed clock used to chime every hour, but to help preserve the meticulous machinery, it's only turned on occasionally. This is where a tour guide would be handy; they can let you know when to be int eh room when it's going off.
The Throne Room
It makes sense that since this museum is housed in what used to be a palace, there would be an exhibition that features an impressive throne room. Royal red tapestries embroidered with gold are only the start to this expensive and expansive room (and surrounding suites).
The Raphael Loggias
Modeled to straight from the Vatican in Italy, this expansive hallway is ornate from top to bottom. Admire the mesmerizing floor work all the way up to the painted ceilings. It's a not-miss, especially if you can get a rare pictures of the place without crowds of tourists.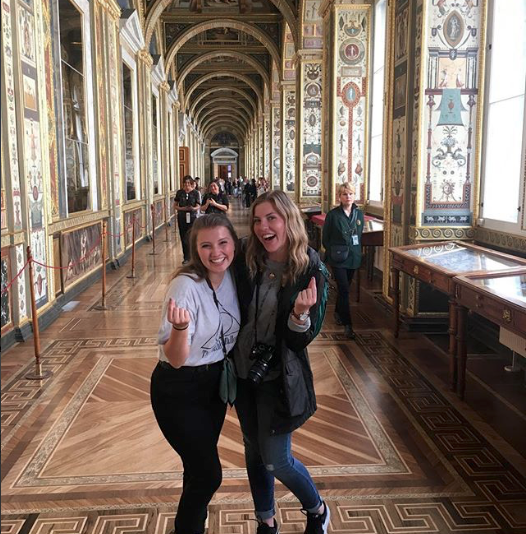 The Malachite Room
What once used to be the drawing room for the last Tsar's wife (Alexandra, who was married to Nicholas the II), this room is blanketed in gold (surprise, right), and blanketed in rich crimson curtains.
Art From Matisse, Van Gogh and Monet + More
See paintings in person that you've only seen before in textbooks. Famous artworks from iconic artists like Henri Matisse, Vincent Van Gogh and Claude Monet, Paul Cezanne, Pierre-August Renoir, Paul Gauguin and more. Found in the rooms in the General Staff Building.
In another section of the museums, you can admire Michelangelo's "Crouching Boy" statue.
There is also a room that features two paintings by Leonardo Da Vinci.
The Main Staircase
If you'd love to complete your dream of stepping lightly down a sweeping marble staircase adorned with gold topped columns and gilded ornamentation, this is your chance.
How To Get Here
We have a St. Petersburg Guide which comes in handy for all the other things you'd like to see and know about this Russian city, but we have more specific instructions for the Hermitage if you keep reading.

St Petersburg has a handy metro and bus system which mean navigating the historic easier than if there wasn't anything in place. Probably the easiest way to get the museum is to ride the metro to the Admiralteyskaya - Адмиралтейская - stop (on line 5, the purple line — also, this is one of the deepest metro stations in the entire world, and the deepest subway station in St Petersburg).
Once you exit, it's a 10 minute walk to get to the museum.
Tickets per metro ride are 45 rubles; you can watch a video of how to book a ticket via a kiosk here, if that's helpful.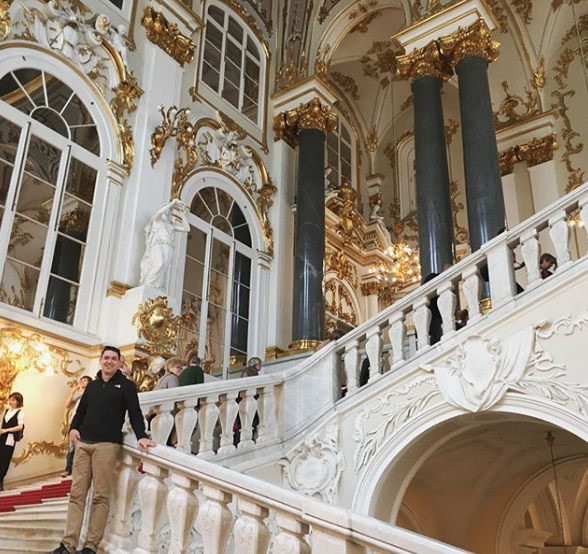 Looking for a couple more reasons to visit Russia?
We can help with that too! ILP (International Language Programs) is a non-profit organization who has been sending college-aged volunteers to Russia for over 25 years. Learn more about the ILP Russia program (and see some rad pictures) right here: