If you're an experienced ILP volunteer in China, you've already gotten the insider tip that this little town is not to be missed. With all of the incredible sites in China to choose from, Yangshuo is consistently one of THE favorite vacation spot among ILP volunteers.
---
---

Why Is Yangshuo A Must-See?
We could write pages pages about this single question, but we've narrowed it down to the absolute highlights:
Outdoor adventures like biking, hiking, mud caves, & rafting
Beautiful, traditional Chinese landscape like the "Dr. Seuss Mountains"
It's SO affordable
The biggest problem you will run into is not having enough time to do everything you want. Seriously. Yangshuo is packed with outdoor adventure like bamboo rafting on the river, biking through the countryside, hiking to gorgeous lookouts ... you're going to want to do it all!
So many volunteers have said that this was "the best weekend of their life." If you can swing it, we recommend at least 4 days here - minimum.

Some Trip Planning Logistics
Where Is It (+How Do I Get There?)
Where Do I Stay?
Where Is It?
Yangshuo is a town located outside of Guilin in the Guangxi region of southeast China.
How Do I Get There?
Start In Guilin
Guilin is larger city than Yangshuo, meaning if you're coming from other parts of China your route will likely take you here first. There is both an airport and railway station in Guilin, which is about 40 miles west of Yangshuo. Most volunteers take the train as you can get really affordable tickets. Once you arrive in Guilin, buses run regularly from the South Railway Station to Yangshuo.
It'll take you a little over an hour to get there and as always, transportation is cheap. Some like to stop for a day in Guilin because there are beautiful rice fields to see here. You can actually even take a boat ride down the river from Guilin to Yangshuo if you want to! Here's your Guilin Guide if you're like to head here first (or after) your Yangshuo trip.
Go Directly To Yangshuo
You can also avoid Guilin altogether and go directly to Yangshuo via buses or train. Depending on where you're coming from, consider taking a sleeper bus and getting off in Yangshuo before it continues on to Guilin. There is also a fast train from Guangzhou which makes stops in both Yangshuo and Guilin.
You'll want to use the Guangzhou South station and it'll take you about 2-2.5 hours for $18 (each way).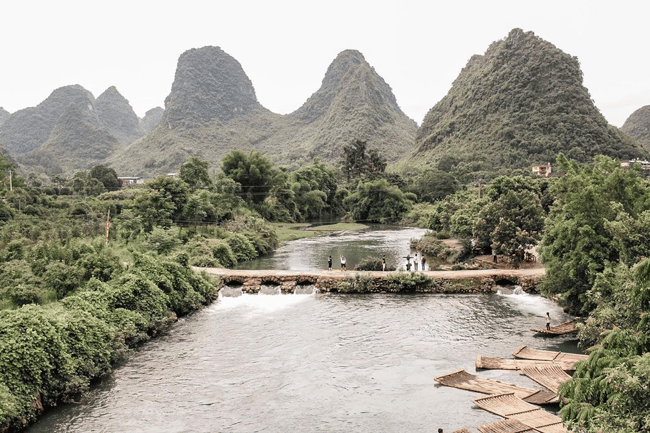 Where Should I Stay?
There are lots and lots of good hostels in the area, so feel free to hunt arond and find a spot that works best — Hostelworld is a great place to find hostels where you can check location, rating, and price, all in one spot ... but may we recommend a favorite hostel or two?
11 Youth Hostel
11 Youth Hostel. Located right in town, so it's really close to the shopping street, plus it's so cheap (about $5 a night in the shared dorm room).
Yangshuo Sudder Street Guesthouse



Yangshuo Sudder Street Guesthouse. If you're looking for a poolside view of Yangshuo, this is your hostel.) You're a bit of a walk away from town, but that just means that you're staying out in the countryside that you came to visit anyways. This place has been a favorite to stay at. You'll spend about $5 a night here if you stay in the shared dorm, so not bad if you ask me.
Oh and that dreamy picture you see below? This is where you can get the same shot.
C Source
C Source. This is a hotel, rather than a hostel. We're usually huge fans of traveling cheap (hence the hostel recommendations above) but if you're wanting to spoil yourself for a couple nights (especially you married couples out there) ... this is where we recommend. It's a beautiful, luxurious hotel for about $47 a night (for two of you). It's also located right on West Street so all of the action is right outside your door.
If you're ever going to splurge on a hotel, we love this one.
Wada Hostel
Wada Hostel:
It's super close to West Street and the beds are COMFY (something you may not find in all Chinese hostels which tend to have stiffer, thinner mattresses. The staff replaces your towels daily, and they do have free laundry services (and provide the detergent) which is so nice. Plus, the hostel has a kitchen/cafe where you can get a cheap and yummy breakfast: waffles with chocolate sauce, a bacon and pepper omelet and homemade bread for just a few dollars.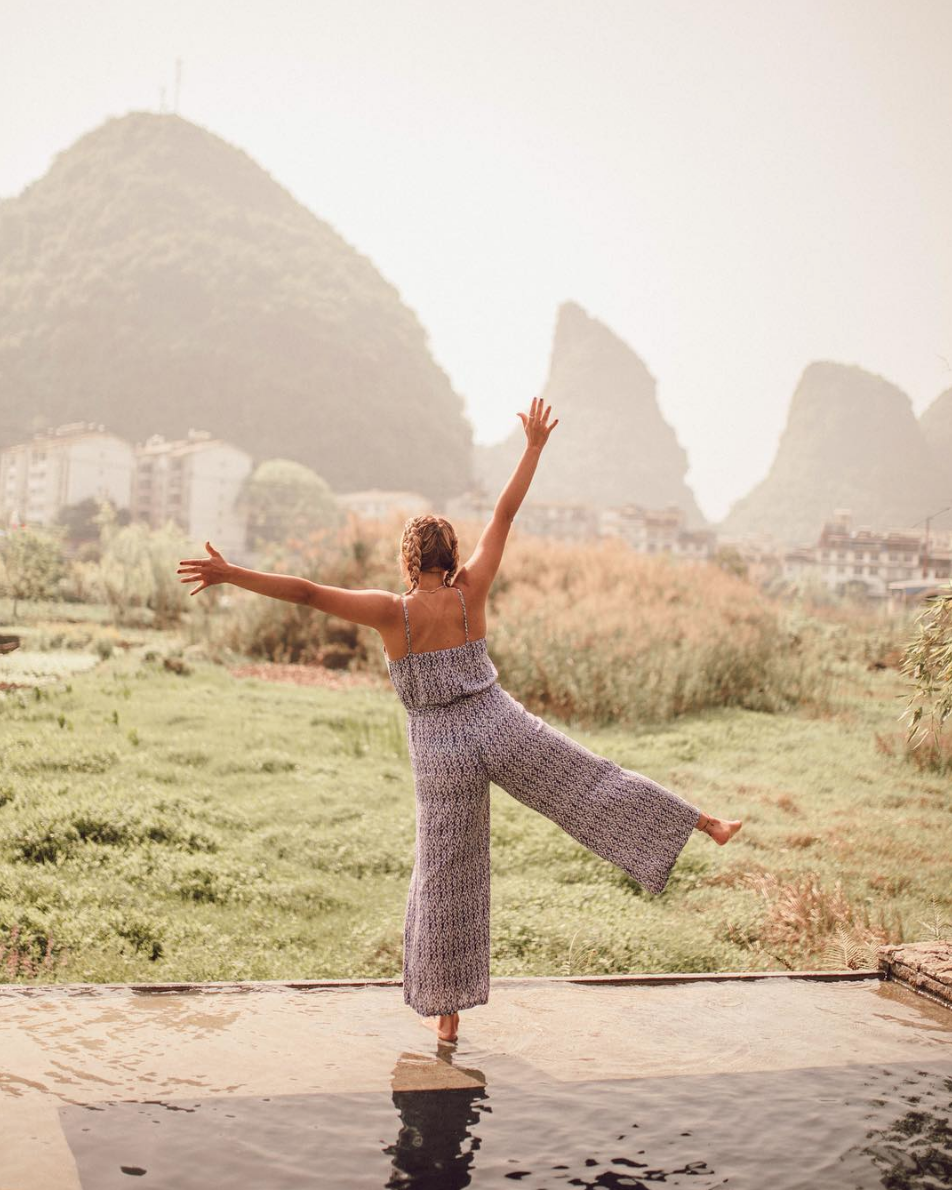 What Is There To Do?
Yangshuo is a cute little town - REALLY little. It's becoming more and more of a tourist destination and is growing as the secret has gotten out on how awesome it is, but it's still fairly small. You can walk around the town within 30 minutes (and it's pedestrian only in the main part of town) so it's really nice to not have to worry about getting from here to there. It's full of little souvenir shops and yummy restaurants. The main street is called West Street - it used to be that everything was located on West Street but it's grown so much over the last few years that now the surrounding streets have plenty to do as well, but West Street is still the street that is most referenced.
There's also incredible scenery surrounding Yangshuo and that's where the magic is at. We'll get to this below.
If you've only got 2 days in Yangshuo, you can still hit the most popular activities (marked with a * below).
All of these activities listed below are generally arranged through your hostel either the day of or the day before you do it, so don't worry about figuring out the details before you arrive. Talk to the owners of your hostel about what to do after you arrive and they'll likely be able to get you tickets and transportation or directions - this is why we really recommend finding a hostel that says they speak English. Chances are they can direct you on where to go to join in on these fun activities. They've usually got a free map of the area, too. If not, there are lots of guides that hang out around West Street and are happy to help you get to where you want to go (for a price).
-- Activities OUT of Town --
*Bamboo raft down the Li River
The Li River (AKA Dr. Seuss Mountains) is what Yangshuo is known for, so this is a must. You can rent a bicycle and ride along the river or you can also see it via bamboo raft. Taking a bamboo raft ride is pretty popular and most do this when they come to town.
You can either ride your bike to the bamboo raft ride or sign up for a tour who will drive you there and back. It's really easy to figure out how to do it - just ask the front desk at your hostel (they'll likely suggest a tour because they get a kick back for signing their guests up). You'll go over a few small rapids on the bamboo raft, but mostly just kick back and enjoy the incredible scenery. Your feet will get wet so we recommend sandals but your body shouldn't get wet (because they don't let you jump in and swim) so if you have a small bag or purse you can definitely hold it on your lap.
There are a couple different parts of the river you can do the bamboo raft ride on. One is a bit longer (takes about 1-1.5 hours) or the shorter route is about 30 minutes. It's the same experience, so it just depends on how long you want to do it. We feel like the 30 mins is plenty long to get the experience. Prices vary depending on the route you do, so just ask your hostel about how to get tickets.
P.S. Elderly ladies sell flower crowns EVERYWHERE, especially around the Bamboo raft rides because this is such a popular activity. You might wanna snag one, especially since you can talk them down to just a couple yuan (basically a .25 cents USD). Here are more details about where to get those flower crowns.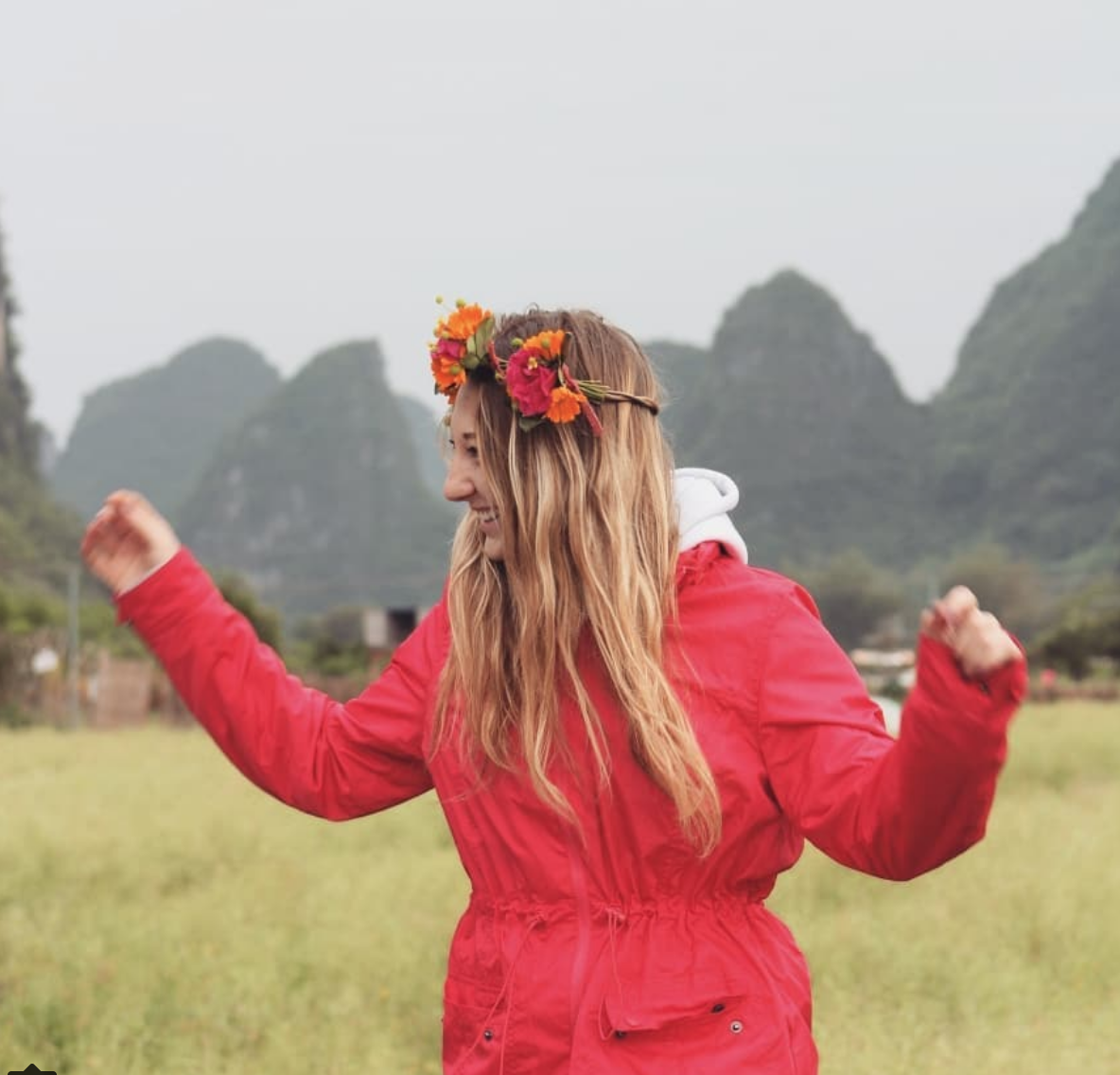 Mud Caves
There is a cave just outside of Yangshuo where you can walk in and explore a little. Get your hard hats on, walk deep into the cave, and end up at the mud pool! Hopefully you didn't bring your favorite swim suit because it's going to turn a nice shade of brown after. And to answer your follow up question - there are pools of clean, hot springs in the cave to clean up and soak in afterwards. An afternoon well spent.
You can ride your bike here from town and it's very easy to find as it's just off a main road that bikers ride frequently. It's actually really close to the bamboo raft area so if you rode your bike there, you could combine those two activities.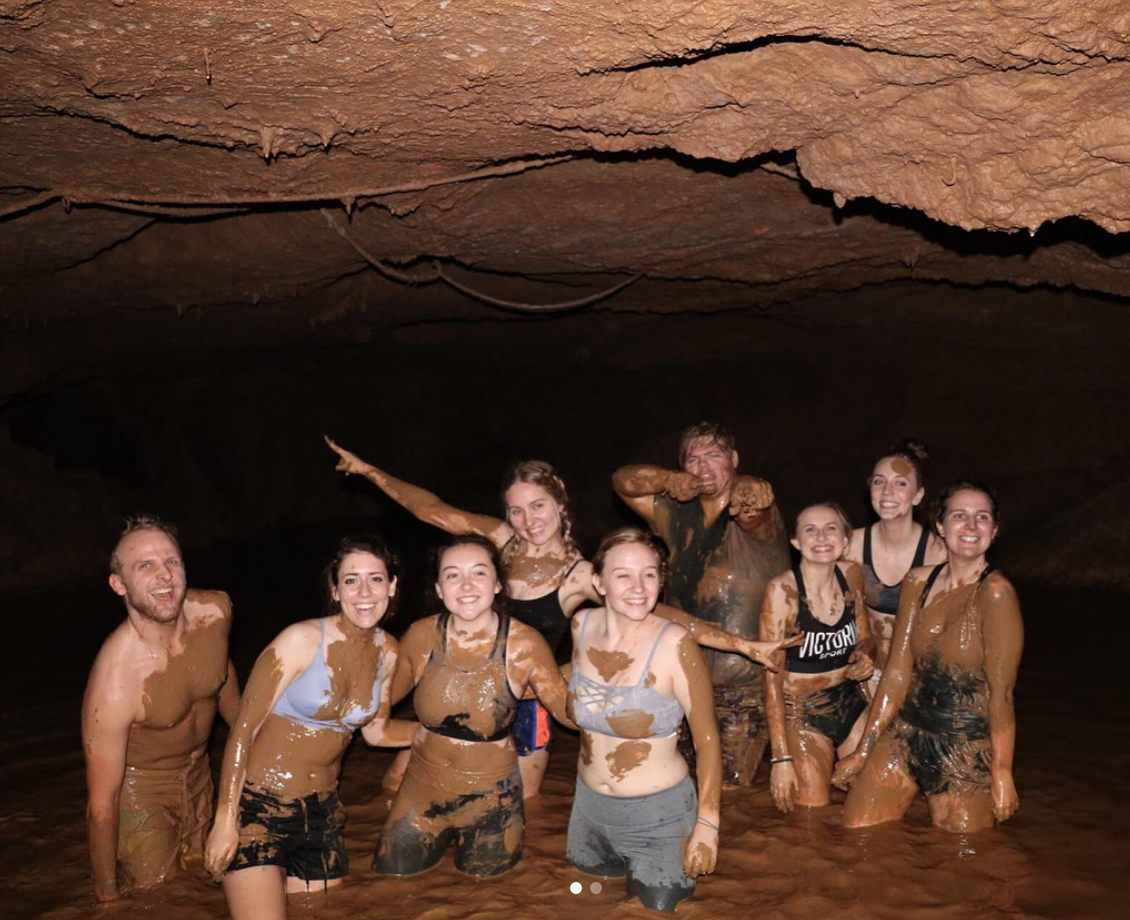 *Rent A Bicycle
Rent a bicycle in several places around town or your hostel (usually around 15-20 yuan or about $3 for the entire day!).
There are a few different bicycle routes that are very popular that will take you to beautiful places around the countryside, along the Li River, and even through nearby villages if you're up for a longer route. If you're doing this in the spring you'll likely find fields of colorful flowers just off the side of the road or you can even find spots to go swimming in the river! Ask your hostel for a map and suggested routes and just spend a day admiring the prettiest mountains in China.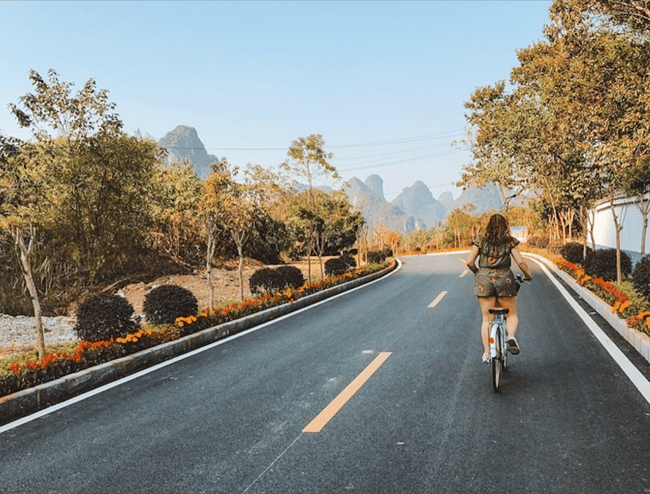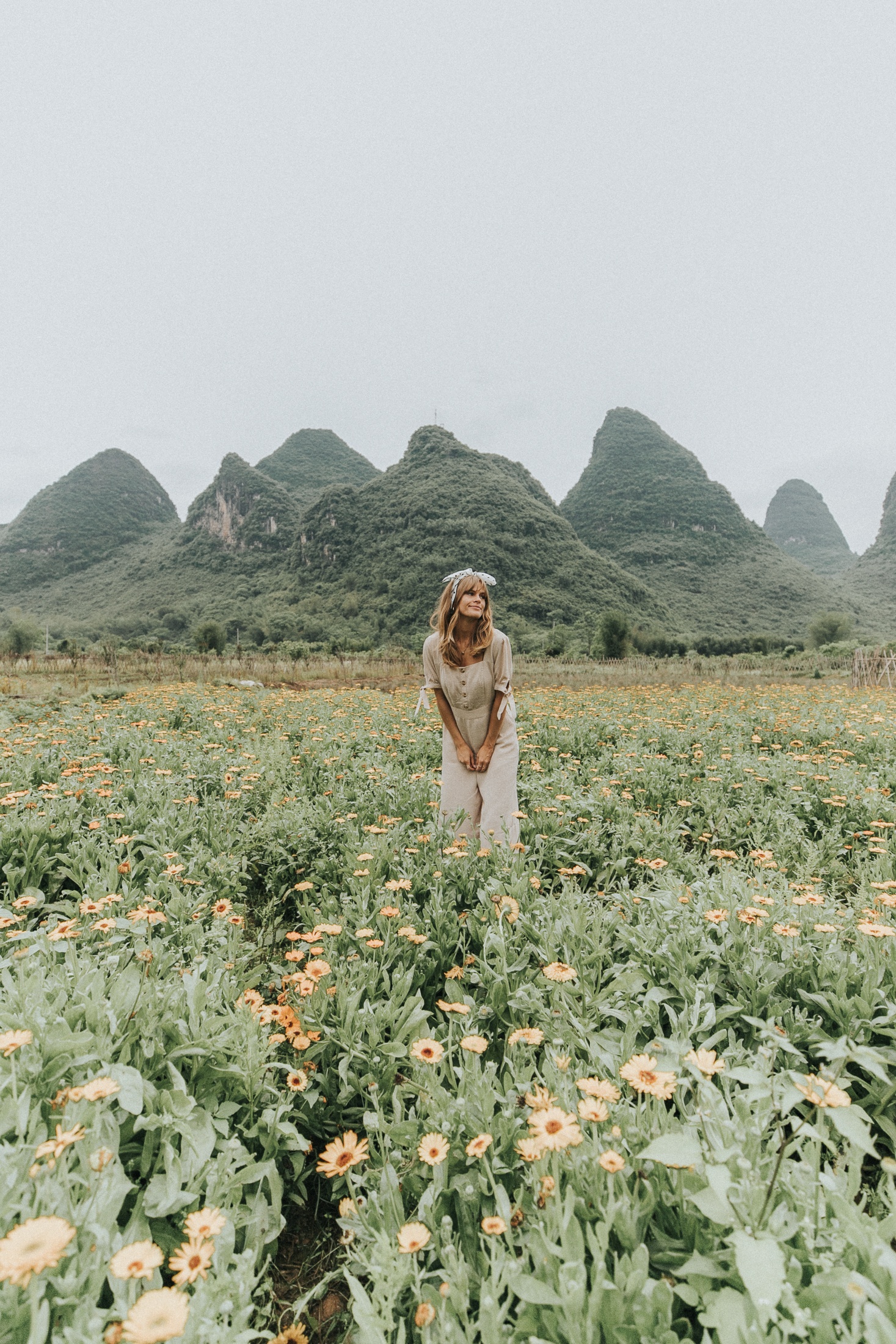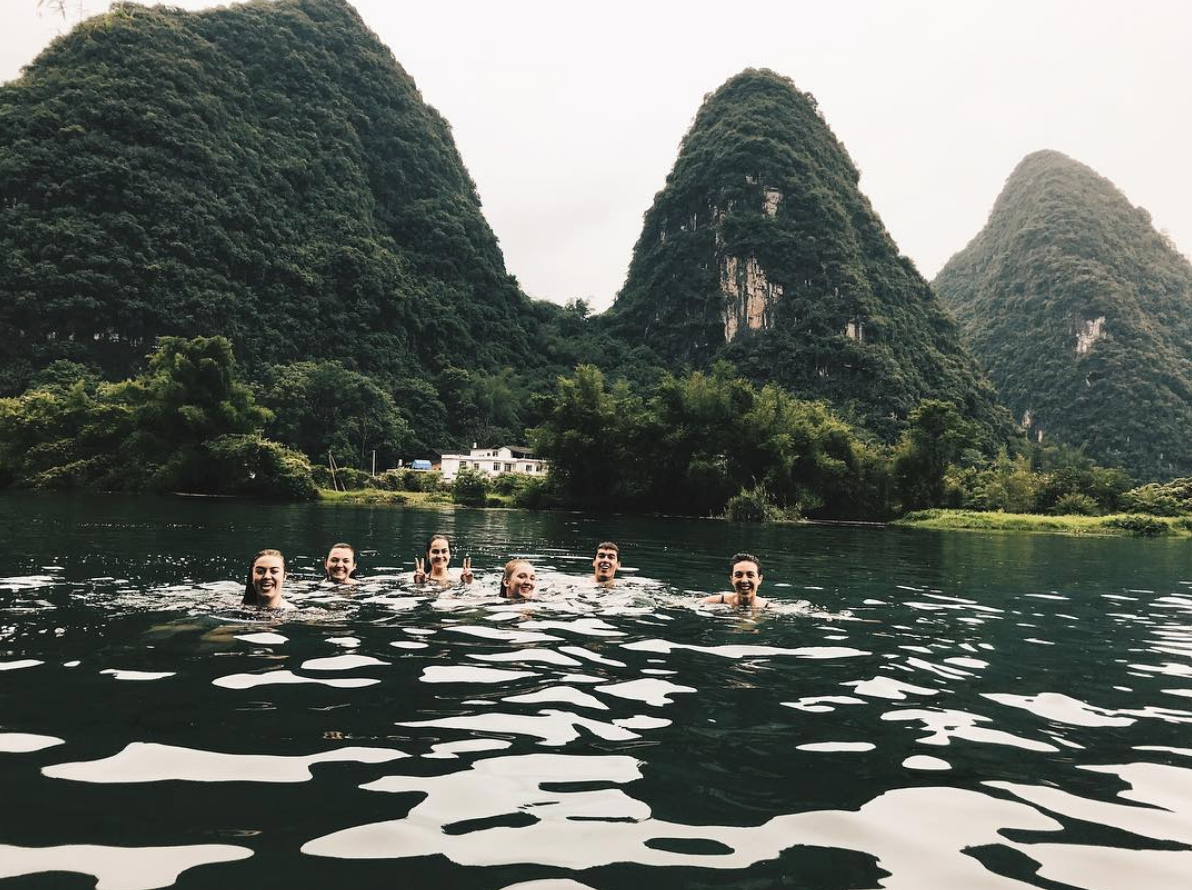 Tour Yangshuo With A Guide
If you don't want to try to follow a map on your own , then splurge (and when you splurge in China, we're still talking really affordable) on
an English speaking guide
who will take you on the bicycle routes to the best spots. We don't
always
love using guides because we're all about the adventure, but honestly for this a place having a guide is major. They can take you through windy roads to places you wouldn't find on your own.
We've found it to absolutely worth it and bonus - we love supporting the locals who have grown up here their entire lives and love to show you what Yangshuo has to offer. We've found a few guides that we love and those are
linked here.
Go River Drifting
Beware ... this is a rough ride. Now, this is essentially white water rafting - but China style. Take a bus up the mountain and get dropped off at the top where you will be asked to suit up in helmet, life vest, knee pads, and elbow pads. Seems a little extreme for white water rafting right? Nope. I told you - this is China style. The only thing missing are the oars. Get in a raft with a partner and wait for your turn to SHOOT down the river. Your stomach is going to hurt from laughing so hard as you're bounced around the waves, hitting other rafters, with no ability to steer. You'll be glad you had those knee pads by the end of this. You know those games where you drop a marble at the top of a flat board and it bounces back and forth between pegs and you just don't know where it will land at the bottom? This is river drifting.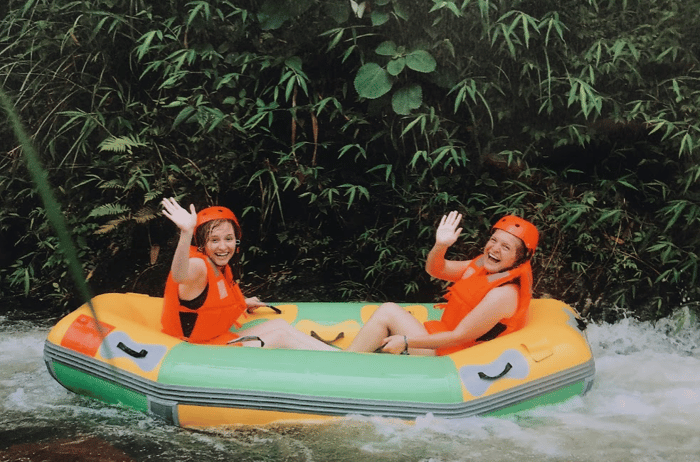 *Go On A Hike
There are several incredible hikes around the area that you can choose from.
TV Tower: This hike is conveniently located within walking distance from West Street, so we love that. The only con is that it's a little tricky to find, but don't worry because we put all the directions here.
Xing Ping: This hike is HIGHLY recommended because of the incredible views. It's trickier to get to because it's in another nearby town called Xing Ping. If you're heading to Xing Ping anyways you'll want to check out this hike (and these directions ... it's a bit tricky to find, but so worth it!) .
Moon Hill: This is a classic one for Yangshuo. It's an arch in the rocks that you can see from a far distance and is very easy to find because it's on every map of Yangshuo. You can ride your bike out here pretty easily (it's on the same road as the caves we mentioned above). If you're not sure which way to go, just ask the front desk of your hostel. It takes about 45 minutes to hike up and back, but it is pretty much straight up so it's pretty hot on a sunny day. Make sure to bring water and bug spray! It used to be a really popular spot for climbing but that has since been shut down.
Get all the details you need about Moon Hill here (like directions and cost).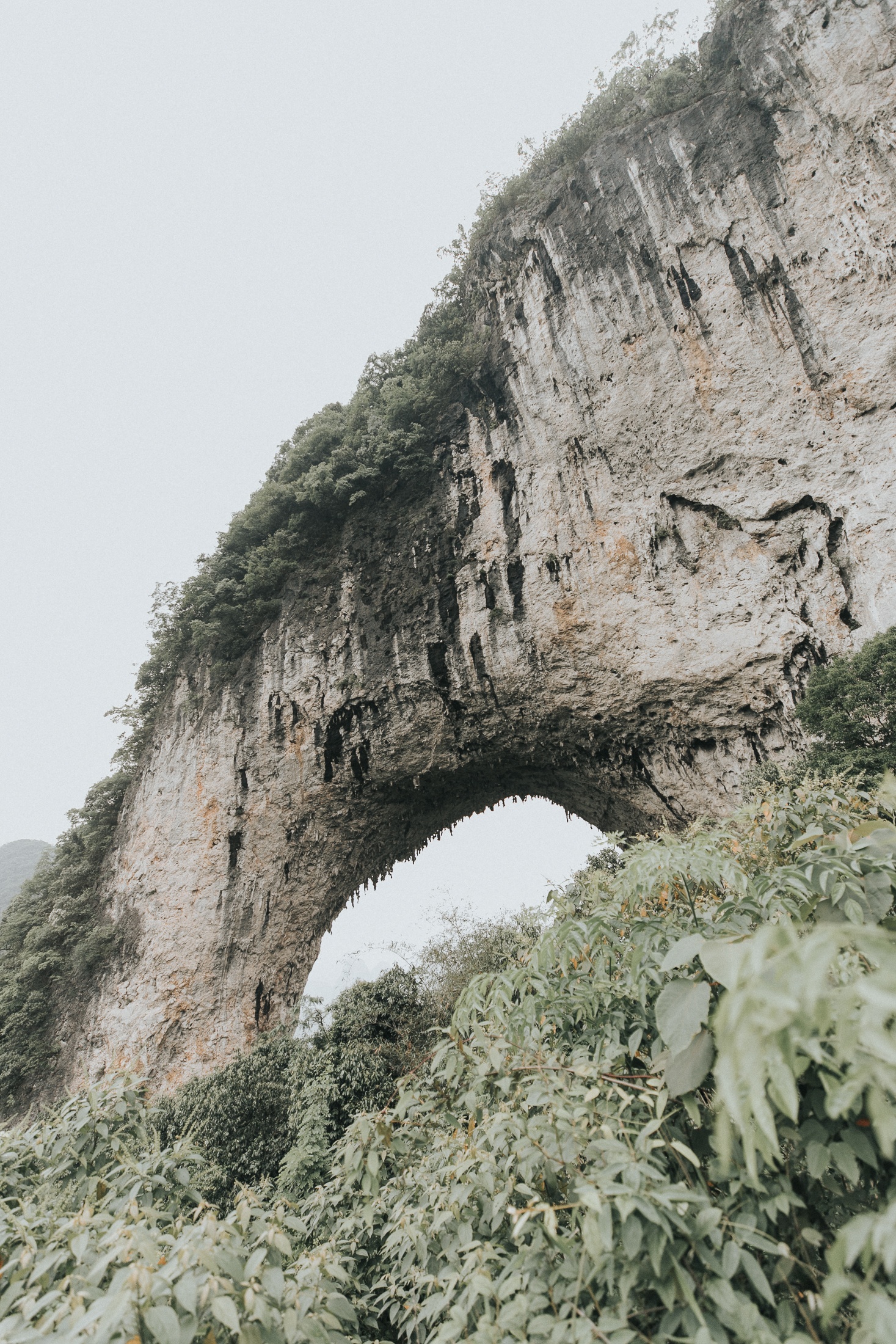 Hot Air Balloon Ride
Yes, there's even hot air balloons in Yangshuo! There's a few things to know before you jump on this activity though.
Hot air balloon rides used to be huge in Yangshuo up until about 2009 when 4 tourists were tragically killed in an accident. Yangshuo was quickly becoming discovered at the time and locals could see that tourists loved the air balloon rides. So, without much expertise businesses were popping up offering rides. It had a reputation for being dangerous, but it wasn't shut down completely until the 2009 accident.
In 2017, a company started offering rides again after a long hiatus of no balloon rides in Yangshuo. There are restrictions now though - and the main one being that the balloons must be tethered to the ground. So, you're not taking a ride around the countryside - you're essentially just going up about 80 meters and then coming straight back down. They'll tell you it's about a 5-10 minute ride, but in reality it's usually 5 minutes TOPS and costs 98 yuan (or just under $20 USD). So, it sounds cool to do a hot air balloon ride, but you're not up there very long and it's one of the more expensive things you'll do in Yangshuo.
If you ask me, you'll get a much better view from one of the hikes listed above.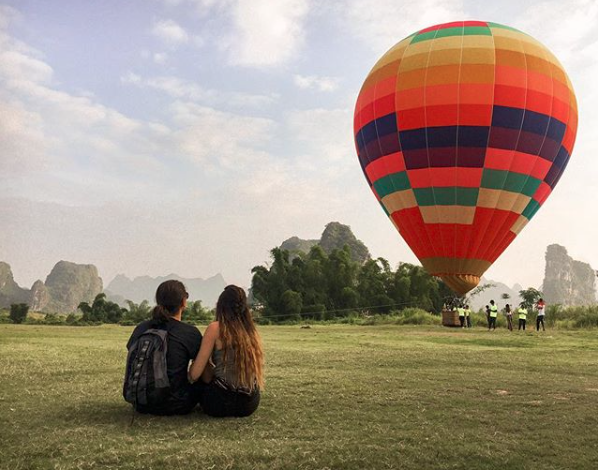 -- Activities IN Town --
Just Explore!
If you have any downtime where you're not sure what to do, just walk around town. There's so many cute corners, yummy treats, and it's just a fun place. Go see what's available. You don't have to worry about getting lost because it's so small.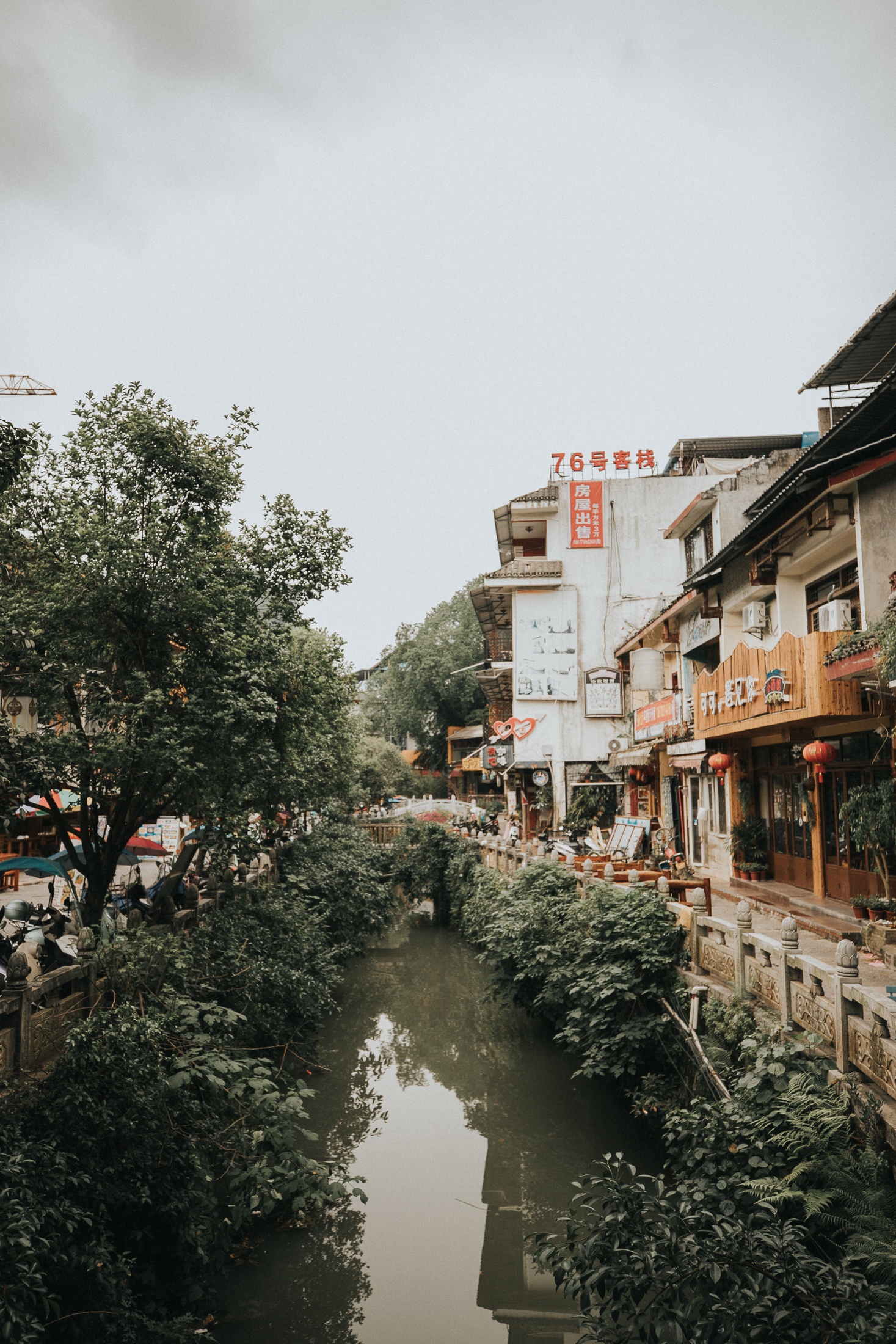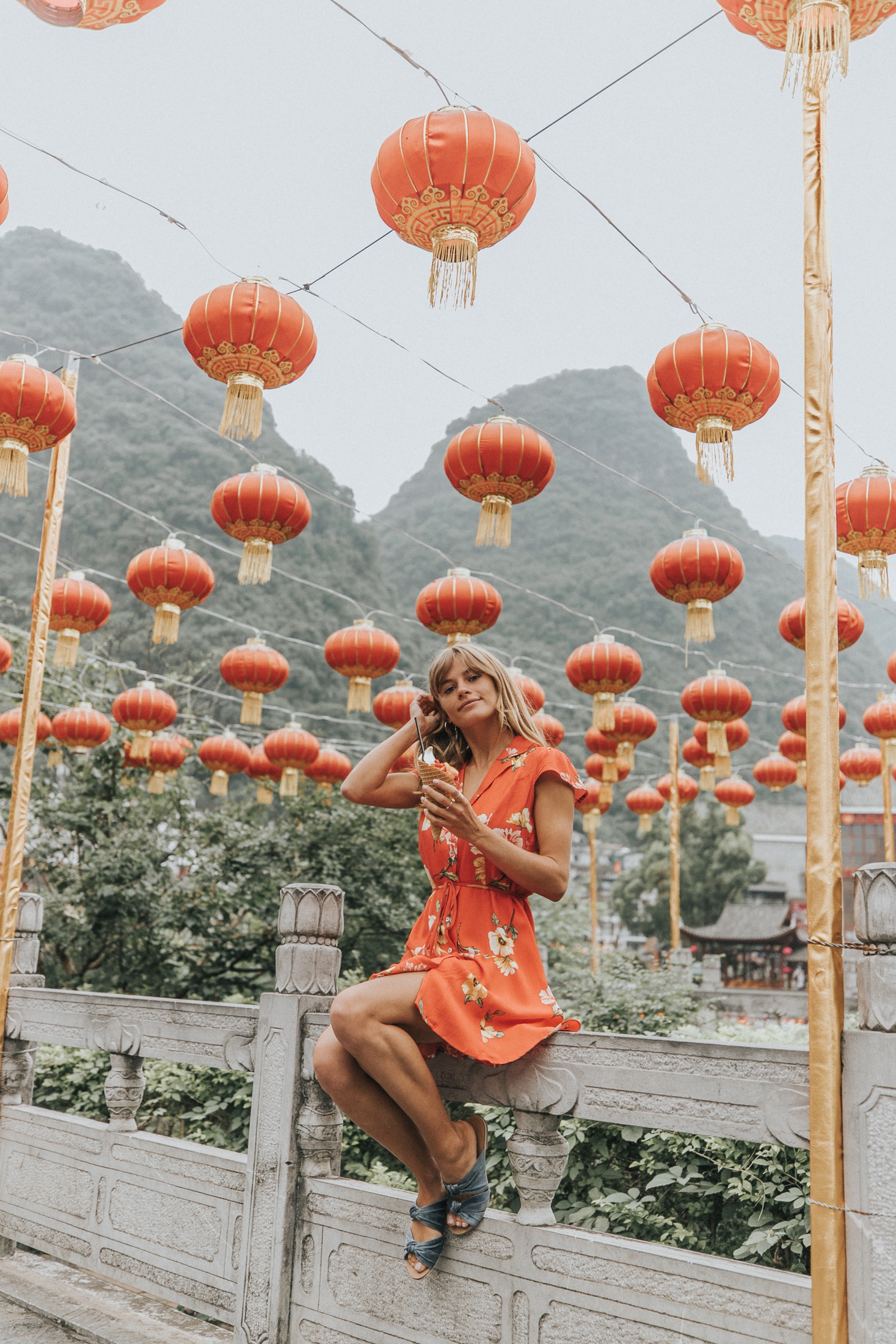 Take A Traditional Cooking Class
If you're not so much the thrill seeker, take a traditional cooking class in town and meet other travelers from around the world. Oh, and you'll always get to eat what you cook afterwards - bonus.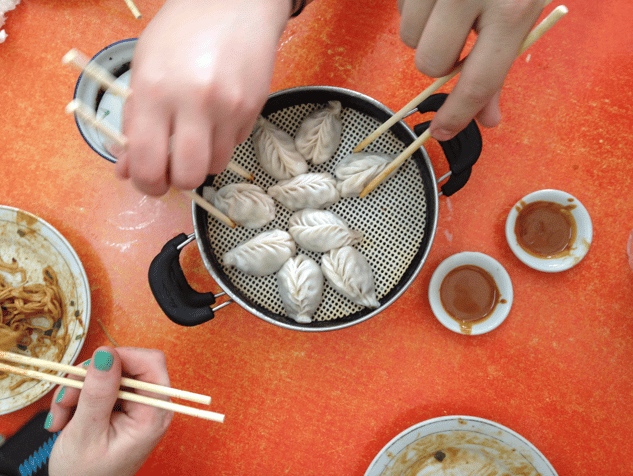 Shop For Souvenirs
Walk around the town exploring and shopping for souvenirs. Go at night too; All of West Street lights up with glow in the dark trinkets and food vendors.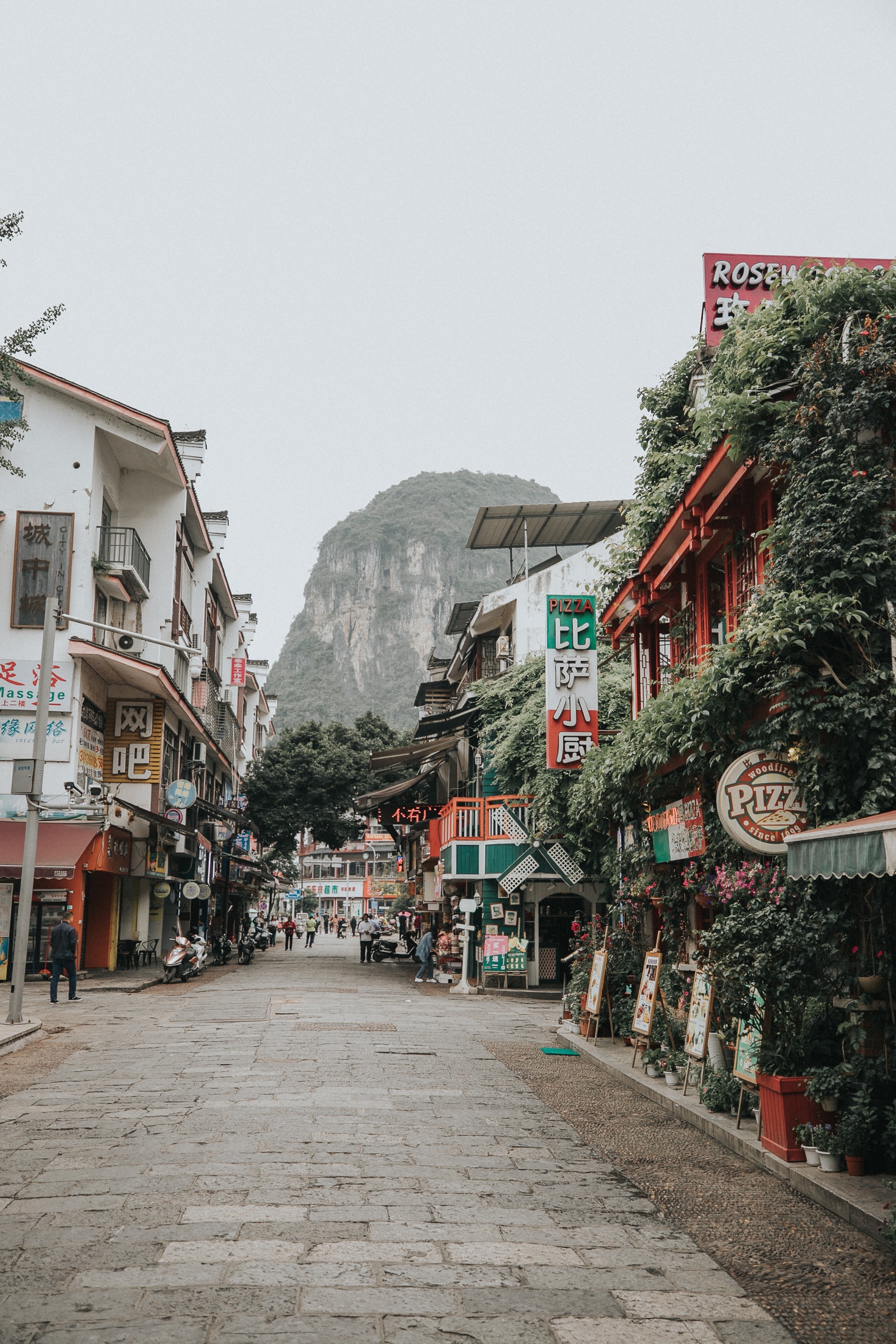 Send A Postcard
One of the cute cafes/postcard shops on West Street called Send Future offers the option to actually mail the postcard that you purchased there. You can also choose the date it gets mailed (so if you wanted to mail yourself a postcard one year from now to remember your favorite weekend in Yangshuo you totally can). If you're walking on West Street, head away from Pantao Road and you'll see this shop as one of the last ones.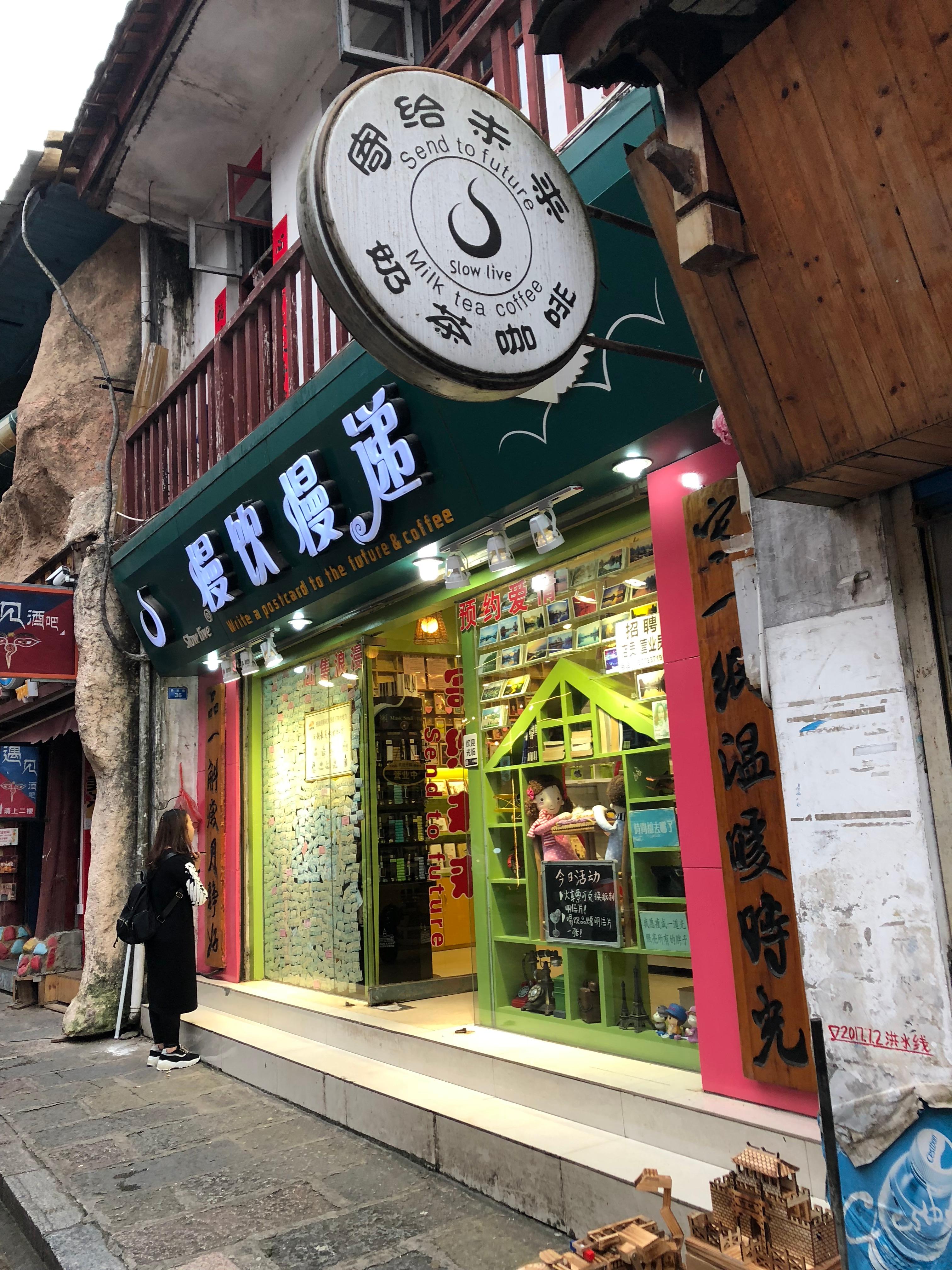 Get A Fish Pedicure
Ever tried one of these? It's hugely popular in China. Essentially you're sticking your bare feet in a fish tank and they nibble on your dry skin for about 10 minutes. Beware if you have ticklish feet, but it's an experience you gotta try. There are shops on West Street so just be on the lookout — get more info (and see pictures) of those fish pedicures here.
Go To The Movies
There's a newer theatre in Yangshuo, so check out movie times. You can often find a movie that is in English with Chinese subtitles.
It's located by the Starbucks, so just walk up the main stairs nearby and explore back in that area and you'll run into it.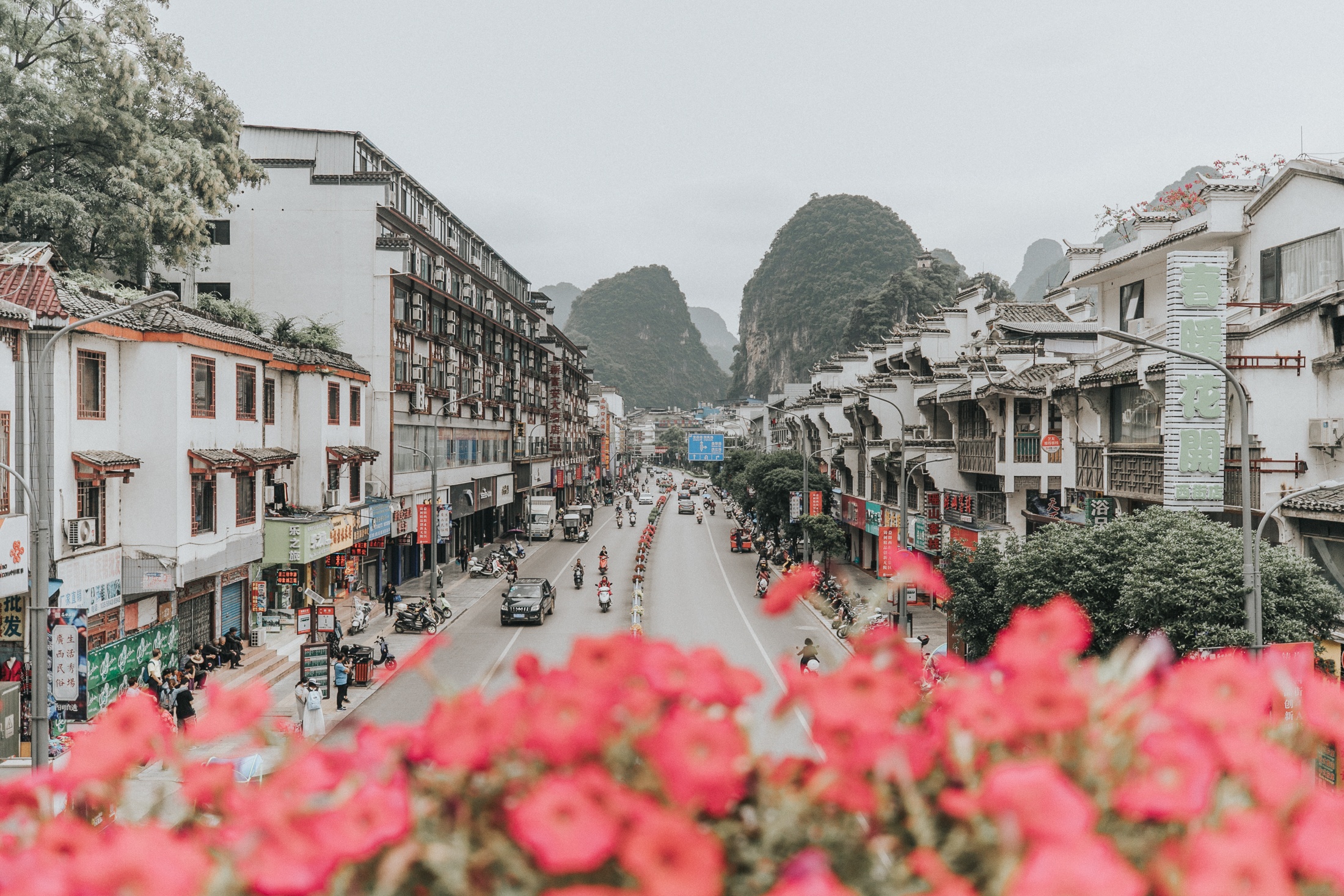 When It Comes To The Food In Yangshuo
All The Restaurants
Around West Street you'll find restaurant after restaurant and they're all really good. You'll find everything from Chinese food to Italian and American food (think nachos, pizza, etc). You will even find American restaurants like Starbucks, McDonalds, Pizza Hut, and of course KFC. Restaurants are lined up so it is not hard to find a yummy place to eat here. We especially recommend an Indian restaurant (if you're walking around it's pretty easy to find just off of West Street). The owners are from India and it tastes pretty legit, so if you're in the mood for some naan check them out.
For The Best Noodles
If you're looking for the yummiest noodles in China, there's a shop just a 5 minute walk from West Street where they serve hand pulled noodles AKA Muslim Noodles. It's a whole experience just watching them make the noodles! They don't speak English as most tourists aren't coming here, but there is some English on the menu so just look for a dish that says "hand pulled noodles" and you can't go wrong.
It's easiest to find by clicking the link above and keeping Google maps open on your phone (it doesn't come up on Apple maps). If you don't have data or Google maps though, just walk from West Street to Pantao Road. It's easy to find Pantao road - it's just the main road where cars drive that is perpendicular to West Street. Walk towards the round-a-bout and cross the road and turn left. It's close by, just a few shops down right on Pantao Street. The front of the shop looks like this...ENJOY!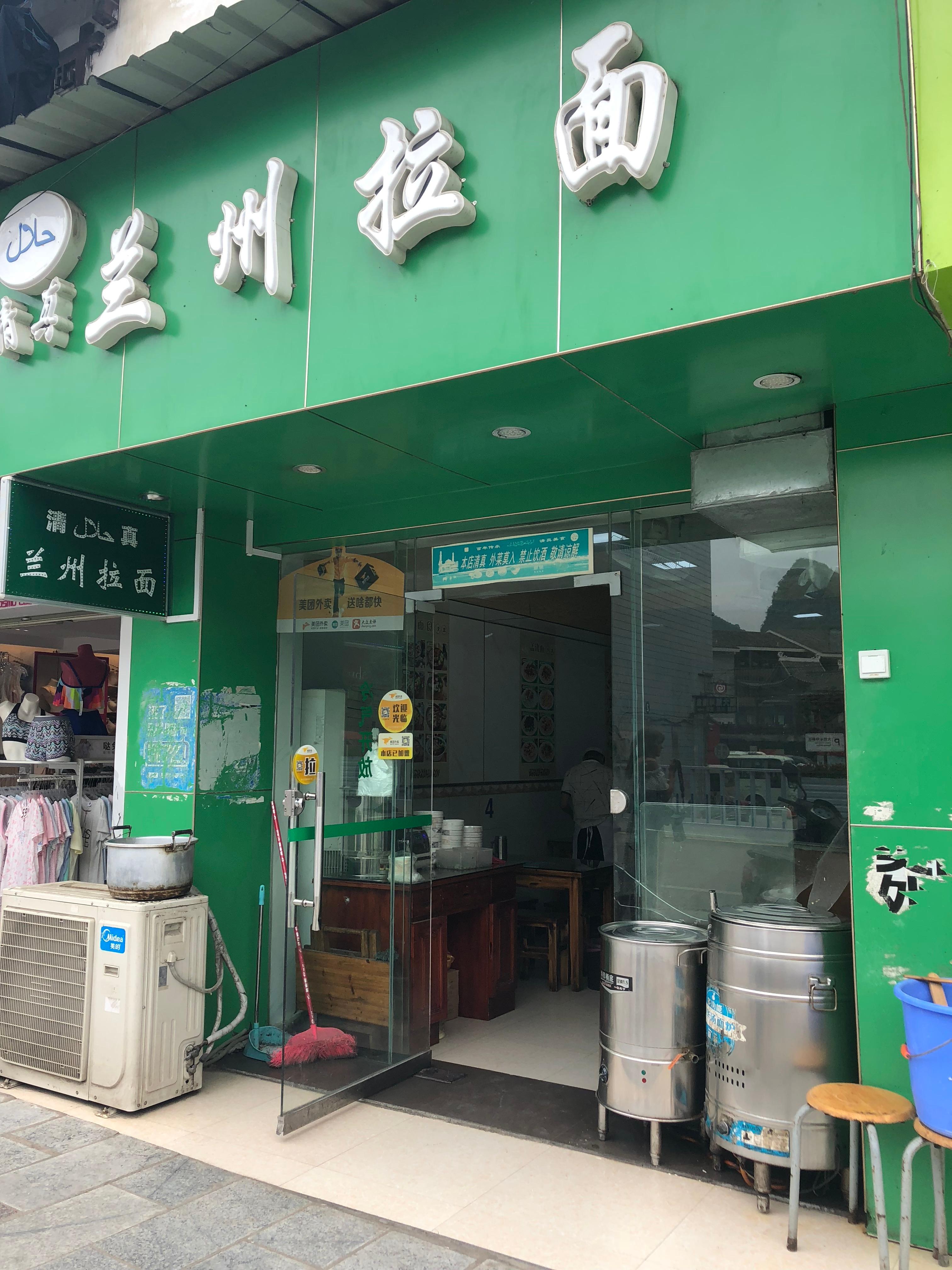 Mango Smoothie Time
Some of our favorite treats are colorful popsicles, fried potato chips on a stick, and if you like mangos you HAVE to try the mango drink. It is SO good and really popular here. One ILP group was low-key obsessed with this mango place and went a couple of times a day. Their favorite was this layered mango drink that has a mango smoothie on the bottom, huge chunks of mango, mango ice cream, and is topped with whipped cream. YUM.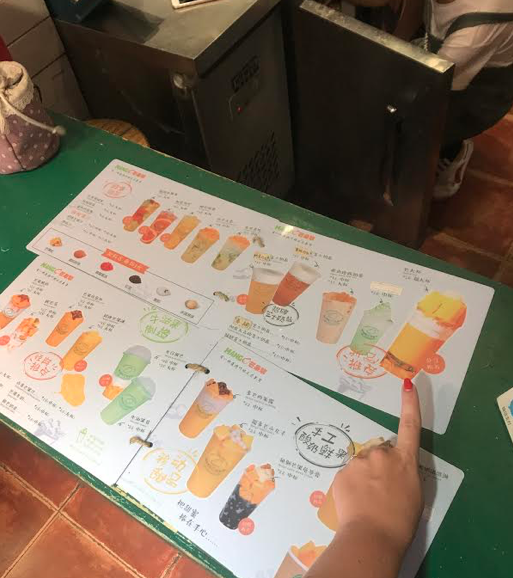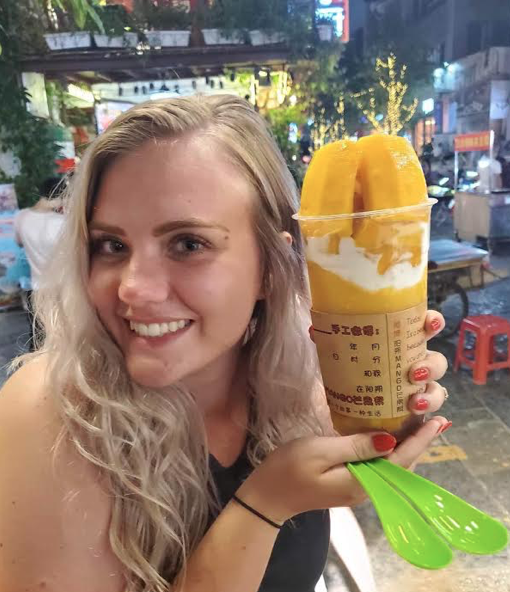 Here's another popular mango drink you'll find (it's similar, with a mango smoothie, and ice cream, along with chunks of mango and whipped cream). Sounds like you'll need to try both and decide which one you like the best!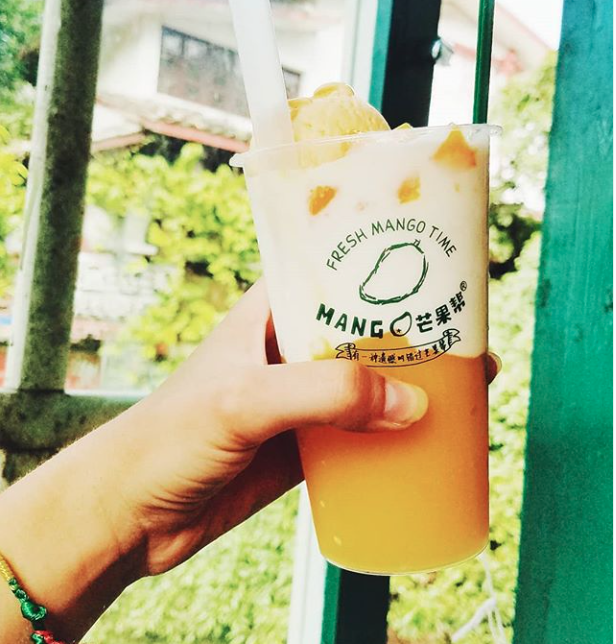 Look Out For Mangosteens!
Also be on the lookout for mangosteen if you're there in the spring. You'll usually see ladies selling it on the main street (the one with the cars) where more locals are. This is my favorite fruit in all of Asia if you haven't tried it yet.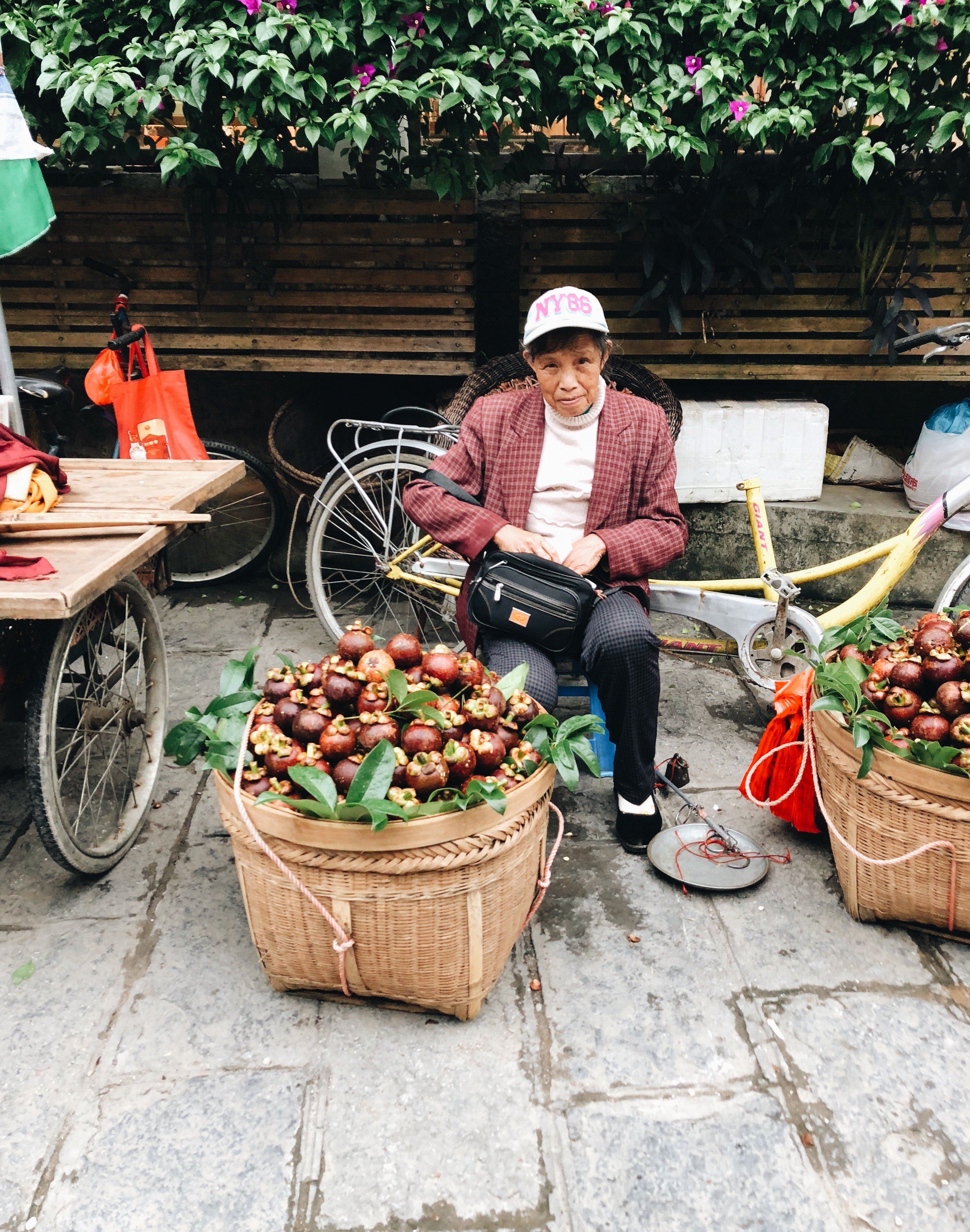 Have you been to Yangshuo?