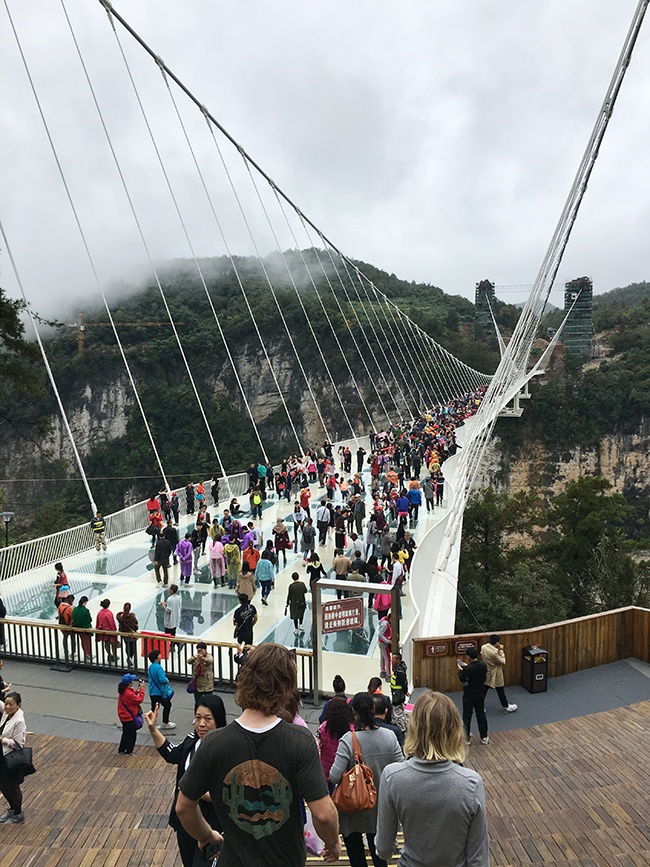 ...but you might want to reconsider checking it out.
Leave it to China to build the tallest, scariest, highest...you name it. They love a big adventure to test your fear of heights. Trust me.
---
Go volunteer in China for a semester and you'll see.
---
Our thrill seekers have loved walking the glass walkways that hug the high cliffs in nearby Tianmen Mountain, but this brand new bridge spans an entire canyon. It's that same scary walk (complete with those stylish little booties), but much longer, and suspended over a canyon.

It sounds pretty cool huh!?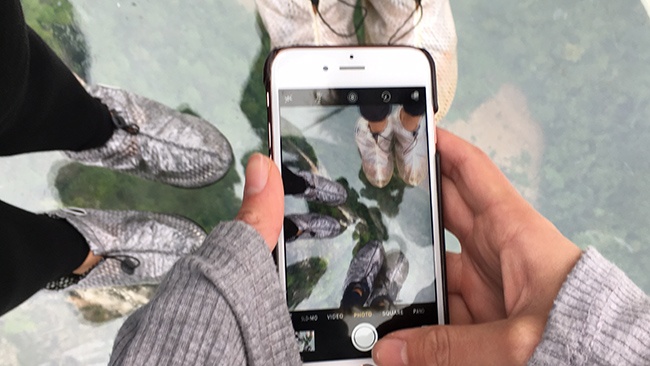 It's So Cool Because ...
Pretty sure your other friends are checking out this dizzy drop. Instagram it and everyone's going to ask you where it is. Plus they make you wear those awesome shoe covers (to keep the glass clean) and who doesn't want that in their photo?

Another thrill? The walkway is see through meaning you can peer down below your feet (and over the edge) to the deep, green and beautiful "Grand Canyon". Walking over a glass bridge 1,000 feet up in the air is a little exhilarating especially when you can't escape the reality that you're so far above the ground.

...bBut I Don't Recommend Going.
First of all, I think the hype of it got my expectations a little higher than they should have been. When I think of the Grand Canyon, I picture the Grand Canyon in the U.S. right? And whether you've been there or even if you've just seen pictures you know it is MASSIVE. I mean people have an emotional experience when they see how big it is. So when China said they had a Grand Canyon, too I was picturing something similar and then when I knew they had a glass bridge going across it...my head was exploding with excitement.
It's not at all similar. It's a canyon. It's big. It's beautiful, but it's not the same as the U.S. Grand Canyon, so just don't compare them.
Another reason I don't recommend going is because it's a little out of the way. It's about an hour drive outside of Wulingyuan city, which is right outside of the Zhangjiajie National Park, aka Avatar Mountains, aka one of our ILP volunteers most favorite vacation spots. I can't say enough good things about the Avatar Mountains, they are life-changing and you must go while you volunteer in China.
So, when I heard the Grand Canyon walkway was only about an hour away from the park, I thought, "Perfect. We'll see the park first because we're definitely going there anyways and on the last day we'll leave a little early and go to the Grand Canyon."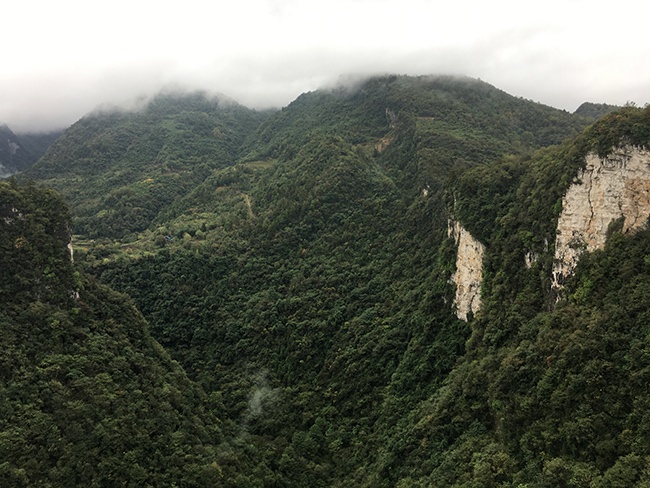 The Biggest Reason I Don't Recommend Going
While we were at the Grand Canyon, all I could think was...I wish I was back at the Avatar Mountains seeing more of that.
It's cool to see the Grand Canyon and cool to walk on the glass walkway, but the Zhangjiajie Avatar Mountains are like nothing you'll ever see again in your life. They're amazing and I wish I would have spent that 1/2 a day seeing more of that national park instead of going to the bridge. But oh well. Traveling somewhere new is always a gamble.
Long story short... Spend as much time in the Avatar Mountains as you can, not the glass bridge.
Seriously, Spend Your Time With These Mountains
The Avatar mountains are incredible. I highly recommend nearby Boafeng Lake. It's magical. If you decide to go see the Grand Canyon walkway while you're there, only do it because you feel like you've seen all you want to see in the park and you're just looking for more to do.
One last thing that I wasn't super impressed with was the actual walkway itself. I'm TERRIFIED of heights so I was expecting this to get my heart rate up you know? I ended up not being nervous in the slightest and that's because the glass is so thick that it's pretty foggy. It's also just square pieces of glass within the bridge, so it's not like the whole bridge is glass (which I wrongly pictured). Anyways, some of the other Chinese tourist seemed nervous, but I was a-okay so that took the thrill out of it for me.
If You Decide To Go
You may have a different experience than me, so you might decide it's worth it. They're planning to open the rest of the Grand Canyon at some point so there may be more things to see in the future (right now only the bridge is open). Here's some tips to help your experience go smooth.
Take a taxi from Wulingyuan
Wulingyuan is a little town outside of the eastern entrance of the Avatar Mountains. You can also take a bus to the bridge, but since it's pretty far and the road does get windy at one point I think it's just easier and quicker to take a taxi. Make sure you have him wait for you so that you have transportation back to Wulingyuan. You can negotiate a reasonable price and then split it with anyone else in your car to make it more affordable.

We ended up paying 400 yuan (a little less than $60 USD) for a taxi driver to take us to the bridge (an hour away and back), to the Baofeng Lake (so gorgeous!), and then out to Zhangjiajie city (an hour away) to go see Tianmen mountain. I feel like that was a great price because he drove us around for an entire day and waited for us at every stop. He even took us to a yummy restaurant for dinner. Plus I gave him a tip (not at all necessary) so he was stoked. Worth it. We split it 3 ways so it was like paying $20 for a guide and transportation for a full day.

Good To Know
Bring your passport. You won't be able to purchase an entrance ticket without it.

The cost to walk on the bridge is about $20 USD. Highly overpriced if you ask me...but that's how it goes. You can get a student discount though, so if you have an ISIC insurance card, definitely bring that to help make it a little cheaper.

You can only bring your wallet and a cell phone onto the bridge. At the entrance there are lockers where you can store your belongings. Don't try to bring in your DSLR camera or backpack or anything like that. There's a security checkpoint where they will send you away if you have those things. They mean business.
Go in the morning if you can. They only let so many people on the bridge at a time, so if you go during a busy time you'll be standing in a queue for awhile. That was another reason I didn't love the bridge...very crowded with local tourists. Maybe that's because it just barely opened, but I can see it staying busy for awhile. Because we were American, everyone wanted to take a photo with us and we ended up being as much of an attraction as the actual bridge. Oh, China. I love you.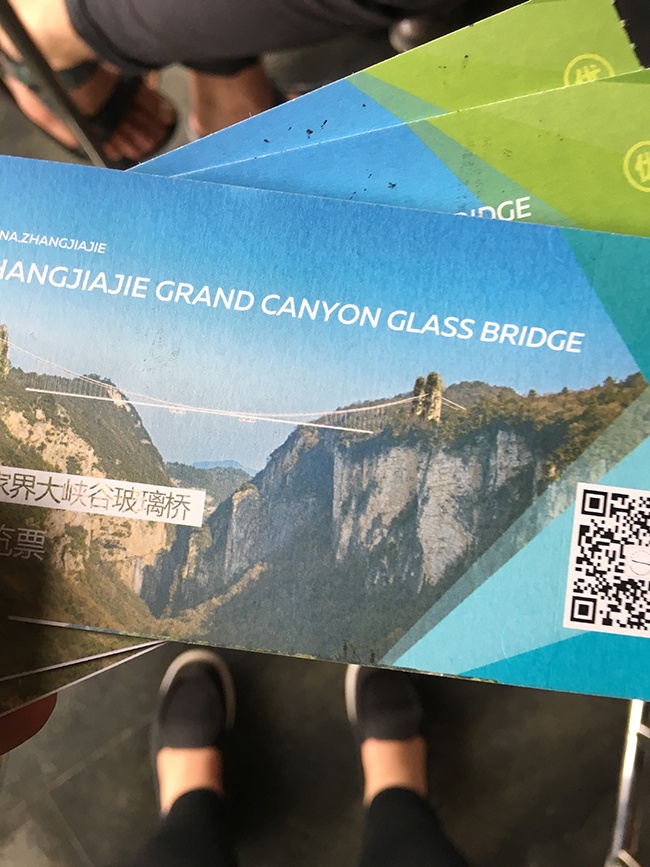 Been considering volunteering in China?
You have to do it! China is a huge adventure and living there definitely has it's life-changing moments. Some of the most incredible sights I've ever seen are in China. I cannot get enough of this country!