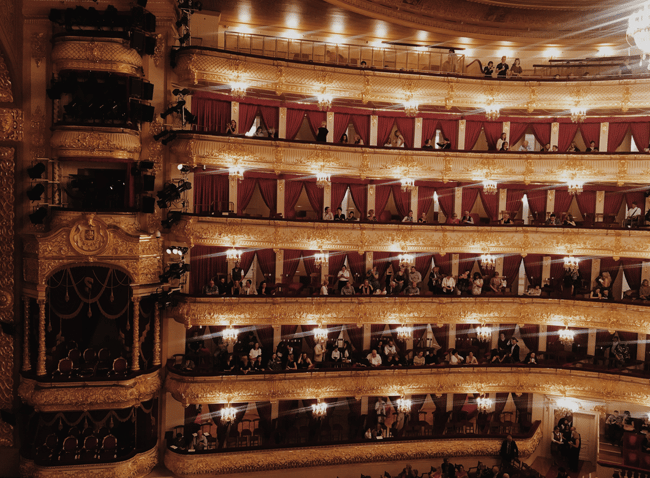 Ready for your semester abroad in Russia? You can't miss seeing a famous Russian ballet while you're here!
If you live in Russia, you have got to attend a ballet — it's not anything you can take home with you, but it 100% makes our list of favorite Russian souvenirs. It's an amazing experience that you really can't get anywhere else. Out of all the things I did in Russia, seeing the ballet is definitely one of the most iconic and memorable. To say that the first ballet you ever saw was in Russia is a pretty rad bragging right!
---
There are
hundreds of theaters for ballets and performances all over Russia, which is fab news: ILP v

olunteers living in Russia have more than a few choices when it comes to seeing a world-class ballet in this country. To help you know which theaters to choose, how tickets work, and what shows to keep an eye out for, keep on reading:
Ballets We Recommend

Buying Tickets + Theaters

Helpful Hints
Ballets We Recommend
There are dozens and dozens of ballets to choose from, but one of the reasons ballet culture is so huge in Russia is because some of the world's most famous ballets are Russian — Russian composers creating ballets for famous Russian ballerinas. We've outlined a few of the most famous Russian ballets for you to keep an eye out for.
Giselle
The main role of Giselle is the most sought after role for Russian ballerinas if that helps you understand how culturally important this show is. Storyline wise, this choice is on the depressing side, but the epic plot twist at the end is worth all the tears. In short, a peasant girl falls in love with a nobleman who she thinks is a commoner. When she finds out he's been betrothed to another lady, she dies of a broken heart ... but the story doesn't end there.

Giselle is definitely one to see in Russia as this is one of the most famous ballets ever. I personally saw this in Moscow and loved every single second: the music is gorgeous and in the second act, a row of dozens of ballerinas float out on stage and perform all together in a total synchronized line. It was jaw-dropping talent, right in front of my eyes. If you're looking for a classically Russian ballet to see during your semester, see Giselle!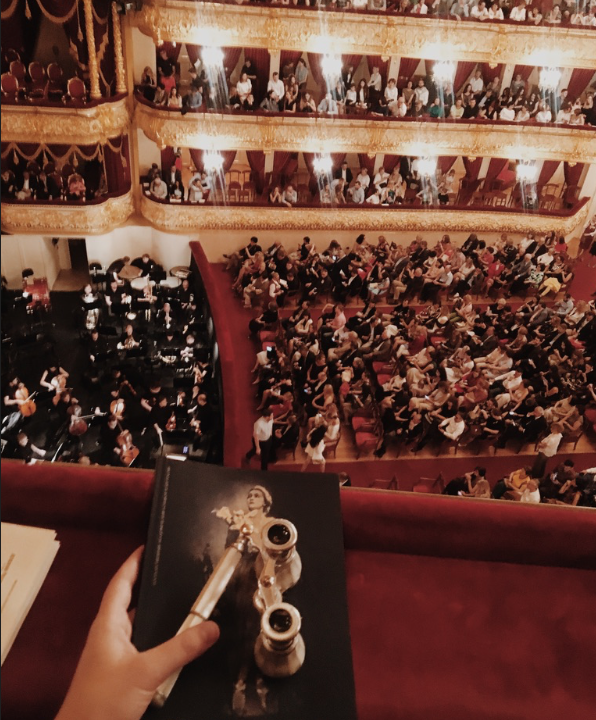 The Nutcracker
A Christmas classic you are probably a little familiar with, but seeing it in Russia is a completely different experience, thanks to its Russian influence. Ivan Vsevolozhsky was the director of the Russian Imperial Theaters and commissioned Russian composer, Pyotr Ilyich Tchaikovsky to create the score for both a ballet and an opera. The project was heavily inspired by ETA Hoffman's story "the Nutcracker and the Mouse King" and evolved to be the story you know today.

The first performance ever of this famous ballet was at the Imperial Mariinsky Theatre in St. Petersburg Russia, in 1892. It's now performed all over the world. Our Fall semester volunteers should be able to see viewings of this ballet before Christmas time (right before they go home). According to one ILP volunteer, "we saw the Nutcracker around Christmas before coming home, and in a few words ... it was magical".
Swan Lake
Even if you don't know much about ballet, you have probably heard of Swan Lake, right? This classically beautiful and iconic ballet first premiered in Moscow in 1877 and is one of Russian composer Pyotr Ilyich Tchaikovsky's masterpieces. Initially shown at the Bolshoi Theater (more on that theater below), it is one of the most famous and most Russian ballets you could see. It's been revisioned and redone dozens of times, and made a second premier in St. Petersburg in 1895.
It's one of the most famous ballets in all the world (and in Russia) and tickets tend to go very quickly for any showing. The role of Odette and Odile is one of the most sought after for young ballerinas.
Anna Karenina
Based on the famed novel by Russian author, Leo Tolstoy, this is a classic Russian performance that shouldn't be missed by literary fans. It's a relatively new ballet, with a St. Petersburg premiere just in 2005. The music is stunning too, snippets are taken from some of Tchaikovsky's most famed compositions to create the score.
While I think the book is worth reading (definitely one of the books to read before you go to Russia) if you don't quite have time, just know the basic plot of the ballet before going. It's a love story, detailing the lives of several characters, mainly the marriage (and affair) of Anna Karenina. It's grown wildly in popularity and has frequent performances across Russia.
Cinderella
With choreography by Rostislav Zakharov and music by Sergei Prokofiev (pretty famous Russian artists), you know this is going to be a winner of a show.
There are a lot of different versions of this ballet, but the first was performed in Moscow in 1945, at the famous Bolshoi Theater. Who knew this classic story had Russian roots in the ballet?
The ballet is most famous for captivatingly light music, as classic love story with a magical twist (thank you, Fairy Godmother), and two comical step-sisters. This choice is a good option for viewers because you're probably already familiar with the storyline and will be able to follow along with the performance.
Don Quixote
This was first performed in Moscow at the impressive Bolshoi Theater. The ballet is an adaptation of the famous Spanish novel, Don Quixote de la Mancha by Miguel de Cervantes. The storyline is focused on just two chapters of the captivating novel, detailing an adventure story (the notion that chivalry is not dead) and touched with mythical beasts, complete with incredible music spread across 5 acts, if you're seeing the full version. The ballet was first debuted in Russia, but has spread all over the world. It's one of the most popular ballets to see in-country.
Le Sacre Du Printemps (The Rite of Spring)
This is one interesting ballet, more avant-garde and artsy than the others on this list. Composed by Russian musician Igor Stravinsky, this ballet first premiered in Paris, but was not well received. It's reported that there was rioting after the premier of the show because it was completely different than traditional ballets. Though it initially has a disastrous premier, it's often regarded as one of the most influential pieces of the 20th century.

People today have more of an appreciation of the style (it's more modern), so you probably won't experience any rioting but it's still worth seeing. The ballet portrays "Pictures of Pagan Russia in Two Parts" — a display of various pagan rituals before the spring season. The ritual includes choosing a young sacrificial victim, a young girl who dances herself to death. Experimental and influential, Le Sacre Du Printemps is one not to be missed.
Buying Tickets + Theaters
Famous Theaters + Buying Tickets
There are tons and tons and tons of theaters to see a ballet. Where you choose to see a ballet depends a lot on the experience you want to have and your price (prices range from less than $10 to more than $100 per ticket). We've outlined a few of the more famous spots to see a ballet where our volunteers are living and vacationing (and some links for tickets) for those locations:
The Bolshoi Theater — Moscow
Perhaps one of the most famous theaters in the entire world, seeing a show in the Bolshoi theater is a once-in-a-lifetime experience. The theater is home to a few stages, but you'll want to snag seats on the Historic stage. Tickets for this section of the theater are more expensive, but it's absolutely worth it. The Historic is the experience you're looking for: thick red curtains draping golden balconies, and shamelessly ornate chandeliers. Honestly, seeing the theater was nearly as impressive as the ballet itself.

Tickets sell out extremely fast .... extremely fast. You'll end up paying slightly less for better seats if you hop on right when shows go on sale 90 days in advance. See the show schedule here. You'll also buy online from that link (just create a username and log in). Just so you know, when it comes to buying tickets and presenting your tickets, you'll need your passport.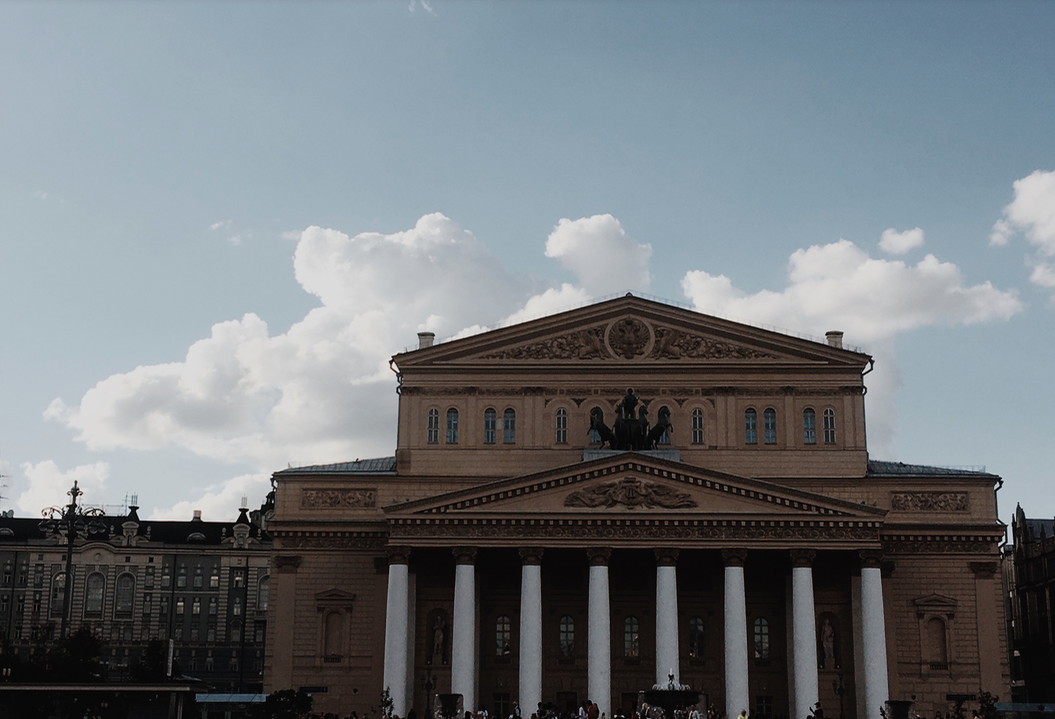 The State Kremlin Palace — Moscow
It's one of the most prestigious theaters in Moscow but thankfully comes with a lesser price tag than the Bolshoi. One major perk of seeing a show here is that it gets you inside the Kremlin (which is full of some of Moscow's most amazing buildings). It's home to three different halls, but you'll typically see a show in the Great Hall which seats a few thousand in a modern theater complete with a state-of-the-art sound system.
It's a larger venue (able to seat 6,000) but tickets can still sell out quickly, especially for a show like the Nutcracker right at Christmas time. Best to book early (but not as urgently as if you're booking at the Bolshoi). Check the schedule and buy tickets here.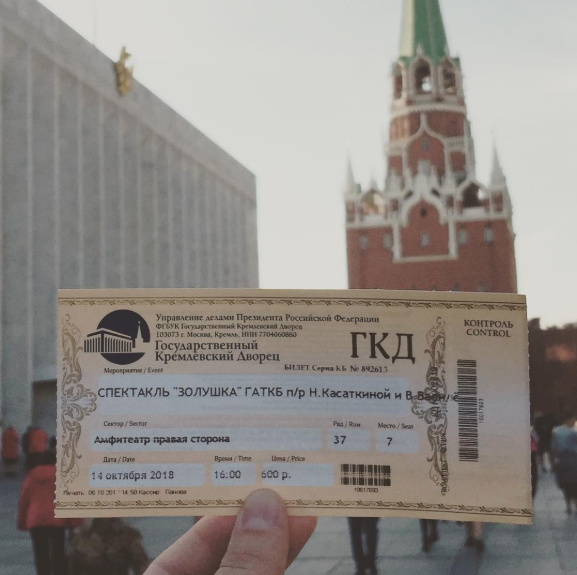 Mariinsky Theater — St. Petersburg
This historic theater of St. Petersburg has been the premier location to some of the world's most famous ballets. It's been around since 1860 and has hosted some of the most iconic Russian performers and spectators (the Tsar's box hosted the Romanov family more than once).
There are a few different stages inside the Mariinsky, so book depending on what you're looking for. The Mariinsky II is new, modern, ultra sleek and contemporary, while the Mariinsky Theater is the classically historic experience you're looking with a hugely ornate curtain covering the stage, and stacked balconies that couldn't be more intricate. Check the schedule and book tickets here.
Tickets sell out insanely fast, and are only presented a month in advance.
Voronezh State Theater Of Opera — Voronezh
Founded way back in 1860, this impressive theater house is home to a collection of performances in the city of Voronezh. Unlike the towering theaters on this list, seating here is more intimate, only 3 rows high, giving you a more personal experience with the stage even if you're sitting towards the back. The tickets here are also rather affordable, which is ideal if you're wanting to see a few different ballets during your semester but don't have the budget for one of the historic theaters in Moscow or St. Petersburg.
Tickets are best purchased in person: inside of the theater house you'll find a schedule of the upcoming performances. Volunteers in the past have gotten help from their Local Coordinator if they're interested in seeing a show in Voronezh.
Helpful Tips
Buy Early!
I can't stress this enough. Tickets, especially in the more famous theaters in Moscow and St. Petersburg, sell out exceptionally fast. It's a very popular activity for locals, so tourists are competing with everyone else to get a ticket. The ticket procedure varies from theater to the theater, but for example, some only sell tickets 1-3 months in advance, and sell out within a couple of days (or a matter of hours, depending on the show).
It's competitive, so if you're wanting to see a ballet during your semester, decide which show you'll want to see during your semester, and buy them the minute they are available.
Plan Your Budget
Tickets to the ballet can be expensive, but don't have to be. If you're willing to splurge and see a famous ballet in a famous theater (like the historic stage at the Bolshoi in Moscow or the historic stage in the Mariinsky, you should plan on paying about $100 + for your ticket (some shows are less, more like $60 for your ticket, but prices can be triple that amount depending on your seats).
Personally, it was a total bucket list "once in a lifetime" adventure to see a Russian ballet in one of the most famous ballet theaters in the world, so it was worth it to me. Prices do fluctuate (even on the Historic Stage in the Bolshoi some shows are less — operas are typically less than ballets, just so you know).

But ballet is so popular in Russia that you can find famous shows in theaters all over the country, for a lot less than $100. For example, you can go see a ballet at the Moscow Kremlin Theater for about $10. It's just important for you to figure out how much you're wanting to spend for this experience!
Dress Appropriately
Especially if you're seeing a ballet in one of the more prestigious theaters you will want to dress up. You'll find online some recommended dress code guidelines, but a good rule of thumb is that you'll see everyone from "nice dress" all the way up to "black tie". You'll want to feel comfortable in the crowd, so wearing a button-up shirt and tie (and a jacket) along with slacks for the gentlemen, and a nice dress + heels for the ladies typically will be just fine.
Going along with that, you'll want to make sure you're arriving early. For the more prestigious theaters, you won't be allowed in after the show starts.
Read Up First
Many theaters will provide a program which includes a synopsis of the production, but they aren't free. I'd recommend bringing cash to purchase a program as a keepsake (at the Bolshoi, they were about $3, so not too expensive), but you can also just read online about what your ballet is about so you don't have to buy a program.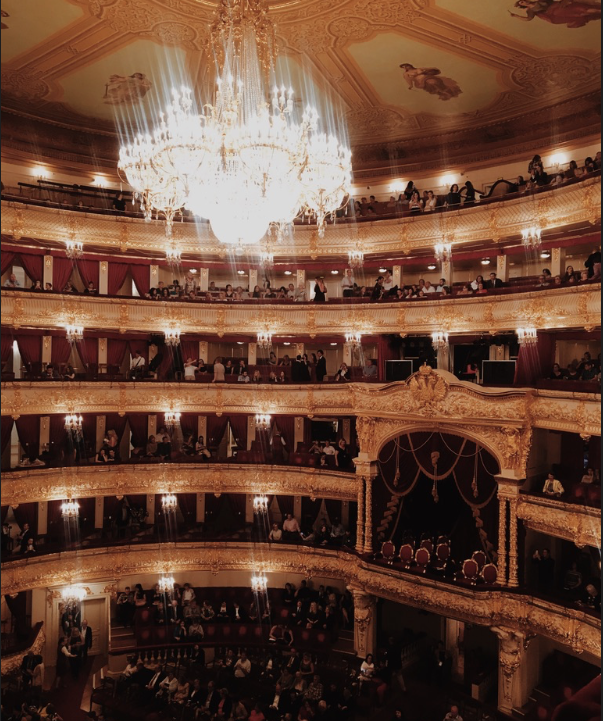 Ready to volunteer in Russia for a semester?
International Language Programs (ILP for short) is a non-profit organization who has volunteer opportunities in places like Russia. Check out that button so you can see what life is like in Russia!