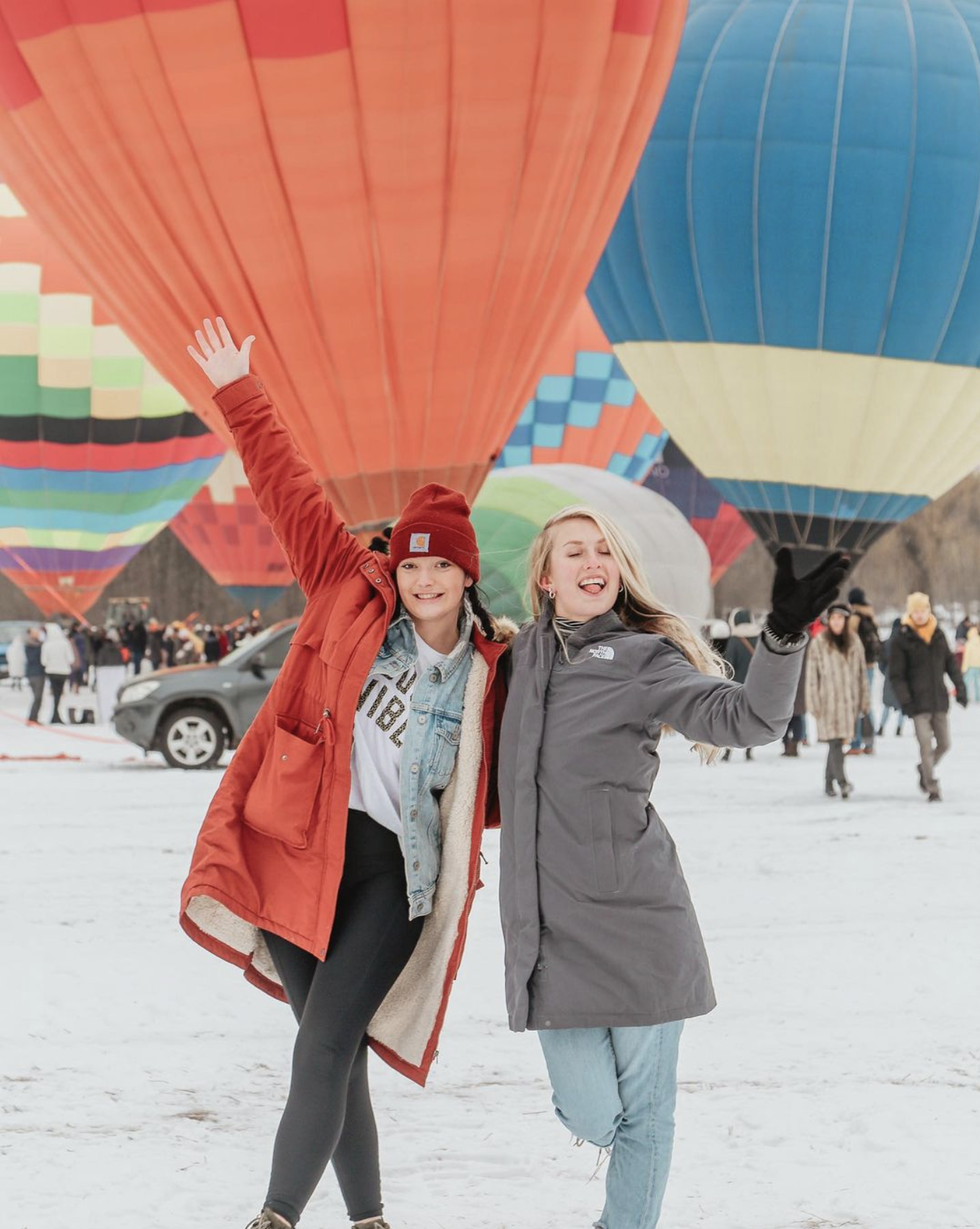 Are you heading to Ukraine but unsure what to pack? You're not alone! Lots of volunteers have no idea what to expect from the weather in Ukraine, so here are some tips to get you ready!
Ukraine is such a hidden gem! Our volunteers absolutely rave about their memories living there for the 4 month trip, but if you're like most, you probably don't know much about the country before you go, much less what to pack. In fact, the most common misconception about Ukraine is that it is miserably cold there all the time. But that's not true. Yes, the winters can be really cold, but they can also be really beautiful. And the summers are actually really nice.


---
Have other questions about volunteering in Ukraine with ILP?
Text a rep about their experiences!
---

Past volunteers have said that most important thing about preparing for Ukraine is to expect the unexpected.
The weather can change a lot. Some days you'll be fine in a t-shirt and jeans, others you'll need a full winter coat to wear once the sun sets. Some days will be bright and sunny only to suddenly switch to a chilly rainstorm. And really, Ukraine flows through 4 distinct seasons, so the weather will vary wildly depending on the time of year you're going.
Even though we can't be sure exactly what to expect, other than layers—lots of layers!—we've prepared some advice to get you started for your semester in Ukraine.
Introduction to Ukraine
Advice for Spring Semester
Advice for Summer Semester
Advice for Fall Semester
Introduction to Ukraine
Stepping into Ukraine is like stepping into a fairytale. You'll find massive churches that are painted a rainbow of colors, ancient castles that peek through green hills, and a sprawling capital city filled with vibrant murals and historical touches.
For more information about what spending the semester in Ukraine will be like, meet Hailey, a past volunteer, and Volodia, an ILP student in Ukraine. You'll also want to check out our takeover account on Instagram — our volunteers who are living abroad show you around so you can see what a typical day looks like for them and answer all of your questions. We've got a highlight for Ukraine so you can see the most recent takeovers. Check it out here: @ilptakeovers.
Weather
So where is Ukraine exactly? You'll find it sitting in Eastern Europe, north of the Black Sea, and east of Moldova, Romania, and Poland.
ILP volunteers live in and near the capital city of Kyiv, which sits on the Dnieper River in north-central Ukraine. Mostly flat and barely above sea level, the weather is mainly influenced by the humid air blowing of the Atlantic Ocean, which is what makes for warm, even hot, summers, and chilly winters.
Because the weather is so different throughout the year, we've broken this article down into semesters. But, whatever semester you are volunteering in Ukraine, you can also check out this inclusive article about what to pack and what not to pack.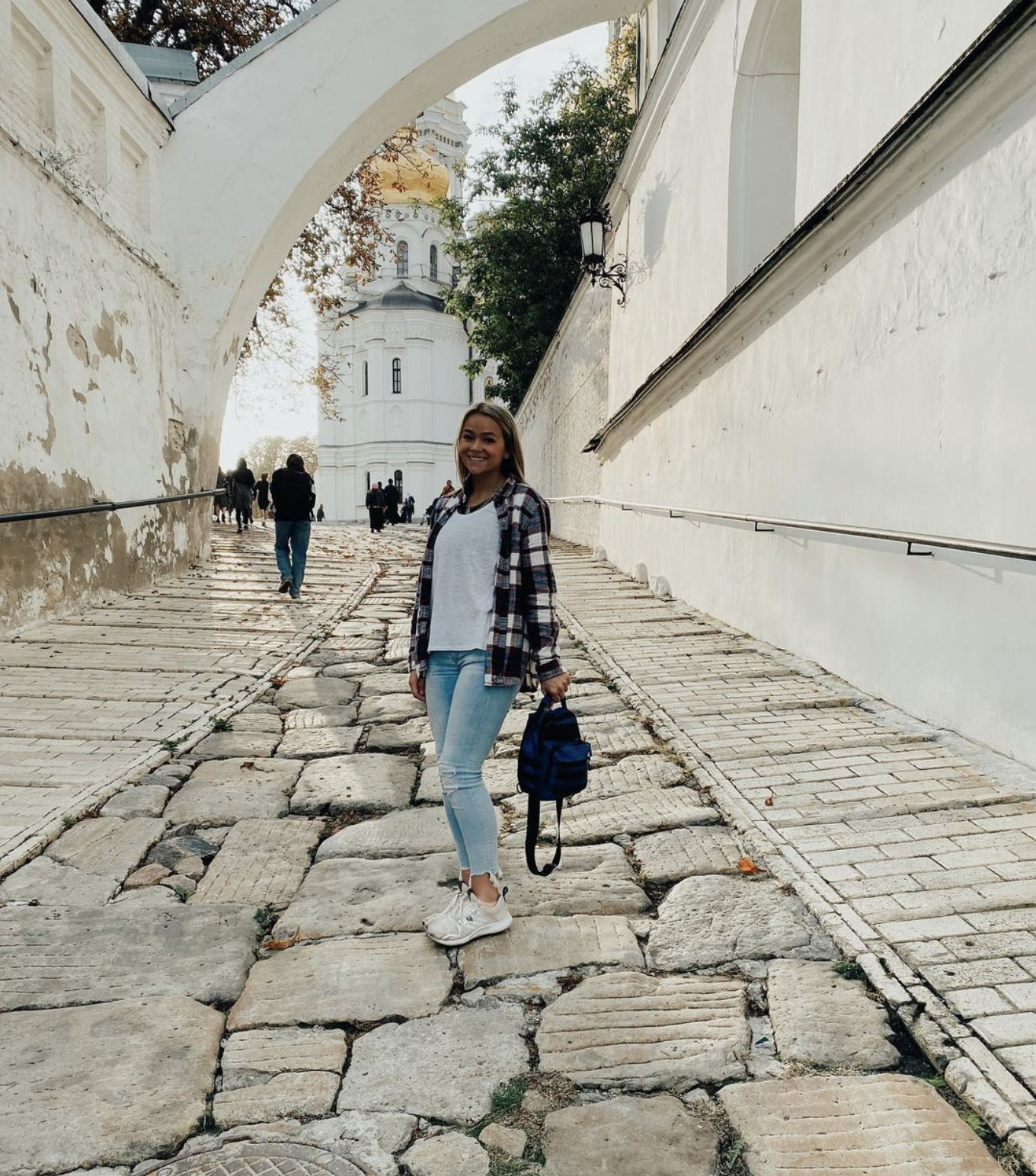 Advice For The Spring Semester (Jan - May)
Snow and Rain
January is cold! With temperatures in the 20's Fahrenheit, or even the teens or colder, January is the coldest month in Ukraine. Most of the time volunteers during this semester are arriving about halfway through January, and you are going to want a warm coat the minute you step off the plane. Here's our advice for the best coats for a European winter.
It also tends to rain or snow pretty steadily from January to May. You'll want to have warm boots for the cold anyway, but keep in mind that waterproof boots would also be nice to have for the rain and the snowy slush that pools in the sidewalks. Here's a guide on how to buy warm boots to get you started.
Layers
But, don't worry, your Spring Semester will warm up. By April, there will be sunnier days with temperatures in the 50's. By May and June, the highs hang around 75°.
And our Spring semester is split a bit, with one group returning in May, and another staying until June. If you're in the latter group, you'll experience more of the sunnier days that Ukraine offers towards the end of your semester as well.
So, you'll want to pack a variety of layers to help you stay warm and first, then some lighter ones that'll work for a warmer spring, and finally some clothes that are great for warm, sunny days in May.
The nice thing, though, is that you can have a lots of fun making layers look really cute or nice without having to pack your entire wardrobe. Need some ideas? Check out these great tips from Seventeen, Elle, and InStyle.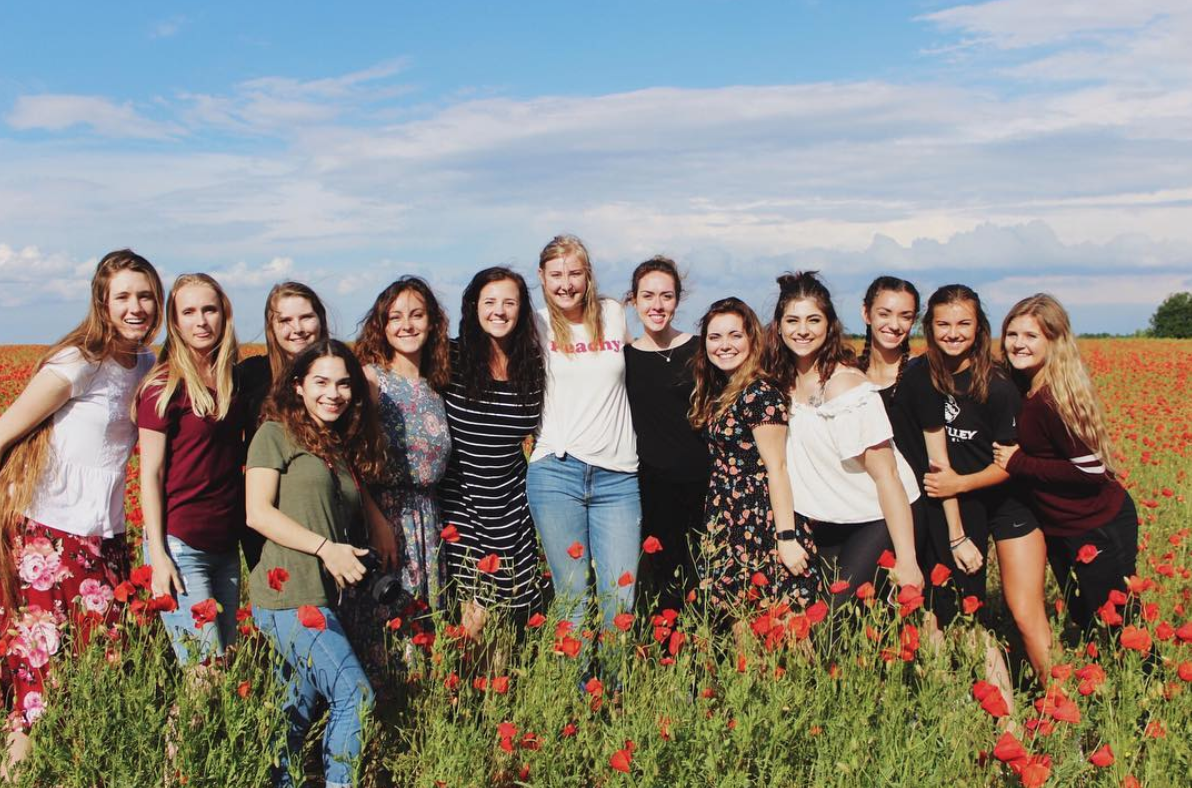 Advice For The Summer Semester (April - July)
Summer Heat
Your Summer Semester will start off a little chilly still at first, but it will definitely warm up in true summer style.
You'll probably see temperatures in the 40's and 60's Fahrenheit in April and then 70's F in May and June. But you'll need to find ways to cool off by July and August because it gets quite warm (usually in the 80's). You'll probably want to pack your favorite shorts or sundress and a nice swimsuit or two.
Plus, you can make the most of the heat by heading to the beach! Check out our guide for planning an awesome trip to the Black Sea!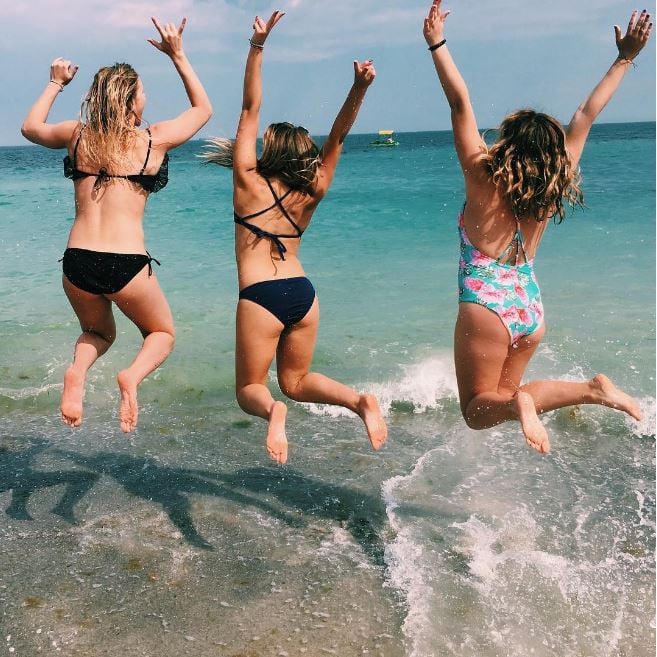 Staying Dry and Warm
As a heads up, though, June and July are the rainiest months — it's not unusual to have it rain 20 or so days out of the whole month. Volunteers say they were glad they packed some nice waterproof shoes and an umbrella to help you stay dry.
Rather than buying waterproof shoes though, a more budget friendly option is just applying waterproofing spray. Often that's enough to just help you get by with your current shoes for a pretty affordable price! There are lots of options if you want to use a waterproofing spray on your shoes, jackets, even your bags, but here's a couple on Amazon that are getting good reviews: Nikwax Fabric and Leather Proof Waterproofing and Sof Sole Water Proofer.
Finally, don't forget to pack some layers to help you stay warm on cooler days and evenings. A thick jacket or hoodie and some comfy sweats would definitely not be remiss.
Advice For The Fall Semester (Aug - Dec)
Fall Layers
Fall Semester starts off warm with the end of the summer weather. It's usually in the 70's and 80's Fahrenheit and quite sunny when you first get to Ukraine, then it'll slowly cool down. September and October hang around in the 50's and 60's before dipping down into the teens for December.
So, you'll want some lighter outfits for the warm weather and the fall months, but you'll need to be prepared because it'll be freezing cold by the time you head home.
Luckily, layers don't have to mean looking frumpy or packing your entire wardrobe. Check out these great tips from Seventeen, Elle, and InStyle for ideas of how to have fun making layers look really cute and nice.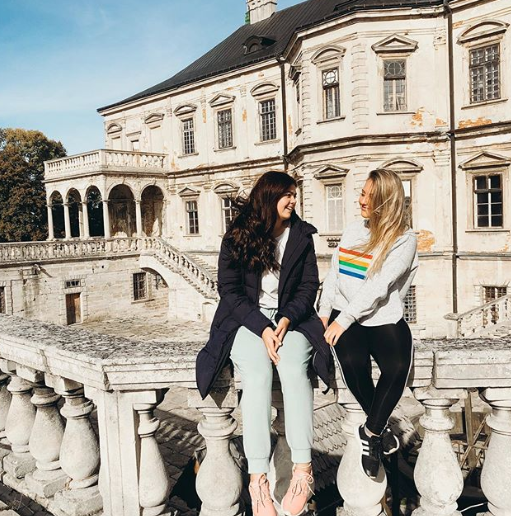 Bundling Up
Between the cold and the weather, you'll need to be prepared for the onset of winter. If you are debating whether or not buy your winter clothes before you go, check out this article about the pros and cons. Whenever you buy it, you'll want a nice warm coat to bundle into in the freezing winter months, so check out our advice for the best coats for a European winter.
It also tends to rain (or snow) quite a bit in the late fall and early winter. It's not unusual for it to snow or rain for a third or almost half the days of the months in November and December, so bundle up well to stay nicely warm and dry.
Volunteers have said it's nice having waterproof boots for the puddles and slush you'll see during your semester. Check our guide on how to buy warm boots to get you started.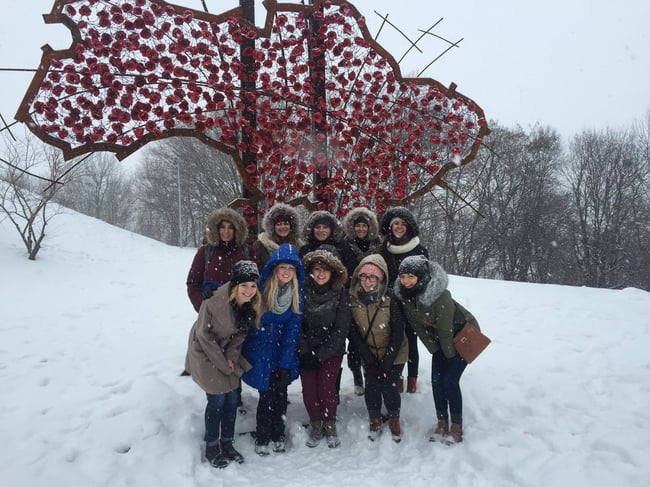 Have more questions about Ukraine?
Whether you are volunteering or just curious, check out our page all about volunteering in Ukraine. Our volunteers wander through the old world sites of Ukraine, travel around Europe on the weekends, all while having fun teaching English to adorable little children!