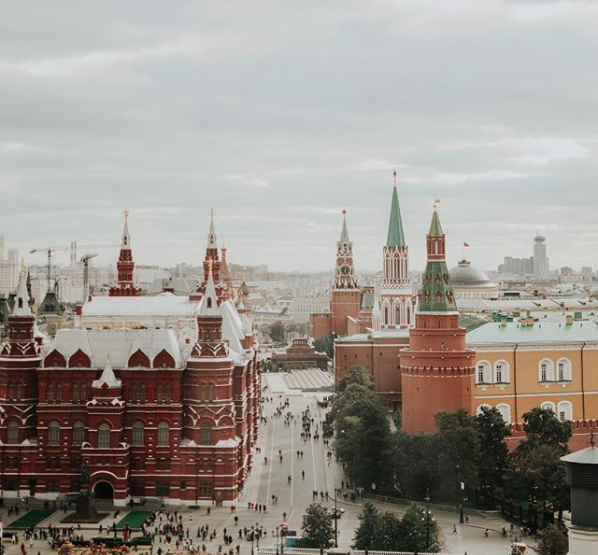 This city is so full of iconic buildings, we had to make a list of our must-see's.
Moscow is a city brimming with pretty buildings. We're talking glittering gold onion domes towering atop iconic cathedrals, whimsically colored spires, museums stacked like birthday cakes and stately structures you won't be able to stop photographing. Seriously just check out my biased list of Moscow's prettiest cathedrals to give you a taste. To make sure you see our top picks, we've put together this guide to make it easy breezy.
There are way more places to see on this list, but we've grouped our favorites by location and given you directions so now you have no excuse to skip out on these beauties even if you're only visiting for a couple of days … especially since the Moscow Metro makes it very easy to get around. If you're new to the city, these tips on using the Moscow metro will come in handy.
---
We love the buildings in Moscow but there is more to see in this city!
This all in one guide to Moscow outlines our favorite things to do.
---

We suggest getting a very early start so you can cram it all in on one day. Granted, if you squish this all in in a single day you'll not have the luxury of spending a few hours shopping or a couple hours in a museum. We do suggest spending more time if you have it, that's for sure!
Sites In Red Square
Sites In The Kremlin
The Bolshoi Theater
Cathedral of Christ The Savior
Izmaylova Flea Market
Two Palaces Outside The City (Kolomenskye & Tsaritsyno)
First Off, Those In Red Square
If you only see one place in Moscow, see Red Square. It's where you'll find the buildings you probably recognize right off the bat. We have a whole guide to Red Square here for all the details you're looking for (like specifically where you'll find these buildings and a bit of history) so read that for the details, but we're using Red Square as our starting off spot because it has some of the most impressive buildings in Moscow and is on pretty much everyone's to-visit list.

In Red Square, you'll see the iconic whimsical spires of St. Basil's Cathedral, the chance to see Lenin's entombed body, and the towering shopping center the GUM, Moscow City Hall, and the impressive State Historical Museum, among others.
How To Get Here
Three different metro lines intersect at Red Square: The Red, Dark Blue and Green Line. Depending on where you are in the city, it might be better to travel via a different line, so pick the best one for you. Download the Yandex Metro app and you can map out your route via the metro depending on your starting point.

The green station you'll get off at is Teatralnaya, the blue station you'll get off at is Ploshad Revolyustsii, and the Red Line station is Okhotny Rad.

Pro tip — We prefer the exit at on the Blue Ploshod Revolyusti; it's very gorgeous and drops you off at a good spot for site seeing.
Also good to know — All of Red Square is outdoor, but some of these buildings you can tour the inside of (like the GUM), so you can warm up if you're site seeing in the cold. Once you've walked around this big plaza, you can head to our next stop.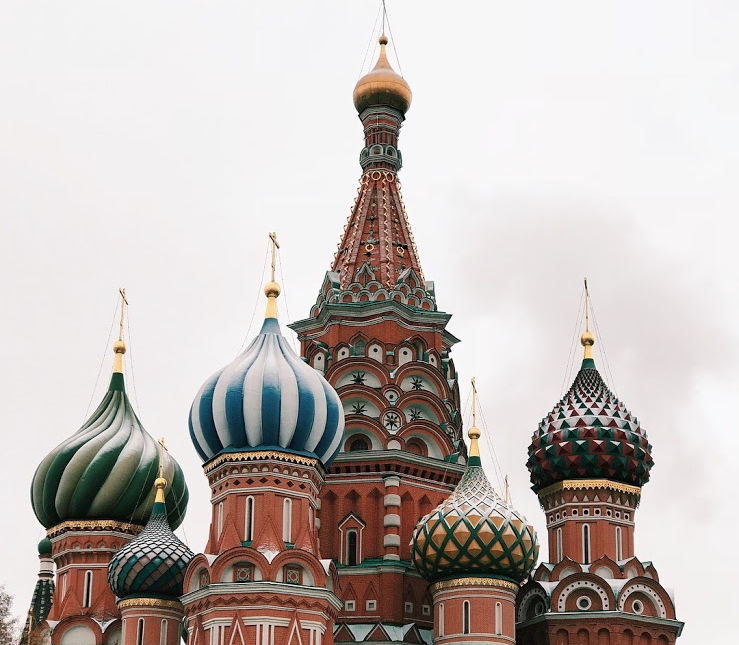 Inside The Kremlin

15 minutes away from Red Square, walking
If it's easier to get there via metro, get off at the Bibliteka mien Lenina metro station on the Red Line. It'll drop you right outside the Kutafiya and Troitskya Towers, which are the main ticket offices.
You'll actually be able to see the Kremlin from Red Square (it's hard to miss). The Kremlin is a massive and ancient wall that encircles Moscow's seat of power, along with several gorgeous buildings, churches and museums. Adorned with 17 titled towers, the Kremlin borders a section of Red Square, so you don't have to enter if you don't want to … but we highly, highly recommend going inside to see a few sites.
What's Inside The Kremlin?
The area is actually broken up into a few different sections (thanks to Russia Beyond for the info):
Museums, historical building, and churches (entrance by tickets)
Grand Kremlin Palace (tours on demand)
State Kremlin Palace (entrance by tickets)
President's Residence and administrative buildings (closed to the public)
There is a lot to see inside, and if you're into viewing a few cathedrals and want to admire the museums up close, block out a few hours so you don't feel rushed. You will need to get tickets to enter the Kremlin; you'll book buy tickets depending on what you'd like to see (like a ticket for the Museum block, or a ticket to the State Kremlin Palace).
What's Worth Seeing?
The Armory Museum:
See lavish coronation dresses, iconic Faberge Eggs, gifts from ambassadors all over the world, not to mention stately weapons used for display and protection. The items in this museum are known around the world, and you'd be missing out if you didn't see them yourself while in Moscow!
Get more detailed information about Armory Tickets here.
Also, The Diamond Fund
If you're into insanely detailed and lavish artifacts, you would probably also love the Diamond Fund: it's a separate exhibition that houses a few actual gems, like a 190 carat stone, coronation crowns completely encrusted with diamonds and other decorative jewels reserved for the royalist (and richest) members of society.
Tickets are 500 Rubles, cash only.
The Cathedrals In The Kremlin
We also can't get enough of the cathedrals inside the Kremlin. There are five you can admire inside:
Dormition Cathedral - Also known as Assumption Cathedral

Archangel Michael Cathedral
Annunciation Cathedral
Church of the Deposition of the Robe of Holy Virgin
Church of Twelve Apostles (part of the Patriarch Palace)
Tip: There is usually a line to get inside the Kremlin (thanks to a security checkpoint) so keep that in mind for your visit, no matter what you're getting tickets for. You may need to wait in line for a bit, especially if there are large tour groups ahead of you.
With so much to do in this spot, we've outlined all you need to know about visiting the Kremlin — we have tips on tickets, prices, opening hours, an easy way to get around and other tips you'll want to check out.
The Bolshoi Theater

10 minute walk from Red Square (to the north)
Or, take the metro — Teatralnaya Metro Station, Dark Green Line
When you think of Russia, opera and ballet might come to mind. This historical theater is one of the top spots to glimpse into Russian culture by booking tickets to a show here. Some of the world's most notable musicians, performers and conductors have graced these prestigious stages. It's quite pretty to admire on the outside (with stately columns and an impressive facade) but the real beauty is inside, with a few theaters sporting gold auditoriums, rich red carpets and drapes, glittering chandeliers, and painted ceiling. It's breathtaking.
Tickets and Prices (+ Show Schedule)
Tickets for performances tend to sell out very very quickly, and we suggest booking in advance to make sure you can get a seat. You can get ticket information here for the current season.

Prices range from 100 Rubles to 150,000 Rubles (!!) depending on the stage venue (there are several) and what seat you are in. Obviously, private boxes in the best venues will be your most spendy, but there are shows and spots that are ridiculously affordable if you don't mind an obstructed view (which really doesn't matter when it comes to an opera, right?).

Christ The Savior Cathedral
15 minutes via the metro from Red Square
(Get off at Kropotkinskaya, red line)
A towering Russian Orthodox Cathedral boasts the title being the tallest Orthodox church in all of the world. It also was the background to the premiere of the 1812 Overture, composed by Tchaikovsky ... well, the original church was. Demolished in 1931 by Soviet Leader Joseph Stalin to make room for a swimming pool (of all things). After the Soviet Collapse (and $360 million dollars later), the church was rebuilt in 2000, restored to its original glory.

It's easy to find; get off at the Kropotkinskaya metro stop, head towards Aleksandrovsky Sad (the cathedral will be on your left).
Pro tips: No one wearing shorts will be admitted; ladies, cover your head with a scarf, and no photography is permitted inside so let your eyes soak in the intricate ceilings and artwork, not your cameras.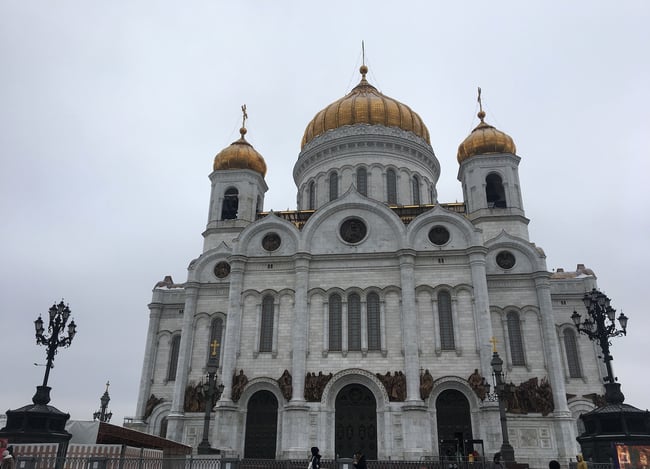 Izmaylova Flea Market
13 minutes via metro, from Red Square (to the east)
(Get off at the Partizanskaya station, dark blue line).
This is actually a collection of buildings which create a shopper's dream; the painted structures house some of the best shopping in all of Moscow, a veritable flea market crammed full of Soviet-Era keepsakes (like tin boxes, posters, pins, and other paraphernalia), along with classic souvenirs (like lacquer boxes, nesting dolls of every shape and size), furs, beautifully woven tassel rugs, used books, and more. Plus, these buildings are ones not to be missed.
Pro Tip: Don't be tempted to get off at the metro stop titled "Izmayalova" — you'll see a couple of stands selling some goods, but the real shopping spot is found on Partinsankaya. Once you get off the metro, exit and head left. Cross the street and walk towards the huge buildings. There is a pedestrian path (you'll go under a wooden doorway) then keep walking for about 4 minutes. Then you'll arrive at this whimsical gingerbread-esque shopping market.
Only open Wednesday, Saturday and Sunday, from 9:00AM to 6:00 PM. There is a 10 Ruble admission fee.
Spots Farther Away — About 45 minutes from Red Square
These spots are outside of the big city of Moscow, but away from the towering skyscrapers and traffic, you'll find a couple of spots sprinkled with gorgeously photogenic spots. Both the Kolomenskoye and the Tsaritsyno Museum-Reserve are like parks fulled with pretty structures and manicured grounds you can admire, making it more of a half-day activity.
We suggest not fitting this in your itinerary above, unless you want an impossibly busy day running around Moscow. Instead, these two palaces are better done on a separate day, or in conjunction with one or two of the buildings above, not the entire list. We'd hate for you to rush through all of the pretty buildings in Moscow instead of spending time enjoying them.
They are about 45 minutes (each) away from Red Square to give you a point of reference, but even though they aren't in the exact city center, they are worth seeing!

Kolomenskoye
Kolomenskoye was a former royal estate, situated on what used to be a very old trade route in and out of Moscow; this place has been around for a very long time … almost 800 years. It's been used as a summer palaces for the greats of Russia for hundreds of years (it was a favorite hang out place for Tsar Alexis, who had his childhood apple orchard recreated here on the grounds). The future empress Elizabeth Petrovna was born here in 1709 and Peter the Great was known to spend a few of his summers in Kolomenskoye. Not bad.
Arguably, the most impressive feature is a towering church (the Ascension Church) which culminates into an impressive spire, with gray roof tops and carved archways. It's a totally different style of architecture you don't see in the city center.
Some of the original buildings were razed after years of disrepair, but a rebuild in 2010 lets visitors glimpse into what life was like for some royals.
Inside the grounds, you'll find a few other buildings apart from the towering Ascension church; Tsar Alexis tore down the original wooden buildings to build a maze-like structure (foreigners nicknamed this place the "eighth wonder of the world"), which was then replaced with a modest brick version by Catherine the II (but was later demolished). Luckily, the plans for Alexis' intricate design survived, and in 2010, the government reconstructed the intricate palace.

There are also several other churches, museums, bellowers and other impressive structures in Kolmenskyoye you can admire, along with a few gardens that bloom in the spring time. In the winter, you'll find the entire area blanketed with a dusting of snow — sometimes, you can hire out a carriage to take you around if you'd ride instead of traipse through yourself.
Open year round, with differing opening hours depending on the month (and day of the week) you visit. Get opening hours here.
Tickets:
Free to walk around and admire from the outside, but tickets inside the museums do charge a small fee (50 - 350 Rubles).
To Get Here Via Metro:
The park itself is very large, so depending on what you want to see, that may determine your metro stop. To get closer to the reconstructed palace, get off at the Kashirskaya station (green and teal line). The Ascension church is closer to the Kolomenskaya station (green station).

The Russia E-Guide gives these directions: If you're looking to get to the wooden palace first, follow until Kashirskaya station. Exit from the last carriage of the train from the downtown, turn right in the underpass, at the exit of metro turn left toward the tunnel which leads to the park entrance.
From the Kolomenskaya station, leave the station through the exit near the front of the train, then follow the signs (for the museum reserve and the orbit Cinema — Кинотеатр Орбита. You'll find the side entrance, along Novinki Street (ул. Новинки). You can enter the park either from Bolshaya street (Rus: ул. Большая) or Andropova Avenue (Rus: Проспект Андропова)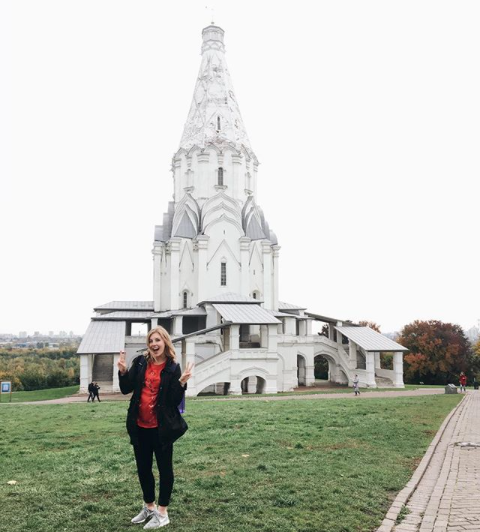 Tsaritsyno Museum-Reserve
This place is gorgeous, a massive palace that spreads across a huge park established by Catherine The Great. Plan on spending a few hours here if you'd like to soak it all in; it is home to a history and architecture museum, cascading ponds, a sprawling park which includes a forest, I might add, plus the intricate red-stone palace, detailed pavilions, ornate bridges + archways, and other structures. Oh, there's also an art museum if you'd like to take a stroll through some of the country's most impressive works.
It's home to some of the prettiest and most spectacular buildings around.
Get more pictures and map of the layout here.

Tickets + Hours:
The park has free admission.
... But suggest buying a combined ticket which provides entranced to the Grand Poland and Bread Course, along with same-month admission to the Opera House and Greenhouses (according to Moscow Travel Guide). Cost is 650, unless you have an ISIC student card, then the ticket is free. You may have to pay an additional 50-100 Rubles for photography, however.
If you'd like to get separate tickets for the attractions, see below:
Greenhouses: 250 Rubles (Free with ISIC)
The Opera House: 200 Rubles, (Free with ISIC)

Hours:
Park is open daily from 6:00 AM to Midnight
Palace Complex and Greenhouses are open 10:00 - 6:00 PM on Wednesday - Friday, 10:00 - 8:00 PM on Saturday and 10:00 - 7:00 PM Sunday. Both closed on Monday. The Greenhouses are closed Tuesday, the Palace has 10:00 to 6:00 PM hours on Tuesday.
Get Here Via Metro:
Main Entrance: Tsarisyno Metro Stop (Green Line). The back entrance via the Orekhovo (Green Line). We prefer the main entrance, because once you'll cross the fountains and pools to get to the ticket office to see the more striking bridges and buildings.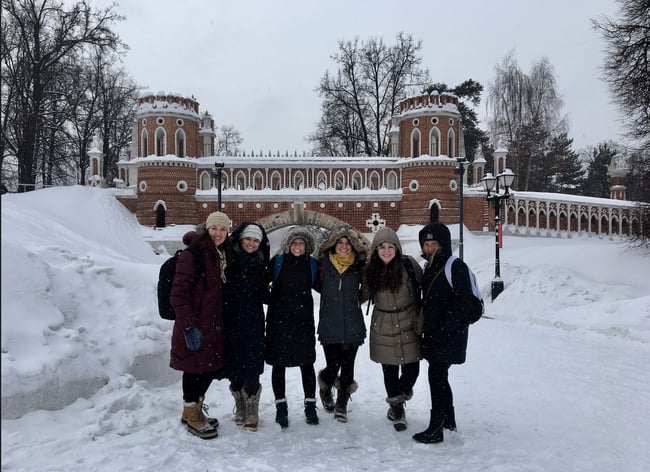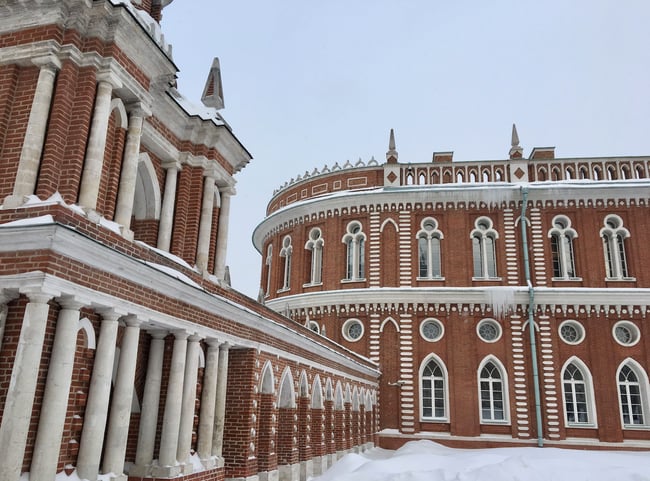 Need more Russia in your life?
Of course you do! Moscow's too big a city just to see once on a quick trip, so think about calling this country home for a semester while you teach English with ILP.