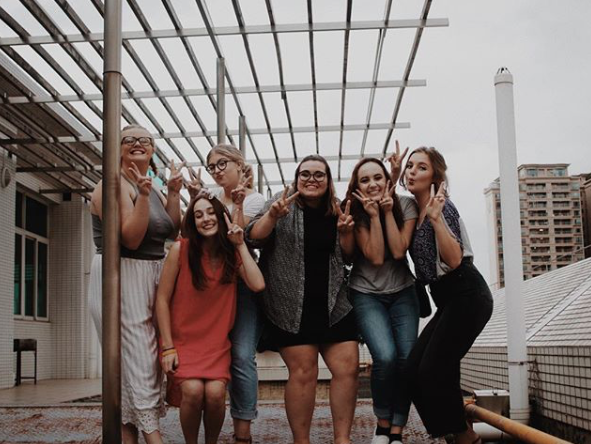 Want to travel on a budget? Head to China! It's easy to keep your budget, especially if you'll be around Zhongshan.
International Language Programs (ILP!) has lots of schools in China where our ILP volunteers spend their semester abroad teaching English and exploring their city (plus vacation days to see even more). But one place we love is Zhongshan, tucked in Southern China — we're talking warm weather, thick jungles, and busy cities ... plus lots to do.

---
Come spend a semester volunteering in China!
See what living in China for a semester is like right here.
---

If you're hanging out in Zhongshan, you'll quickly discover just how many subdistricts and townships make up this city (there's about 24) ... making it easy to find free things to do in each little district. Here are our favorites:
Our Favorite Free (Or Nearly Free) Things To Do
Sun Yat Sen's Residence Memorial Museum

Sun Yat-sen Memorial Hall and Park

Sun Wen Memorial Park
Xingzhong Street
Xiaolan Longshan Park
People's Park
Qijiang Bridge
Sun Wen West Road Pedestrian Street
Museum of Xiangshan Commerical Culture
Zhongshan Park
Fufeng Wen Tower
Zimaling Park
Foraminifera Sculpture Park
Mall / Supermarket
Guifeng National Park
Just Explore
Sun Yat-Sen's Residence Memorial Museum
Sun Yat-Sen is an extremly important figure in Chinese history. He played an instrumental role in the overthrow of the Qing dynasty and was the first president and founding father of the Republic of China. He's also considered the "Father of the Nation", kind of like China's version of George Washington.
Sun Yat-Sen was born in Zhongshan (at that time known as Xiangshan) and in order to commemorate his great contribution to the country, the city was renamed to Zhongshan, after Sun Yat-Sen's family name.
Now that you know the little bit of history behind who Sun Yat-Sen is, take the chance to visit one of his former residences. The Chinese government and the people of Zhongshan have worked hard to protect his former residence as well as many of the cultural relics housed here, so it's a must-see. Check out this website for more information.
Admission Fee: Free
Address: 93 Cuiheng Ave, Nanlang, Zhongshan, Guangdong
Address in Chinese: 93翠亨大道,南郎镇, 中山市,广东省,中国
Sun Yat-Sen Memorial Hall and Park
When visiting Zhongshan make sure you stop by this memorial hall, which features beautiful Chinese architecture, a display of photographs detailing the revolution that overthrew the Qing Dynasty, and a cool bust of Sun Yat-Sen. Don't forget to take a walk around the memorial hall and enjoy the landscaping if it's nice outside.
Admission Fee: Free
Address to South East Gate: 188 Sunwen Middle Rd, Shiqi Residential District, Zhongshan, Guangdong
Address in Chinese: 188孙文中路,石岐居住区,中山市,广东省,中国
Sun Wen Memorial Park
Sun Wen is actually the same person as Sun Yat-Sen (from his birth up until he moved to Hong Kong he was known as Sun Wen). While at school in Hong Kong he was given the name Sun Yat-Sen, which is the name he's really known by.
For zero Yuan, check out this clean and well maintained park dedicated to Sun Yat-Sen. You can take a short stroll or spend hours hiking around this park. From any of its many hills, you'll be able to see some pretty cool views of the surrounding area. One of the best views is from the top of the stairs that lead to the statue of Sun Yat-Sen.
Address: Sun Wen Memorial Park, Xingzhong Rd, Zhongshan, Guangdong
Address in Chinese: 孫文紀念公園, 興中路,中山市,廣東省,中國
Xingzhong Street
Start at Sun Wen Memorial Park and head up Xingzhong Street to really experience this street; it's full of shops and things to see. From Sun Wen Memorial Park to the top of the street to Zhongshan Archives Hall, it's about a 2 mile walk, which can take about 40 minutes (or more time) depending on how many shops you want to walk through. It's a favorite (free) thing to do on Saturday or Sunday.
Address: Start at Sun Wen Memorial Park and work your way up this street until you get to the Zhongshan Archives Hall. View street in Google Maps here.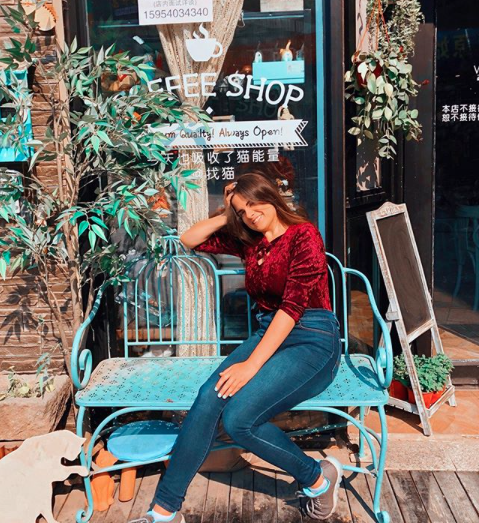 Xiaolan Longshan Park
Almost every park throughout the city (and country) features a pagoda but this particular park also boasts a breathtaking lake with gorgeous bridges and walkways around it. While visiting, make sure you bring a couple Yuan so you can go paddle boating, or just soak up the sites if you don't want to spend any money.
Address: Long Shan Gong Yuan, 30 Rong Hua Bei Lu, Xialoan, Zhongshan, Guangdong
Address in Chinese: 龙山公园, 30荣华北路, 小榄镇, 中山市, 广东省
People's Park
A short tuk tuk drive away from Longshan Park is People's Park. This park features a few fun fair rides, cotton candy, tall palm trees, a small waterfall that you can walk behind, amazing Chinese architecture and beautiful sites no matter which way you look. So, whether you are looking for a quiet place to journal write or a place to go on fun amusement rides, People's Park is the place for you.
Price: The park is free but amusement rides and cotton candy cost a few yuan.
Address: Ren Min Gong Yuan, Xialoan, Zhongshan, Guangdong
Address in Chinese: 人民公园, 小榄镇, 中山市, 广东省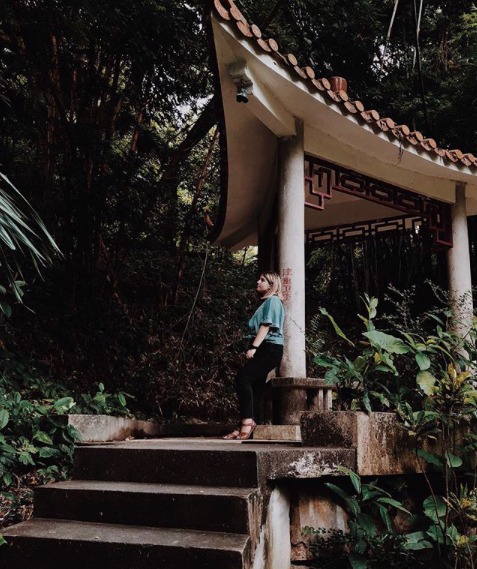 Qijiang Bridge
This bridge might not seem like much, but it's a fun place to spend an afternoon, while eating fresh mango or pineapple while bartering for some fun souvenirs.
Address: Xidi Rd, Zhongshan, Guangdong
Address in Chinese: 西遞路,中山市,廣東省,中國
Sun Wen West Road Pedestrian Street
Right across the Qijang Bridge is the pedestrian walking street, which completely blocks off the street from all cars, giving you plenty of room to walk down the middle of the street. Lined with gorgeous western looking buildings and tall palm trees, check out the food carts full of snacks and fun shopping.
Address: Sun Wen Xi Road, Zhongshan, Guangdong
Address in Chinese: 孫文西路,石岐區中山,中國
Museum of Xiangshan Commercial Culture
This compact, 3-story mini-museum hails major historical figures from Zhongshan, a model of the old city as it stood in the 19th century including models of old homes, shops, streets, boats, and the dock.
Head up to the second floor to see an introduction to the historical commercial nature of the city. From the third floor don't miss looking down the amazing 3-floor high atrium. Expect to spend anywhere from 30 minutes to an hour exploring this museum.
Admission Fee: Free
Address: No.152 Sunwen West Road, Shiqi District, Zhongshan, Guangdong
Address in Chinese: 152孫文西路,石岐區中山,中國
Zhongshan Park
At the end of the pedestrian walking street, you'll find Zhongshan Park. Zhongshan is full of many beautiful parks and this park is no exception. While exploring and walking around the park, you can't miss the towering Fufeng Wen Tower (more on that below).
Admission Fee: Free
Address: Zhong Shan Gong Yuan, Bu Xing Jie, Zhongshan, Guangdong
Address in Chinese: 中山公園,卜邢玠,中山市,廣東省,中國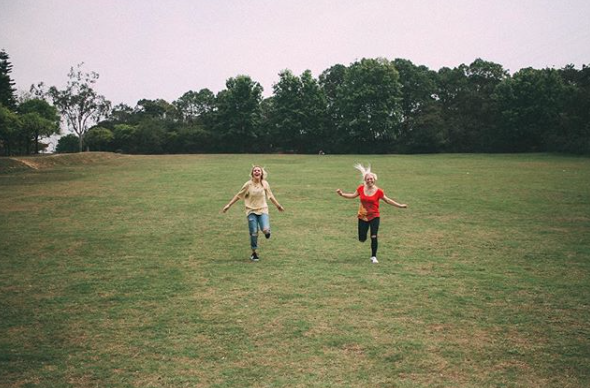 Fufeng Wen Tower
Located in Zhongshan park, this tower alone is a reason to visit the park. Be amazed at the architecture and incredible views from the top! Plus in the evening, the tower is illuminated with beautiful colors...definitely a must see.
Admission Fee: Free
Address: Located in Zhongshan Park (see address above, or click here)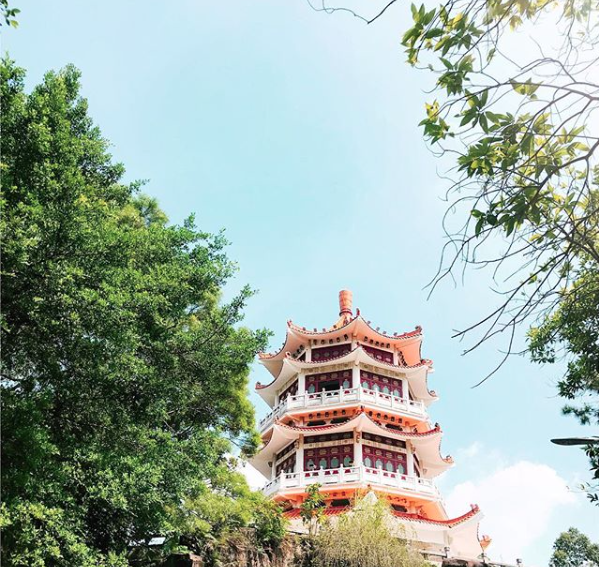 Zimaling Park
This park not only has a cool pagoda, but also has beautiful landscaping. There's a pretty depressing zoo that I'd recommend skipping, but the park itself is beautiful.

Address: ZiMaLing ShangQuan, Zhongshan, Guangdong
Address in Chinese: 紫马岭公高尚全,中山市,广东省
Foraminifera Sculpture Park
If you're like me, you read the word "foraminifera" and think it is just another long Chinese word. It actually isn't. Foraminifera is a unicellular microorganism that lives deep in the ocean. So why is there a sculpture park full of human sized foraminifera in Zhongshan? Zheng Shouyi, one of the world's leading foraminiferalogist, convinced her hometown's (Zhongshan) authorities to create a sculpture park of these aesthetically beautiful microorganisms, as part of an outreach project to the general public.
Zheng also hopes that the park will inspire younger generations to become more interested in science. Don't miss out on the inspiration while seeing the 100+ plus marble statues of foraminifera when in Zhongshan. Read more about the history here.
Address: Xiao Lang Huan Gong Yuan, Mai Yuan Xia Jie, Zhongshan, Guangdong
Address in Chinese: 小琅环公园, 麦园夏桀,中山市,广东省
Mall / Supermarket
Whenever I travel to a new country, I love going to the local supermarket and mall. I love seeing the different selections of food and clothing and just seeing people go about their day-to-day lives. Make sure you stop by any of the local markets, supermarkets or malls while in Zhongshan.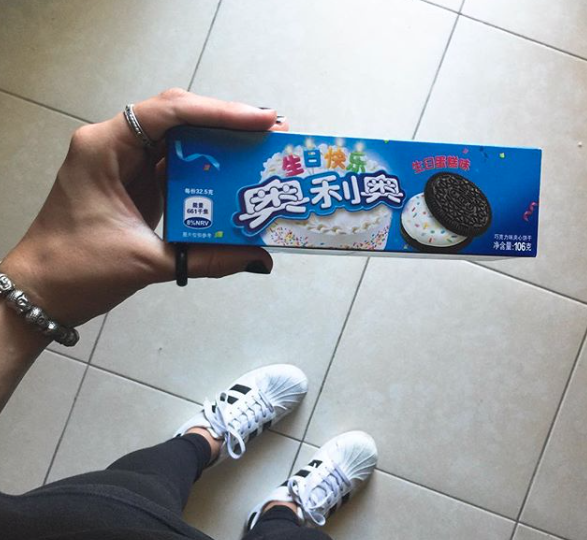 Guifeng National Park
Just outside of Zhongshan, this park makes for the perfect day trip. One of the best things to do here is to hike (go figure, right?). This Mountain park has some pretty cool trails that wind in and out of the foliage — going in the fall means you can soak in all the orange and yellow and red leaves. So pretty! There's also a temple and a lake you can't miss out on.
This post has more details on Guifeng National Park.
Admission: 5 CYN (+extra for particular attractions within the park)
Getting there: Take a bullet train from any station in Zhongshan to Xinhui. Once in Xinhui, take bus Number 3 at Xinhui Bus Station and get off at Guifeng Mountain. The ride is pretty cheap, usually less than $5 USD to get there!
Explore
One of my favorite days in Zhongshan was spent wandering through the streets and exploring near my apartment. When you're in a new place, just taking a walk down an unfamiliar street can be a huge adventure.
By exploring, I was able to find random cute shops and my own new favorite spots in the city, all while being greeted by friendly people and being treated like a celebrity.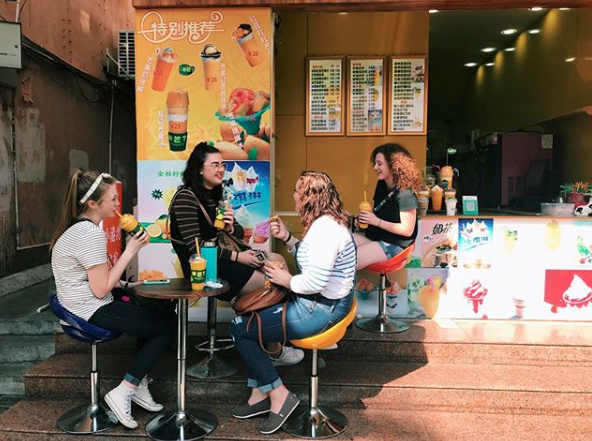 Need more China in your life?
Come check out the ILP Blog to get ideas on all the surprises China is hiding ... perfect for when you're a volunteer in China with ILP! You don't need any teaching experience at all to come volunteer with us.