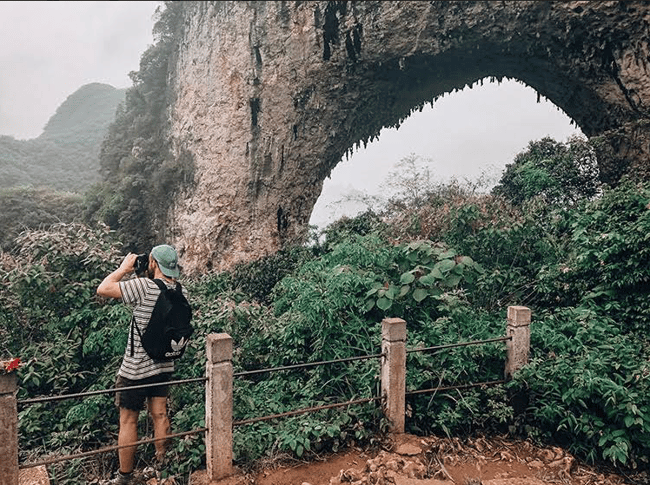 Looking for the easiest hike in Yangshuo that still sports a stellar view? Head to Moon Hill.
If you've been around any ILP volunteer who has taught English in China, they will gush about their vacation in Yangshuo; it's consistently the favorite vacation spot for our volunteers, even though they also get to see places like Beijing, Shanghai and the unreal mountains in Zhangjiajie. It's just that dreamy.


---
If you're wondering about volunteering in China and how that all works when it comes to teaching and vacation time, we've got you covered.
---

A Bit About Moon Hills

How Long Does It Take? How Hard Is It?

What's The Cost?

Insider Tips

How Do I Get There?
A Bit About Moon Hill In Yangshuo
This hike will take you up to a moss covered archway that's situated high above those iconic and whimsical "Dr. Seuss" mountains we're low-key obsessed with. This place used to be a huge place for rock climbers, but not any more … in the past 10 years, they've started cracking down on safety in Yangshuo and this arch was a rad, but rather dangerous, place for climbing.
You'll take a short hike through the jungle and emerge at the top, right at the base of this circle arch, which gives the hike its name, Moon Hill hike. It's a gorgeous little trek and one that isn't to be missed.
How Long Does It Take? How Hard Is It?
Moon Hill is probably the easiest hike in Yangshuo to get a good view; there are others around (check out our weekend guide to Yangshuo for details about that and tons of other info) but the hike is still a bit hard because you're going straight up in the humid heat. It is rather short though; plan on 20-30 minutes up and 20 minutes back down.

If you're in good shape plan on the whole hike being about 1 hour, more if you take some breaks.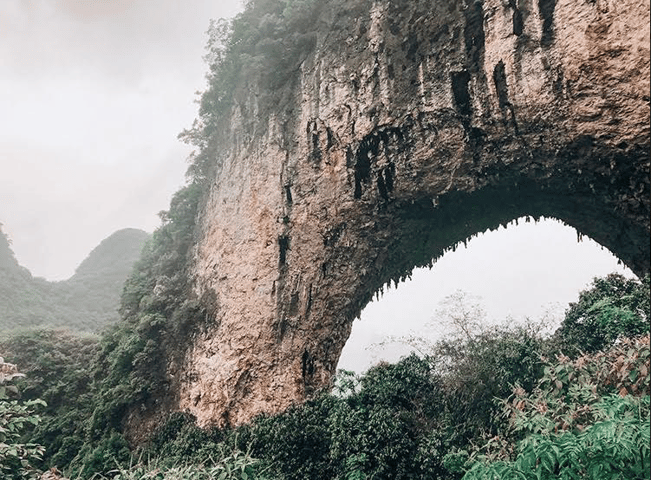 What's The Cost?
Cheap. Tickets inside are 14 yuan to enter (about $2 USD). Just look for the little ticket booth right at the entrance. They won't let you pass without paying, so make sure you have cash for that.
On your hike, you'll see cutie older ladies selling things like flower crowns and drinks. They sit out at the front, and end up following you up the entire hike to offer you cold drinks in hopes of getting a sale. They'll also sell you postcards and other knick knacks, if you're interested. Bring cash for that or just plan on having plenty of your own water.
Insider Tips
You're pretty much hiking up through a covered jungle the whole way and you'll get eaten alive by bug bites unless you have bug spray so toss that in your bag (and spray it on frequently … you'll be sweating it off, so be diligent about reapplying your bug spray). The stairs are smooth stone and incredibly slippery if it's been raining; it's easy to slip so just be really careful and wear shoes with good grip if some rain is in your Yangshuo vacation forecast (anything like Chacos or tennis shoes should be fine).

See what I mean? Slick, smooth rocks.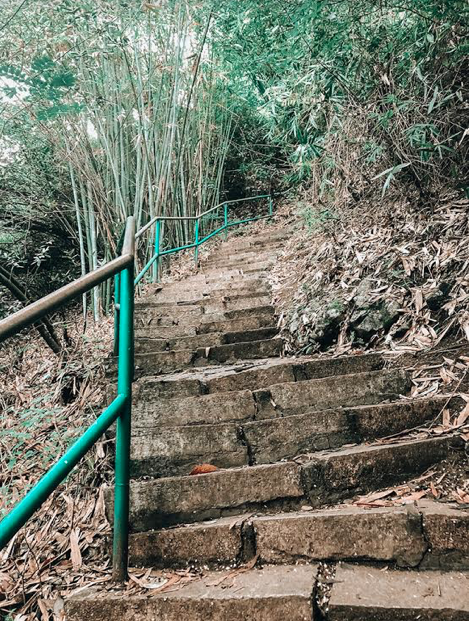 There are bathrooms at the base of the hike if you need them — this is the base of the hike, where the bathrooms are.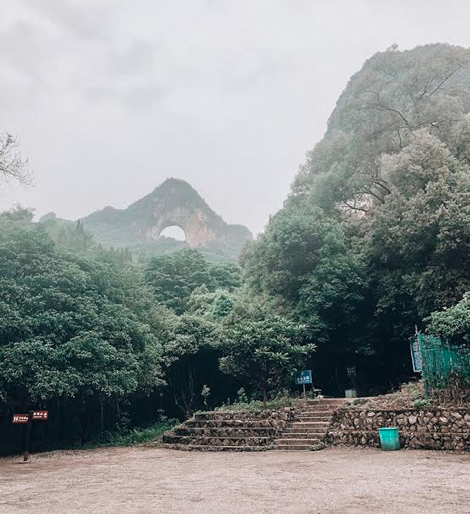 Once you get to the top — you're right underneath the arch and there's a large area where you can sit and hang out. It looks like the best place to stop, but we suggest walking a bit further for a better view. Keep going straight through/underneath the arch instead of stopping and if you walk for just another minute (stay to the left) you can get to a spot where you're close to the arch but not directly under it so you can get some cool photos from that 360 degree view point of the entire area with the arch in it. Don't miss that.

How Do I Get There?
It's easy — it's just on Yangshuo's main road which is lined with other popular stops. Most people get to Moon Hill by renting a bicycle (check with your hostel - they might have free/low cost bike rentals for the day). It's about 5 miles from West Street.

Just ask your hostel to direct you to the right road, but it's a straight shot from West Street and a super popular path because it's also got main attractions like the banyan tree, the mud cave, the river drifting, and if you go further you'll ride along the river and hit the spot where you can take a bamboo raft ride down .... so it's really not hard to find. There's a sign on that main road that says "Moon Hill". A lot of people combine this hike with other attractions in the area; you might hike in the morning before continuing down the road to check out the banyan tree or the drop off spot for a bamboo ride along the river. Again, we've got a detailed Yangshuo guide with even more info and hostel suggestion which will come in handy if you're planning a trip here.
You could also take a taxi out there - if you've got a couple hours to kill before you have to head to the bus station, Moon Hill is a good time filler with a big pay off, thanks to that view. If that's your situation, take a taxi instead of riding your bike. Taxis can't drive on that road where Moon Hill is, so it's a little tricky but doable. Your cab will take you a longer, more round-about way but they can drop you off basically right across the street from where Moon Hill is. If you do this, make sure you tell them you want a ride back in an hour because it's nearly impossible to find a taxi once you're done. It's easy to get one while you're in Yangshuo but taxis just don't hang out by Moon Hill so prep for that by asking your taxi to hold tight while you hike.

There's also a public shuttle bus that rides along that road so that's another option ... but the best way is usually bicycle.

Here's a view from the top — it was a little hazy when we hiked up, but it does clear up and you can see more of those pretty mountains on a clearer day.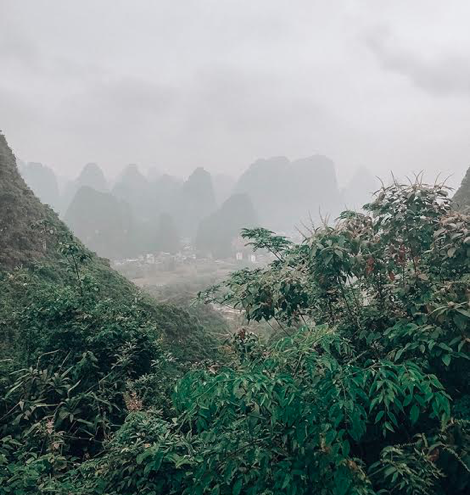 Come explore China for your semester abroad
Really, the best way to experience this country is to live here for a few months. Because I was volunteering in China for a semester, I got to spend more time vacationing around to places that tourists miss ... like Moon Hill! Get more about volunteering in China here and get even more by checking out that green button.