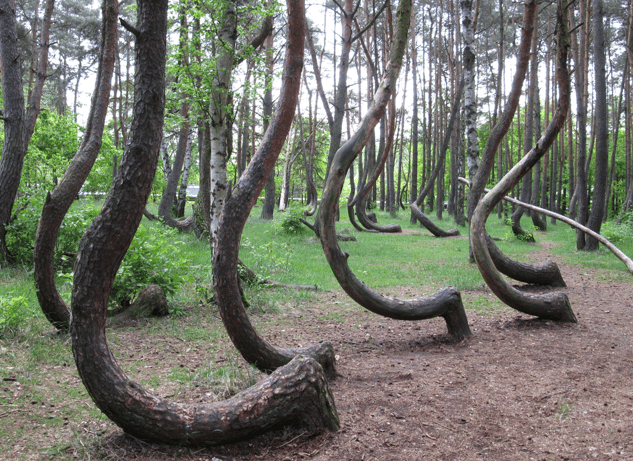 So the idea of visiting a forest on vacation might not sound like the most popular tourist attraction out there, but what if I told you that this is not a normal forest; there are dozens of trees that are crooked — oddly bent in the exact same way, all pointing north? Oh, and scientists have no idea how or why this happened.
A bizarre forest in Poland might not make it to the top of your bucket list on a two week trip, but if you're living and volunteering in Eastern Europe for a whole semester, you're going to have lots more time to check out lesser known places like this.


---
ILP Volunteers get to travel all over Europe during their semester abroad:
Check out our guide to European destinations
---
You can plan trips to explore the more traditional things to see (like Krakow's famous Old Town) or trek over to the Western part of your country and see these crooked trees for yourself:
What's This Forest All About?
Right on the western border of Poland is a tiny town called Gryfino, surrounded by a forest. Not too unusual for this part of the world, right? But what makes this forest special are the trees — there are about 90 that are bent into this bizarre shape.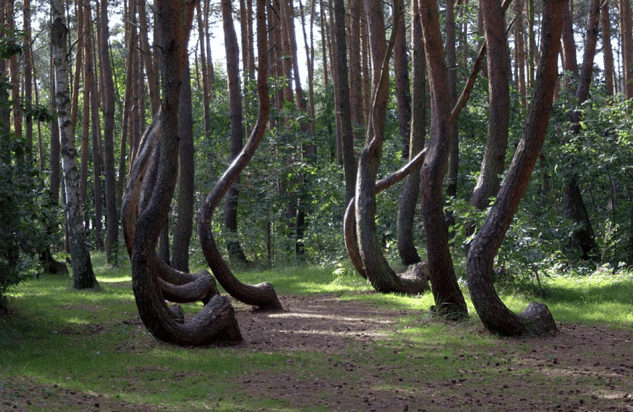 Why Are They Crooked?
The short answer is that no one is quite sure, but that doesn't stop some weird theories from floating around. Aliens have been blamed, but a slightly more plausible option is that an enormous snow storm flattened the young trees at their base. The slow spring melt caused more pressure at the base of the trunks, so the trees grew into these odd shapes.
What's weird is that there are around 400 trees in the area, but only 90 are bent … a more widely accepted theory is that farmers bent the trees for a purpose, maybe for ship building or for furniture? Scientists guess that the curves happened when the trees were only a few years old … but were never used because Poland was invaded after the start of WWII, in 1939. The town of Gryfino was destroyed.
This is a slightly more plausible theory ... though we aren't sure that aliens are completely out of the running.
When Should I Visit?
Poland does get some pretty cold weather, so visiting in the warmer summer weather might be better, but the trees do look eerie all year round. For an extra uncanny picture, visit the forest in the morning, where you can see the sun just barely streaming through the trees.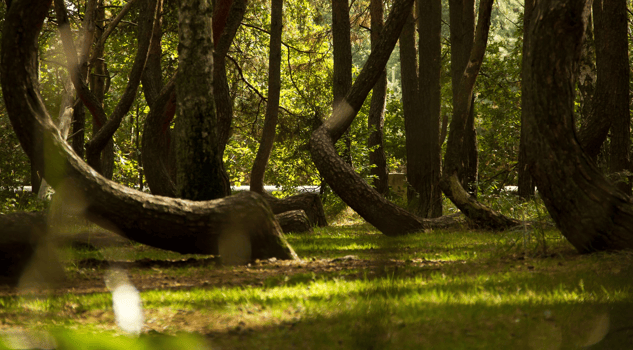 How Do I Get There?
There are a few options, but the easiest is to get to Gryfino or Szczecin first, then take a bus or taxi to the forest (called Krzywy Las in Polish).
You can fly into nearby Szczecin (flights are about $100-$140 round trip from Krakow) then take the 1A bus over to the entrance of Krzyway Las. Right at the entrance, you'll spot a tall apartment building that is painted with lime-green paint; walk down the nearby dirt track and go left. After a short walk, you'll find the crooked trees.
There is also a train straight to Gryfino from Krakow— the train ride is anywhere from 9-14 hours, depending on the speed of your train. These Krakow train stations all have trains to Gryfino: Kraków Płaszów, Kraków Główny, Kraków Sidzina, Kraków Łagiewniki, Kraków Bonarka.

Get prices and timetables (and book) your train on Virail.
Or you can travel there from Berlin — the forest is about a 2 hour train ride away. ILP volunteers love spending time in Germany on their vacations (especially to see the Neuschwanstein Castle .... so think about also visiting Munich!). If you'll be in Berlin, it would be easy to tack on a trip to Gryfino after you explore this part of Germany. You can get train information about a train from Berlin to this forest here.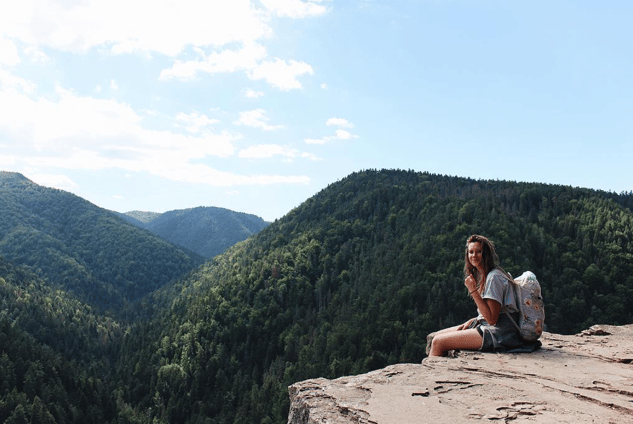 Ready to spend a semester abroad in Europe?

Click below to see what volunteering with ILP is all about (and keep an eye out on our Instagram account for more European photos: @ilpadventure):