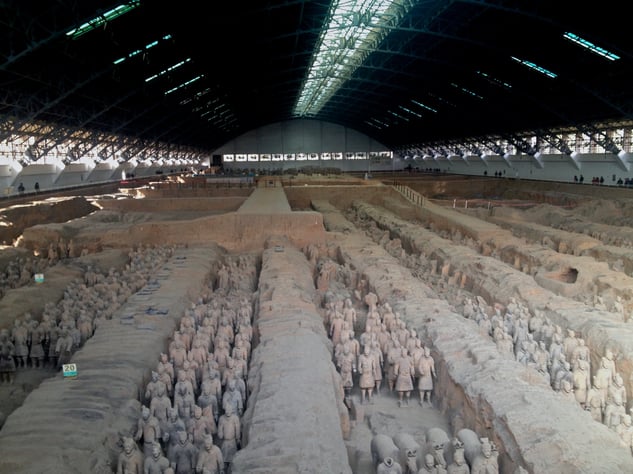 The Terracotta Warriors are one of the most well known tourist destinations in all of China. This army is over 2,000 years old and was only just discoverd in 1974! These warriors are one of the most significant archealogical discoveries in the 20th century! If you are volunteering in China, this is one place that you do not want to miss.
Many of our international volunteers have made the trip to Xi'an to see the warriors. Many say it's just as amazing as seeing the Great Wall! It can be a very affordable trip for International Language Programs volunteers to take. Take a sleeper train to Xi'an with your fellow volunteers and then just a short bus ride to the warriors. There's no excuse not to go!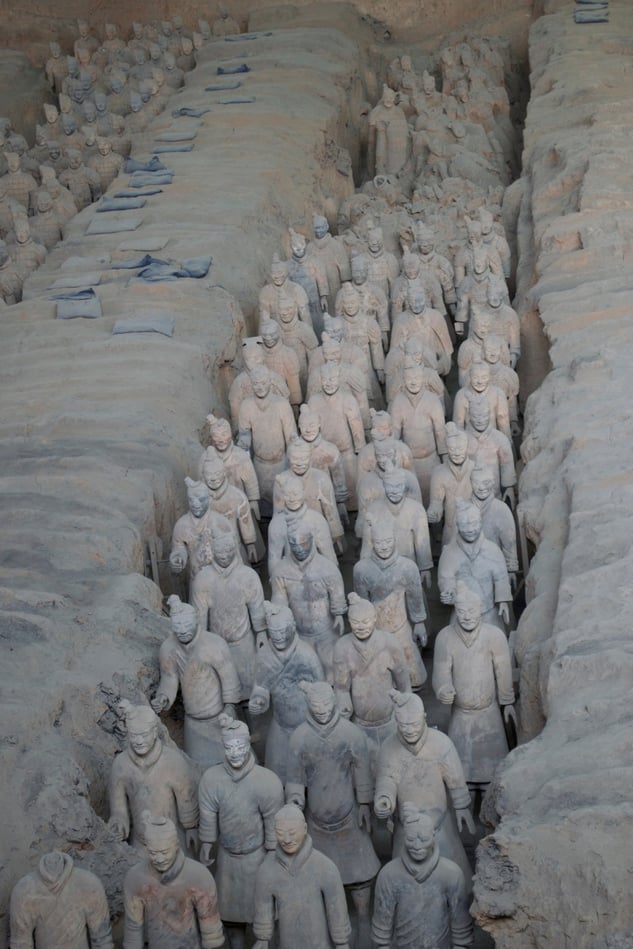 What Are The Terracotta Warriors?
The Terracotta Warriors were discovered by some local farmers in March of 1974. They were digging a well, and little did they know they were making one of the most significant discoveries in a lifetime. They struck gold when they dug into a pit containing nearly 6,000 clay warriors!
Fun Fact: They have only excavated 2,000 of the 6,000 warriors!
These warriors were built as part of Emperor Qins mausoleum (or tomb). They were built to guard the Emperor after his death. It is believed that Qin started building his mausoleum when he was just 13 years old. It wasn't even completely finished by the time he died just 35 years later.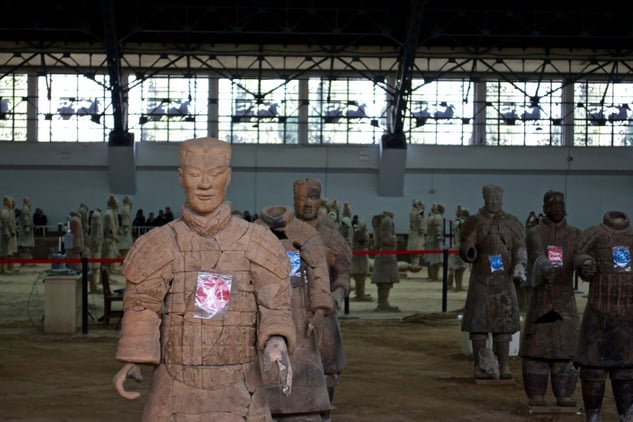 Who Are The Terracotta Warriors?
There are five styles of lifesize terracotta warriors. These include the Archer, General, Civil Officer, Ordinary Soldier, and Emperor.These warriors are a depiction of Qins army. Each varies in height, weight, and they have different hairstyles and facial features. Along with the warriors; weapons, clay horses, and chariots have been excavated.
How Do I Get To The Terracotta Warriors?
Getting to the warriors for our ILP volunteers is a very simple and cheap task. From the East Square of the Xi'an Railway Station; For around $1USD, take tourist bus No. 5 (306) and get off at "Bing Ma Yong" (or Terracotta Warriors) Station. OR, from the gate of Tang Paradise you can take bus 307 for the same price and get off at the same "Bing Ma Yong" station.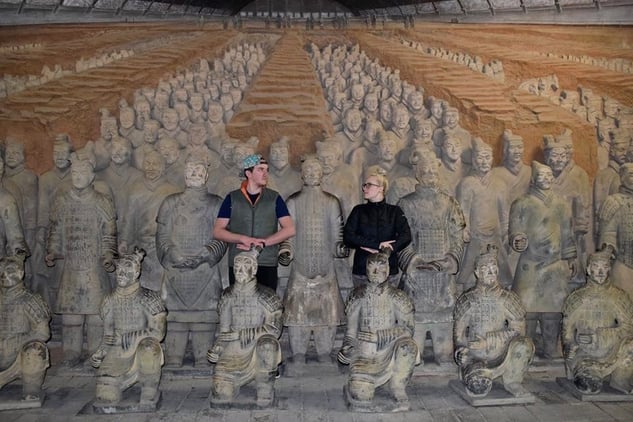 Click here to learn how you can spend your honeymoon international volunteering!
What Else You'll Need To Know:
Getting a guide. I would definitely recommend this! They have guides in English that you can get for around 100RMB so split the cost with your travel group. You'll learn tons of information about the warriors, and it's super interesting!
Tickets to get into the Museum are RMB150 ($23USD), bring your student ID and try to get the discounted RMB130 price.
The museum is open from 8:30AM until 5:00PM.
It usually takes around 3 hours to get to the museum.
You can take a free shuttle bus to the actual mountain where Emperor Qin is buried. The shuttle buses leave about every 15 minutes, and are located just outside of the entrance of the warriors.
Just In Case:
In case you get turned around you can always ask for help or get a taxi. Here is how to say say "I am going to the Museum of Qin Terracotta Warriors" in Chinese. Say, "Wo yao qu qin shi huang bing ma yong bo wu guan." (Pronounced: Woah ya-ow choo cheen shure hoo-ang bing ma yong bow woo gwen.)
Want to learn more about how you can explore China? Looking for a cheap international volunteer program? Click here to learn about how you can volunteer in China!