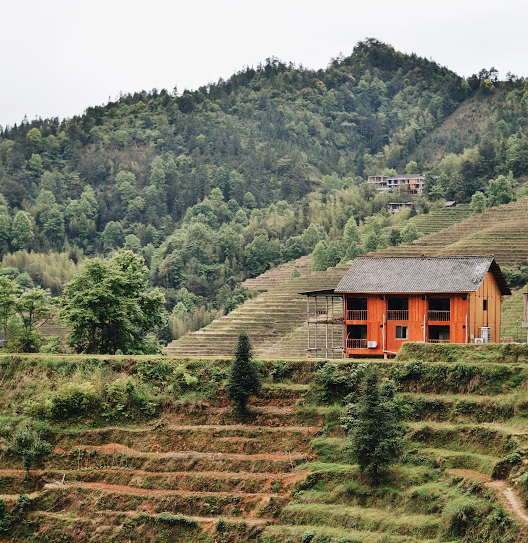 If you will be heading to China, this is our go-to stop for admiring rows and rows of rice terraces.
One of the best parts about volunteering in China for a semester meant that I got the chance to hit all the sites I wanted to see in this massive country. Once the weather warmed up a bit, I grabbed some of my friends and we headed down to Southern China to see the city of Guilin before spending the rest of our time in a dreamy place called Yangshuo.
---
Wondering what else there is to see in China?
All about volunteering in China with ILP
---
Guilin ended up being a quick stopover for me, but seeing the Longsheng Rice Terraces ended up being one of the adventures I remember the most about my time in China. I'd more than highly recommend fitting it into your itinerary; here's how to do exactly that.
Where Is Guilin + How To Get There

A Bit About The Terraces

Touring The Terraces - Three Options

Insider Tips
Where Is Guilin + How To Get There
Guilin is a city found in southern China; it's known for an unreal landscape and some of the most impressive rice terraces around. When I say unreal landscape, I mean it. Guilin is peppered with karst mountains that are blanketed with green, and outside of the city? The curling rows of the Longshen Terraces. It's stunning, but even more beautiful in the nearby city of Yangshuo, which most tourists skip out on …. luckily, ILP volunteers know how to spend a few days in Yangshuo (which is the constantly voted as the most popular vacay spot, by the way).
Since most ILP volunteers are heading to Guilin in order to get to Yangshuo and spend most of their vacation time, it's easy to add a full day in Guilin before heading down to Yangshuo.
Note: You can also visit the rice terrace from Yangshuo as a day trip, but it'll be much more travel time than if you took a day trip from the city of Guilin. Here's your Guilin Guide for spending more time in this rad city.
Get In By Train + Plane
Guilin is a little more connected to other parts of China as it's bigger than the small town of Yangshuo and has an airport. Since many ILP volunteers are heading to Guilin to get Yangshuo (It's easy to head into Guilin via train before boarding a bus to get to Yangshuo), we suggest blocking out a full day to see the rice terraces before going to Yangshuo. If you're coming from Guangzhou via fast train, you'll have the option to make a stop in either Yangshuo or Guilin ... so if you're interested in these rice terraces just make sure to choose Guilin as your stop!
We love using Trip.com to book your tickets; from most major cities in China you can easily book a train to Guilin. You can also fly into the Guilin Liangjiang International Airport if you'd rather (but trains are usually a more affordable option).
Just know that Guilin has 3 stations; Guilin Station is in the center of town, Guilin North Station is far away from downtown area, and Guilin West Station is even farther from downtown. From any station, you'll notice several taxis waiting to take you to your hotel or hostel.
A Bit About The Terraces
Also known as the Longsheng Rice Terraces, or Dragon's Backbone Rice Terraces, the Longji Terraced Fields are spectacular to see in person. They are a bit outside of the city of Guilin itself, so you will need a full day blocked out to make the trek there and back again. Plan on about 2 hours via bus on twisty mountain roads to get there and back, plus time touring the terraces.
The area is actually a combination of several terraces which cut into the hillside of a massive valley; Once you make it to the top (you can either hike up or take a cable car) you can see this entire mountain valley rimmed with terraces. It's amazing.
The terraces are about 60 miles outside of Guilin; there is no direct bus, so it is best to book your transportation with a private company. We'll get to this in a minute, but since the rice terraces are such a gorgeous attraction, several hostels and vendors on the street have connections with shuttles that can take you there. Again, here's more info about Guilin since that'll be your starting point for the terraces.
Also good to know: this area is home to several ethnical minorities in China. If you book a tour, it's likely that you'll have an option to pay a little extra to sit in on a traditional ceremony performed by the locals. You'll also get some time to wander in their village (pictured below) and choose to purchase embroidered shirts, pillowcases, or other crafts. My group decided to opt out of the cultural show, and just walked around the village and found that more than fulfilling.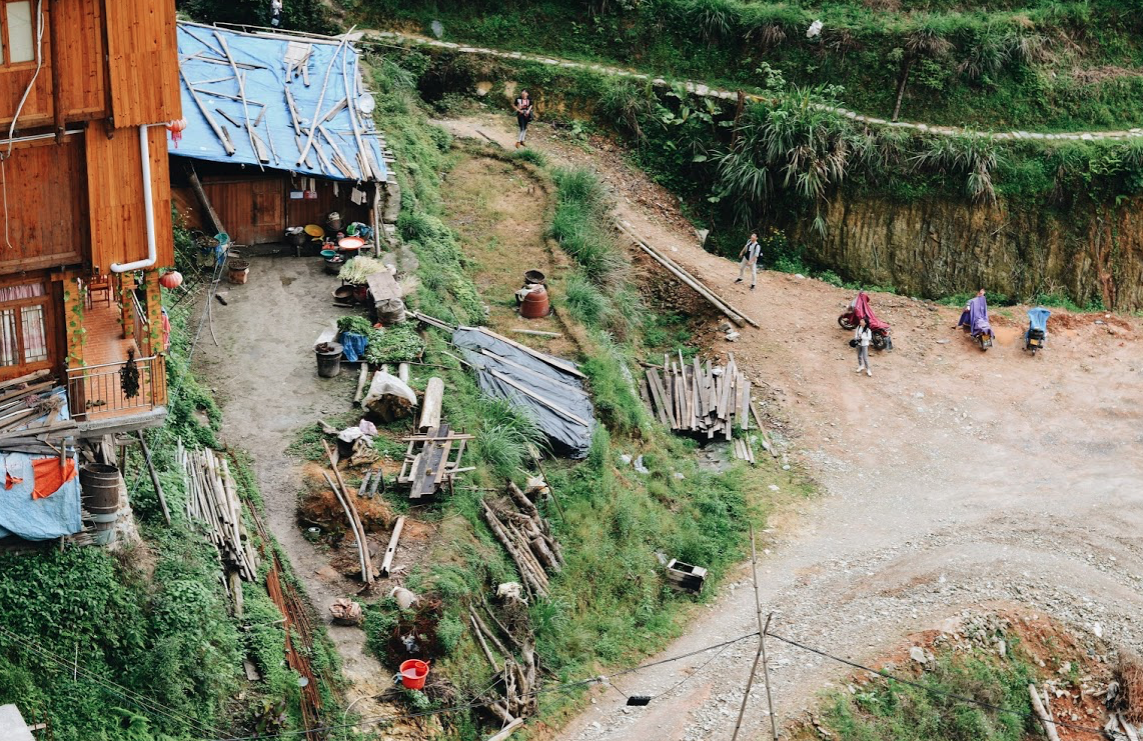 Touring The Terraces - Three Options
As mentioned before, there is not direct route to the terraces using public transportation and the terraces are about 60 miles outside of the city. I would suggest using a guide, but we also discuss a few other alternatives.
Hiring A Guide
This is by far the easiest way to explore the terraces. Now, I'm not one for guides. I prefer to set my own schedule and figure it out myself, but I am so glad I didn't go that route with the rice terraces. We hired through our hostel where a guide picked us up from our hostel, drove us by bus to this ethnic minority village before dropping us off at the terraces. We could choose to either take the cable car up or hike while our guide waited at the base with the van.
We could do whatever we wanted and explore whatever we wanted at the terraces which I loved — I got the freedom I wanted, but the guide was there to answer questions and handle transportation and tickets.
If you'd like to hire a guide, you can check out this post (our volunteers love using Peter who can take you around Yangshuo and the terraces if he's option).
Recommended Hostels
Most hostels have day trips to the terraces. To help you out, we have a list of recommended hostels that you can stay at that also have tours to the Longsheng Rice Terraces. Most volunteers mention that your guide helps arrange transportation but doesn't really walk you around the terraces, which I prefer.
Doing It Yourself
You can take an express bus from Guilin to the Longsheng County Town, then another bus from the town to the Longji terraces area, which should take about 3 hours. You will need to figure out time tables, entry tickets, and other details to help make sure you don't miss the last buses back to Guilin. This strategy is not recommended but you can find your route via the Longji Rice Terrace website if you're determined.
Staying Overnight On The Terraces
There are some accommodations very near the terraces themselves; Here's what one volunteer said: "We stayed in Dazhai! To be honest it was very pretty especially during the sunset and sunrise but other then that there wasn't a whole lot to do other than visit really small vendor shops (and the terraces). (To get there) it was a really long hike with a lot of luggage and if I were to go back I probably won't stay there again."
Your housing arrangements there usually help you figure out transportation to and from the terraces from Guilin, but like Nicole W. said, the terraces themselves are amazing to see for a few hours, but there aren't really enough activities to fill a full day.
If you'd prefer to stay in the rice terraces themselves, here are a couple of hostel recommendations:
Longji International Youth Hostel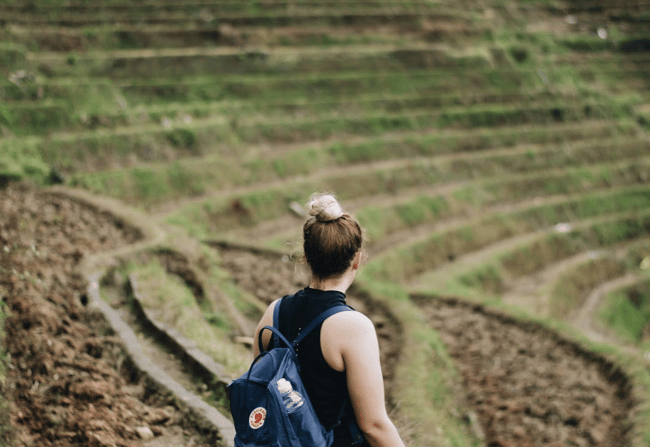 Costs + Hours
Terrace hours: 8:30 AM – 5:30 PM
Cost: 95 Yuan
Cable car (not required; but I loved riding one way up)
Hours: 8:00 AM to 5:00 PM
Cost: 60 Yuan (one way) 100 Yuan roundtrip
Tour + Transportation fee: Varies
Note: If you go with a tour or guide your entrance fee will likely be included, as will your transportation costs. Check to see if things like meals, cable car tickets, or tickets to a minority performance are also included. Some volunteers quoted around 180-200+ Yuan for a full-day package.
Insider Tips
Should I Hike Or Ride?
You can either take the cable car up or down or hike both ways … or mix the options. Peter (a guide we mentioned above) has even driven groups to the top and then hiked through and down which is also a great route allowing you to see all the sights. My suggestion is to take up the cable car (you get a spectacular view of the ribbon-like terraces unfolding below you) then hike down (it takes about an hour at a good pace). I liked having both experiences; just make sure you budget for the cable car ride and have ample time to hike down so you don't miss your bus.
What About Lunch?
There are a couple of restaurants at the top where you can get lunch if you'd like; a specialty is rice cooked in a bamboo shoot (and is delicious). Some tours also include lunch.
When Should I Visit?
The terraces are stunners no matter what time of year, but the views fluctuate according to season. From mid-April to mid-June to terraces are flooded so you can see water glittering between the grassy hedges. From mid-June to mid-September, the rice is growing so you'll see green as far as the eye can see. From late September to early October, plan on layers of golden yellow (and farmers harvesting the fields for the first couple weeks of October).

After harvesting, the fields are brown and empty; if possibly, don't plan your visit from mid-October to April.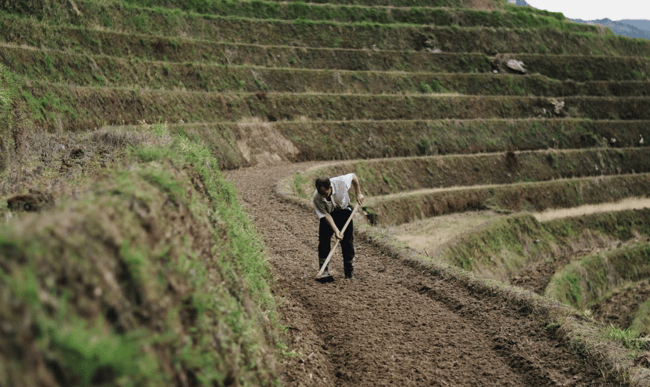 Convinced you need to see this place for yourself?
I'm totally with you: if you'd like more info on what it's like to volunteer in China or get information on what it's like to live there, check out International Language Programs. It's a non-profit organization who sends college-aged volunteers abroad to teach English (and travel around). I loved, loved, loved my semester abroad with them.