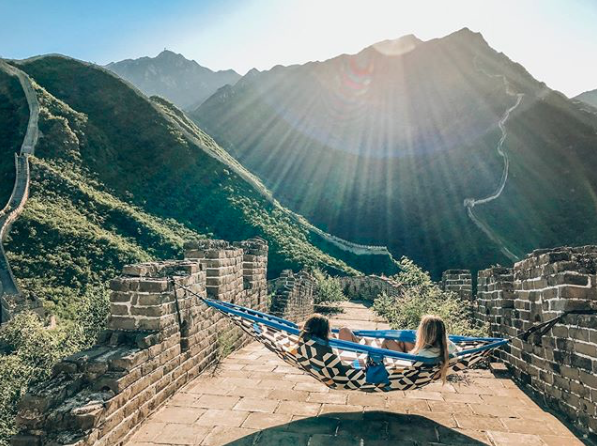 Visiting the Great Wall is absolutely on your bucket list of things to do, but how exactly are you going to make that happen?
We love visiting China, but there's just so much to do in this country that we think that living there — for a whole semester abroad — will mean you can see way more than you could in just a short visit.


---
Come live in China like I did
All about volunteering in China with ILP
---

I did loads of research about the Great Wall before my visit and I'm here to put it all in one place ... because it's not as simple as it sounds. For starters, the Wall isn't found right in Beijing, so you need to arrange transportation out there. And there are different sections of the Wall to explore, so that's another thing to consider. Here's all my advice to planning your visit to this World Wonder so it goes as smoothly as possible.
The History Of The Wall
All About The Different Sections
Tips On Getting To The Wall
Camping Overnight On The Wall
Tips For Your Visit
The History Of The Wall
If you didn't know, the Great Wall of China is a series of fortifications spanning thousands of miles, originally built to protect the borders of Northern China in the 3rd century (during the Qin Dynastry). Construction lasted for hundreds of years, with the most famous sections of the Wall constructed in the Ming Dynasty. Sections of the Great Wall tower over 30 feet, and the Wall is estimated to be over 13,000 miles in length. Historians estimate that some 400,000 people died constructing this architectural feat.
Now, the Great Wall of China is one of the world's most iconic pieces built by man, and has been a UNESCO site since 1987. It's a very popular tourist attraction with some parts of the Wall that have been rebuilt, and other sections that have decayed.
Alright, now that you know a bit of history, you're ready to plan your visit. We'll go over the sections of the Great Wall, just know that the Wall isn't in Beijing, it's 1-3+ hours outside of the city.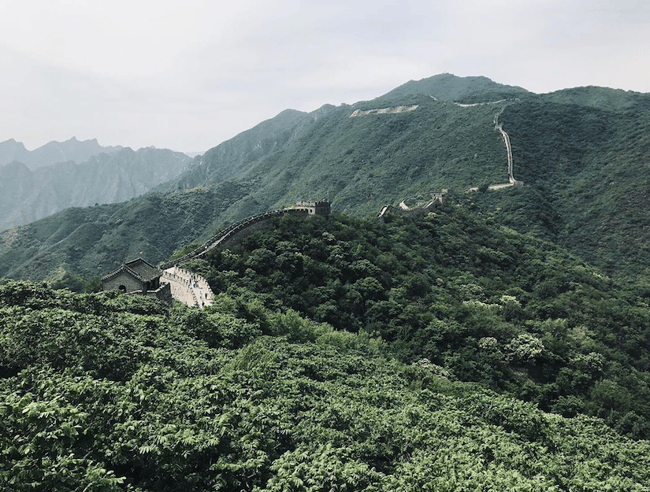 All About The Different Sections
The first thing you will want to do is research what part of the Great Wall you want to go to. There are many sections, and some are more touristy than others. In general, the farther away from Beijing you travel, the less crowded and reconstructed the Wall. Here are the most popular sections:
Juyongguan (Closest to Beijing, most crowded and less interesting)
Badaling (Close to Beijing, tends to be crowded)
Mutianyu (Further from Beijing, less crowded and has gorgeous mountains)
Jinshanling and Simatai (Less reconstructed, not crowded)


Laolongtou (Hours away from Beijing, meets the ocean)
While you're welcome to visit any section of the Great Wall that are open to tourists, we've pulled together some info for the most popular sections below:
Badaling
Badaling is the most famous and touristy section of the wall, just 43ish miles away from Beijing ... and has played host to a few famous visitors like Nelson Mandela, Queen Elizabeth II, and a handful of US Presidents. Sections of the Wall and the towers have been restored, and are home to some gift shops, museums and restaurants. It tends to be rather crowded. Here's a map of the Badaling section.
Getting Here
Hop on a bus and you're there. Bus 877 leaves Deshengmen station, which is around 10 minutes walk away from the Jishuitan subway station (line 2, use exit B2). The bus gets you there in around 60-90 minutes, for 12 CNY. You'll be dropped off near the pulley car which is around 10 minutes walk away from the entrance. Buses run from 6:30 AM until 12:30 PM.
You can also get there by train. There's a bullet train which leaves the Beijing North Railway Station and takes you to the Badaling Great Wall Railway Station. The ride is around 30 minutes, and you can get tickets in the 18-30 CNY range. Look at times and prices on Trip.com.
Cost + Hours
General Ticket Prices
April 1 to October 31: 40 CNY
Nov. 1 to March 31: 35 CNY
Hours vary:
April 1 to June 30: 6:30 AM to 7:00 PM
July 1 to August 31: 6:00 AM to 7:30 PM
September 1 to October 31: 6:30 AM to 7:00 PM
November 1 to March 31: 7:30 AM to 6:00 PM
Once you've arrived, it's quite popular to take a short cable car ride up to the Wall, and then take a pulley ride down from the wall once you're finished. Here's information for that:
Cable Car: 100 CNY (or 140 for a roundtrip ride). Operating hours are 8:00 AM to 4:30 PM (April through October) and 8:30 AM to 4:00 PM (November to March.
Pulley Ride: 80 CNY or 100 round trip ride on the Pulley.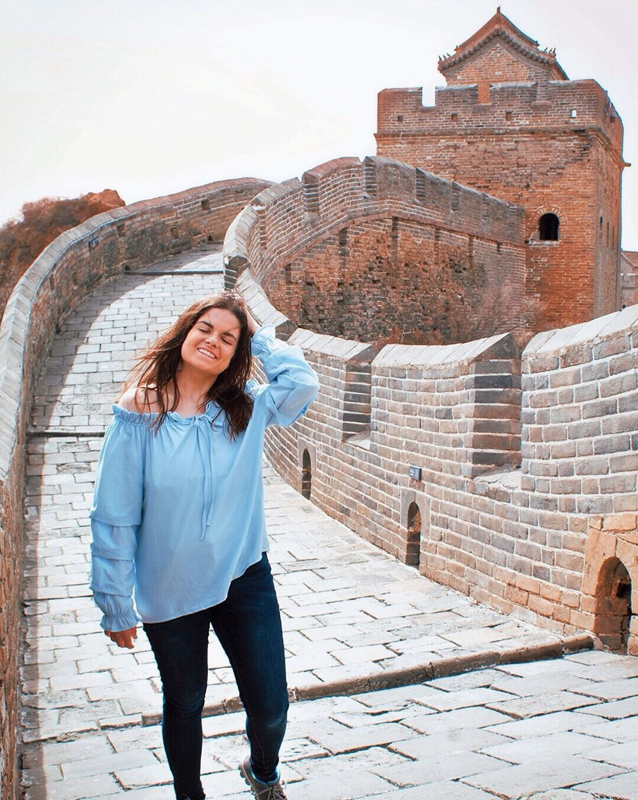 Mutianyu
This is probably the volunteer favorite, if you're not camping overnight. It's one of the best preserved sections, with miles and miles of rolling green mountains that create a gorgeous view. You can run around and explore one of the many watchtowers that dot the 3.4 mile section (get a map of this section of the Great Wall here). It's also about 40 miles away from Beijing, making it pretty accessible.
Getting Here
This section of the Great Wall is easily reached by public transportation. We have more info about booking a tour below, but here's how to DIY. Plan on 2.5-3 hours of travel time to get from Beijing to this section of the Wall. China Travel Guide has a few options, but you can also look at the experience of this blogger.
Cost + Hours
Basic ticket entrance:
40 CNY for adults
From March 16 to November 15, this section is open from 7:30 AM to 6:00 PM on weekdays, then closes at 6:30 PM on weekends. For the rest of the year, this section is open from 8:00 AM to 5:00 PM.
Again, once you arrive it is popular to take a short cable car up to the Wall, and then take a toboggan ride to come back down from the Wall. Here's info:
For The Cable Car: 100 CNY to ride the cable car to Tower #14 (this runs 8:00 AM to 5:00 PM during March 16 to November 15) and from 8:30 AM to 4:30 PM from November 16th to March 15.
For The Toboggan: 100 CNY for a single ride or 120 CNY for a roundtrip toboggan ride off the Great Wall of China. Catch this near Watchtower #6. The toboggan ride runs 8:00 AM to 4:50 PM on weekdays, and 8:00 AM to 5:00 PM on weekends. (The Toboggan ride is seriously so much fun).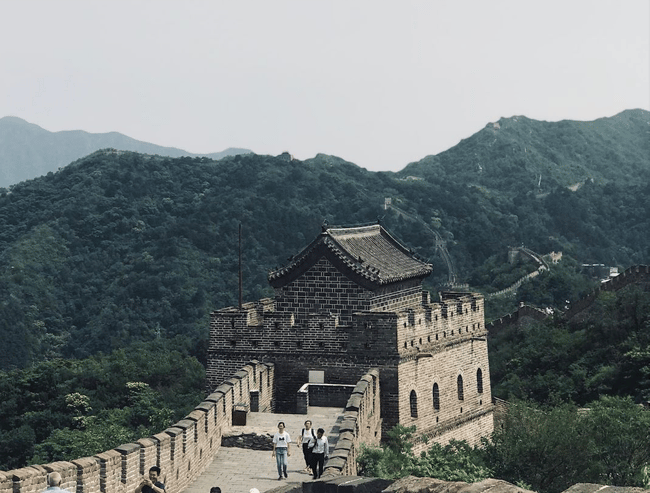 Laolongtou
See the Great Wall then have a beach day when you visit this section of the Great Wall!

Known as the Shanhai pass, the name translates to the meeting of the mountain (shan) and the sea (hai) and was a huge strategic fortification against Mongolian invocation from the north. While this entire section of the Wall is what protected China against invasions, the part you're probably interested in is the "Dragon's Head", or Laolongtou — that's the eastern most section that ends right at the Bohai sea. A visit here and you can see why this section is named after a long dragon: the wall resembles a dragon dipping its head into the water for a drink. Such a unique part of the Great Wall to visit if you have the time.
Get all the details on seeing where the Great Wall meets the ocean on this post. Just so you know, this section of the wall is a 4-12 hour train ride away from Beijing, but is by far the coolest.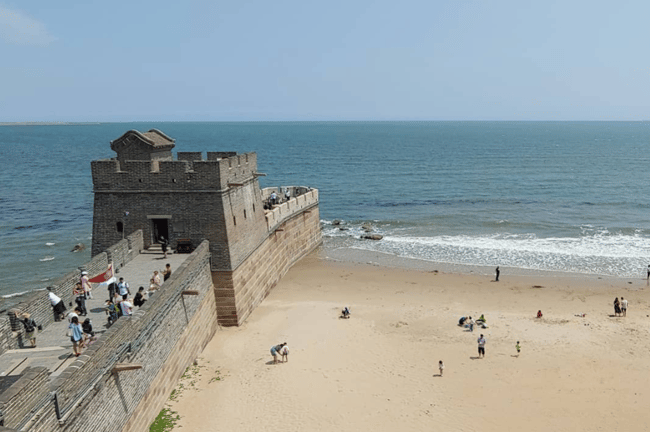 Camping Overnight

If you only takeaway one recommendation from this post, let it be this one : you have to camp overnight on the Great Wall of China! It was easily the highlight of my amazing semester, and I'm not the only ILP volunteer who feels this way.

You get to trek out to a really remote section of the wall and have the whole area to yourself: I spent an evening hiking to different guard towers until the sun dipped behind the emerald hills. We set up tents, had dinner under the stars, and woke up to see the ribbons of the Great Wall of China slowly appear at sunrise. It was ah-mazing.
This blog post about camping on the Great Wall of China has all the info you need — tours past volunteers have gone with, costs, things to pack, and lots of pictures + tips so you know what to expect.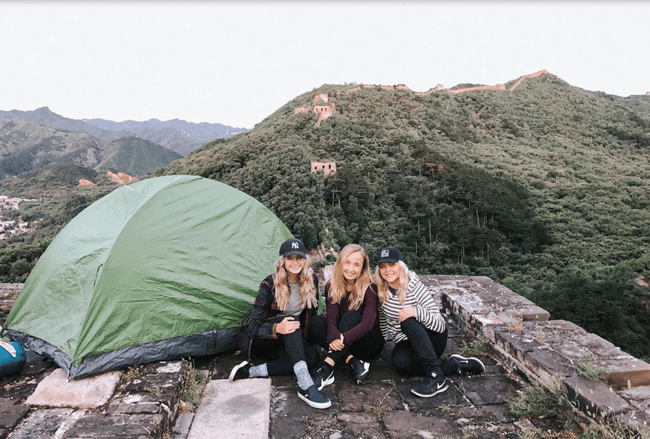 Tips On Getting To The Wall
A lot of your transportation tactics depend on what section of the Great Wall you're visiting. For the most popular sections our ILP volunteers tend to visit we have information about that all laid out for you (like camping on the Wall, or visiting the section that meets the ocean). We also have some public transit info if you'd like to DIY.

However, many ILP volunteers go with a tour, via their hostel in Beijing — so many offer tours that can take you to the Great Wall. One thing to be aware of? There are tours that will only give you 1-2 hours on the Wall and spend time in other places you're not that interested in (like a tour of a silk factory with plenty of shopping time, hoping that you'll spend money there). So just clarify if you book with a hotel what your expectations are. Here's a list of some of our favorite hostels in Beijing.
You can also hire a private driver — you will be able to get help from your hostel about this option if you'd like. A driver gives you more flexibility if you'd like more time on the Great Wall, letting you decide the pick up time and how long you'd like to hike. Prices vary, but are typically in the 500 - 900 CNY for the day (taking you from Beijing to one of the sections, like Badaling or Mutianyu.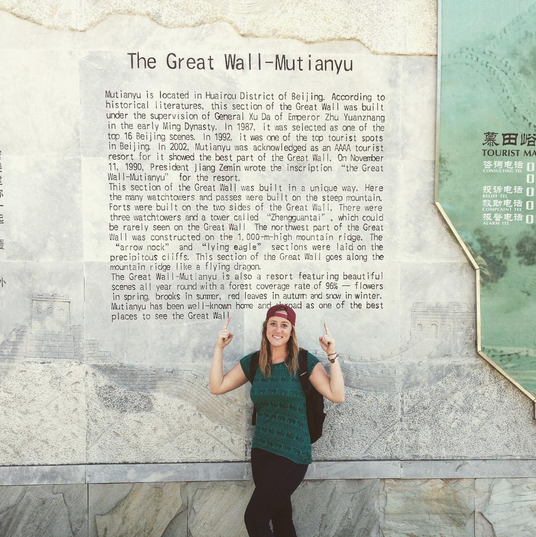 Tips For Your Visit

When To Visit
The Great Wall is open all year round, making it a must-see tourist spot no matter when you're visiting China … but what the Wall looks like depends on the month you see it in.

In the spring, everything is so green! The Great Wall is far from the sprawling urban city of Beijing, snaking its way through the hills and mountains that blanket this part of China. In the spring, these mountains are covered with trees and shrubs that are bright green and occasionally studded with wild flowers.

The Great Wall is also an absolute stunner in the fall. If you visit when the leaves are changing, you'll be able to see the Wall trail between a backdrop of ocher yellow, bright red, and warm orange leaves. These colors are only available for a short window of time before things turn more brown and gray.
During the hottest summer months you'll be hiking in the direct sun (yes, walking along the steep hills of the wall is quite the workout). It tends to get quite exhausting with the sun blazing down on you, so you might consider bringing an umbrella in June and July to help with that.
As a heads up, Beijing does get cold in the winter time and typically does see snow. If you're touring the Wall in the winter (late November to about March) you could see those hills dusted with a blanket of frost or even snow which is very pretty, but is very cold, and doesn't bode well for hiking or camping overnight.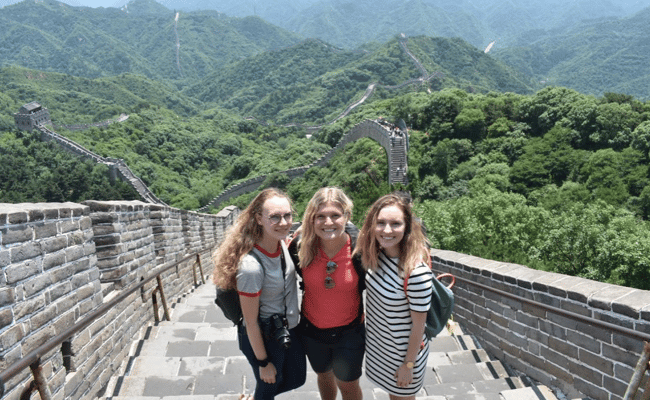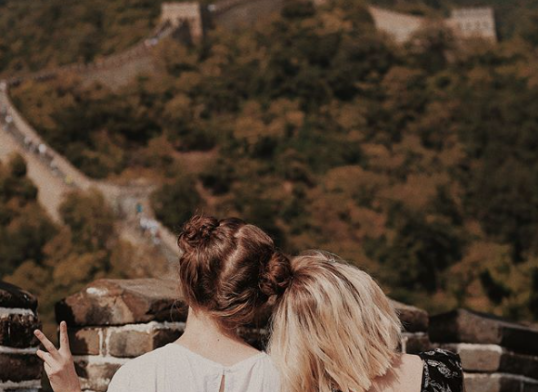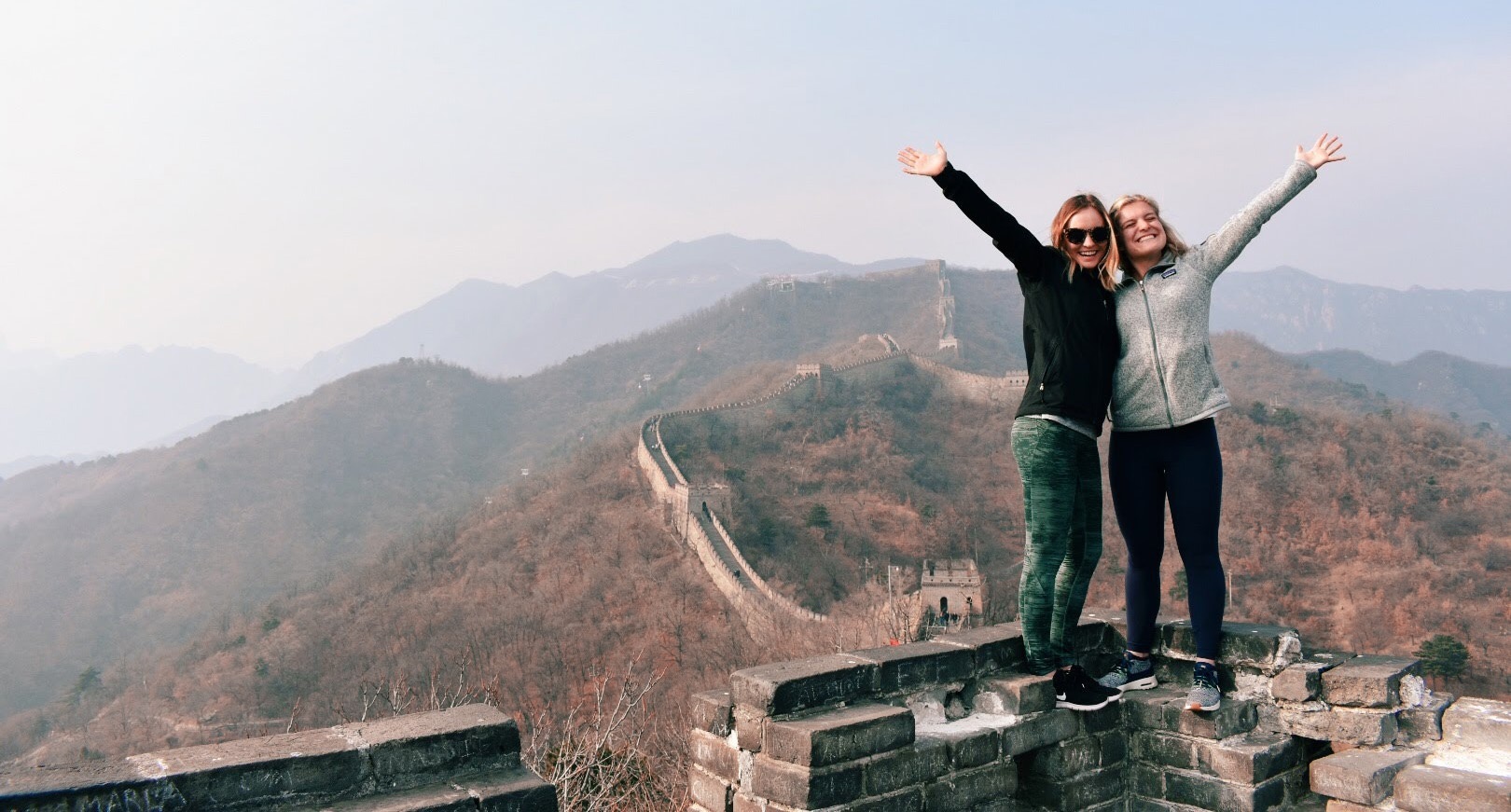 What To Bring With You
A lot of what you'd want to pack depends on your visit — are you here for the afternoon, or camping overnight? Are you in a touristy section where you can buy a Coke and an ice cream, or visiting a more remote part? You'll want to look at your own personal trip and pick and choose what could come in handy, but here's a master list to follow:
Lots of water
Snacks
Sunscreen
Bug spray
Poncho/umbrella
Hat/Sunglasses
Cash
Travel first aid kit
Camera
Toilet paper/hand sanitizer
External charger (there's nothing worse than your phone or camera dying halfway through this trip)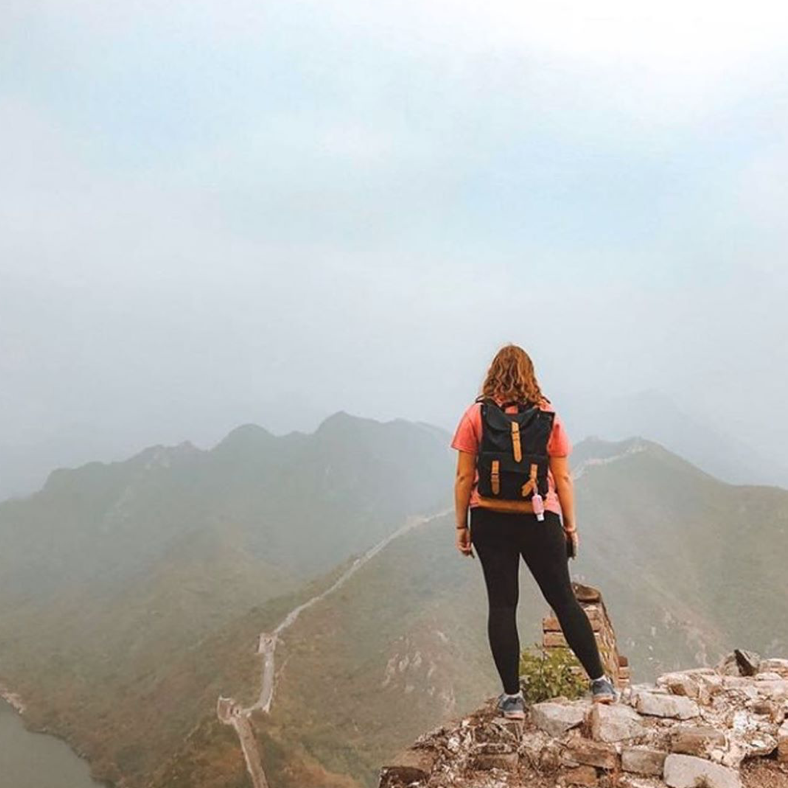 Don't Rush Your Time
Too many times, people squeeze in a little bit of time at the Great Wall with a tour guide and then are whisked away before they've had to the chance to really soak it up. Personally, I loved hiking and camping overnight on the Great Wall because I really got my fill. But if that's not in your itinerary, plan on spending around 2-3 hours on the wall — that's the time amount most day trippers said they were glad they had.
Another thing to keep in mind is the business of the Great Wall of China: The most accessible sections are swarming with tourists in the summer seasons, and on most weekends. You'll want more time on the Wall to step away from the crowds if you're visiting a popular, restored section of the Wall.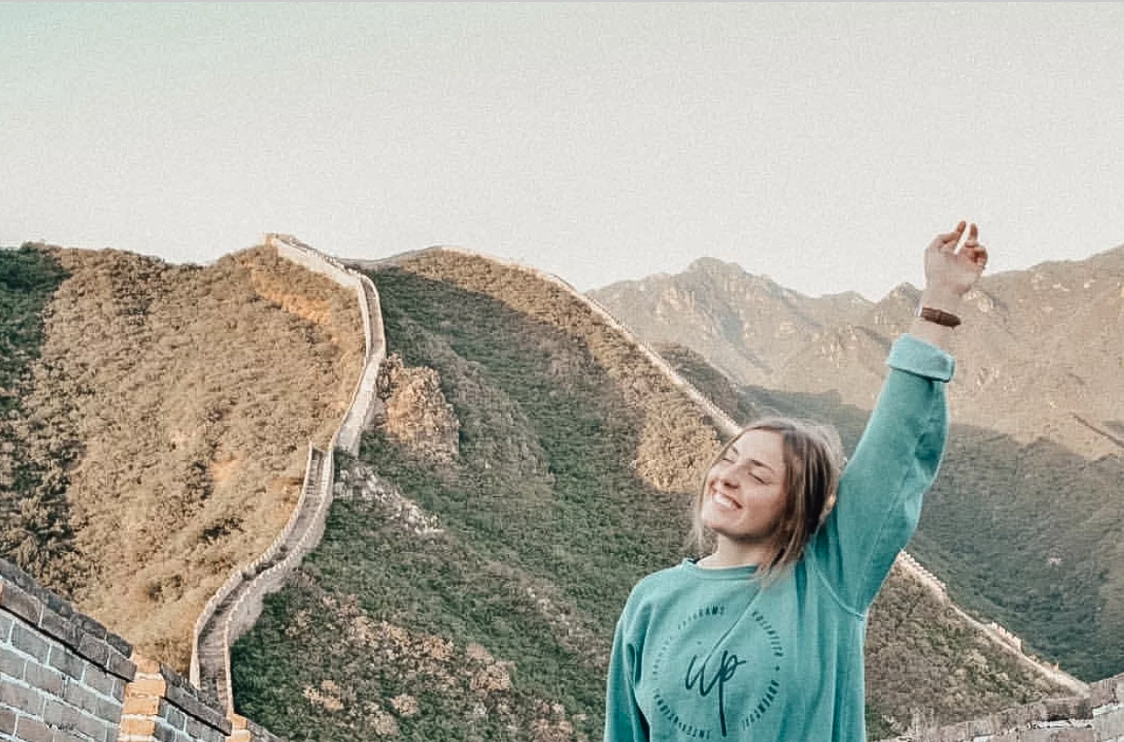 Thinking about taking pictures at a World Wonder like this for yourself?
Come spend semester volunteering abroad in China! International Language Programs (ILP for short) is a non-profit who sends college aged volunteers abroad to teach English here part time.
You'll have lots of free time to explore your Chinese city, have weekends off to see other cities , plus vacation time to explore — you'll have plenty of time to do things like see pandas in China, spend a weekend in Shanghai Disney, or hike the Avatar Mountains. Plus, you'll be volunteering and traveling with an ILP group, so you're not alone!

See even more pictures and get a little info by clicking that button: