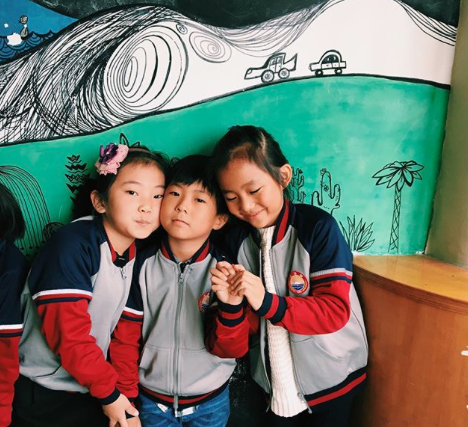 Assigned to volunteer in Weihai and wondering what to do when you aren't in the classroom teaching English to cutie Chinese kiddos? Good thing there are tons and tons and tons of things to do there.
If you didn't know, you'll only be teaching part time as an ILP volunteer — which means you will have lots of free time to really explore your city. You'll also have weekends off giving you even more time to explore. And if you're in Weihai, we have excellent news; this coastal city has a long list of things for you to check out, and the bus system makes it really easy to get around.

Having a tough time seeing yourself actually here? Come see what what living in China for a semester really looks like.
As a head's up, the ILP program has been in this Chinese city for a long time and some of the largest ILP groups call Weihai home. What does that mean for you? There are lots of past volunteers to thank because they've done the work of finding the coolest things to do in Weihai (here are just a few ideas):
The Beach
There are beaches in China? Yep. There are a few beaches to choose from, but volunteers typically head to International Beach for a day of swimming, beach volleyball, tandem bikes and cafes. Castle Beach is just a 20ish walk from the school and is also a fav spot (how could it not be … it's dreamy).
Even in the cooler weather, this beach is a total go-to spot. Overall, Weihai feels urban, but not on the beach. You'll find sandy shores where you can people watch (there are some fishermen who frequent the area).
Castle beach is also another favorite spot, mostly because there's a picturesque castle situated on the golden sand.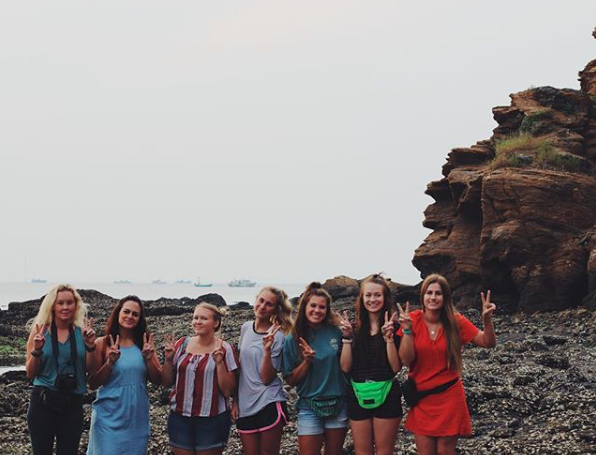 LiuGong Island
Past head teachers suggest going here at the beginning of your semester abroad because you can learn all about the history of Weihai — the British Weihai museum and the Sino-Japanese come highly recommended. Just take a ferry over and spend a day at the zoo, hiking, riding cable cars and museum hopping on LiuGong Island. This is one of the the spots to visit in your city.
Here's how to get here, thanks to Travel China Guide: Take bus No.32 from the Weihai Railway Station to the Ethnic & Religious Center (Minzu Zongjiao Zhongxin). Walk about 5 minutes to get to the dock, or you can pay or a taxi ride (about 20 CNY).

The ferry departs from 6:50AM to 4:30 PM and is a 15 minute ride to the island.

On the island, there is also a fish market and a walking street: you can pay 30 CNY to ride the cable car up around the island (if you go tot he LIuGong Island National Forest Park, you can ride the cable car for free) or you can hop on a bus tour of the island for 20 CNY. Fun, fun!
Weihai Zoo
Lions, ligers, hyenas and monkeys — oh my. You can find some animal experiences in the larger cities like Shanghai and Beijing, but Weihai volunteers get their own zoo, right in their own city.
ILP volunteers should plan on spending around 3-4 hours at least to make sure you see allllll the animals at the Wild Animal Zoo has various lovely animals that tourists enjoy seeing. The entrance fee is CNY 150 per adult, but you can pay more to get pictures with the animals.
Your Local Coordinator can give you the best directions to get there.

Night Market
China loves night markets, and the one in Weihai is especially rad. It's open every night around 5-6 PM which is a perfect way to spend an evening.
Try food from the street vendors (look for the yummy pizza-looking bread and lots of fresh fruits) and some shopping; just make sure you bargain! You can find everything from clothes to electronics to a few knickknacks you didn't know you needed until you see them in person.
Fish Kiss Bath
Feel like being pampered? Do it for cheap in Weihai. Think about having little fishies nibble at your toes, or get your hair washed, massaged and conditioned for around $3. A full body massage will cost you less than $15 and lasts for over an hour. Yes, please.
Read more about these fish pedicures.
Happy Gate
Hang out downtown and get the Instagram picture that you need on your feed. Happy Gate is a huge "frame" that gives you a beautiful view of the ocean, plus it's a cool part of town just to hang out at. There are also lots and lots of parks around here — a favorite is Haishan park (look for the giant playground), so plan on heading to Happy Gate for a good pictures, then exploring the surrounding parks.
To Get There: Take the #38 bus to the end and then cross to the other side of the street and catch the #10 bus going south. You will be on that bus for maybe 30 minutes or until you see a giant playground.

Lazer Tag, Roller Skating, KTV, etc.
Weihai has some huge malls and movie theaters, so think about catching a movie after class, or go laser tagging with your whole ILP group. You can also go roller skating or try KTV (the Chinese version of Karaoke — it's crazy fun).
Park Parties
Lots of the local parks have little get togethers at night — the park right across the street usually has lots of dancing groups you can watch or join — there's also basketball, soccer, badminton and ping-pong. Go to the Happy Gate Park and you're bound to see a few of these dance sessions happening in the evening.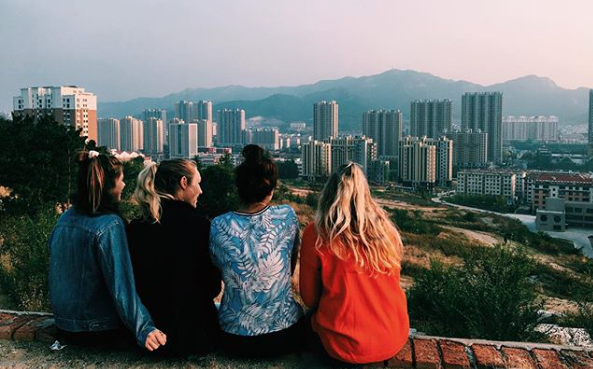 Seriously, that's just a few things you can do after class one day (there are lots more). We also have a list of our favorite vacation spots near Weihai for when you need a weekend getaway or don't want to travel too far on one of your ILP vacations … did we mention you also get vacation time?
Check out some pictures of where you can go on vacation and get a little more info about International Language Programs by clicking that button below (because we know you wanna come spend a semester volunteering abroad in China):