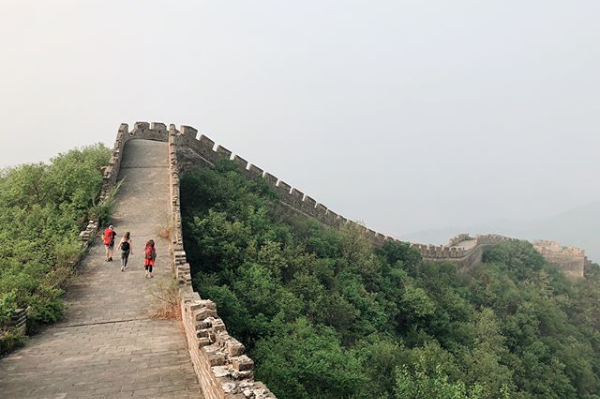 A trip to China really isn't complete unless you see the Great Wall of China, right? If you have the luxury, we've outlined all the pros and cons to seeing this place in each of the seasons.
Planning a trip to China? This China Destination Guide might come in handy.

The Great Wall is open all year round, making it a must-see tourist spot no matter when you're visiting China … but what the Wall looks like depends on the month you see it in. While the Great Wall really is pretty great no matter when you see it, there are some peak times where the greenery behind the wall is either lush and green, colored with fall leaves or more gray and brown. If you can, we suggest timing your visit to see the wall at its prettiest.
See It In The Spring
Call us biased, but we're big fans of the spring sights. It's just so green! The Great Wall is far from the sprawling urban city of Beijing, snaking its way through the hills and mountains that blanket this part of China. In the spring, these mountains are covered with trees and shrubs that are bright green and occasionally studied with wild flowers; it's stunning.
We're not joking about the flowers; In middle April to late May, there are some wild flowers that bloom that make for some pretty, pretty pictures.

Oh, and as an added bonus, the Great Wall Marathon takes place on the third Saturday of every May — our ILP spring volunteers for China get that lucky chance to cross that off their bucket lists.
If you go: Temperatures in March are pretty chilly (in the 50's with a bit of rain) but things do warm up and get greener later on in the season. If you visit during April you'll see temperatures in the 70's, then the 80's and high 80's for May and June; you'll get the most rain for the spring in the month of June.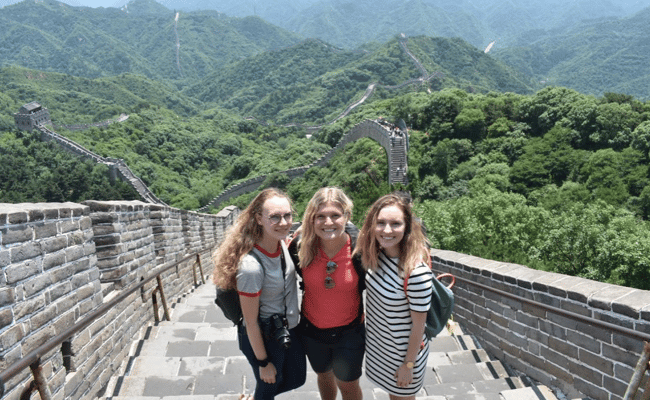 The Wall in the spring — see how green?
But We Also Love It In The Fall
ILP China volunteers headed there in the fall, don't worry … the Great Wall is also an absolute stunner in the fall (really, it's gorgeous). If you can catch Beijing when the leaves are changing, you'll be able to see the Wall trail between a backdrop of ocher yellow, bright red and warm orange leaves. Another perk — You may get rolling green hills in the spring and summer, but the fall means less sweating while you're posting for those Instagram pictures (which is a major perk). Seriously gorgeous, but as you know, these colors are only available for a short window of time before things turn more brown and gray.
If you go: It's rather warm the first of fall, with temperatures in the high 70's for September, then the mid 60's for October. November drops to hit the 50's — all of these fall months have the occasional day of rain.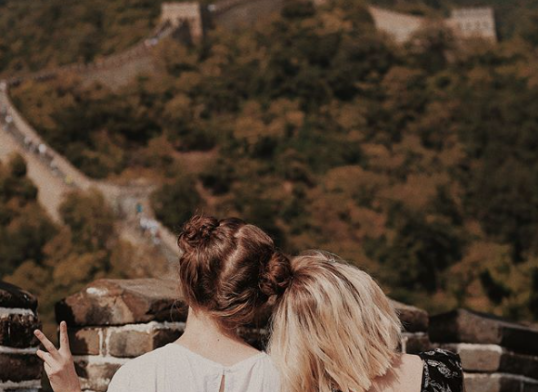 Visiting in the early fall, with all the fall colors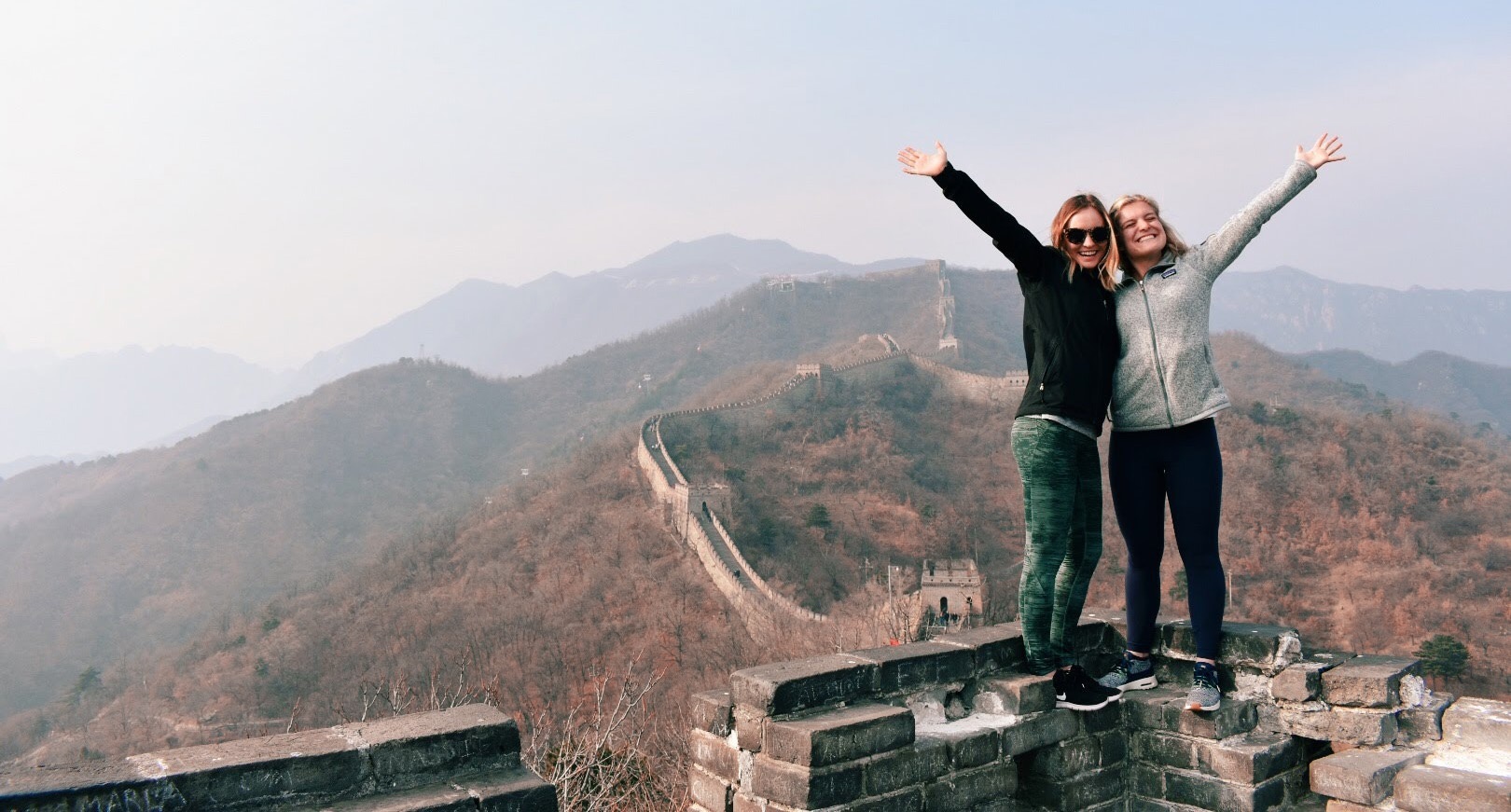 Visiting later in the year, after the fall colors.
What About In Between Times?
We did pick out our favorite times of the year to see the Wall, but I'll let you in on a secret; the Great Wall of China is so spectacular itself, that it's not like you're going to be disappointed if you catch this World Wonder in a shoulder season. If you have the luxury of planning our your time in Beijing, that's great — you can make a weighted decision to wait and see it in the spring or with the fall colors … but if you can't, don't sweat it. You'll enjoy it whenever you see it!
As a head's up, Beijing does get cold in the winter time and typically does see snow. If you're touring the wall in the winter (late November to about March) you could see those hills dusted with a blanket of frost which is very pretty, but is very cold, and doesn't bode well for hiking or camping overnight (more on that below).
During the hottest summer months you'll be hiking in the direct sun (yes, walking along the steep hills of the wall is quite the workout). It tends to get quite exhausting with the sun blazing down on you, so you might consider bringing an umbrella in June and July to help with that.
When's The Best Time To Hike?
If you're into camping overnight on the Great Wall (in my opinion, that's really the only way to experience this part of China!) there are several months that are prime for hiking — late spring and early autumn are our picks (plan on seeing the wall in May, June, July, August, September or October for the best hiking and camping weather).
Anything Else I Should Know?
Overall, your experience won't fluctuate too much depending on the time of year your visit is, but depending on when you visit, you may want to pack up these things before you visit the Great Wall or skip a few items. If you're going in the spring and summer, bring sunscreen and lots and lots of water; it gets very hot. Spring also brings some rain, so prep for that as well. For our fall/early winter visitors, it'll be chilly … and you may run into some weather so pack a waterproof jacket and wear some layers and you might not need as much sunscreen.
We also have an overall list of tips for visiting the Great Wall that you might be interested in; it breaks down the different sections of the wall, how to get there from Beijing, and a list of our favorite ways to get off the Wall …. like riding a toboggan.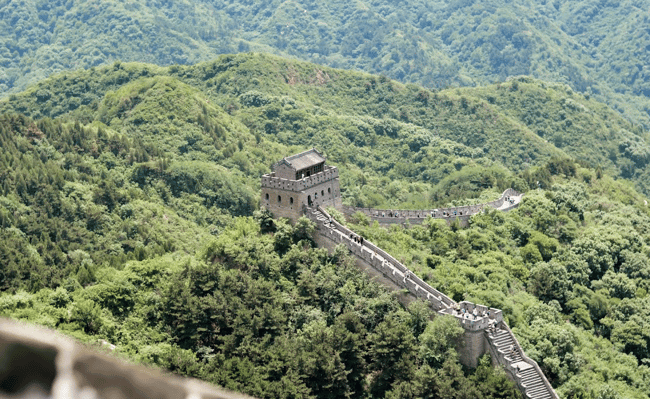 Ready for even more China? You might love the idea of volunteering in China; you'll have a whole semester to soak up the culture, really experience this country and give back by teaching English (no experience necessary!).
Get a glimpse into what a typical day in China looks like above and feel free to click below to chat with someone who can answer any of your questions: