Getting ready to depart for your semester abroad but not an experienced flyer? Follow this tutorial and you'll be just fine.
International Language Programs (ILP) is a volunteer organization that stays involved with your experience before, during and after you've gone abroad - Here's how we'll help you stay safe!
Worried about flying? Not sure what it's going to be like? Don't worry, you're not the only one who's never flown internationally before (or even been on a plane at all). Let's fill you in so that you understand what to expect when traveling with ILP (and just how flying works in general).

What airline am I on?
Take a look at the itinerary that ILP emailed to you. If you haven't received one yet, it's because we haven't purchased your flight (that typically happens 3-6 weeks before departure). ILP is not affiliated with any particular airline, so it is different semester to semester depending on the best route that we can find for the group.
It's likely that you'll be on more than one airline throughout your trip. For example, if you're flying from Salt Lake City to Chicago and then flying from Chicago to Moscow, Russia you might be using Delta for your first flight and then Lufthansa for your second flight (the international one). Many different airlines work together and often you'll see the phrasing "(insert an airline's name) operated by (insert an airline's name)". You don't need to worry about that, just be aware that you could be flying with more than one airline for one trip.
When will I receive my ticket?
You actually won't! Everything is electronic now, so when you check in at the airport counter, the airline agent can find your flight details in their system with your passport. It's a good idea to print out the itinerary that you receive in your email after your flight is purchased, though. That way if you forget what time your flight leaves or which airline you're on while you're driving to the airport, you've got it all right at your fingertips.
Do I need to call ahead and check in?
Nope, you don't. Since you are on an international flight, ILP (and the airlines) ask that you check in at the airport in person, two hours before your flight leaves. As long as you're checking in on time, there's no need to call.
It's important to understand that airlines almost always overbook their flights. They're expecting that some won't show and they don't want to be out the money of your seat if that happens. International flyers are expected to check in at the airport at least two hours early because domestic flyers (those who aren't leaving the country) will be checking in one hour before the flight leaves. If everyone actually does show up, it's much easier for them to put someone who is only flying to LAX (Los Angeles) on a different flight instead of you who is flying to LAX and then also jumping on another flight to Seoul and then to Shanghai.
If you can't make that first flight, it obviously effects all your other flights. Just make sure you check in two hours before your flight leaves and you'll be fine, okay?
This applies to your flight home, too. If you're nervous, be at the airport three hours early.
What do I need when I check in?
Your passport is the most important thing! ILP may have your passport (so we can get you a visa), but if that's the case, we'll get it back to you before your flight.

If you're leaving from Salt Lake City, UT (SLC), an ILP employee will meet you at the airport and give your passport to you before you check in. If you are leaving from another airport, ILP will mail your passport to you so that it arrives a couple of days before departure.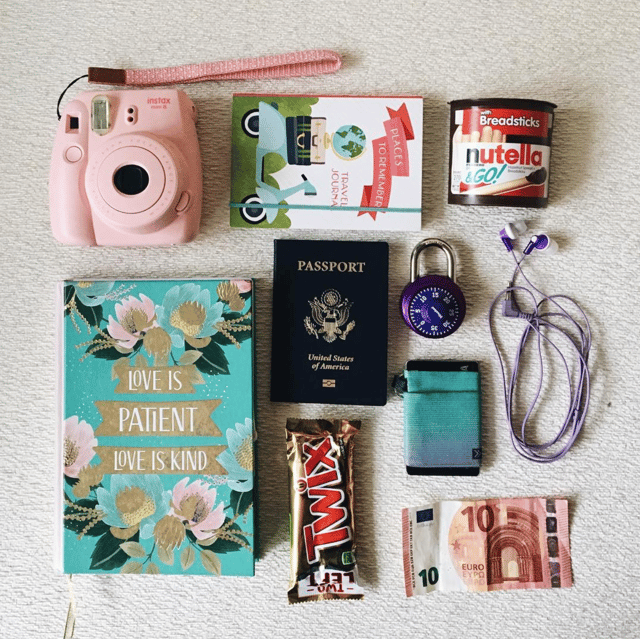 You'll also need your debit card or credit card to pay for any baggage fees, if there are any.
You do not need your driver's license to check in. We do recommend bringing it with you for your semester abroad because in the case you lose your passport, having identification can be very helpful. You can just tuck your driver's license away in your baggage though.
How many bags can I take?
You'll need to check with the airline you are flying with to see what their baggage policies are. Just do a Google search like "American Airline's International Baggage Fees". It's important to look at the international policy because that is often different than domestic.
There are two types of baggage: 1) carry on and 2) checked
Carry on baggage means that you will take these bags onto the plane with you and store them either below your seat or in a bin above your seat. You'll want to double check, but often airlines allow 1 bag like backpack or small rolling suitcase and 1 personal item like a small purse or laptop. Take note of any size and weight limitations. Some airlines are more strict than others about limits on your carry on so it's best to always follow policies to be prepared.
Checked luggage means that the airline will take the bags from you while you are checking in at the airport and you will pick them up again at baggage claim at your final destination. Many volunteers check 1-2 bags or suitcases, depending on how much you want to take with you.
It is common for airlines to charge a fee for the number of bags and also for a certain weight. If you look at the airline's policies and it says you can take 2 checked bags for free up to 50 lbs ... but then you check in and both of your bags weigh 52 lbs, don't be surprised if they want to charge you a hefty fee (usually upwards of $100 at least!). Many airlines do charge a fee for more than 1 checked bag. You just have to check on their website so that you can know for sure.
For example, we did a search for United's baggage allowances on their website and found that travelers going from SLC, UT to Vilnius, Lithuania would have a $100 fee for their second checked bag up to 50lbs. And yes, ILP volunteers are responsible for paying any bag fees.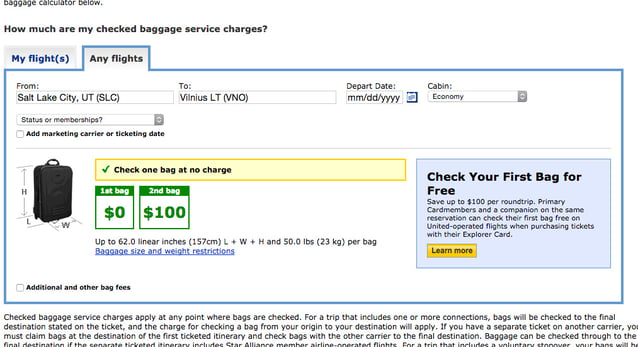 You just have to do your research and find out what the bag policy is for your flight. Airlines are always changing their fees and it depends on your destination. If you are having trouble finding the answer on their website, call customer service.
As we mentioned above, you will most likely fly with more than one airline. So which airline's policy do you look at? All of them! You will only be assessed any fees or weigh your bags the first time you check in and most likely they will follow the baggage policy of your international airline, but it's a good idea to be prepared for the strictest policy of any given airline you're on during the trip.
Also, we have tons of packing tips here! And be sure to check out part 2: how to check in at the airport (so you can get ready to see places like this!)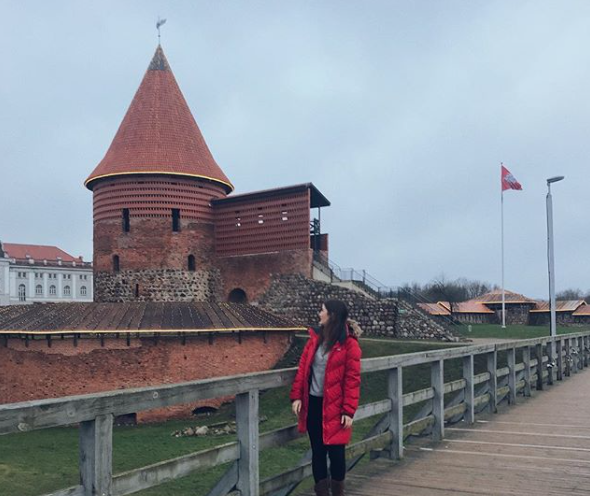 ---
If you're looking into going abroad as an ILP volunteer, let us help you decide if this is the right program for you! Schedule a call to speak with a representative who has volunteered with ILP already and can help you understand what the experience is like.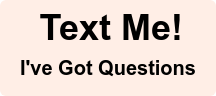 If you have any questions about how to prepare for your flight, ask them below!