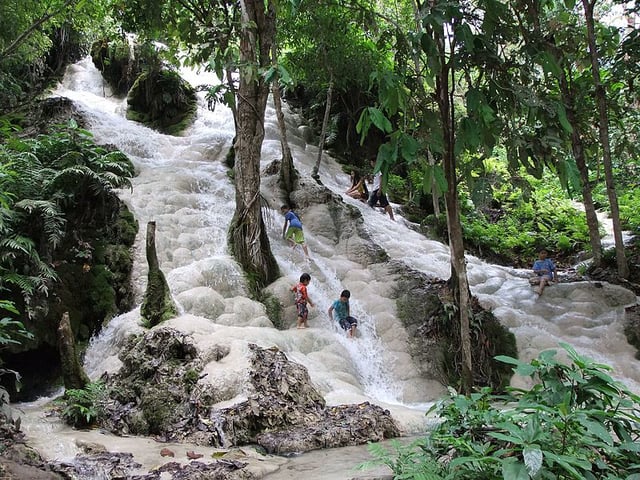 Chiang Mai, Thailand is known for having a variety of activities to do in and around the city. One of the most unique and impressive sites sits about an hour and a half away from the city ... the Bua Tong Sticky Waterfalls! What makes these waterfalls so unique? Keep reading to find out.
If you've ever visited a waterfall before, you know they are notorious for being slippery. There is no way you could ever climb up them, right? Well, the Bua Tong Sticky Waterfalls in Thailand are changing the game. The rock enables you to climb DIRECTLY up the waterfall without slipping. We're in.
What's the secret behind the falls?
The secret to being able to climb up the falls is the rock. The limestone rock is made up of a mineral deposit that is really grippy and never forms slime or algae. The rocks feels like a hardened sponge. It's a little prickly and hard to the touch, but does give in under pressure.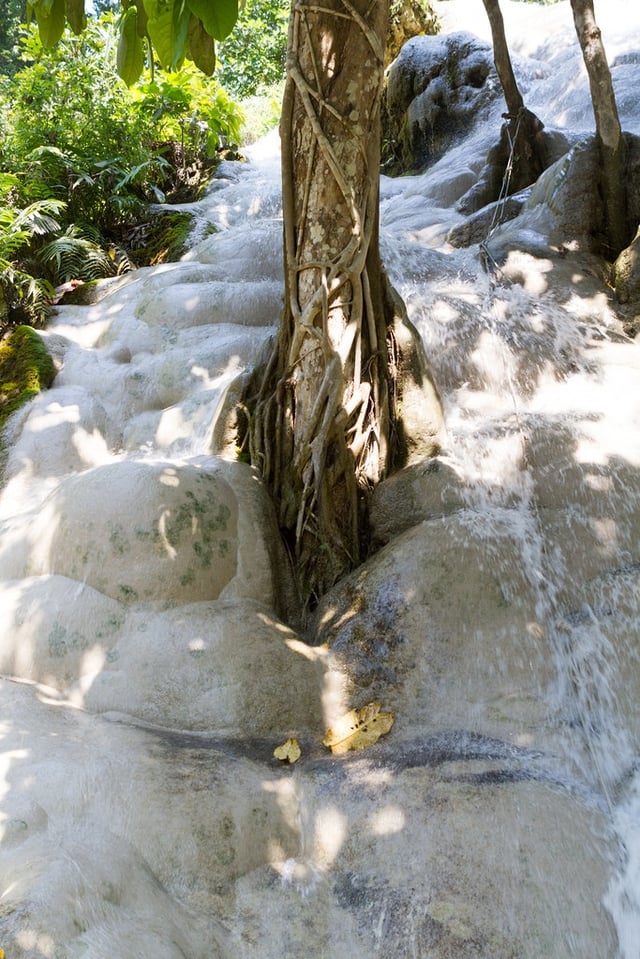 Before you plan a trip out the Sticky Waterfalls, make sure you're prepared and know the following:
Do I need any equipment?
What do I need to bring?
How can I get there?
Do I need any equipment?
This is the best part! You can climb the waterfalls without a single piece of equipment. You really don't even need shoes (although they are recommended just for the comfort of your feet). No ropes, carabiners or anything required. The rocks are "sticky" enough to scale with just your hands and feet.
What do I need to bring?
This will be a full day trip, so you will need to be prepared to be outside all day. Here are somethings I recommend bringing:
Food for the day*
Plenty of water
Waterproof camera (or a dry bag for your camera)
Swimsuit
Towel
Dry clothes to change into
Water shoes
Bug spray
Sunscreen
Toilet paper (there are restrooms there, but no toilet paper)
*If you want a hot lunch, there is a market about 5 minutes before you enter the park you can stop at. They make traditional Thai lunches you can grab along with some snacks and drinks if you didn't pack any beforehand.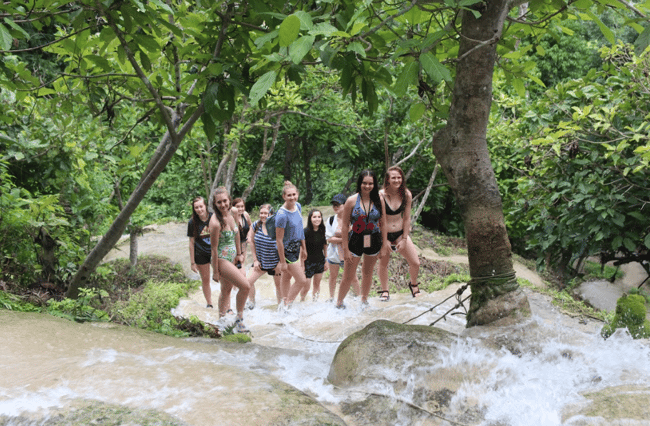 How can I get there?
It's easiest if you're doing a day trip from Chiang Mai, a city in the northern part of Thailand. We recommend coming here anyways because there's so much to do in and around Chiang Mai (like zip lining, hanging out with elephants, or seeing the White Temple in Chiang Rai).
From Chiang Mai there are a couple options. You can haul a songthaew (songthaews - essentially a thai taxi truck - hold up to 8 people and are cheap...great option for an ILP group) or book a tour.
Booking a tour is the easiest way to get out there, but also the most expensive. Some tours will run up towards $130, but you will also get to do more! It all depends on the tour you book, but some will take you to the market (mentioned above) before going into the park. They will also take you to the waterfalls and then to a zip line. Do your research and find the tour that offers exactly what you want. There are a lot out there.
The Sticky Waterfalls are surprising not popular with tourists, so you'll probably be surrounded by a few locals instead of swarms of foreigners. It's a great escape from the hustle and bustle of the city!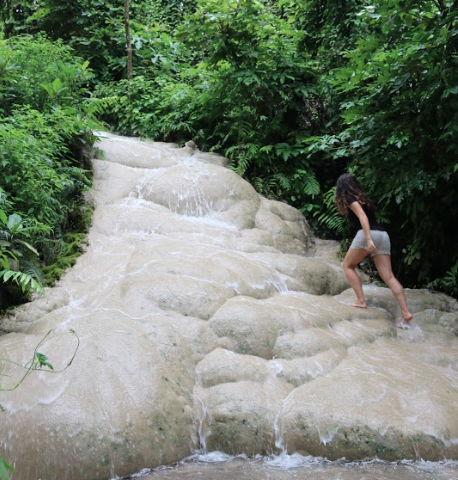 ---
Do you have a bachelor's degree? Maybe you're interested in getting paid to teach in Thailand.
Don't have a degree but still want to live in Thailand? No worries...you can become an ILP volunteer and serve abroad in Thailand without any experience.
Either way, ;earn more about places you can see with our Thailand Destination Guide, check out our ILP Instagram and click below: