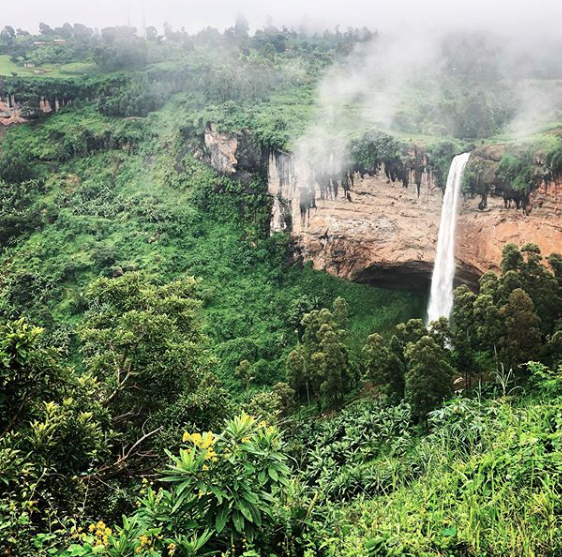 "It might be the most amazing place I have ever been to."
With a quote like that, how can you skip out on exploring these waterfalls when you're living in Uganda for a semester?
One of the biggest perks of spending an entire semester in a country is getting to experience all the things that most people miss if they are only visiting long enough to go on safari. Our current crush? Visiting Sipi Falls and having the luxury of hiking the elusive Wanale Ridge. Here's what you need to know about both.
---
Ready to really experience Uganda?
Come see what volunteering in Uganda is like with this guide.
---

We've chatted with an ILP volunteer, Kelsey L. who fell in love with this country before going to China with ILP ... and was just so in love with Uganda, she had to go back! Here's what Kelsey had to say about two of her favorite spots to see in Uganda: Sipi Falls and Wanale Ridge!
Info About About Sipi Falls (And The Views)
Hiking Wanale Ridge

Getting There

Places To Stay

Insider Tips
Info About About Sipi Falls (And The Views)
The falls get their name from a small trading center that is nearby, but the thundering waterfalls are really the main draw. Sipi Falls is a series of three waterfalls where you can spend most of you day climbing down to the base of one, only to climb up to see the other two.

The sites are amazing, and totally worth the trek, by the way. It's about a 4.5 mile hike if you do all three falls, so just prep for that, and some stunning views.
The Hiking Routes
The hike has a couple of different routes that your guide will take you to: You might hike high in the hills, through banana plantations and pockets of pine trees, until you round the corner and see one of the falls. If you arrive from the top, you'll need to climb down wooden ladders to the pool of the waterfall, where you can go for a swim in that first waterfall. Then you'll hike back up to admire the other two falls. There's also the opportunity to rappel down, which is a crazy, adrenaline-filled adventure we love!

Or, you might come from the base, where you can admire the pools from below, before hiking up wooden ladders to see the other falls.

There are hiking options that include a short 30 minute hike, or all day routes to see all of the falls and the surrounding views. We suggest seeing all three (don't worry, we have more details on how to do this below).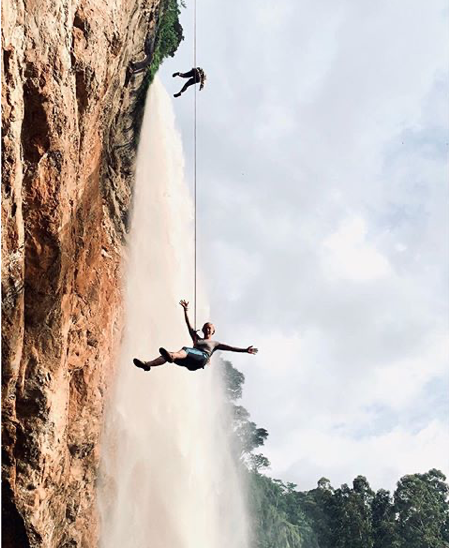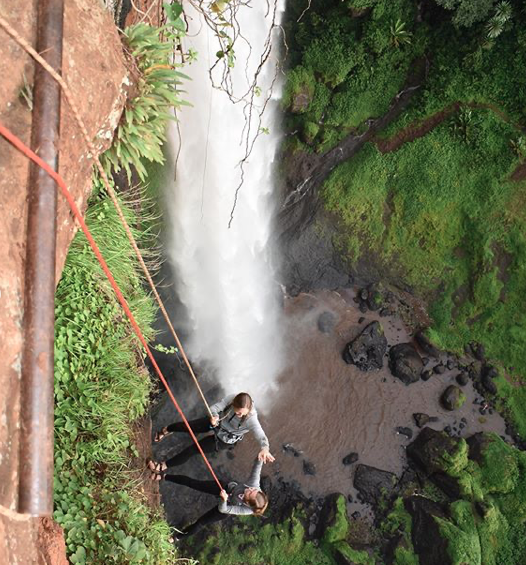 Going With A Guide
Whatever you have time for, plan on going with a guide. You have two options: paying a local guide once you get there, or by chatting with your hotel. Or the guide you'll hire as a part of a tour if you go with a tour company.

If you go with a local guide .... Plan on paying 2,000 - 5,000 schillings for a local guide (usually kids trying to earn money after school). You can find a few kids willing you show you the way in the village. If you have room in your budget to pay more, it goes a long way.
If you hike with a guide once you arrive, we vote going with someone from Casa Lodges, which is our favorite place to spend the night up by the falls.

Info About Hiking Wanale Ridge
If you want another nearby adventure to make a weekend trip into a 4-day adventure, you have to hike Wanale Ridge! You'll visit this spot right outside of the city of Mbale, which is about 1 hour away from Sipi Falls, making it a fun add on that's right around the corner.

Climbing Wanale Ridge is one of the hidden gems of this country. It's a popular (and more intense) hike that will take you over to some new waterfalls and completely new views …. a total "can't miss" according to Kelsey.
What Is The Hike Like?
To give you an idea of what to expect, Kelsey said that it was "the craziest hike I have ever been on, complete with mudslides, branch ladders and waterfalls" but once you get to the top, you get an amazing view of Mbale city.
The tour she went with sets you up with camping gear (a tent, sleeping bag, stuff for a fire, and your meals) so you can camp out at the top of the waterfall once you complete your intense hike. Then, they take you back to Mbale after you watch the orange-and-pink sunrise light up the rolling green hills. Kelsey went with a guide at the Casa Sipi Falls Lodge.
Kelsey did this hike "and it was one of my favorite weekends of my life" which is hard to argue with!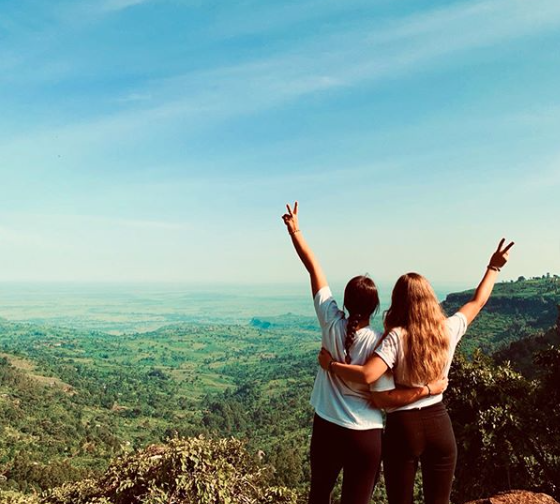 Going With A Guide
Set this up with Casa Sipi Falls Lodge— we have their contact info below under "Places To Stay". Or you can contact Denis who is our go-to man for all the safari adventures. You can contact him on WhatsApp here: (+256 759 046262). He also arranges tours to the Wanale Ridge and Sipi Falls.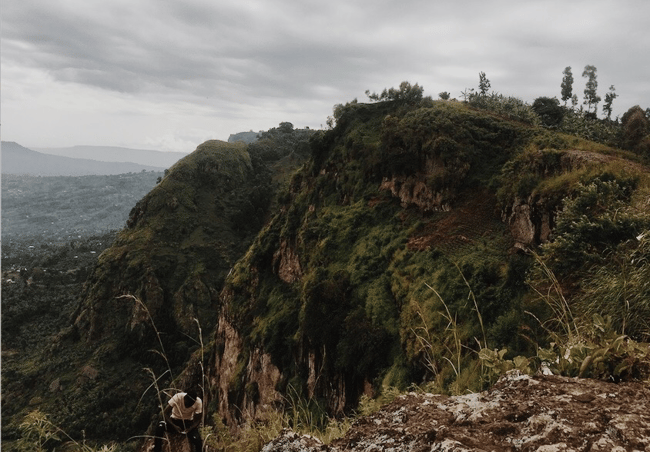 Getting There
To see Sipi Falls and to hike Wanale Ridge for yourself, you'll need to head to Eastern Uganda — the area is pretty close to the border of Kenya (another favorite vacation spot, by the way).
Kapchorwa is the name of the district where you will find the falls, situated right on the base of Mt. Elgon National Park. Wanale Ridge is a part of that same Mt. Elgon National Park, easily reached from the city of Mbale.
From Kampala to Mbale
It'll take about 4-6 hours to get here from Kampala, making it a good weekend adventure. You can work with your ILP coordinator to set you up with a driver to can take you directly there. Buses are about $15. If you book with a tour company, they may already include transportation.
On your drive, you'll pass through Jinja (where you go whitewater rafting on the Nile) and through Mbale, which is a fun stop over city.
Head's up: There is a bus from Kampala to Mbale (it takes about 4 hours, and costs about $4-7) then you can hire a taxi from Mbale to take you to the falls if you want to test out public transportation.
Getting to Wanale Ridge From Mbale
Mbale is the jumping off point for this tour (it's about 6km away). You'll need to go with a guide or tour company, which traditionally arranges transportation from Mbale. We have a recommendation below, with Casa Sipi Falls Lodge.
Getting To Sipi Falls Via Kapchorwa
After Mbale, you'll head through Kapchorwa, and into the slopes of Mountain Elgon. The sites here are stunning, a sloping road of red dirt and a dense green forest. So pretty! If you're staying somewhere by the falls, they can arrange transportation to get you to Sipi Falls from Mbale.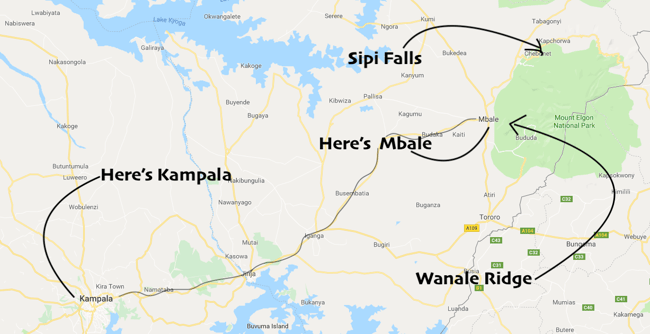 Places To Stay For Sipi Falls
Since it's a bit of trek to get here from Kampala, you can find a couple of places to stay right near the falls, letting you arrive in the evening, get a good night's rest, then wake up early for a hike.
Our pick? Casa Sipi Falls Lodge.
It's very close to Sipi falls and you can stay in rooms that look like traditional huts, but with some conveniences you recognize from home (like a plumbing and a comfortable bed, along with WiFi and power sockets so you can charge your phone). Kelsey also mentions that "the lodge does offer some activities you can take advantage of, like a morning walk to see the sunrise, a walk through the forest to see a few more waterfalls, and a coffee tour where you can make your own coffee from beans".
Room prices range, but you can get a double room for $60 and a triple room for $80 a night, which includes breakfast. Not bad if you're splitting that with a friend or two.

Get more information here.
After you stay the night near the falls, you can arrange pick up for hiking Wanale Ridge with them, which is super handy.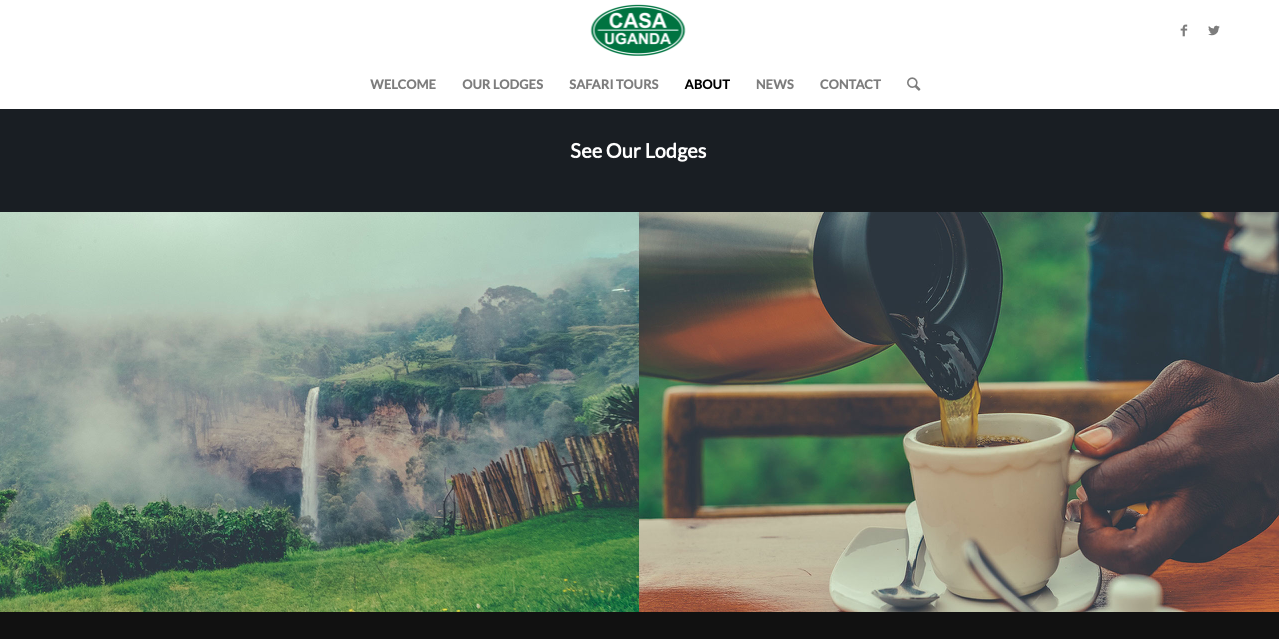 Insider Tips
A Bit About The Hikes
The hike to Sipi Falls is "pretty hard so be aware of that" according to Kelsey. "But once you get to the bottom waterfall, you can repel down the side of it which is basically epic". Plan on paying about $50 USD for that epic experience.
If you don't want to hike the falls, you can hire a taxi to take you up and back to a pretty viewpoint.
The hike to the ridge is rustic, with piles of branches to climb up instead of ladders and some muddy pathways. Plan on going slow and being careful to get those stellar views!
When To Visit?
Year round is a good bet, though the power of the falls will fluctuate according to all the rain. In the rainy season (usually months like March, April and May get the most rain, though it tends to rain a bit more in November as well) you'll see a fuller, more powerful waterfall and more greenery, though every other month of the year is worth visiting in, too.
Just so you know, if you visit when it's rainier, you'll have to deal with mud when hiking, along with greener views.

Like we mentioned before, you'll need 3-4 days to visit Sipi Falls and Wanale Ridge, or you can break it up and visit both on two separate weekends.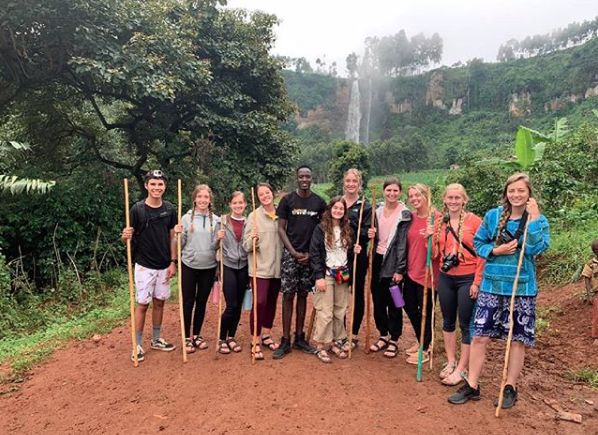 Ready to pack your bags and come to Africa?
We thought so! Come see what at typical day looks like, more pictures of the country (and neighborhood) you'll call home, and other info (like what to expect before living in Africa) you'll need before packing up your back and living in Uganda!