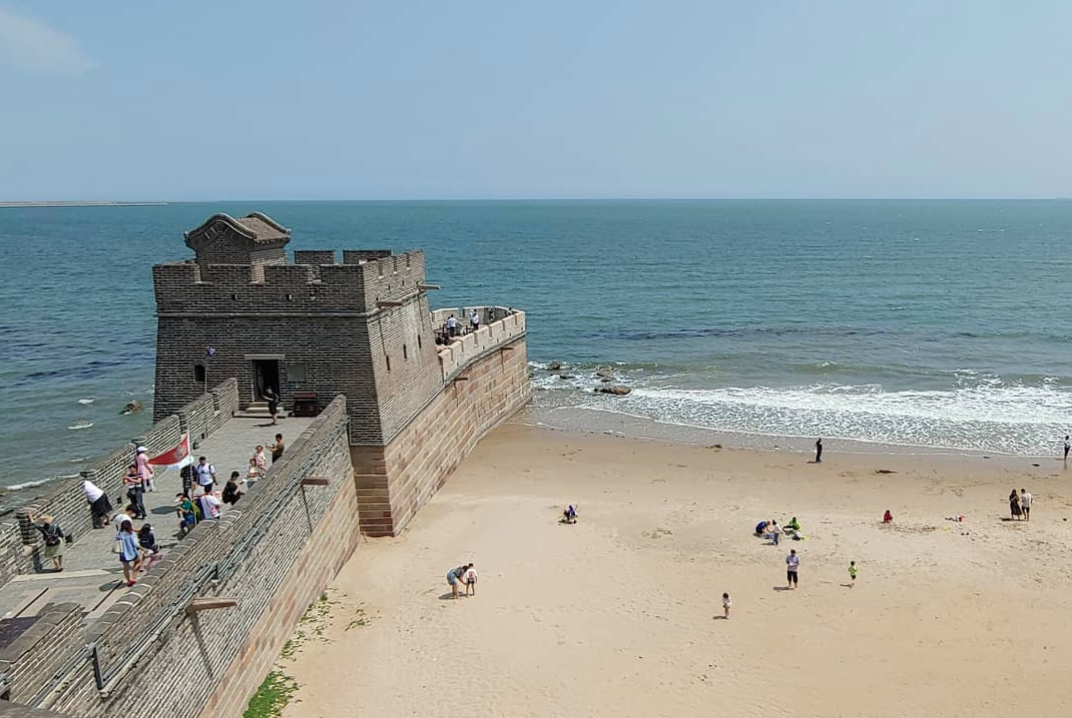 Hang out on the Great Wall of China and have a day at the beach? Count me in.
This country is here to surprise you — come see one of the most iconic sites in the world and catch some rays when you hang out at a particular section of the Great Wall's Shanhai Pass. This massive wall snakes its way across thousands of miles, but only one section ends right on the Bohai Sea. Talk about a bucket list adventure!


---
Thinking of spending some time in China?
Volunteering in China was one of the coolest things I've ever done
---

Visiting the Great Wall is something every tourist needs to experience. There are multiple sections of the wall to see but if you're really looking for an adventure, I say skip out on the touristy sections and do something like camp overnight on the Wall or hang out on the beach where the wall dips into the Bahai sea. If you're a fan of that section option, keep reading for all the info you need to plan your visit:
About The Shanhai Pass
Costs + Other Details
Getting There & Back
A Few Tips For Your Trip
About The Shanhai Pass
These walls have stories to tell. Shanhai pass translates to the meeting of the mountain (shan) and the sea (hai) and was a huge strategic fortification against Mongolian invocation from the north. While this entire section of the wall is what protected China against invasions, the part you're probably interested in is the "Dragon's Head", or Laolongtou — that's the eastern most section that ends right at the Bohai sea. A visit here and you can see why this section is named after a long dragon: the wall resembles a dragon dipping its head into the water for a drink.
Make sure to leave ample time on your visit to hang out on the wall (there are a few restored towers to explore) and then spending some time at the beach if the weather is warm. There's lots to see here!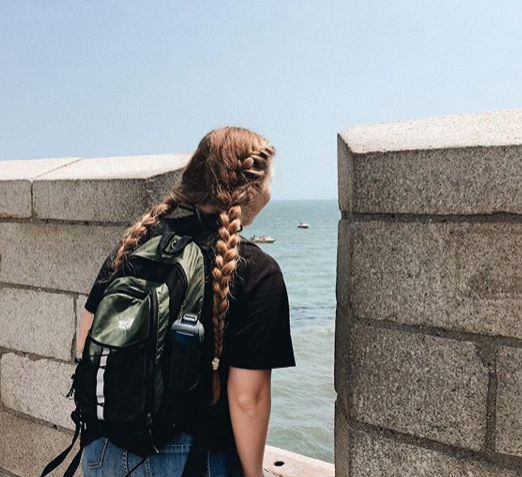 Things To Explore At Loalongtou
This whole section (known as the Laolongtou section of the Shantai pass) has a lot to see: it's not just about seeing the last tower of the Great Wall dipping into the ocean. The area is set up like a square, with the North Entrance typically where most tourists start their Great Wall Adventure. You'll climb up to the wall and explore the North Entrance Tower and museum inside, before turning right (going west) to walk around the perimeter. Peek down and see the archery field, and make your way to the West Entrance (another tower). You'll keep walking along the restored wall until you can make a left turn (heading east) until you reach the main tower, Chenghai Tower.
Chenghai Tower has a few windows where you can get that classic "wall and the water" picture — Chenghai Tower opens up into a straight section dotted with three towers: NanHaikou Pass Tower, Jinglu Beacon Tower, then the most famous one, Entering Sea Stone Wall. This site outlines this all in a little graphic to help you visualize all of this. Along the wall, there are some old and original sections preserved under glass so you can see what the wall used to look like, compared to the restored section you're walking on.
Off the wall, down along the western side there's a Sea God Temple which was built to help the fishermen in the area. It's hundreds of years old and has been restored a few times. Now, tourists can climb up to the drum tower, hop onto the walkway that leads to a pavilion situated in the ocean.
And of course, there's the beach. You'll find golden sand, some rocky outcrops, and a few families and tourists walking along the shoreline (looking for shells). If you plan on swimming, best to visit in the summertime when the water is still chilly, but warm enough to take a dip.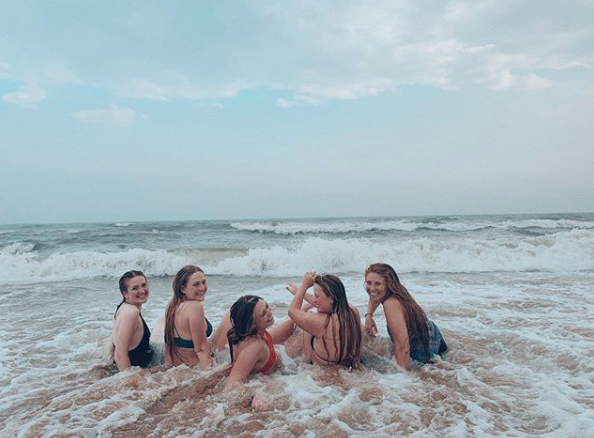 Costs + Other Details
Shanghaiguan Section has two seasons, with a different prices and costs depending on when you visit
May to October: 7:00 AM to 6:00 PM, 50 RMB
November to April: 8:00 AM to 5:00 PM, 20 RMB
Getting There & Back
The wall is found around the city of Beijing, but you'll want to arrive by train to Shanhaiguan Station. There are several trains that can take you from Beijing to Shanhaiguan that take anywhere from 4 - 12 hours (those longer ride, the 10-12 hour ones are overnight trains), but you can check out other routes if you're not starting in Beijing. For all things trains and planes for China, my go to for booking tickets is on Trip.com.
Once you get to Shanhaiguan Station, you have a couple of options. Across from the train station, find the bus stop for bus #25 which goes directly to the Laolongtou Scenic Area (老龙头路口北). It's about a 25 minute ride and it's a 2 RMB cost for the bus. Once you arrive at the Laolongtou Scenic Area, it's a short 200 meter walk to the tourist area where you'll see where to get tickets for the wall and be able to climb on up once you pay.
Others hop in a DiDi, which is kind of like China's version of Uber.
Some tourists also go to the Hubei Province Tours Centre, where there are day tours available in the peak season. It's typically 200 RMB which gets you a guide, taxis back and forth between the station and the section of the wall, plus your entry fees. However with a tour you're less in charge of your timeline so your time on the wall and on the beach may be cut short.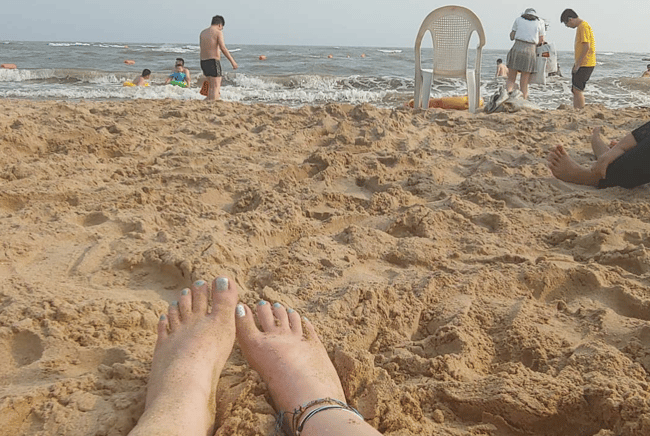 A Few Tips For Your Trip
It's An All Day Thing
There's quite a bit to see on the wall, plus the beach. If you're planning on just seeing the beach and the coastline, most tourists tend to take 2-4 hours exploring, but those who are swimming will want more time. Nearby the wall and on the beach, there are some gift shops, some small cafes, and restrooms you can use to change in and out of your swimming suit.
Staying Overnight
If you're not able to fit getting to Shanghaiguan, seeing the wall, then heading back to Beijing (or wherever else you are traveling), this section of the wall is about 3 miles away from the town of Shanghaiguan or in the farther away city of Qinhuangdao. As a heads up, not all hotels, hostels, motels, etc are allowed to take in foreigners, so your options are a bit limited. You'll find way more options in the city of Qinhuangdao, though but you'll need to factor in some travel time because the city is more like 10 miles east of the LaoLongtuo section.
Great Wall Tips
Looking for a few more tips on visiting the Great Wall? Here they are, all in one spot. Get info on other sections of the wall, things to pack for your visit, and a couple other tips if you're looking to visit another section while you're in China.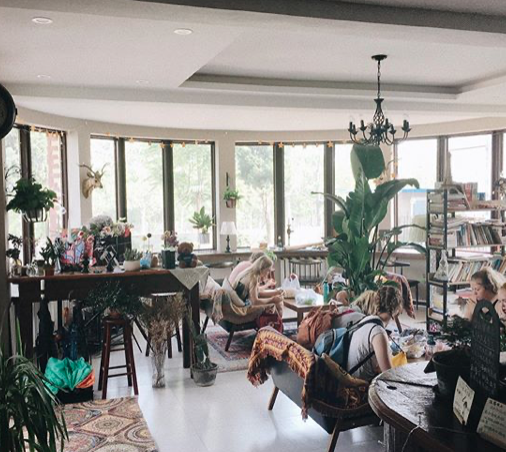 Have China on your mind?
Come volunteer here for a semester with ILP! Volunteers are set up to teach English part time, and have weekends off plus some vacation days to explore your favorite adventures in China — I was taking weekend trips to Shanghai, vacation time in Beijing, and the chance to relax in the lush jungles in Southern China ... and taught the cutest kids. Come have the same experience!