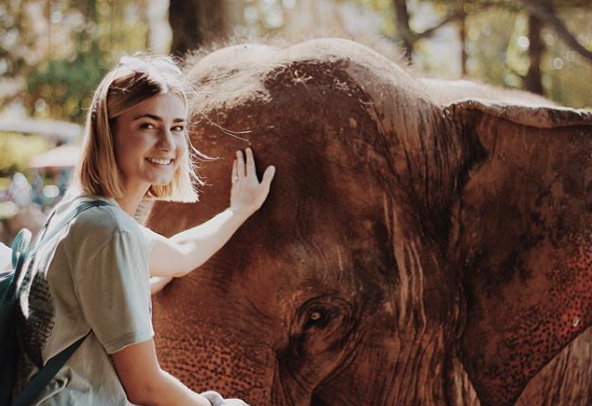 You might think that riding elephants is only something you can do in Thailand ... but our lucky volunteers who are living in China for a semester can have the same experience ... plus a few others that are only available in this country!
Oh China. There are some things we knew we'd love about you but there are a few unexpected surprises that make us love you even move. We knew you could see pandas in China, but who knew about the vacations to the unreal mountains of Zhangjiajie or Yangshuo — I mean, you can't vacation in Southern China without visiting both of these spots.
But one major surprise might be the chance to hold baby tigers, hang out with lemurs and even ride elephants!
Don't miss what China has to offer — our favorite spots and insider tips are all here, in our China destination guide.
We have two favorite places to go to in China for stuff like this during your semester living abroad in China. The Chimelong Siangjiang Safari Park in Guangzhou, China and the Shanghai Wild Animal Park in Shanghai, China.
We actually like both but we recommend going to the Shanghai Wild Animal Park for some specific reasons listed below...it's our favorite. But here are the pros and cons of both:
Chimelong Xiangjiang Safari Park in Guangzhou
This place is HUGE, has a ton of different attractions and an astounding 60 white tigers live there! Here is our list of highlights:
The Excursion Train
See numerous animals up close and personal; it's like a Safari tour and it's awesome.


Visit the breeding/nursery section
This is where you get to hold baby tigers, lions, cheetahs etc. Usually there are lions or tigers and you can feed them for an additional cost. (This place does close earlier as well, so get there before they close).
The animals are well cared for
The animals look happy and there are people there watching to make sure people don't abuse them or thrown harmful things into their cages.


The park is HUGE
Don't underestimate the size of the park by looking at a map. This is a place you could easily spend a day or two in if you wanted to. I suggest choosing the highlights and go there.


Events and Shows
While some shows are awesome, there are others like the Panda Show which seem weird and pointless. Take a while to go to one or two of the shows that sound interesting for a fun and a unique experience.


There is a Panda Exhibit!
This is exciting because you know...Pandas are sort of popular in China.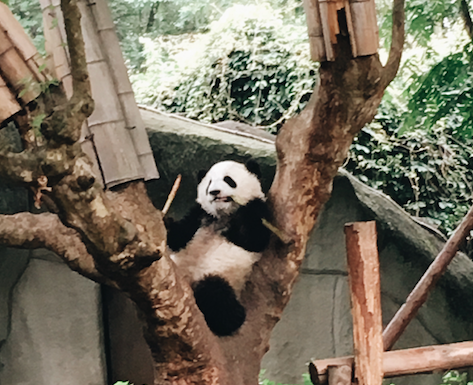 You can ride an ELEPHANT!
The cost to ride an

elephant is either 150 RMB (roughly $24 USD) for 2 people or 100 RMB (roughly $16 USD) for 1 person. So, if you have been dreaming about riding elephants in China, now's the time to do it.
It's easy to get to + operating hours
It is a 15 minute walk from Hanxi Changiong station on metro line 3. And it's usually open all week from 9:30 AM to 6:00 PM. You can only buy tickets before 2:00 PM, so get there early. Also, pay attention to what parts of the park close early.


The main negative thing is the price
Tickets are 180 RMB ($26) per person in the off season, and 250 RMB ($36) per person during holiday seasons. But you can obviously tell that the price goes towards keeping the animals happy and the park clean so it's not too much of a sacrifice.


Another downside ... the food
They don't let you take food in except for liquids. And the food at the park is pretty expensive (so pack in your own snacks).


...Sorry for volunteers living in Central or Northern China!
For those of you who are living in Southern China while teaching English with ILP, it is a prime location. However, if you live in Central or North China then you have quite the train ride ahead of you.
For those of you who don't want to spend so much time and money traveling further away than you need to...go to the Shanghai Wild Animal Park!
The Shanghai Wild Animal Park
This park, (not to be confused with the Shanghai Zoo) is really awesome! It is a bit smaller than the Chimelong Siangjiang Safari Park but is just as good, if not a teeny bit better. There are so many cool things to do here too...here they are:
Feed lemurs on lemur island
This is very close to the entrance which means it should be your FIRST stop. We recommend bringing bananas, apples, raisins, etc. and feeding the lemurs. Hey...you may even get one to jump on you!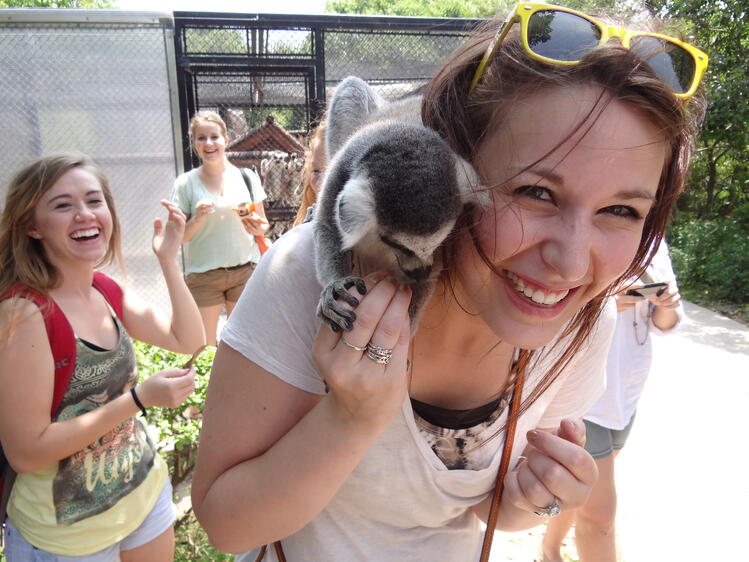 There are pandas here too
The panda exhibit is really neat because it has not only black and white pandas, but golden pandas as well. It also has info on the walls in English about the pandas at the park.


Next to the pandas are giraffes
And your ILP group can feed them. Take a break from walking everywhere and make a friend...just watch out for those tongues!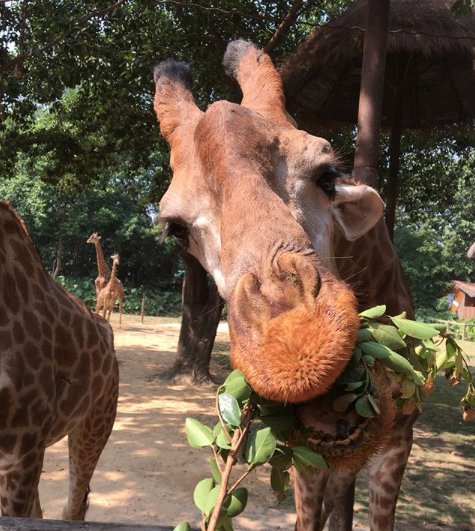 You can also hang around with Kangaroos and Flamingoes


Since this is a quite large park/zoo, use either shuttle buses or rent a 4-person bicycle for the day
It does cost a bit (around 300 RMB - $46) but if you don't want your feet to kill you after you're finished walking around during the day, do it!


Don't miss your chance to ride along in the caged buses for the safari!
This does close earlier so make sure that you get there in time to stand in the line. Also, when buying your ticket to get into the park, get the full ticket that includes the price of the safari ride in it. This is really one of the highlights of the Shanghai Wild Animal Park.

It is so fun to be right next to animals, especially because every once in a while the bus driver will stop and the animals (tigers, cheetahs, bears) will come right up to the bus and grab some snacks.
Yes...you can ride elephants here too!
For around 120 RMB for a ride, or pay 20-30 RMB more to have the elephant pick you up with their trunk and hold you up high.
There are some shows here...but the main event is the baby animal section.
You can feed fish, hang out with some baby lemurs, watch the 'teenage' tigers and lions hang out and play, see the baby wolves and coyotes, and watch the baby bears hang out. AND you get to hold baby animals here! (Like lions, tigers and cheetahs).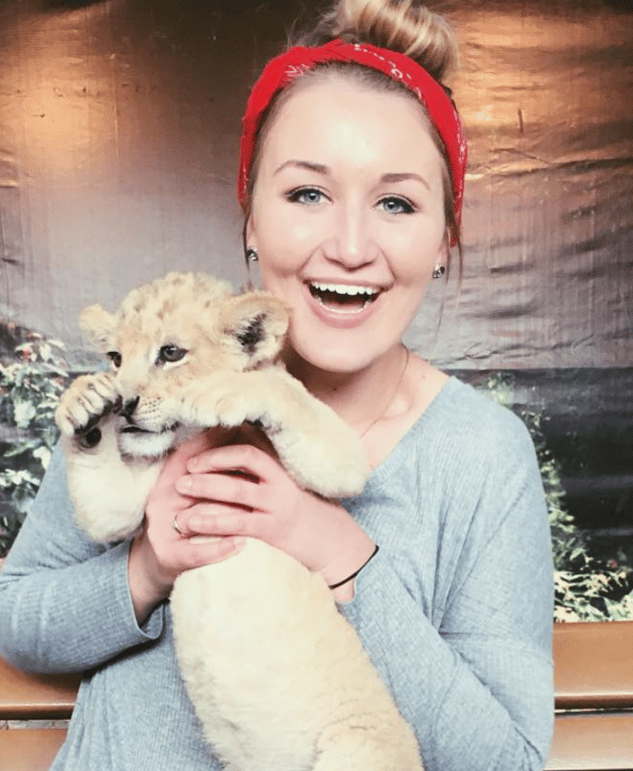 The Price
At 130 RMB ($18) per person for entrance, it's already almost 100 RMB ($14) cheaper than the Chimelong Park! And you can get a student discount — Be assertive and change booths if someone won't give you the discount with your ISIC card or student ID.


The location
Lots of people already vacation in Shanghai (hello, Disneyland!) and it's easy to get to. We recommend taking the metro there and then either walking or grabbing the bus to the zoo. Just tell the people at the front desk of your hostel that you want to go to the Wild Animal Park and they will give you directions.
So, in conclusion, both parks are awesome but are different experiences. If ILP China volunteers want more of a park experience, go to Chimelong Xiangjiang Safari Park in Guangzhou. But if you just want to hang out with lemurs and feed a lot of animals and not pay as much, head over to the Shanghai Wild Animal Park (again do not go to to the Shanghai Zoo, it's a totally different experience).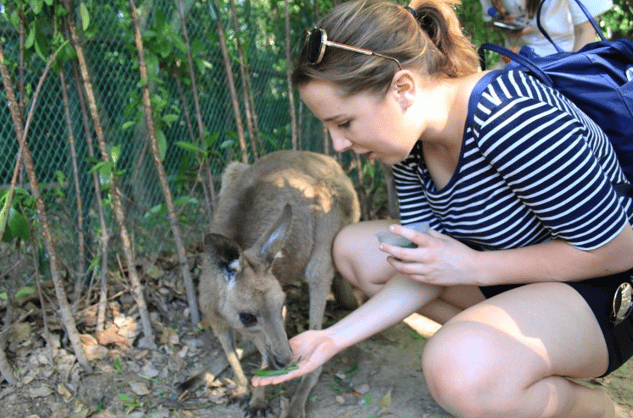 ---
Want more tips on what to see and do in China? Click here. Or click below to see even more pictures of this amazing country: