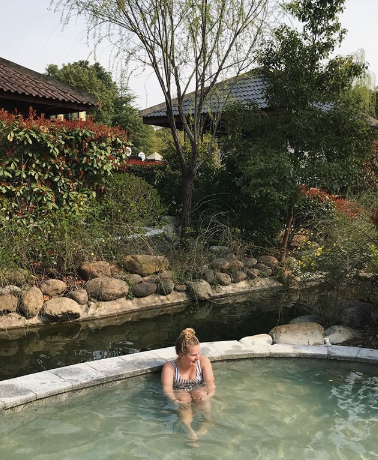 There is so much to see in China and sometimes you'll feel like you're constantly going, going, going if you try to see it all (which you should). Take a day to relax and spend time at these amazing hot springs near Nanjing, China. It's highly recommended by ILP volunteers who live there.
When you think hot springs you're probably thinking of something totally different than what you'll find at these springs in China. The springs are one of the most gorgeous places and with over 25 different springs, there's a lot to keep you busy.


---
China is a huge country. So, how do you know what else you should do there? Our China Destination can help you out!
---

If you're in (or nearby) Nanjing, here's all the info you need about these springs so you can get there easily on your semester with ILP.
What Do I Need To Know About The Springs?
Which Hot Springs Should I Go To?
How Much Time Should I Spend There?
How Do I Get There?
What Can I Do There?
What Does It Cost?
Should I Really Visit The Springs?
Which Hot Springs Should I Go To?
There are a couple different hot springs in Nanjing, but the place that is most recommended by ILP volunteers is called Tangshan Easpring Resort (translated as "Soup Mountain"). This is the most beautiful place in our opinion and will get you the most bang for your buck.
How Much Time Should I Spend There?
We recommend spending a whole day at the springs because there is just so much to do. If you are volunteering in Nanjing you can get there fairly quickly and make it a day trip. If you are volunteering outside of Nanjing try to spend a weekend there so you have a full day at the springs. Here's more info about our favorite places to hangout at in Nanjing if you do stay for a weekend.
How Do I Get There?
Getting to Nanjing
Nanjing is a major city situated just outside of Shanghai (from there, it's about 1.5-2 hours by train and tickets typically run around $20-30 USD each way).
We love Trip.com for booking train tickets and checking out times (there's multiple trains running between Nanjing and Shanghai every day). It's a perfect short trip if you're vacationing in Shanghai and looking for things to do or if you're volunteering with ILP in a school in or nearby to Nanjing.
Getting to the Springs
There are a few different ways to get to the hot springs. The two below are the best ways to do it.
Here's the address to have on hand: Quanhua Rd, Jiangning Qu, Nanjing Shi, Jiangsu Sheng, China
The First Route (fine but not recommended):
Madison H. volunteered in China and shared some great info on how to make it to there. This way will be a little longer and you should plan on it taking about two hours to get there (depending on the time the bus leaves). She shared the following steps.
1. Take a train from your location to either Nanjing Station or Nanjing South Station.
2. Get on the Metro and take the Red Line to Xianhemen
3. Go out of the station and turn left towards a big building with lots of places to eat.
4. Walk through it and there will be a bus stop on both sides of the road. Get on bus 208 heading right. Ride this bus for about 45 minutes and get off at Tang ShanXi stop.
5. From there walk up a tiny bit and you'll see a bright blue paved walking road. Walk along that road for about a mile through a little valley.
6. When you get to the intersection turn right and you'll see a giant sign that says EASPRING RESORT. On google maps its is called "Yishang Hot Spring Convention Center" (The dotted line below is the walk you take).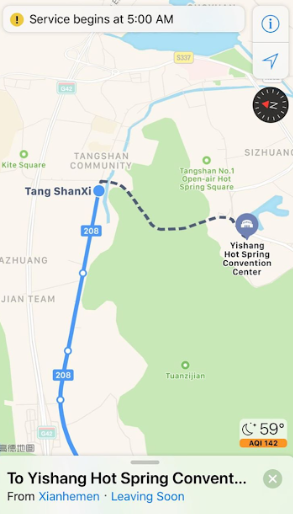 The Second Way (What we recommend):
If you want to shorten your time traveling and make it a bit easier follow steps 1-3 and then grab a Didi (like the Uber of China) to get the rest of the way. A Didi can be split between you and the other people in your group and should only cost about $5 to take from the station. Check on the price before to make sure.
Bronwen M. recommends to get there following instructions for the second way. She says: "TAKE A DIDI. It's so worth it! We waited in the hot sun for 45 minutes for that bus to arrive. The ride in our Didi was sooo much easier!"
What Can I Do There?
There is a lot more to do than just sit in a warm pool of water! Here are a few of the things offered.
The Springs Themselves
There are about 30 different pools you can relax in. Some pools are just plain and others have coconut milk or herbs (lavender, jasmine, mint, etc.) swirling around in the water. Most of the pools are warm but there are colder ones you can ask for if you want to cool down.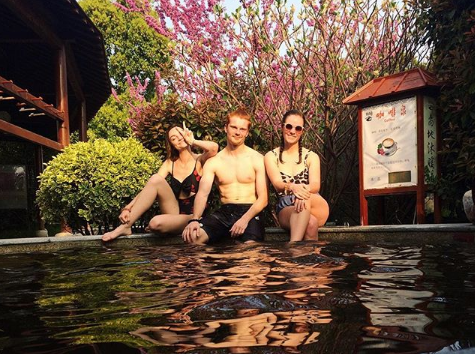 Snack
There is a lounge at the resort that has yogurt, pastries, and fresh fruit to snack on. They also give you silky pajamas to relax in while eating your yummy snacks.
Explore
Spend time walking around to see what cool things you find at the springs. There are gorgeous waterfalls, fountains, and more. Make sure to get good Instagram shots (if you're there in the spring, you might be able to get some pictures with the flowers in bloom).
Fish Pedicure
There are also pools that are full of doctor fish. Instead of just getting a fun fish pedicure (read all about that here!) you sit in a pool and the fish are all over your body! Crazy and something you can't miss while there.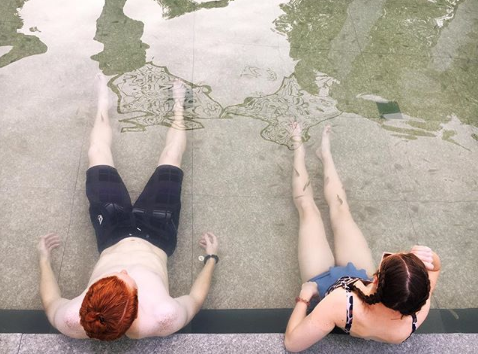 What Does It Cost?
Staying at the resort is super pricey so we'd stick to just the hot springs. It is about 200 yuan a person (about $29 USD), but you can possibly get a discount if you go in a group. Just ask at the front desk.
What's included: The cost includes all the pools, the lounge with snacks, silky pajamas, robes and skippers to wear while there, free soda, lockers, and towels.
What's not included: Meals are not included with the cost. There is a restaurant there but our ILP volunteers reported that they didn't think it was very good and kind of pricey. Your best bet is to bring your own food. Any other spa packages like facial or massages are also not included.
Should I Really Visit?
Don't take my word for it, these volunteers went and loved it!
Madison H. says:
"Overall it was one of the coolest things we did! The pools are absolutely beautiful (I think about 30 were open) and the greenery around them was incredible! It was like a Chinese garden... I would 10/10 recommend!"
Bronwen M. says:
"DEFINITELY. We spent a whole day relaxing in these amazing hot springs and eating pastries! I never wanted to leave. It was the best way to relax after a crazy week of teaching 1st and 2nd graders! :) When it comes to treating yourself, I think a $25 spa day is an excellent choice!"

A semester abroad in China will change your life.
You will love the people you meet and the incredible things you get to see. A quick week trip is cool, but if you want a real taste of China a semester abroad is the perfect way to do it!

Click the button below to learn more about China and what you will experience while volunteering there for a semester!