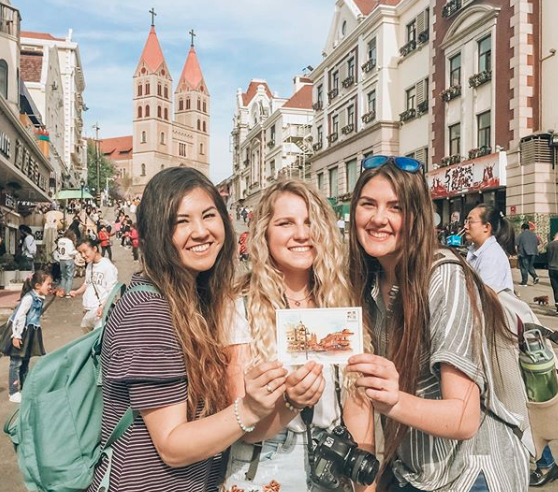 Mix Germany and China and place it right next to some golden sand beaches and you have Qingdao.

Tucked up near the Yellow Sea on China's north eastern coast, Qingdao has a European-influenced flair, paired with a huge Korean population, so head here for cathedrals galore and Korean dishes without even leaving the country. Volunteers who have visited remember this place as the "city with beautiful architecture" which quickly becomes apparent when you stroll down the Germany Old Town or peek at French and Swiss mansions in one particular park. To really seal the deal, the city sits right on the coast so once you have your fill of the city, wander out towards the sandy shores for a day at the beach. Who knew China was hiding such a gem?


---
What else is China hiding?
Here's your glimpse into volunteering in China
---


ILP volunteers living in China have the chance to come teach English (no experience necessary) but also have loads of time to travel around this huge country. With tons and tons of places to choose from, the city of Qingdao makes for a rad weekend adventure for more than a few reasons:
Things To Do In Qingdao
The Beaches

Eat At These Foodie Streets
Nearby Adventures
Getting To Qingdao
Things To Do In Qingdao
See Zhan Bridge
One of the landmarks of this city, Zhang Bridge is a road that plunges right into the ocean and leads tourists over to a little platform topped with a pavilion, like a mini island in the ocean. The road started as a small pier, built in 1891. At the time Qingdao was a tiny fishing village and didn't have a pier large enough to greet the imperial envoy Li Hongzhang who was coming to inspect the city. Once the city grew to become the important port city it is today, the pier was abandoned and turned into the iconic landmark it is today. The locals say that if you don't visit Zhan bridge to your visit in Qingdao, it's like you never visited, so make sure you stop by!
Getting Here: Ride metro line 3 to Qingdao Railway Station (take exit G) and walk for about 10 minutes (south east) to arrive at the coast (and the bridge).
Hours: The bridge is open 24/7 but the Huilan Pavilion is open from 7:00 AM to 7:00 AM (April through October) and 8:00 AM to 5:30 PM during November to March.
Visit May Square
It's the largest public square in the city, found right in the middle of the business district. It's named after a huge nationwide protest (the May Fourth Movement) which started in Qingdao. The movement was sparked by the Treaty of Versailles which transferred Germany occupation to Japan, rather than giving sovereign authority back to China. There were huge demonstrations on May 4th, 1919 which influenced the delegation to not sign the Treaty of Versaille (but did sign a separate treaty in 1921). The square is really recognizable for the large "May Wind" (五月的风) sculpture right by the seaside. Don't forget to grab a few pictures here!
Find it: 35 DongHai West Road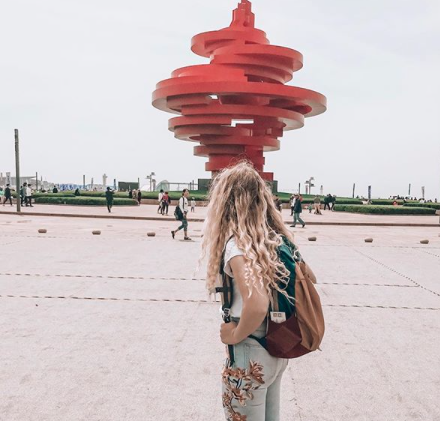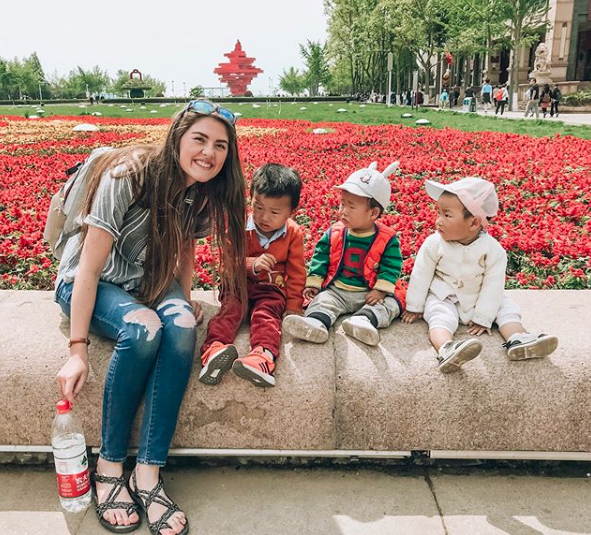 Badaguan Scenic Area
Something that makes Badaguan so popular is the architecture. The entire area is covered in garden-like villas and buildings styled in twenty different ways. You'll see homes and buildings styled from countries like Russia, Germany, the USA, Spain, Japan, Switzerland, etc and more. It's quite the experience, walking through the tree-lined boulevards with a huge ivy-covered castle on your right and a stacked Japanese pagoda straight ahead. It's also the number one spot to take wedding photos, so see how many brides and grooms you can count (the record is 25!).
Getting Here: Ride metro line 3 and exit at Zhongshan Gongyuan (take exit C).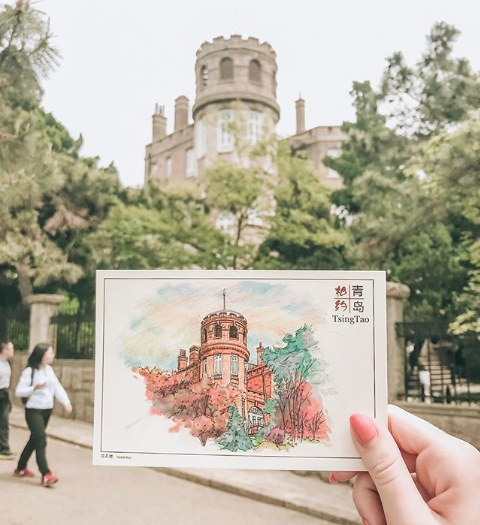 The Views At Signal Hill Park
Anyone up for the best view of the city? Visit Signal Hill Park. Once you reach the top, you can pay a small fee (15 CNY) to climb up the rotating "mushroom" tower which gives you a 360 view of the city below you: spot the old German buildings, the towering Protestant church, an impressive Catholic cathedral, the pier stretching into the ocean, and more while you sit and enjoy the view. On your way back, wander around to find the love lock bridge where newly married couples add a lock as a way to "lock in" their love.
Getting Here: Head towards Signal Mountain Park (信号山公园). There are a couple of bus stops near the park, or it's a 10 minute taxi ride from the Qingdao #1 Bathing Beach if that helps you orient yourself.
The Blossoms At Zhongshan Park
If you'll be visiting in the spring, this park hosts a cherry blossom festival just like the one in Japan. Come during April and May and see huge boulevards of cherry trees in bloom, scattering the park with those pink petals …. there are some 20,000 cherry trees that all explode into clusters of flowers (it's gorgeous). Zhongshan is the city's largest park and is absolutely enormous, crammed full of fields and fields of flowers, so even if you're not visiting right when the blossoms are in bloom, it's a top spot to just relax. The huge park is also home to a theme park (complete with a chairlift and those carousel swings) and a zoo.

Address: No. 28, Wendeng Road, Shinan District, Qingdao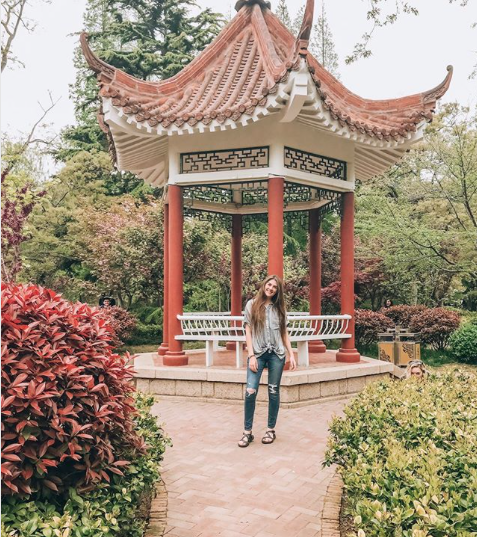 See Qingdao's Hipster Old Town
Feel like you're having a holiday in Europe when you walk around this Chinese city's Old Town. It's peppered with German-influenced buildings from the early 20th century (like the Governor's Mansion and a couple of churches) along with some quirky shopping: come for storefronts crammed with vinyl records, vintage playing cards, and a cluster of French cafes. The most eastern part of this street runs right into the Badaguan Scenic Area (which we talked about above) so it's easy to visit both in an afternoon.
Find it: Old town is on the Eastern end of ShiNan District starting from ZhongShan Road heading both north to GuanTao Road and east to GuangXi Road towards DaXue Road and Ocean University of China.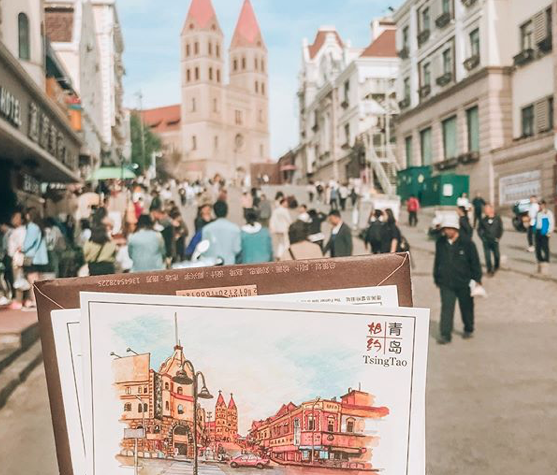 Hike Mt. Laoshan
China is all about the mountains, just talk to anyone who volunteers here for a semester — bets are they'll tell you about their favorite mountains in this country! Qingdao's claim to fame is Mount Laoshan which is the only mountain that soars above the ocean. It's an important figure in Taoism: it once held over 70 Taoist temples which housed thousands of Taoists priests. Now, it's home to hiking trails that take you high above the coast for a sweeping view of the Yellow Sea.
The mountain is huge, peppered with a few noteworthy things to see. To help you get around, the park is broken up into separate scenic areas: Jufeng (includes the summit of the Lao Mountain), Liuging (the best for an ocean view), Taiqing (which includes the most famous Taoist temple), Qipanshi (has great Buddhist touches) Yangkou (a beach resort), Beijiushui (gorgeous scenery of water and towering peaks), and Hualou Peak.
There are three lines that take visitors to over 200 scenic spots: the Southern Line, the Central Line, and the Eastern Line. Travel China Guide has a breakdown of each of these three lines that take you through these scenic areas if that's helpful. Another helpful recommendation: take the cable car. There are cable cars which can take you over and save you some hiking (with stunning view). We have those price breakdowns below.
Getting Here: Go by bus. Bus 109, 110, 371, 383, 615, 616, 618, 620, 627, 635, 926, Tourist Bus 6 or Sightseeing Bus 4 will take you to Yangkou. Or you can take Bus 639 to Beijiushui.

Hours + Costs:
Liuqing, Taiqing, Yangkou: 90 CNY (April to December) and 60 CNY (January to March)

Beijiushui and Hualou: 65 CNY (April to December) and 40 CNY (January to March)
Jufeng: 80 CNY (April to December) and 50 CNY (January to March)
There is a combination ticket available which is 180 CNY (April to December) or 120 CNY (January to March) which includes access to all the above locations and is good for 3 days.
Jufeng cable car: 40 CNY for one-way, and 80 for a round-trip
Taiqing cable car- 45 CNY

for one-way, and 80 for a round-trip;
Yangkou cable car- 35 CNY for one-way, and 60 for a round-trip.
The Beaches
Since this city sits right on the coast, you'll want to spend some time at the beach if you're visiting in the warmer months. Beaches in China are kind of like the rest of the country — they can be crowded! We suggest arriving early to get a good spot and soaking in all the sunshine with the rest of the city who decided they'd love to do the same exact thing that day. Below is some info on the two best beaches to visit, but you can also hang out at Old Stone Man Beach, Laoshan Beach, or the #2 Bathing Beach (they are just less popular).
Qingdao #1 Bathing Beach
Called the #1 beach for a reason, it's the most popular in the area. The beach sits on a long, curving half moon shape, giving you lots of room to spread out on the golden sand (it's one of the largest beaches in Qingdao). You'll find some vendors selling tubes and renting kayaks which is fun if you'd rather not just sunbathe all day. It's also a popular place to work out: the beach is right next to a park where some people are exercising and lifting weights. The surf here is really calm and gentle with hardly any waves, so it makes for a good swimming beach.

Getting Here: Take metro line 3 and exit at Huiquan Guangchang (Exit C)
Golden Sandy Beach
Another favorite spot for swimming and lots of events … in the past, there has been a little carnival set up, complete with a rollercoaster right by the surf here! Similar to the other beaches in Qingdao, it's a golden sand beach with calm and shallow waves. The waves are very gentle and the water stays very shallow making it a good beach to just hang out at. You can rent an umbrella but it's rather expensive (200 yuan for 2 hours) so best to plan on finding a shady spot, bringing your own umbrella, or practicing your bargaining skills to get the price down.

Getting Here: This beach is actually across the bridge from Qingdao, so it's about a 30-45 minute taxi ride from the city center of Qingdao. Volunteers love using DiDi for calling cars (it's like China's Uber).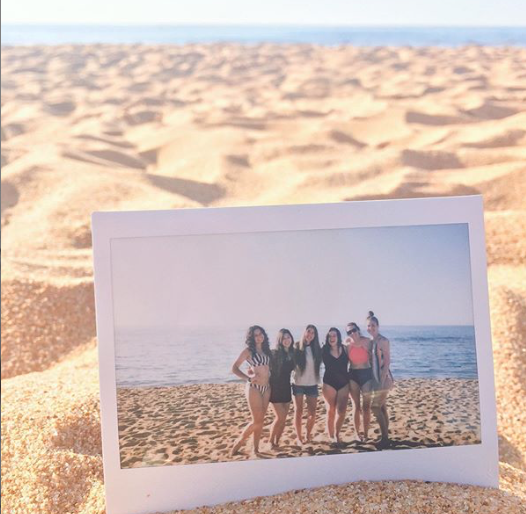 Eat At These Foodie Spots
Taidong Night Market
Similar to a night market you'd find in Bangkok, this place is a not-to-miss adventure for someone looking to try a few tasty dishes and do some shopping. You'll find a few stalls set up with clothing (rain jackets, pullovers, tee shirts, shoes, and sunglasses) but the real pull is the food. On the side of the street you'll find vendors firing up skewers of all kinds on charcoal grills. Try chicken, squid, pork, and grilled veggies sprinkled with chili powder and tamarind. Little restaurants that are slightly more established will hand you steaming bowls of hand pulled beef noodles swimming in a spicy broth, while another is serving up liu sha, a chicken cutlet fried to crispy perfection and stuffed with gooey cheese. Come here hungry!
Find it: TaiDong 1st Road (near McDonalds and Wal-Mart)
ShiBei District > TaiDong Shopping Area
Qingdao, Shandong Province. P.R. China
台东夜市, 台东一路, 中国山东省青岛市
Hours: 5:30ish PM to 11:00 PM everyday
Pichai Yuan
You'll feel like you're walking down a movie set on this touristy street. Pichai Yuan (Firewood Court - 劈柴院 ) was initially built in the 1900's during the German occupation and has been pretty commercialized to lure in tourists from all over. You'll find an information center and a museum, but you'll also find some adventurous treats for the brave! Vendors on this street serve up seafood, but maybe not the kind you're anticipating .. anyone a fan of starfish? You can also try scorpion or grasshopper if you're brave enough! Vendors are also serving up freshly grilled prawns, spicy marinated tofu, and other yummy things.
Address: 16 Hebei Road, Qingdao Old Town, Shinan District
Eat At XRAY Coffee
Minjiang Road is completely covered in the most charming cafes. The area is primarily settled by Korean immigrants who have opened cafe after cafe in this part of Qingdao. One place we really love is a double-story coffee shop called XRAY Cafe. Our go to? Shibuya toast. A thick (really thick) piece of toast piled high with all the toppings you could want: whipped cream, matcha ice cream, fresh strawberries and more. Yum.

Address: 53 Zhangzhou Rd, Shinan Qu, Qingdao

Nearby Adventures
Weifang's Kite Festival
Just about a 1.5 hours away by train is another favorite city in the Shandong Province. Weifang is home to the largest kite festival in China (and a favorite spot for ILP volunteers). While kite flying is a popular way to spend a sunny afternoon now, kites were once used for military purposes — kites were flown to measure distances, to help the military strategize and figure out how to move large armies and supplies across the land. Plus they were used to communicate from afar (which is pretty rad). The city is home to a fascinating kite museum which walks you through kite making and houses some seriously huge and impressive kites. But if you can time your visit right, the festival usually happens in the month of April. Get your Weifang guide here, which is full of details about the kite festival and other details to help you plan your trip.

Book tickets from Qingdao to Weifang on trip.com. It's about a 1.5 hour ride, with train prices in the $7 - $12 (or double that for business or 1-class tickets)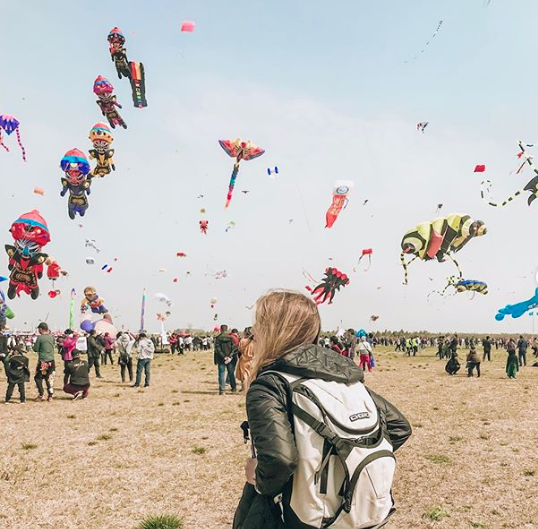 Getting To Qingdao
By Train
There are multiple routes to Qingdao from cities in the upper half of China. You can head here from cities like Beijing (in 3-5 hours), Shanghai (6-7 hours), Weihai (2 hours), and others. Our favorite place to book train tickets is trip.com: they have a really handy app that makes booking tickets a cinch.
When you're booking tickets to Qingdao and arriving in the city, remember that Qingdao has two train stations: Qingdao Railway Station and Qingdao North Railway Station. Qingdao Railway Station is near Zhanqiao pier (and the ocean), and is built in a classic, historic German style. You'll find most high-speed trains arrive and depart from this station. Qingdao North Railway Station is connected to the city by the metro (line 3).
By Plane
Book tickets into Qingdao Liuting International Airport (TAO), it's the main hub for a couple of airlines like Shandong Airlines and China Eastern Airlines. You'll find frequent flights to and from Beijing and Shanghai, along with lots of international departures and arrivals — Qingdao is a popular international destination with tourists from Japan, Korea, and Hong Kong. The airport is about 20 miles from the downtown, so plan on a 30ish minute taxi ride once you get off the plane. You can look up flights on trip.com or find some flights on skyscanner.com.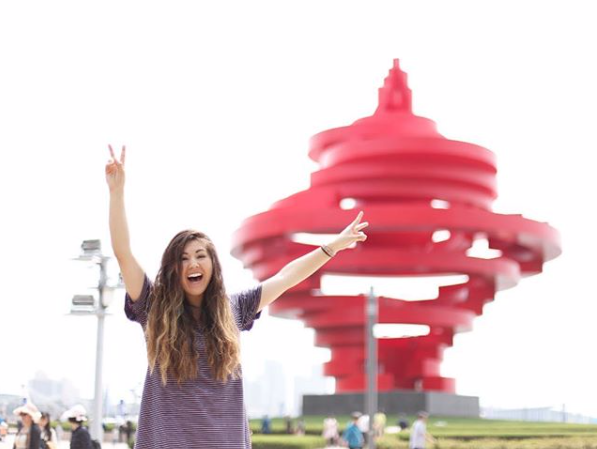 Are you ready to come to China?
Come volunteer here with ILP! We're accepting applications for college-aged volunteers to come teach English (no experience necessary) and travel all around this country. You'll only be teaching part-time, with weekends off and vacation days to explore the best parts of China.