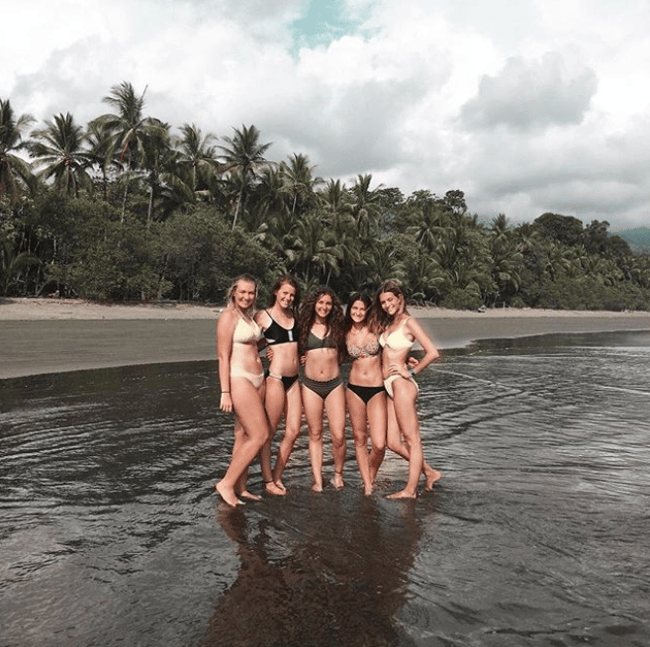 Headed to Costa Rica? There are over 300 postcard worthy beaches to visit, so how do you choose where to go? We've mapped out some of our favorites just for you!
---
Vacationing in Central America?
Here is our Central American destination guide full of our favorite must-visit places!
---

The beautiful beaches will become one of the many, many reasons why you love Costa Rica. Those who are volunteering with us (ILP) and spending their entire semester in Costa Rica will have time to visit quite a few for them!
Grab your beach gear and get ready to soak up the sun on these gorgeous beaches. Here are the ones you need to check out:
Must Visit Beaches In Costa Rica
The beaches in Costa Rica will vary depending on which part of the country you're in. Some will be sunny 24/7 with white sands and warm water, and others will often be cloudy and gray with cooler water. All are beautiful, but it totally depends on what you are looking for!
The biggest distinction is which side of the country you're in, since Costa Rica has a coastline in both the east and the west.
Caribbean (East) Coast Beaches
Something to keep in mind while planning your trip to these beaches: The Caribbean side has different rainy and dry seasons than the west coast. The "summer months" are September and October and the rainiest months are usually November and June.
Our favorite Caribbean side beaches are conveniently quite close to each other, tucked down in the southern corner of Costa Rica near the border of Panama. There's a string of beautiful beaches here, but the entire area is often referred to as Puerto Viejo as a more general, all inclusive term for the location.
And while you're down here, we highly recommend jumping the border to the Panamanian island Bocas del Toro if you can swing it!

Playa Negra
The black sand is stunning at Playa Negra! Most people think of white sand beaches when they think of Costa Rica, but Playa Negra is one of the best spots to see the darker sand in the country. Since so many people are heading for the white sandy areas just a bit further south of this beach and because it's a bit more off the beaten path, you'll find that this area is often less crowded making it much more appealing in my book.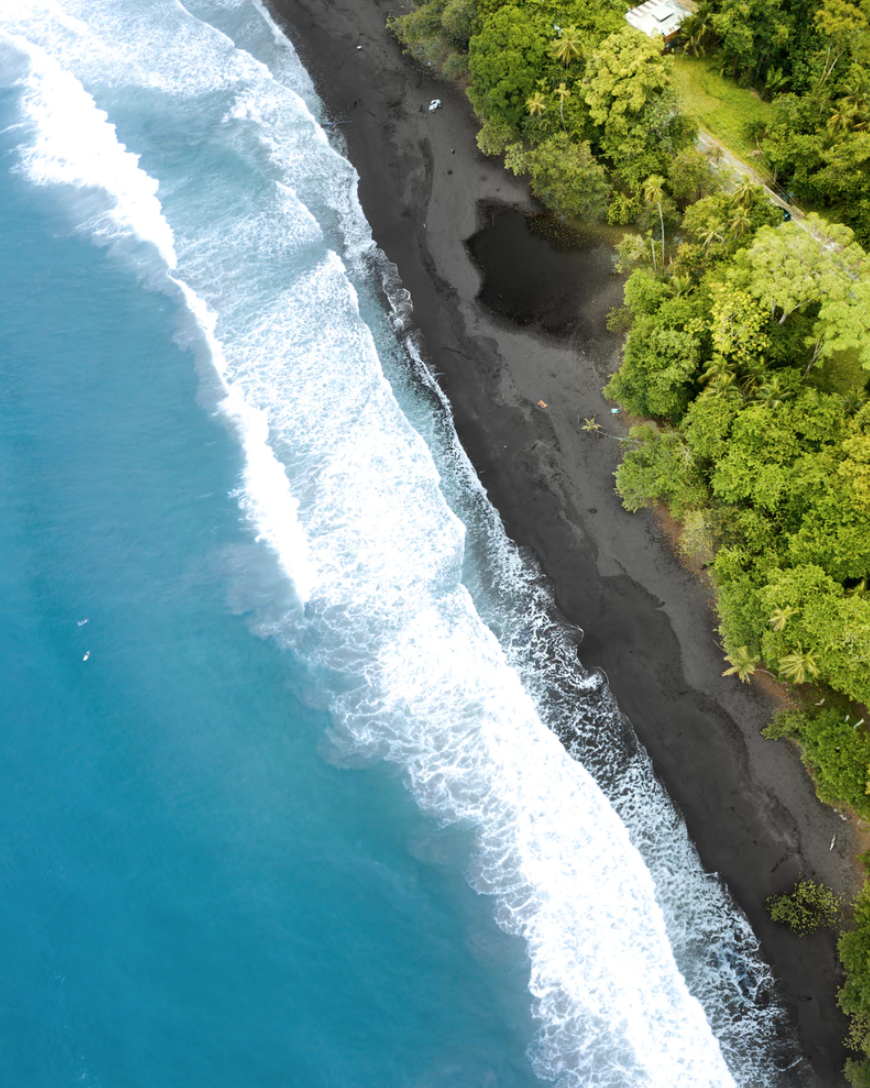 Puerto Viejo Beach
Puerto Viejo isn't a huge beach, but it is beautiful and widely known. The soft, sand is perfect for taking a stroll along the coast, especially at sunset. You'll see locals walking up and down the beach selling treats and small trinkets, and there is a shipwreck not too far off shore that you can swim out to and check out. Here's more about the cute city, Puerto Viejo.
Punta Cocles
Just north of Punta Uva, Punta Cocles is one of the most popular beaches in the area. Soft brown sand and bright blue water will welcome you in and make you never want to leave! This is a great beach to relax on and take a dip in the water.
Punta Uva
Palm trees, soft sand, and even monkeys can be found on this beach. If you want to snorkel or scuba dive this is a great place to do it! Just walk out until you find the coral, which is full of beautiful fish and sea plants.
Manzanillo
This beach is about eight miles south of Puerto Viejo and is next to a super laid back, small town. Calm water, golden sand, and coral reefs can be found on the beach making it a perfect place to spend the day on.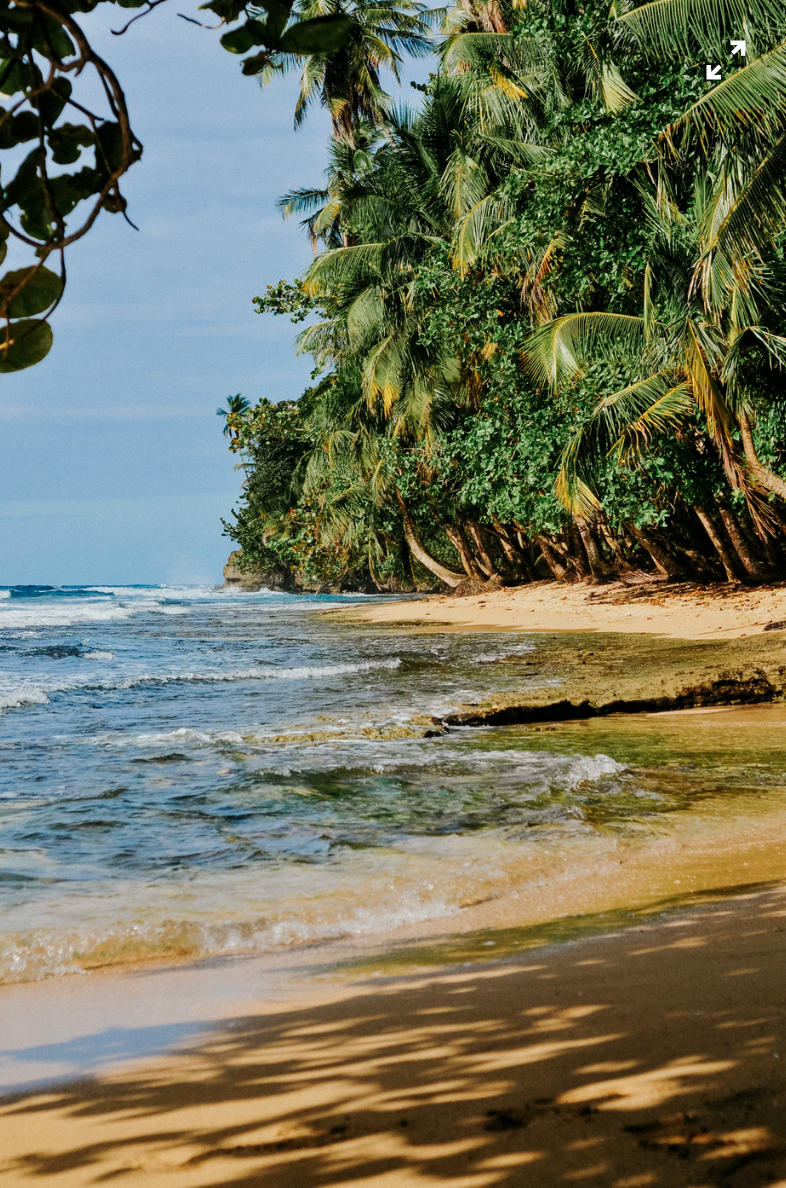 Pacific (West) Coast Beaches



The west side of the country is lined top to bottom with more beaches than we can include in one post. You really can't go wrong, but here's a few of our top picks, organized north to south in the Guanacaste and Puntarenas provinces.
Guanacaste Province —
This area sits in the northwest tip top of the country, bordering Nicaragua and is one of the most well known spots for tourists.
Playa Conchal
Up in the northwest you'll find Playa Conchal with its sparkling white sand and turquoise water, plus it is the perfect place for snorkeling and swimming. The water is calm and it is seriously gorgeous. Generally, Playa Conchal is less crowded than some of the other more well known beaches near by, making it a great place to relax and swim.
Grande Beach
Just North of Tamarindo Beach, Grande Beach is known as a laid back beach and a great place to spot Leatherback Sea Turtles at night (go between November and April to spot some!).
Tamarindo
Head south along the coast from Conchal and you'll run into the oh so famous Tamarino beach. You'll often find crowds of tourists here, especially as this is a well loved surf spot. It's actually been nicknamed "tama-gringo" for how packed it can get with American backpackers. If you want to swim, walk further south down the beach for more calm, warmer waters and you'll also find some rockier areas along the beach line as well. The city itself is also a great place full of beachy vibes.
Tamarindo is as famous for its sunsets as it is for its surfing.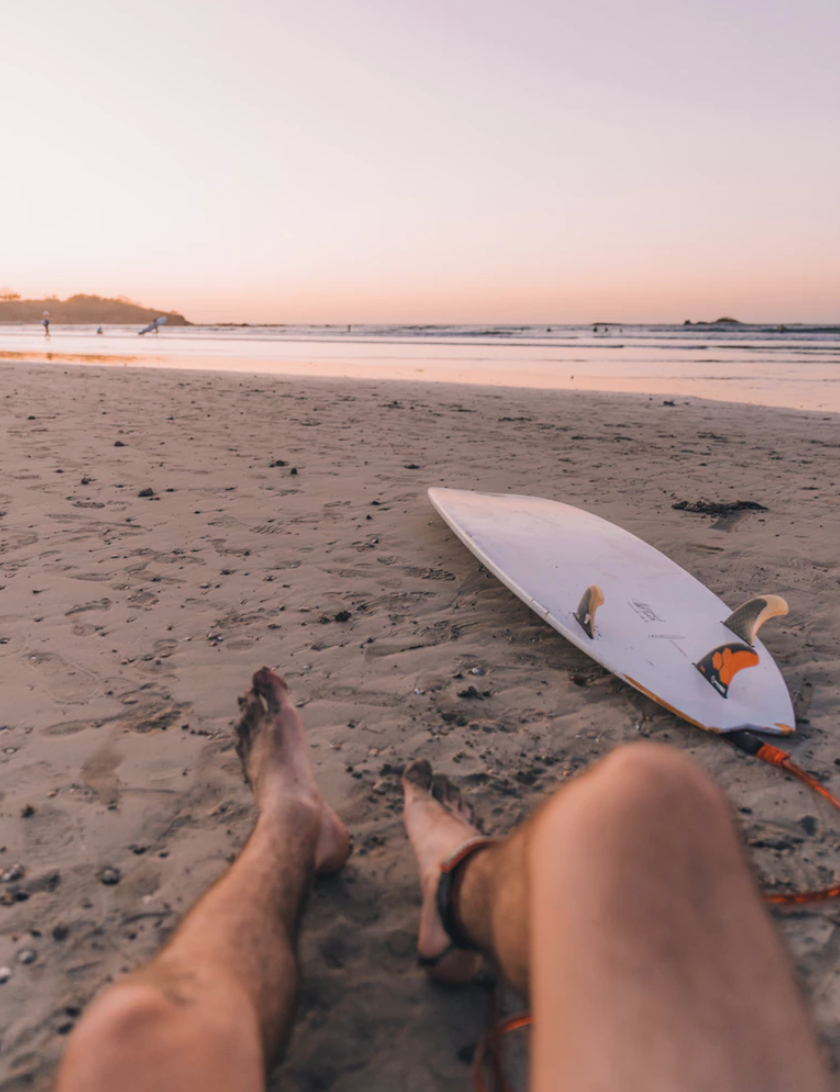 Langosta Beach
Just south of Tamarindo Beach, Langosta is a secluded beach with white sand, tide pools, and unreal sunsets. Visit here if you want a slower, less populated beach day.
Puntarenas

—
Santa Teresa
This beach is small and can get a little crowded with people swimming and surfing, but it is beautiful. The white sandy beaches are perfect and it is actually world renowned for surfing, bringing in a lot of foreigners from around the world. Make sure you catch a sunset while visiting!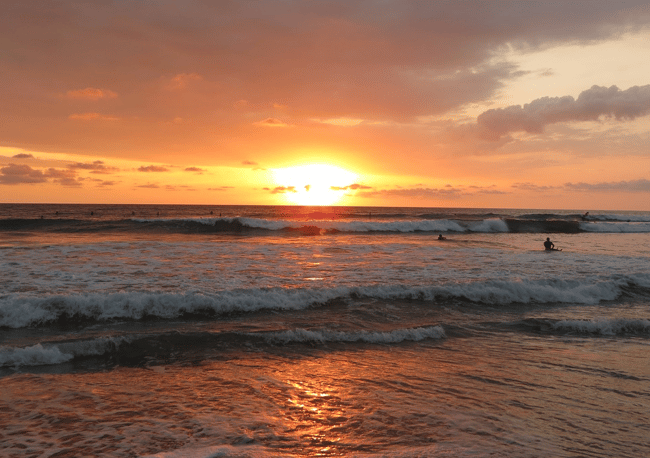 Jaco
The beautiful chocolate-grey sand is a perfect place to relax, read a good book, and work on your killer tan. There's also a secret hidden cove you can explore. Here's more info about the area.
Manuel Antonio
Not only is this one of Costa Rica's most popular national parks for all things adventure (ziplining, rapelling, rafting, you name it), but it's also conveniently located along the coast and home to 3 beaches that can't be missed.
Learn more about planning your trip to Manuel Antonio here.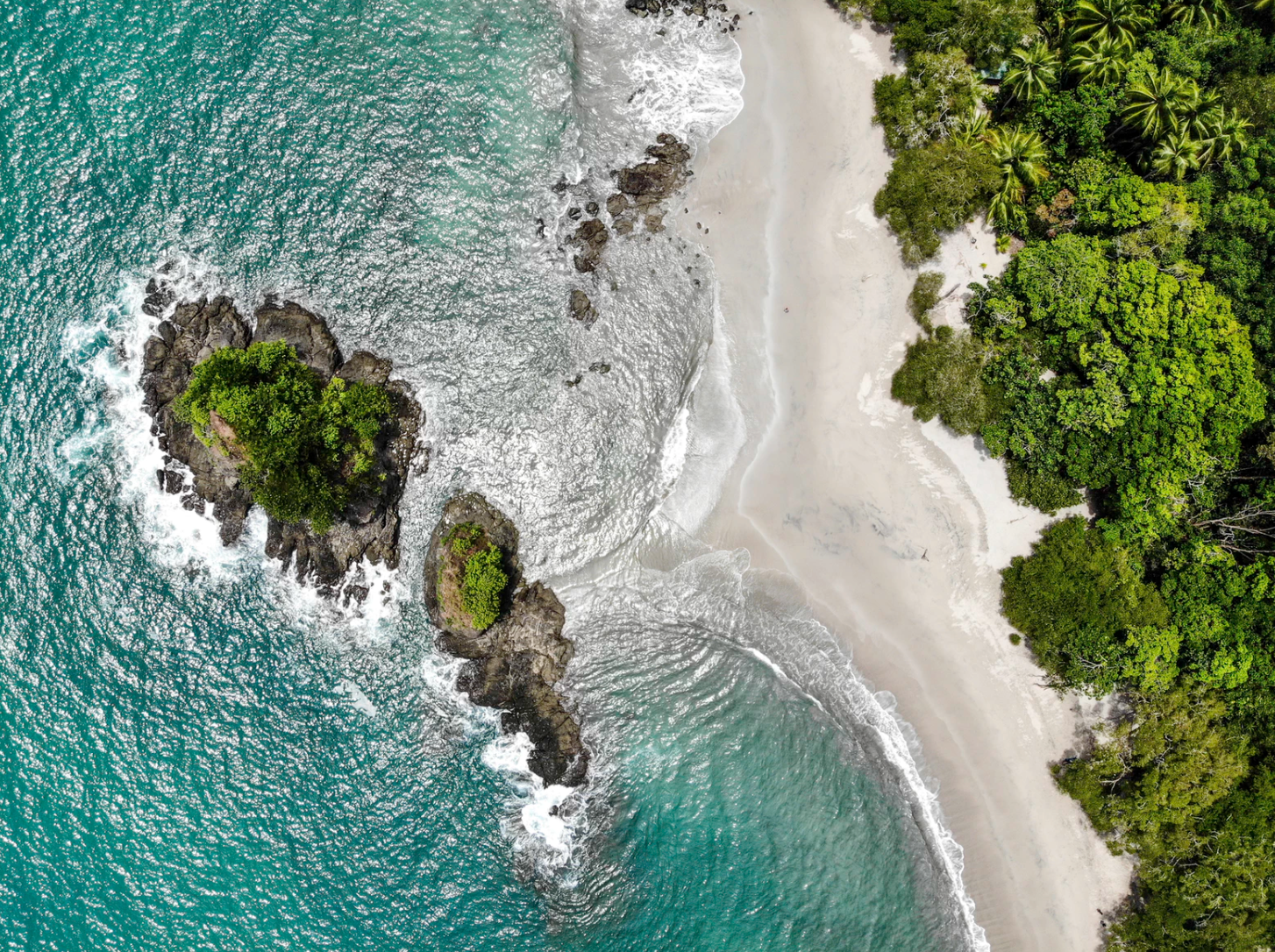 Uvita
This beach has the added bonus of being right next to Marina Ballena National Park and just south of the famous "whale tail", where the coast line shapes itself to look exactly like it's nickname. Head here for perfect sunsets, walks through the national park, spotting sloth in their natural habitat, and you guessed it ... whale watching.
We also have college-age volunteers who teach English in Costa Rica for a semester with us living in the nearby town of Uvita. Those lucky groups live within walking distance to enjoy this beach every day.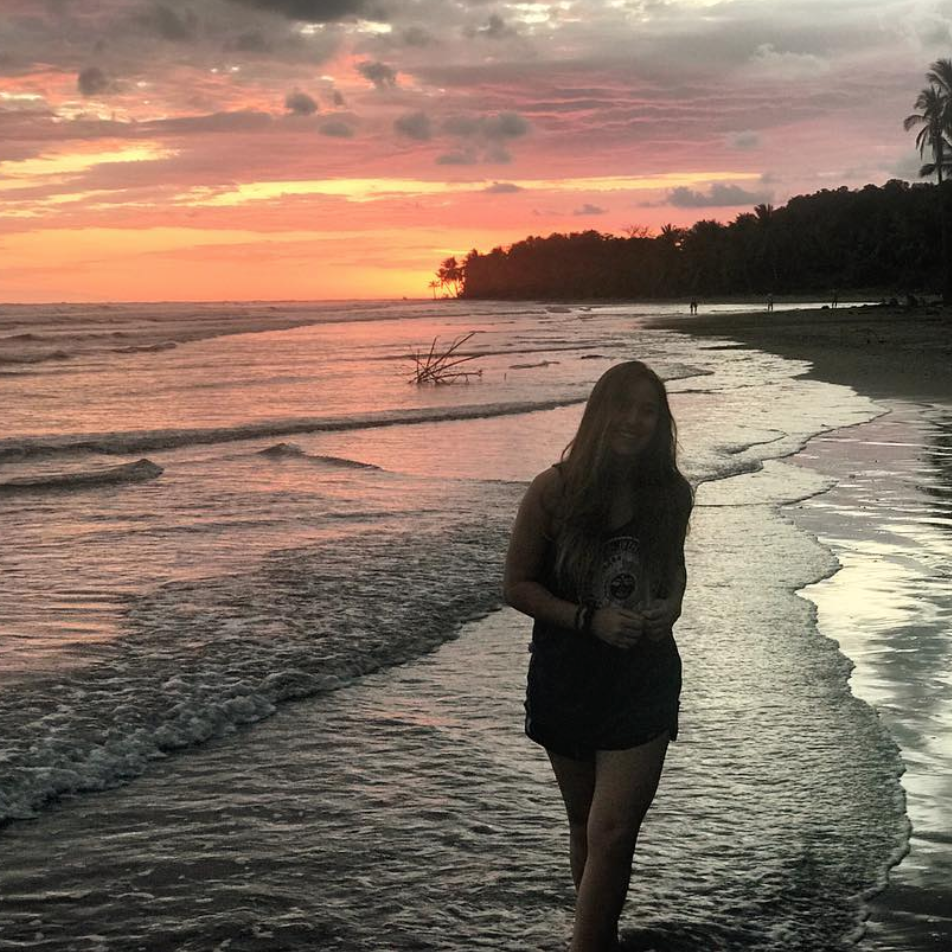 Excited to spend your days on the beach in Costa Rica?
That's just one of the many, many reasons you'll love this beautiful country! The cute kids you teach will steal your heart, the friendly locals will become your friends, and the experiences you have will change your life!
Click the button below to learn more about Costa Rica and what you'll experience during your semester!