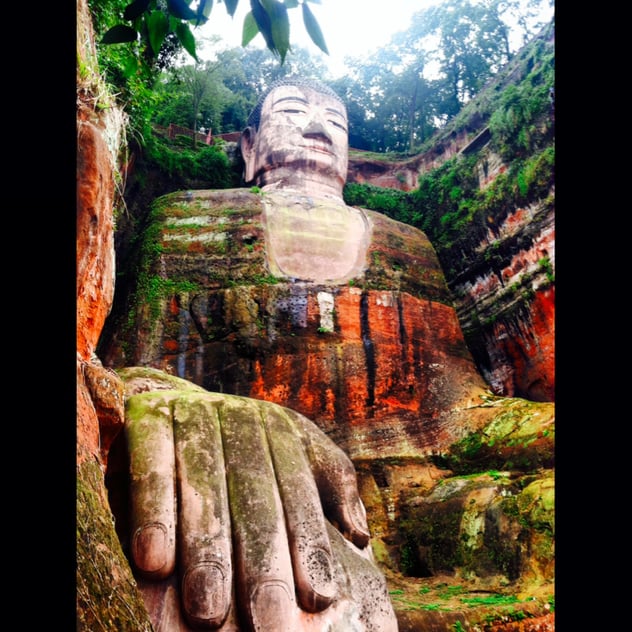 Did you know that China is home to the world's biggest Buddha statue? It's a pretty amazing site to see. Read on to hear all about my trip to the Leshan GIANT Buddha and then start planning your own trip!
When I was living abroad and teaching English in China through International Language Programs (ILP), I was excited that we got some vacation time.
Pst: (There are so many perks that come along with doing a semester abroad with ILP, click here to read more about them).
My ILP group and I spent this time wisely and made sure we were able to see all of our top choices while living in China. One of the main things that I wanted to do was see a huge Buddha statue. After doing a little bit of research I discovered that the world's biggest buddha was a short plane ride away.
After taking a flight from Guangzhou to Chengdu, we took a bus to Leshan and arrived in less than an hour. Leshan is a much smaller town than Chengdu, but it has its charm. That night we explored Leshan and eventually went to bed excited for what the next day held.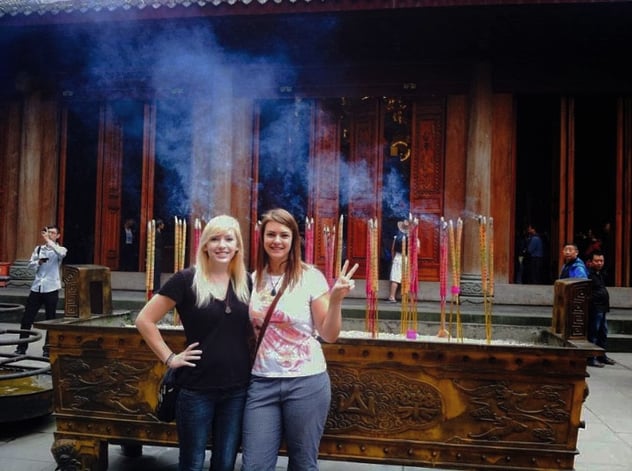 The next morning, we chatted with our hotel receptionist (and did some charades because she didn't speak great English) to figure out the best way to get to the Giant Buddha. She told us to cross the street and get on bus 3. We followed her directions and before we knew it we had arrived, paid the 90 yuan (less than 15 USD) to get into the park and were on our way to the see the Giant Buddha.
After going up some stairs on the side of the mountain and admiring a few little waterfalls, I caught a glimpse of the Buddha's head. I was in complete awe. I mean, I knew that this Buddha was going to be big...but man, I was not prepared. This guy was MASSIVE. Truly an amazing site to behold.
At first all I could see was the top half of his head, but then as I got closer and closer I was able to see all of him. Let's put this into perspective: the Buddha's ear was bigger than me!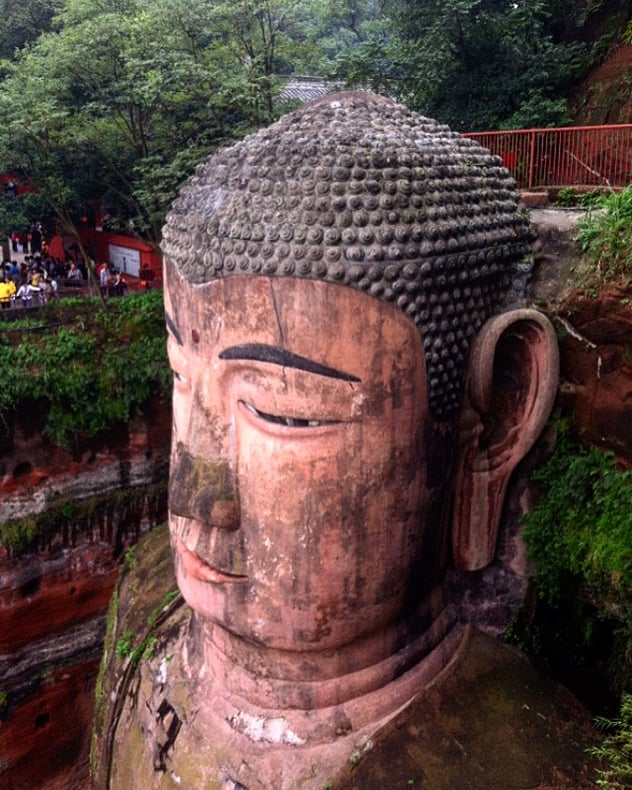 My group and I hiked down a zig-zag stair way to the bottom where we could take in all of the Buddha's grand-ness. Spectacular.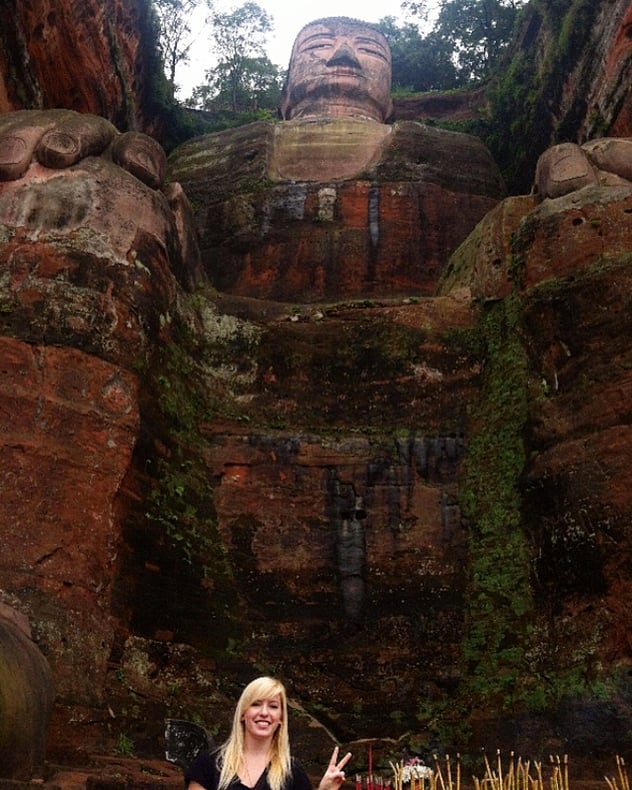 After admiring the Buddha statue for a little bit, we wandered back up the zig-zag stairs and walked around the rest of the park, starting with the Buddhist temples. While walking around, I got pretty excited because I saw some monks. Of course I took some "look! hurry get them in the background" pictures, but then they got closer and agreed to take a picture with me. After I took some pictures with them, they pulled out their cell phones and took some pictures with me! I didn't know monks have cell phones! That was really funny to me.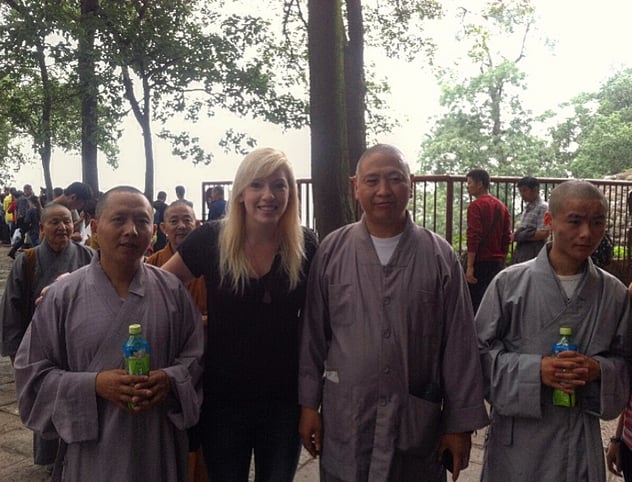 After our run in with the Buddhist monks, we headed towards The Oriental Buddhist Theme Park. The Oriental Buddhist Theme Park, isn't the type of theme park you would think of right off the bat, there weren't any roller coasters or fair rides. The park is basically just a giant park full of a lot of different Buddha's. The park houses about 3000 Buddha statues, big and small. It was so neat to walk around and to see all the many different Buddhas.
None of the Buddha's compared in size to the Giant Buddha we came to see, but there were still plenty of big and unique statues throughout the park. Definitely a must see and is worth the few extra yuan to go.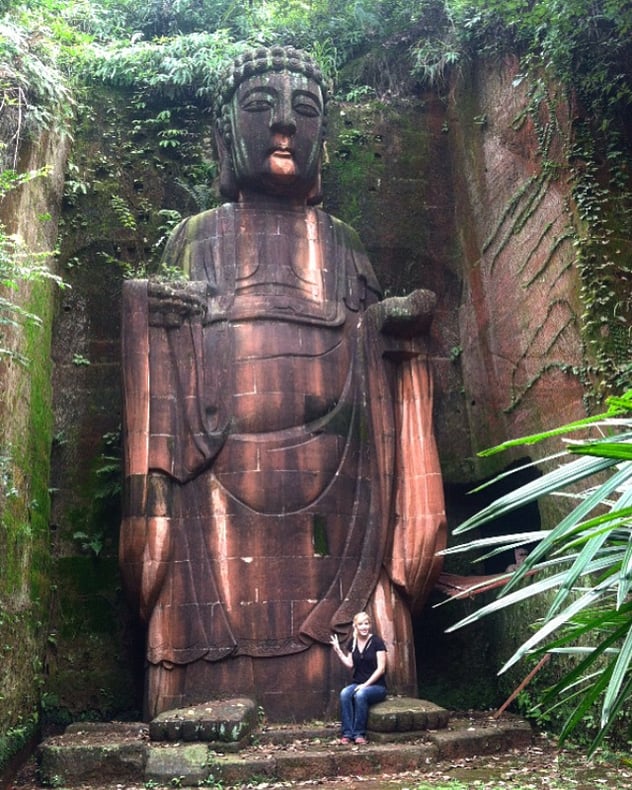 On our way out, we decided to head back to see the Giant Buddha one last time before we called it a day. As we were walking back, we saw a guy holding a monkey that was in a costume. It was so cute and since I had never seen a monkey except for in the zoo, I walked over so I could get a picture of it and as soon as I was close enough, the monkey hopped right onto me! I GOT TO HOLD A REAL ALIVE CUTE MONKEY! The monkey had his tongue stuck out at me in most of the pictures but it was super friendly and adorable.
After admiring the Giant Buddha for one last time, my group and I left with our cameras full of pictures, smiles on our faces and an even deeper love for China.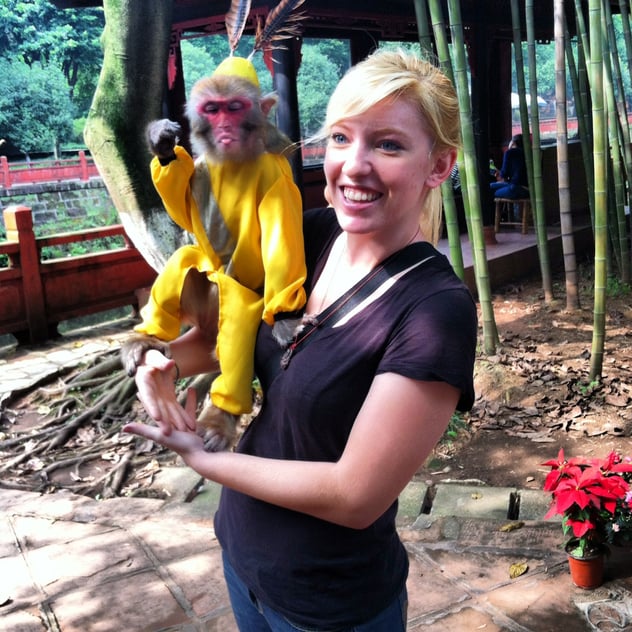 Ready to start planning your own trip to see the Leshan Giant Buddha? Click here for some trip planning tips.

I went to China to teach English to children but I was able to do so much more as well. Click the button below to learn more about International Language Programs (ILP) in China and start your own adventure today.