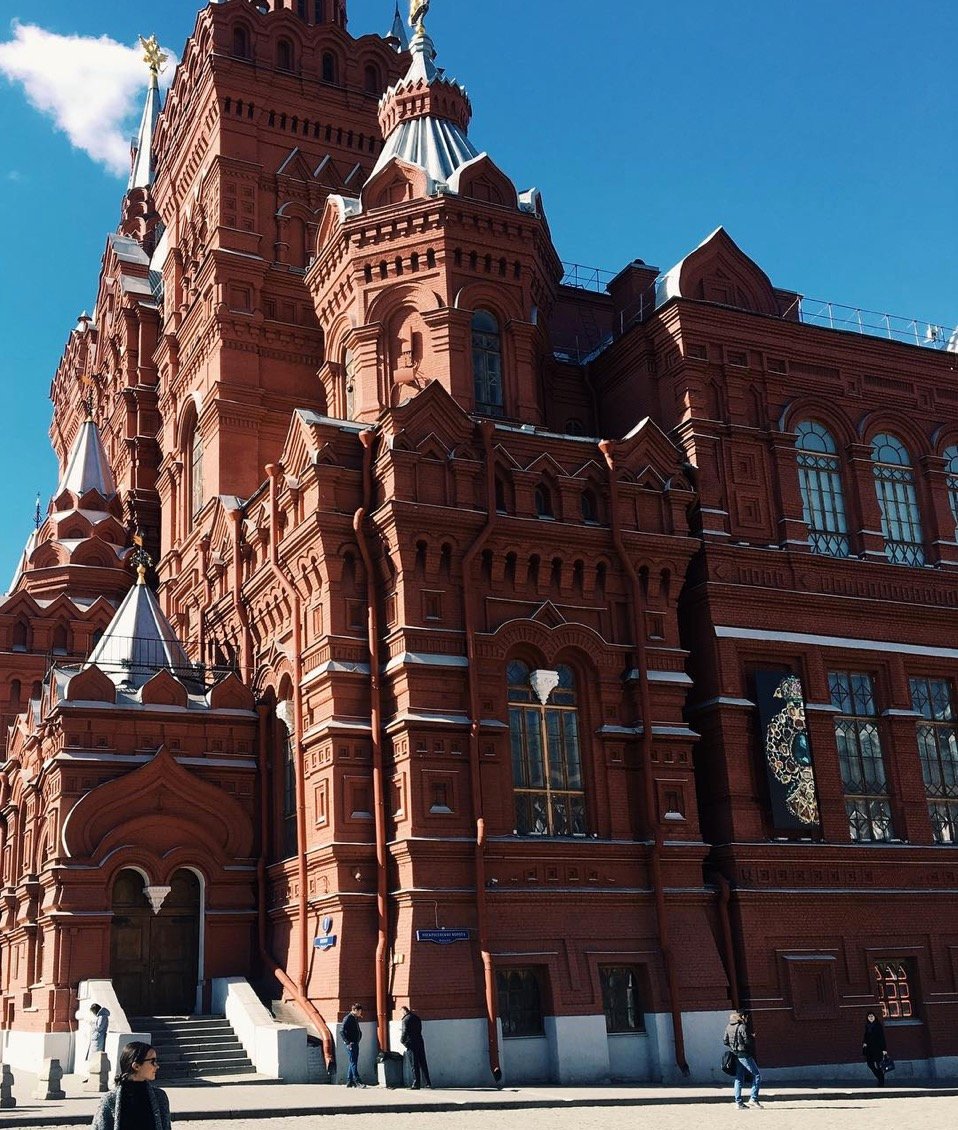 I knew I'd fall in love with the gorgeous architecture in the city of Moscow, but had no idea how much I would like the food here.
A semester in Russia means a lot of things — weekend trips to the prettiest cathedrals around, seeing famous sites, soaking up the history and eating some of my favorite food, ever. If you're anything like me, food is a huge part of the experience and after just a couple of days in Russia I was head-over-heels for the food in this country.


---
Eager to see more?
See what volunteering in Russia is all about.
---
Russian food is delicious: it's a lot of soups, pasta, yummy breads and pastries, and dishes like chicken and potatoes always served with lots of tea or "kompot" which is basically juice. From the snacks you can find on the street, to classic Russian meals in dozens of cafes plus all the food you'll have with your host family, you better come to Russia hungry to taste these favorites!
Authentic Food With Your Host Family

Favorite Dishes In Cafes + Restaurants

Russian Street Food

+ Snacks
Authentic Food With Your Host Family
You'll probably get some classic Russian dishes when you're living with your host family which is a huge perk. It's actually one of the biggest reasons why I wanted to volunteer in Russia. I absolutely loved living with a host family for about a hundred reasons, but the food was a big one. Here are some of the classic Russian dishes you might have for breakfast, lunch, and dinner:
Borscht
Borscht is a delicious soup filled with carrots, onions, potatoes, beets and sometimes meet (like pork or beef). If I'm being honest, I was not a fan of beets until I moved to Russia and was worried I would hate borscht. Turns out, I'm a huge fan and nothing is like a big bowl of borscht served with lots of smetana (it's like Russian sour cream, but way better). Everyone makes it differently but luckily, I loved the recipe my host mom used.
Pelmeni
Pelmeni are kind of like raviolis: pasta pockets stuffed with something delicious (usually pork or beef or chicken). Again, I love this served up with a big scoop of creamy smetana.
Blini
Another classic Russian dish are Blini or Blinchicki. If you're a fan of crepes, you will love Blini. You can eat them sweet (topped with jam, sprinkled with sugar, drizzled with sweetened condensed milk or chocolate sauce) or savory (topped with smetana, smoked salmon, or caviar). Get an authentic recipe for blini and other Russian dishes here.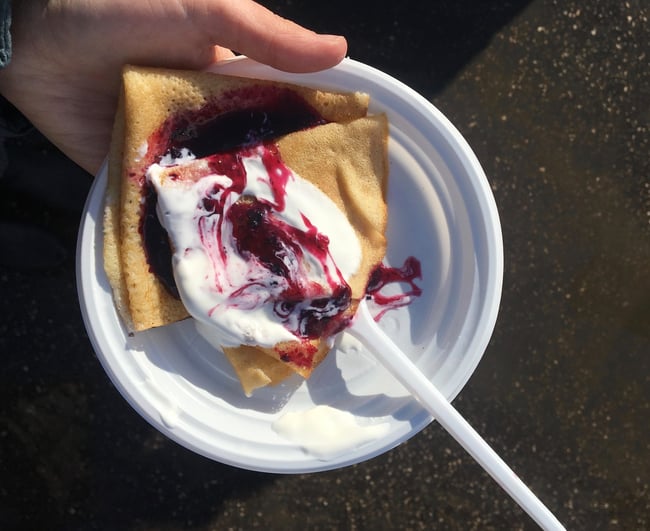 Russian Salad
Russian salads are delicious and different from what we're used to in America: they aren't a big bowl of lettuce with lots of stuff in it, but are yummy all the same. I particularly liked carrot salad which was thinly shredded carrots with garlic, beet salad which was a bowl of thinly shredded beets marinated in a yummy vinegar, and oliveir salad which is Russia's version of potato salad.
Sometimes my host mom would put out a plate of cucumbers, tomatoes, carrots and cabbage as the night's salad.
Lots Of Tea + Kompot
I ate nearly every meal with a cup of tea or a glass of kompot which is like juice. There are all kinds of tea in Russia, but I mostly stuck with the fruit teas or herbal teas and loved all kinds of kompot …. but loved the black currant kind the best. Sometimes, you'll find fruit like raspberries floating at the bottom of your kompot. Yum.
Kasha With Kefir
One of my favorite breakfasts is a bowl of oats with kefir and jam poured over the top. Kefir is very popular here: its like a drinkable yogurt that's really tangy (so I usually eat it with lots of jam or honey stirred into it). When you mix the oats and the kefir it makes a sort of cold and yummy oatmeal. I love it.
You might also have breakfast porridges like buckwheat with milk and sugar, and a creamy porridge kind of like cream of wheat (which might be my second favorite breakfasts my host mom made for me). I liked it best with strawberry jam, but sometimes there were bananas or raisins inside.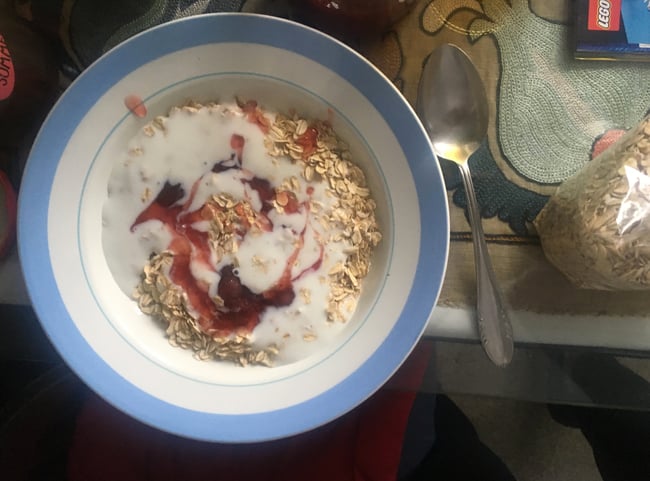 Some Other Dishes
In general, plan to eat dinners that aren't too different from home: things like pork cutlets with potatoes, chicken and pasta, some fish, chicken and barley, all served with a slice of bread.
Like most big cities, there are lots of ethnic influences that shape the local cuisine. Some volunteers live with Russian families who moved from countries in Asia or the Middle East, or other countries in Europe. If that's the case, you might be lucky enough to taste some local dishes from the countries they grew up in. There were ILP volunteers in my group who lived with a family who immigrated from Tajikistan and had lots of tasty dishes seasoned with Middle Eastern spices like cardamom.
Favorite Dishes In Cafes + Restaurants
All of your meals are covered as part of your ILP semester (except on vacations!) but there are always times when you're out and about and want to grab lunch at a cafe or go to dinner with your group to celebrate. Here are a few things to look out for when you want to eat out:
Georgian Food
YUM is all I can say about Georgian food. You'll find restaurants and cafes all over serving up classic Georgian dishes but my favorite is a dish called khachapuri. It's basically a "boat" of bread filled with melted cheese and topped with a soft cooked egg. It's delicious. You can get different kinds (cheese and herbs, spinach and tomatoes, etc) but I like the classic.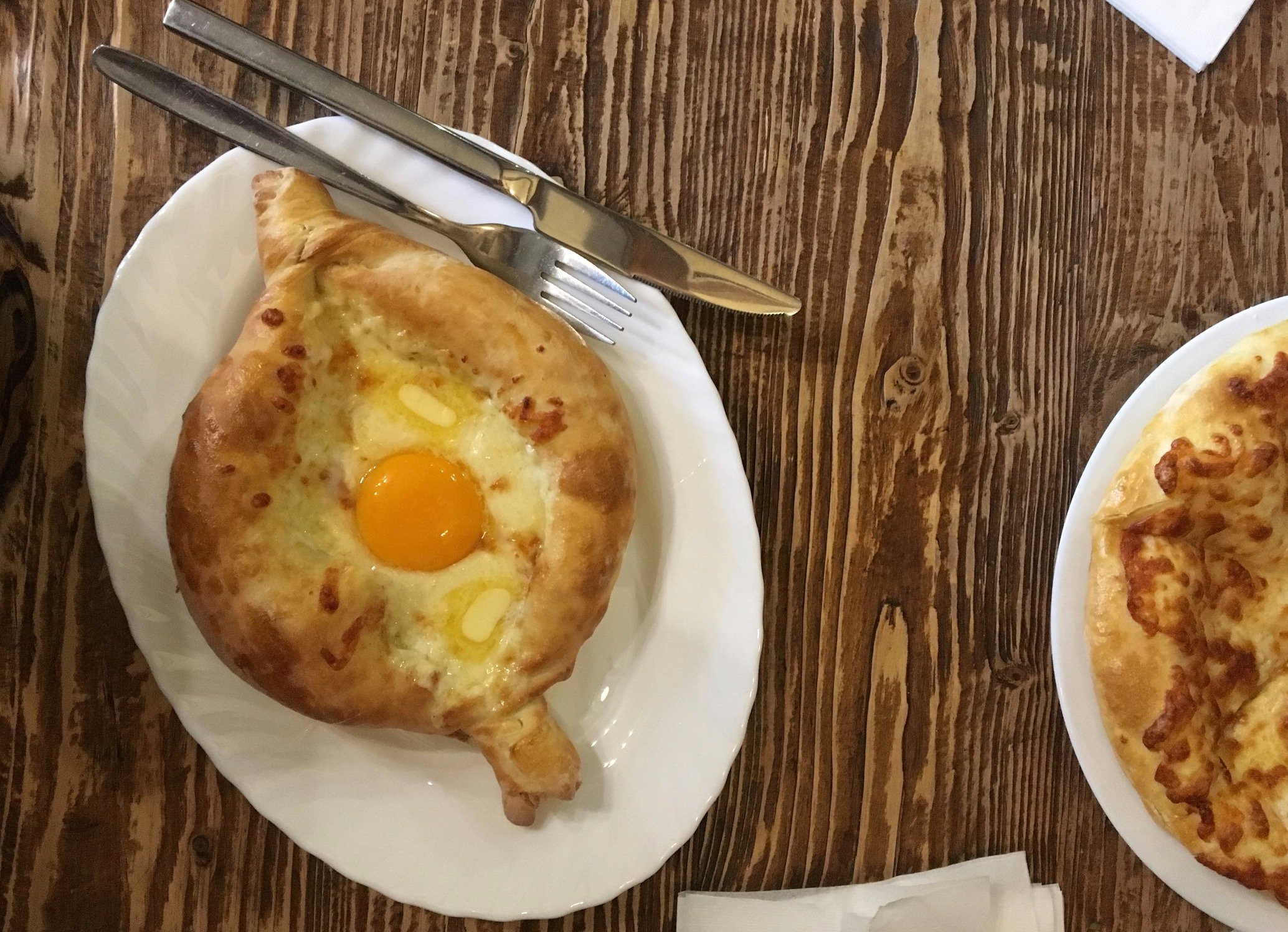 Cafeteria Style Joints
I knew about three words in Russian but that didn't stop me from ordering exactly what I wanted at these cafes. So many restaurant/cafes in Russia are kind of cafeteria style where all the options are displayed and you just have to point to what you want. Delicious quiches, piles of potatoes, stacked desserts, salmon — you name it.
Melted Cups Of Chocolate
In some cafes around Russia, a cup of hot chocolate is a cup of actual melted chocolate. It's as good as it sounds. You can find a few cafes around but I typically went to a place called French Kiss.
They have locations all around Moscow where you can get a cup of melted chocolate for around $4. They have dark chocolate and milk chocolate — either way, split it with a friend … it's very rich!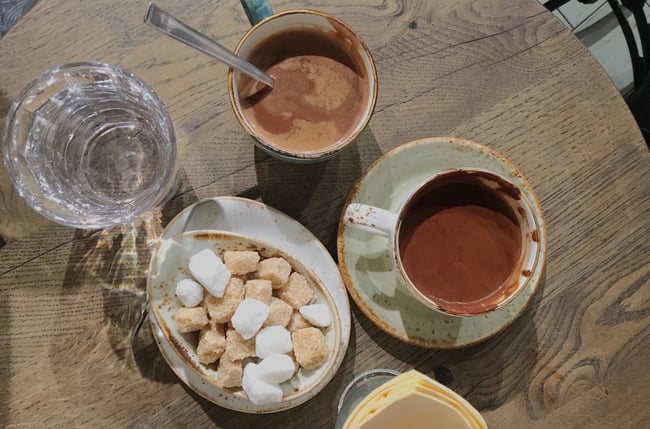 Russian Street Food

+ Snacks
Shawarma
It was hard not to get one of these every time I saw them. Shawarma is a Turkish dish where shaved pieces of chicken or lamb are piled into a wrap, topped with things like cucumbers, onions, tomatoes and a creamy sauce and rolled up before being grilled. They are absolutely delicious so I recommend trying a few places to find your favorite mix of veggies and sauce.

Look for a big pillar of roasted chicken or lamb in little stands connected to a strip mall or other shops (they are all over … but if you're out and about in Moscow, I loved the shop right outside of the Molodyozhnaya metro station — go out exit 2 — and it's right there). Prices range between 100 to 200 rubles for one and they are very filling.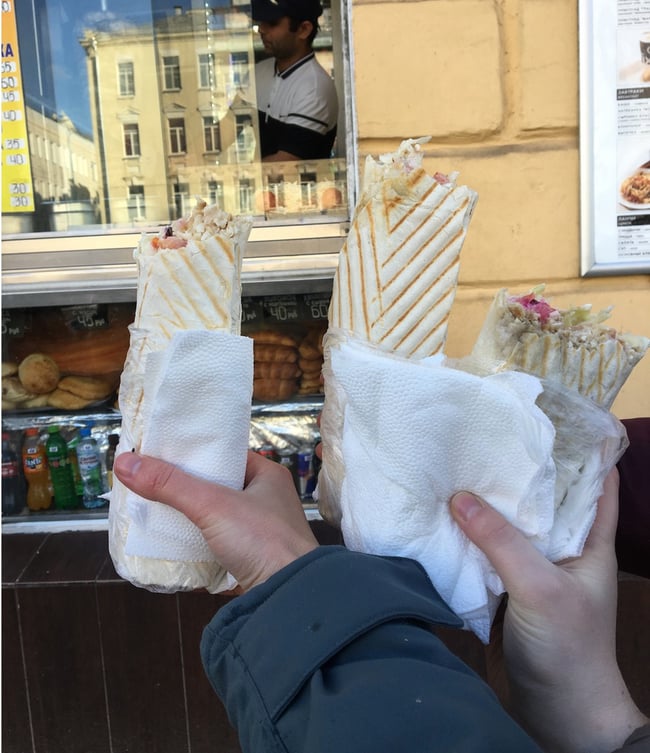 Russian Donuts
Cheap and delicious, keep your eye out for these. Find these in a few spots, but you can get 2 or 3 for around 100 rubles at the VDNKh park. Just go out exit 2 at the VDNKh metro stop, walk past the Cosmonaut space museum (be sure to visit that!) and walk towards the gorgeous stone gateway until you see the little food stalls on your right. I like them liberally dusted with powdered sugar but they are also good served with jam.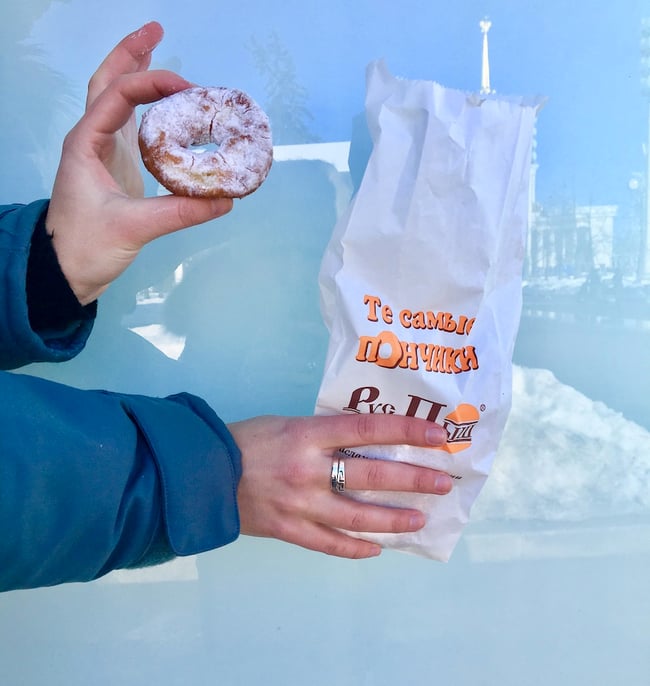 All The Pastries
Cafes are all over Russia (which is fine by me) so take full advantage. In short, anything that looks good probably is. You'll find little bakery stands all over the place with fresh baked bread, pyroschki (rolls stuffed with cabbage, turkey, potatoes, etc)., danishes, pastries, etc. Perfect for when you need a sweet treat on the go.
There are also cafes all over the place with dessert counters. I loved a particular cake called Medovik or honey cake. It's sweet layers of what I think tastes like graham cracker cake and a cream-cheese-like frosting. It's delicious and beautiful. You'll also find stuffed rolls filled with fruit (like cherry), flaky pastries filled with smetana and apples. Also the bread here is delicious so take full advantage of that. I loved all the cafes and bakeries around Russia.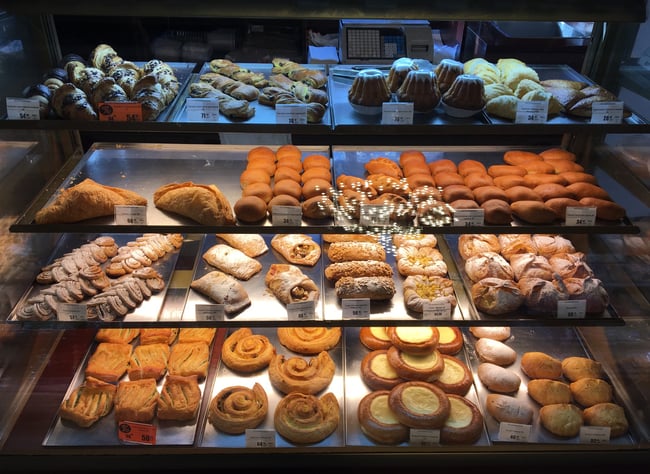 The Chocolate Here + These Cheesecake Bars
The chocolate in Europe will blow your mind …even American favorites like KitKats are SO much better here, so plan room in your budget to try a few. I love, love, love the Milka bars (they come in tons of flavors).
But one thing you can't leave Russia without trying are cheesecake bars. They're technically called Cyrok (сырок) but we just called them cheesecake bars because it's just like a little stick of cheesecake covered in chocolate. They cost about 40 Rubles each and you can find them in most grocery stores in the refrigerated section.
There are tons of brands and flavors but I think the brand pictured below is the best. The silver wrapper is original (my favorite) but there's an orange wrapper that tastes like a creamsicle, a blue wrapper that has caramel in the middle, a yellow wrapper which is delightfully lemony and a brown wrapper that's chocolate cheesecake dipped in chocolate.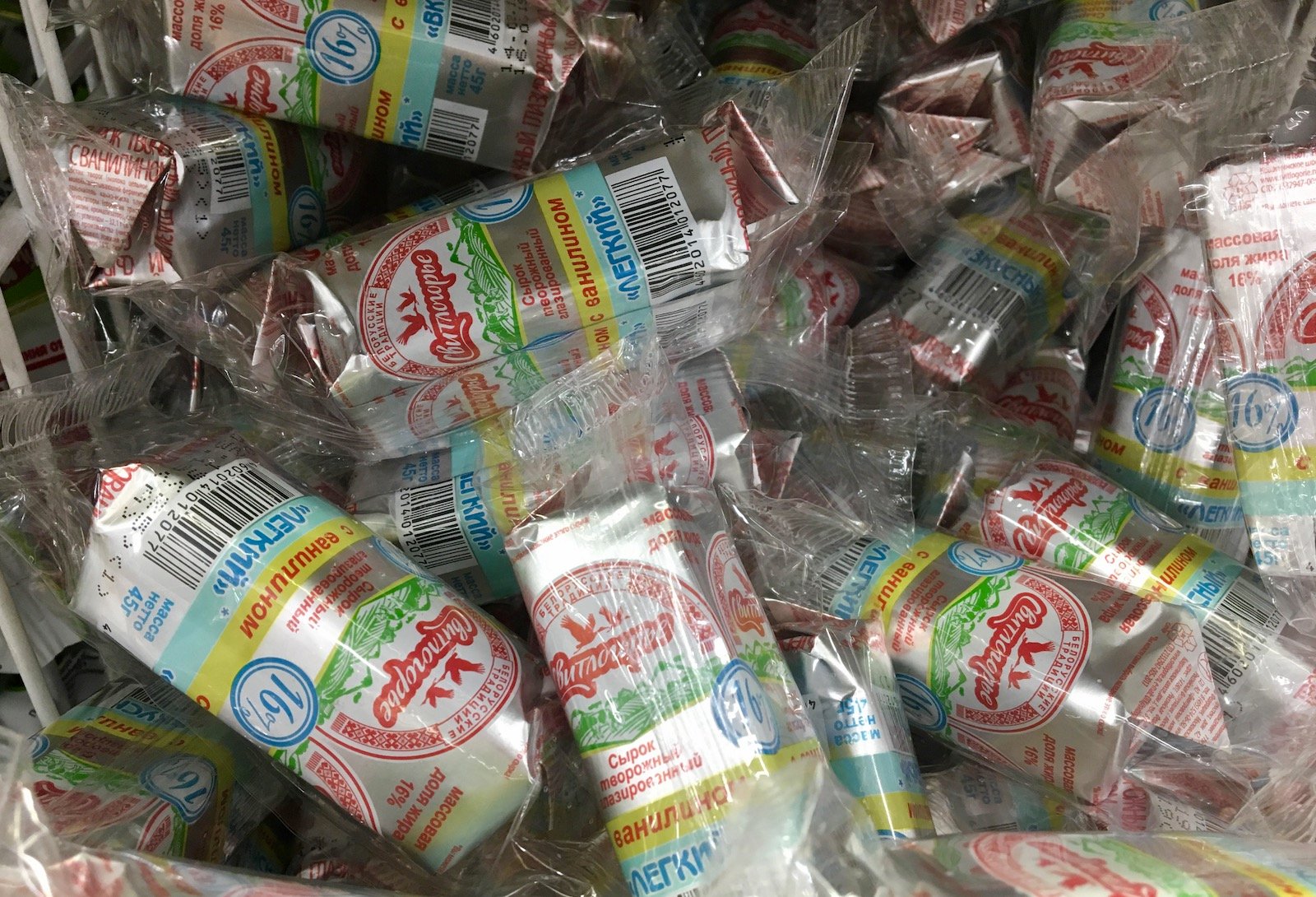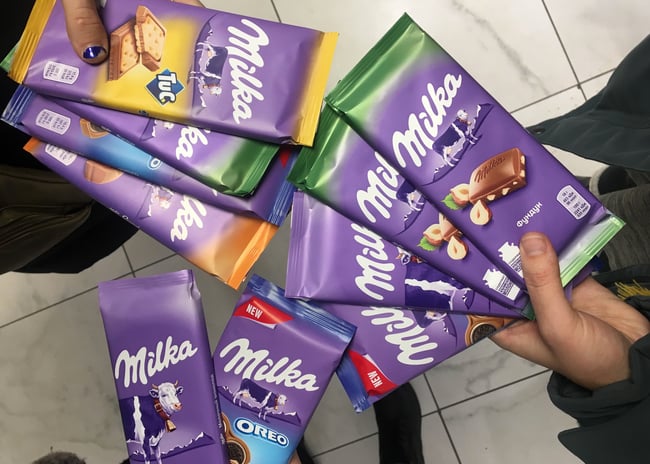 Ready to eat all this and see even more?
Russia is full of surprises and the best way to try and see everything this country has to offer is to live there for a bit!