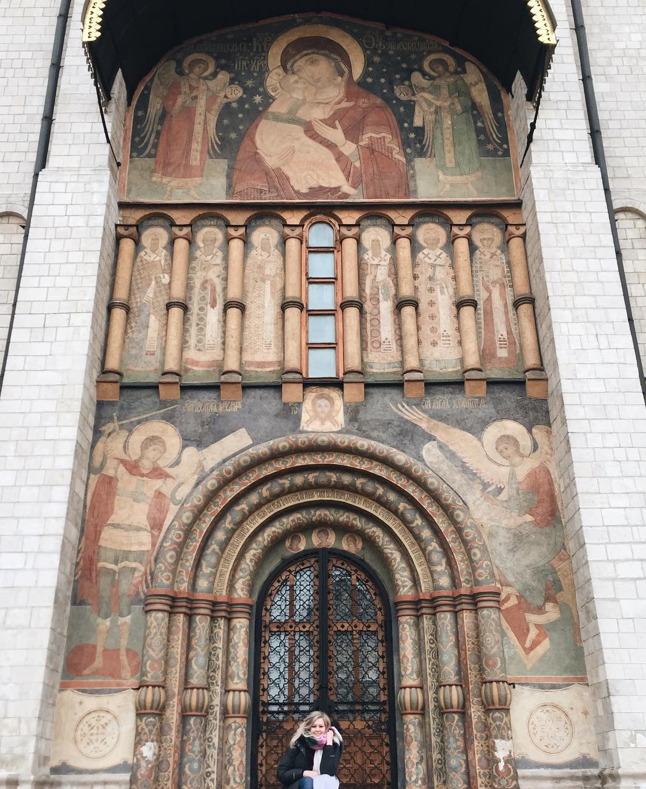 I had to pick favorites. Which is hard when there are so many beyond-beautiful churches dotting this city.
I'm going to try hard not to talk forever about all the things I love about Moscow. But one thing I can't stop chatting about? I love the cathedrals. It's something that instantly hit me the first time I visited the city. Peek out of any 2-story (or higher) window and you'll see the gleaming golden domes and spires of dozens of cathedrals. Even though I didn't get to visit each of the 1,000+ churches, I did find time to pick my favorites.


---
Did you know you can spend a semester volunteering in Russia?
Come spend a semester living abroad with ILP — learn all about it here.
---

If you're only visiting Moscow for a day or two, I'd recommend picking 3-5 on this list, but if you have time to explore even more, I have a more complete list of my tip-top favorites below ... though I still would recommend wandering around and finding your own.
Churches In Red Square
A couple of my favorite churches (and tourist hot spots) are in Red Square, which is probably the first stop on your list if you're visiting Moscow. I've pulled together a really detailed guide to Red Square with directions on how to get there and pictures of all the pretty buildings inside, but here's a closer look at two of the cathedrals inside:
St. Basil's Cathedral
Or if you want to be exceptionally accurate, The Cathedral of Intercession of Theotokos or popularly known as the Cathedral of Basil the Blessed. This place has a few names, but it's easily one of the most famous churches in Russia and one of the most recognized in the whole world. You may be pretty familiar with how the church looks, but if you're like me, you probably didn't know much about the church itself.
Ivan The Terrible ordered the construction of this cathedral to mark the capture of Kazan from Mongol forces — the cathedral was originally all white with gold domes which is pretty hard to imagine if you're familiar with the multi-colored spires you can see today! That colorful and intricate design became a part of the church in the 1800s, so not that long ago.
If you count the spires of the church you'll count nine, which represents the nine individual churches housed in the same building. A tour inside leads you around two levels and the separate church segments.
Hours: Generally 10:00 AM to 7:00 PM, Monday - Sunday (Closed every Wednesday) but you can get specific times here.
Tickets: 500 Rubles if you'd like to go inside, but 150 if you have an ISIC card.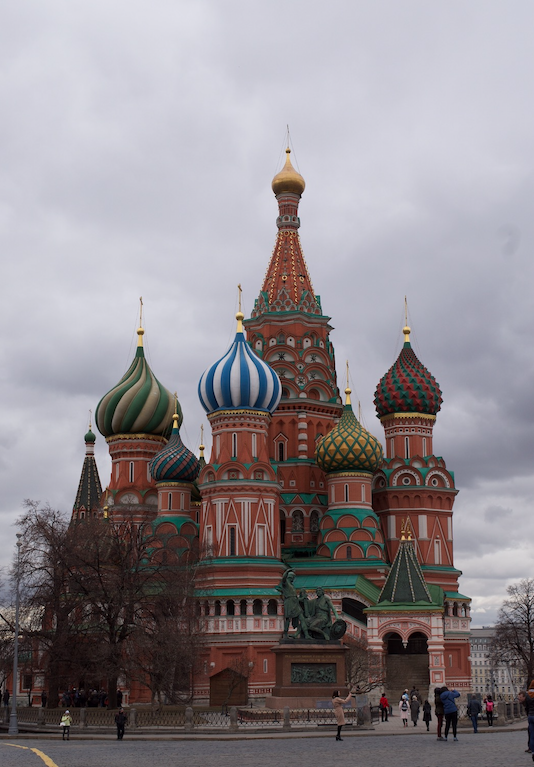 Kazan Cathedral
Sandwiched between the red Iberian Gate and the sprawling shopping center known as the GUM is Kazan Cathedral. It's a peach-and-mint-green church that is almost constantly ringing bells or playing hymns or prayers. It was originally built in the 17th century to commemorate the victory over Polish and Lithuanian invaders, and in honor of the Virgin of Kazan which is one of the city's most respected icons.
Supposedly, this icon has protected the city against countless enemies however this place has a special place in my heart thanks to the tiny little gift shop. Off to the right side, you'll find a teeny shop where you can get the prettiest rings, for around 200 Rubles. They're engraved with a Russian phrase which reads "God keep and save me".
Hours: 8:00 AM to 8:00 PM
Cost: Free entrance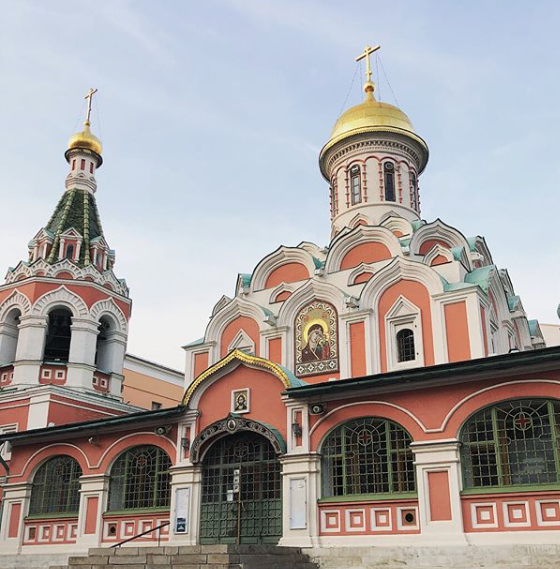 The Cathedral Of Christ The Savior
Oh this may be my favorite church if I really had to pick just one favorite. Not only is the building absolutely massive (supposedly it's the tallest Orthodox church in the world) but the interior is completely mesmerizing. I won't give away the surprise (plus you can't take pictures inside anyways) but picture painted ceilings adorned with gold and hanging chandeliers.
Plus, a fascinating bit of history surrounds this church. The original church was torn down during the Soviet-Era to make way for a swimming pool. The church was restored to its former glory (construction was between 1995 to 2000), but I'll never forget talking to my Russian host mom about her memories of swimming in that pool.
Hours: Mondays 1:00 PM to 5:00 PM, 10:00 AM to 5:00 PM the rest of the week
Cost: Free entrance (with added fees to climb the tours for the view up top) Getting Here: Kropotkinskaya station, on the Red Line (Line 1)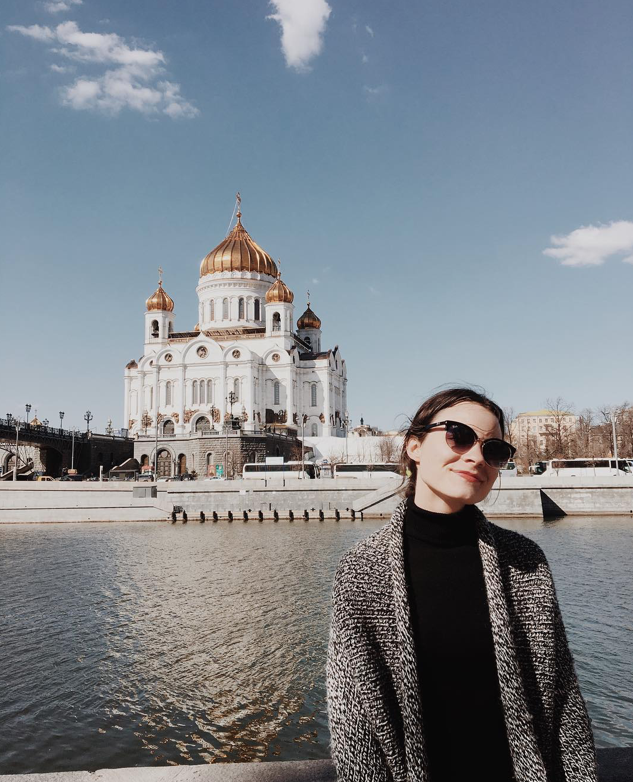 The Kremlin Complex
More than a few stunners are hiding inside of the Kremlin, a huge fortress that has been the center of Moscow's government and culture for hundreds of years. Essentially, it's a massive and ancient wall that encircles Moscow's seat of power, along with several gorgeous buildings, churches and museums. The walls and towers have been around since the 1400s, but other parts of the kremlin are much, much older included a couple of the churches.
Get way more detail about visiting the Kremlin here including ticket info and opening hours.
The Dormition Cathedral (Also Known As The Assumption Cathedral)
All five cathedrals inside the Kremlin are massively impressive, but I remember where I was when I first saw a picture of this church and thought to myself "I have to go there". Every emperor's coronation was completed here (including the last, Nicolas the II in 1896) — plus, the cathedral's foundation was laid by Ivan the Terrible in 1326. Oh and the ceilings inside are all covered in detailed frescoes, from floor to ceiling. It's a can't miss.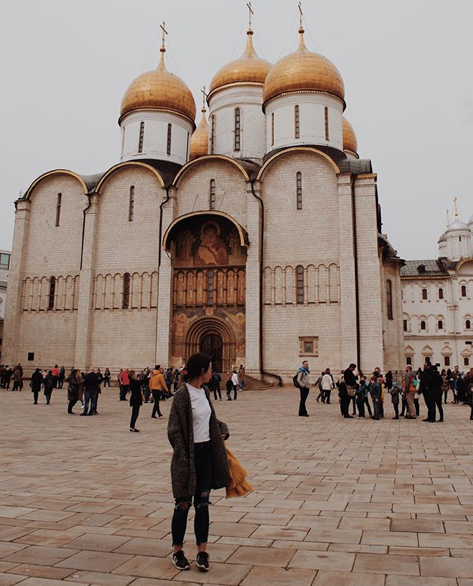 The Annunciation Cathedral
Like a postcard, this Russian Orthodox Cathedral is one I can't get enough of. This cathedral is gorgeous and modeled after the original found in the nearby city of Vladimir. Apparently, Moscow loved the design so much, they built one just like it in the Kremlin. If you have the time, I'd recommend visiting the original church in Vladimir too — the interior of that church is one of the prettiest I've seen, though the one in Moscow is quite nice, too.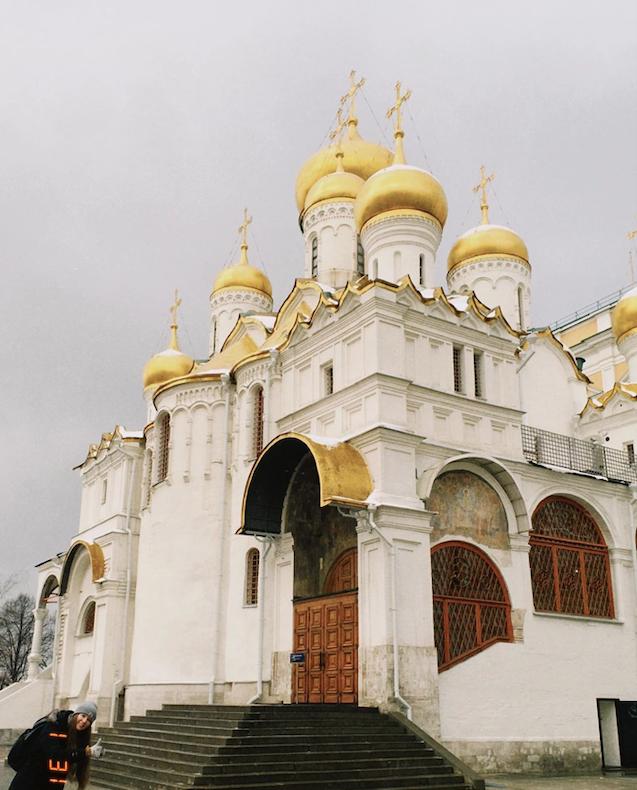 Novodevichy Convent
You'll find more than a church at this convent — it's also home to the city's most famous cemetery, a resting place for people who shaped history. The monastery and cathedrals are the prettiest features, with round white towers adorned with decorated red brick and set of cross-adorned golden onion domes. The Church of The Intercession is the church to see here, but you could spend a whole morning wandering the grounds and surrounding lake. Get more info about the complex here.
Cost: 500 Rubles (100 for students)
Hours: 9:00 AM to 5:00 PM
Getting Here: Use the Sportivnaya stop, on the Red Line (Line 1)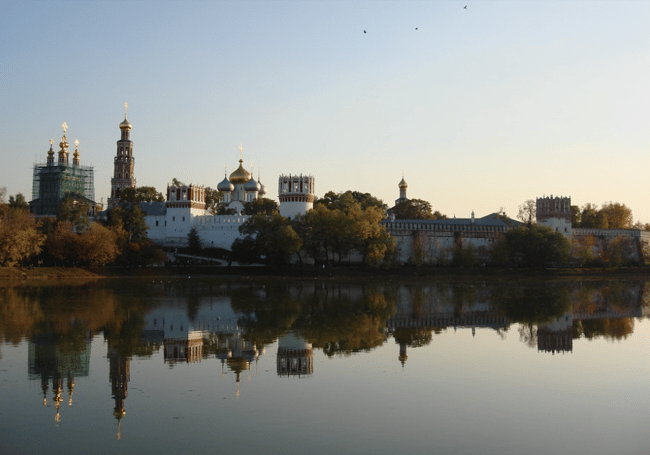 Ascension Church
Found in the massive Kolomenskoye park, this unique church caught my eye because it doesn't look like any of the buildings I saw in Moscow. It was built over 500 years ago, as a way to celebrate the new prince who would eventually become Ivan the Terrible. It's a UNESCO Heritage Site and absolutely beautiful to visit in the spring when the surrounding apple orchards are in bloom. Or go in the fall where you'll find more trees in bloom than you know how to photograph.
Cost + Hours: 8:00 AM to 9:00 PM
Getting Here: Use the Kolomenskaya stop, the Green Line (Line 2)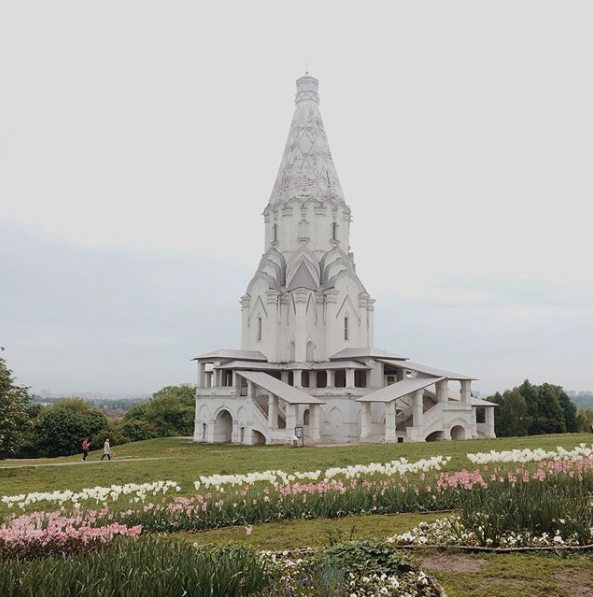 The Church of Saint Nicholas in Izmailovo
Another place you should have on your itinerary, and not just for the church. You can find this more-than-impressive wooden church in the middle of my favorite place to shop in Moscow: Izmailovsky Market. It's a collection of vendors and shopping streets, punctuated with colorfully whimsical buildings that give the area an overall "gingerbread village charm" especially when things are dusted with snow. Here's all the info you need to know about Izmailovsky Market.
Cost + Hours: Izmailovsky market is closed Monday, Tuesday, Thursday and Friday
Open Wednesday, Saturday and Sunday: 9:00 AM to 6:00 PM (but you can view the church whenever even when the official market is closed).
Getting Here: Use the Partinzanskaya stop (it's on the dark blue line).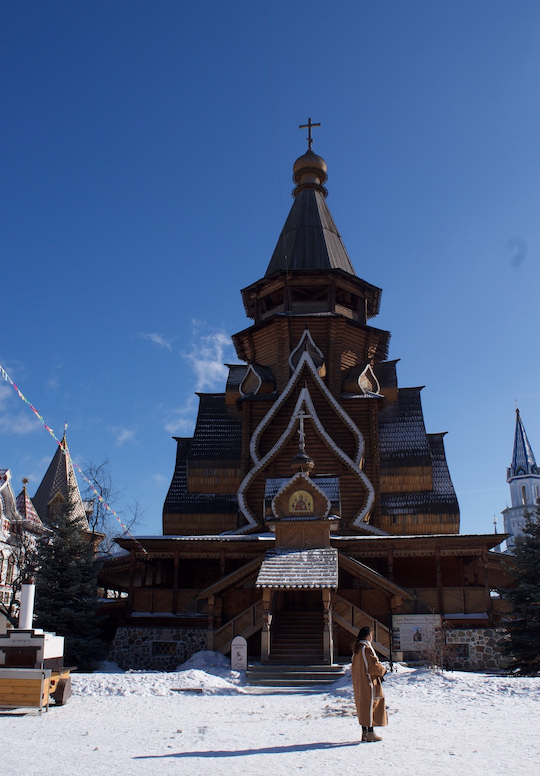 A Few Extras
So the above churches above the must-sees, but the ones below are a few that I found while wandering around. They're not tourist-hot-spots by any definitely, but I found them to be particularly pretty. One of my most favorite parts of my semester living in Russia was finding all of these little cathedrals. It truly was the most delightful surprise stumbling on something so pretty.
The Church Of St Nicholas In Khamovniki
This little gem was right around the corner from where I was living and I was smitten with the gingerbread-esque color palate. I'd find myself accidentally on purpose walking a street too far from my house to sit on the benches and watch the neighborhood filter in and out of this church. While relatively simple and nondescript from the inside, the outside was always one of my favorites.
Hours and Cost: 8:00 AM to 8:00 PM, free to enter.
Find it: Use Park Kultury, on the Brown Line (The Circle Line side of things)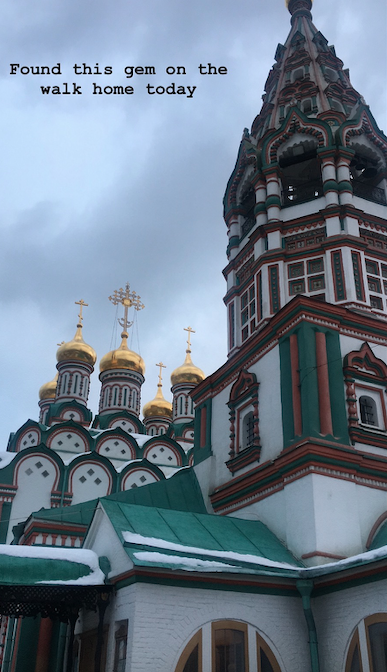 The Nativity Church At Putinki
I found this particular church during an afternoon of wandering around the neighborhoods surrounding the Kremlin, only to come home and be totally blown away by the history. The quiet church I admired one rare sunny afternoon in February turns out to be one of the most unique in the city.
The church is ivory-white and tipped in bright blue domes, forming six "tented roofs" that resembles a crown. The church was built by Tsar Alexis Mikhailovich as an adornment to the highway that led from Moscow to the Trinity Monastery. When you run into gems like this, you'll see why I loved just aimlessly wandering around Moscow.
Cost: Free to enter
Getting Here: Use Tverskaya (exit 1) on the Green Line (Line 2)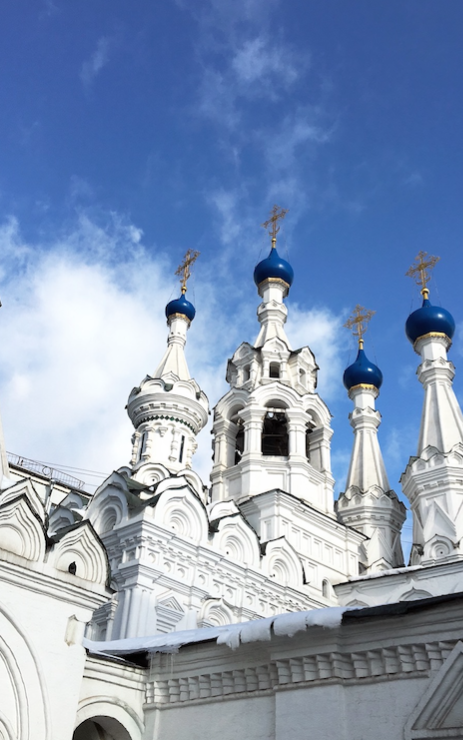 The Church of the Intercession at Fili
Another pretty and unique church that was actually built in the shape of a Greek cross and was built on a church built way back in the days of Mikhail Romanov. The church was built to commemorate an impressive victory over Polish troops over 400 years ago. If you look for it, you can see that this church is actually a combination of two churches, a winter church and a summer church, just one of the unique details. My favorite aspect was that this church isn't in pristine shape, with a crumbling exterior but a gorgeous interior, complete with icons and chandeliers.
Cost: Free to enter
Getting Here: Use the Fili metro stop on the Light Blue line (Line 4).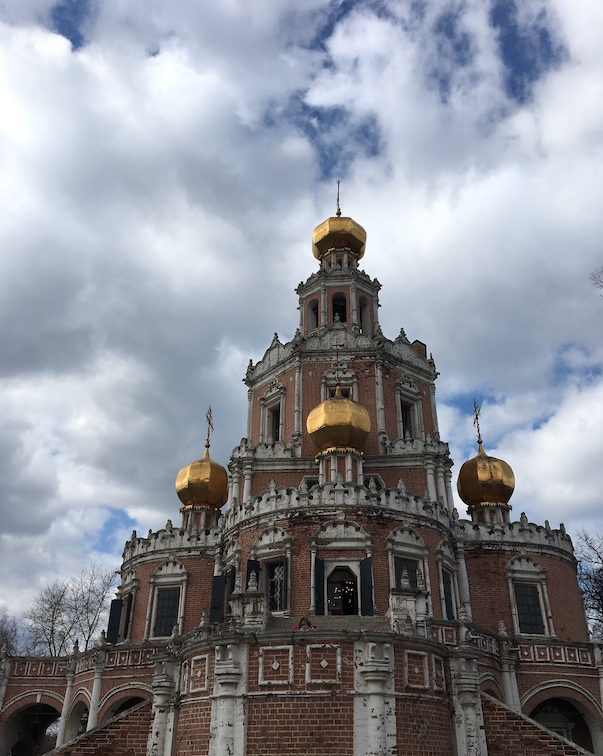 The St. George's Church in Victory Park on Poklonnaya Hill
So the main attraction in this part of the city is one of my favorite museums in Moscow, the Victory Museum. But on the grounds is a tiny little church I just love. It's small, built in a single column, and has a beautifully decorated door. But inside, you'll find a small place of worship with sun streaming inside the narrow windows. The impact is beautiful and stuck with me as much as the artifacts found in the museum I initially came here for.
Cost: Free to enter
Getting Here: Use the Park Pobedy stop on the on the Dark Blue side (Line 3). Follow exit signs to Victory Park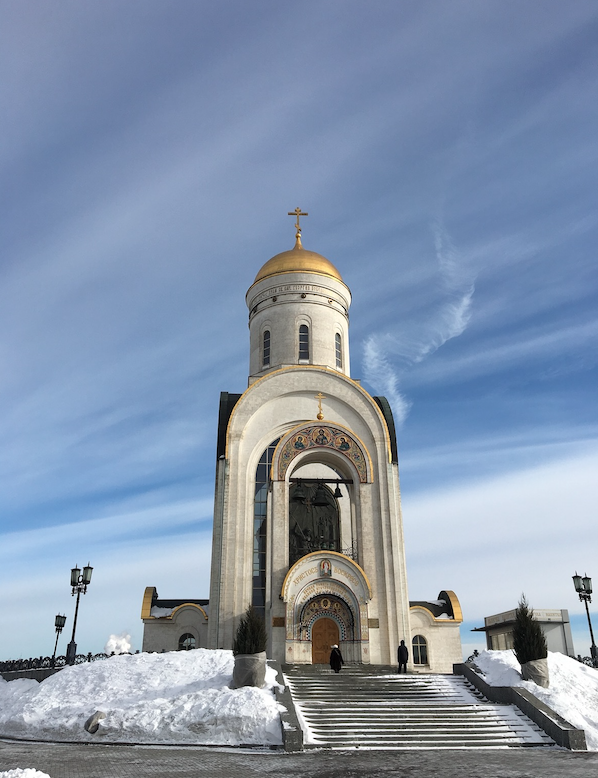 Keep In Mind The Dress Code
For most of these churches, they're active places of worship. To be respectful of those worshipping, please adhere to the dress code. Some churches won't let you inside unless you're dressed properly.
For women, that means having your shoulders and stomach covered, and nothing too low cut. You also will be turned away if you're in shorts or a really short dress or skirt. It's also required to have your head covered in some situations, so I suggest carrying a light-weight scarf in your bag just in case you want to peek inside of a church you find while exploring.
For men, please remove your hats. In some of the more conservative churches, shorts are prohibited. In that situation, you can typically pay a small rental fee for a pair of pants to wear inside. Like the women, please make sure your shoulders are covered.
A Map To Help You Out
Because these churches are scattered around the city, I've mapped them all on Google Maps so you can see where they all are (and hit any which is near where you're staying or exploring for the day). Get the map of Moscow's Cathedrals right here.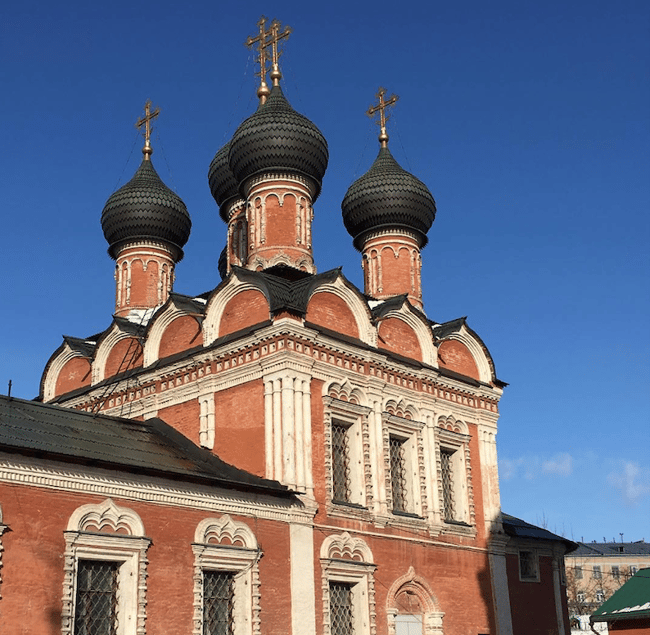 Come hang out in Europe for a semester!
I spend a whole semester living in Russia and traveling around Europe and can't stop talking about it. Get more info about how you can have the same kind of adventure here: