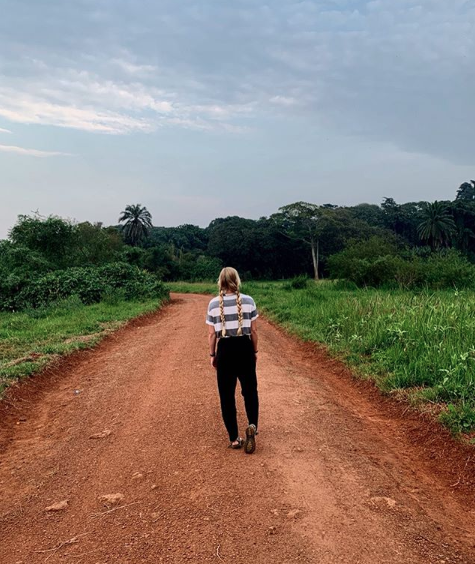 Come river raft the Nile, spot some crocodiles, and more in this African city.
Africa was made for adventures, especially the country of Uganda. While there are a few spots in Africa where you can head out on a safari, there is only one spot where you can go white-water rafting on the Nile River … and that's Jinja, Uganda. Jinja also happens to be one of our favorite weekend getaways for our ILP Uganda volunteers. Hello, unbeatable adventures and favorite cafes.


---
We're accepting applications (lucky you!)
Come see what volunteering in Uganda is all about.
---
Our mini-guide to Jinja has what you need to spend a weekend here: our favorite things to do, places to stay, favorite restaurants, and all that jazz.
What You Have To Do In Jinja
Places to Stay
Places To Eat
Getting To Jinja
+ A Few Tips
What You Have To Do In Jinja
Raft The Nile
It's the number one thing to do in Jinja, and has to be on your Uganda adventure list. The Nile river starts in Uganda, and winds its way through South Sudan and Sudan until finally reaching Egypt … but you can navigate through some white water rapids right at the source. Jinja is the best jumping off point for that favorite adventure. Some volunteers come do it twice during their semester because it's so crazy fun. Here's our "rafting the Nile river" go to guide, full of tour companies to book through, tips you won't want to go without knowing, and other helpful info. You'll want to read that guide while planning your rafting trip.
Rafting is a half day, or overnight activity (some tours can include an overnight stay in a hotel — we talk about one below) if that helps you plan your trip to this city.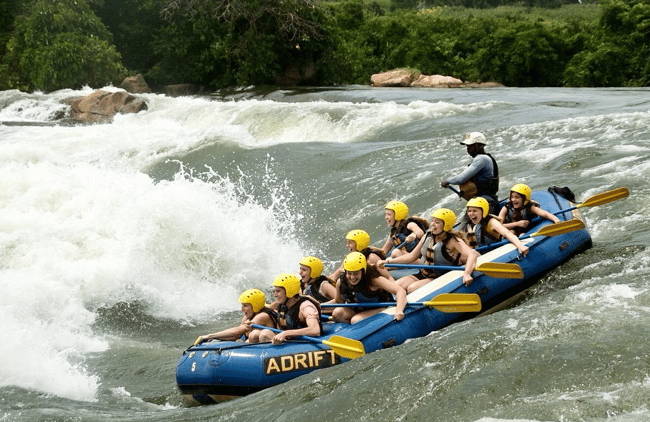 See The Source Of The Nile
Come check out where this mighty river starts — another one of Jinja's tourist destination pulls. The source itself isn't very well marked (a semi-rusted sign lets you know you're here), but it's still worth seeing. We're big fans of taking a short boat ride out to see where the Nile meets Lake Victoria; Along with a few dozen species of birds, otters, monster lizards, and maybe the odd crocodile! It's a peaceful and beyond scenic experience.
Directions + Costs: From downtown Jinja, it's not a very long walk (about 20 minutes from "The Deli" cafe), or you can take a taxi if you'd rather. You want to head towards the "source of the Nile" on the eastern shores. There is an animal park and beach where you can admire the shrine to Gandhi and peruse the little shopping stalls set up there before finding a boat to take you out (boats are around $22 for a 1-hour tour).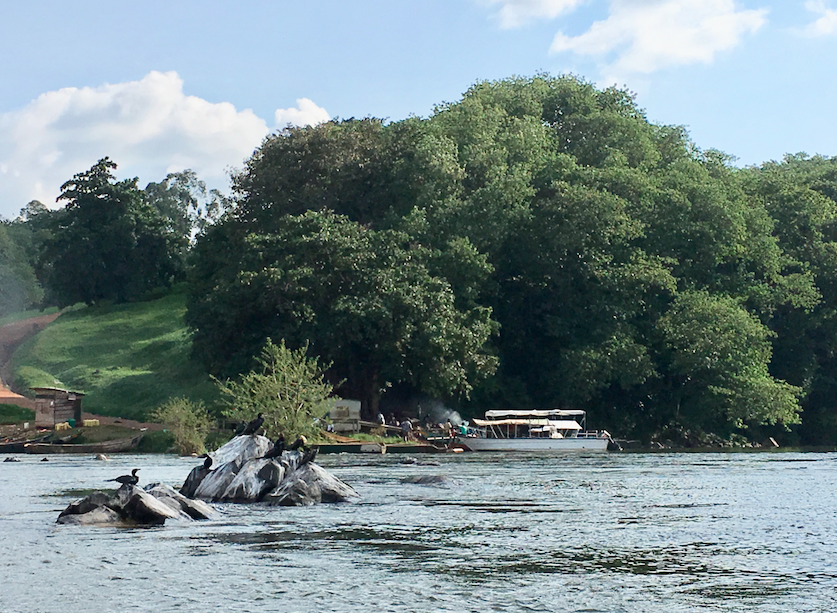 Do Some Shopping
Before or after your boat trip, ILP volunteers have loved shopping at the stalls around the source of the Nile. You'll need to bargain for everything, but volunteers found hand stretched drums, colorfully dyed fabric made into dresses and scarves, beaded necklaces and bracelets, woven sun hats and more.
You'll probably also see a small shrine where part of Gandhi's ashes were scattered before your boat trip — there's a small bust and plaque commemorating the event.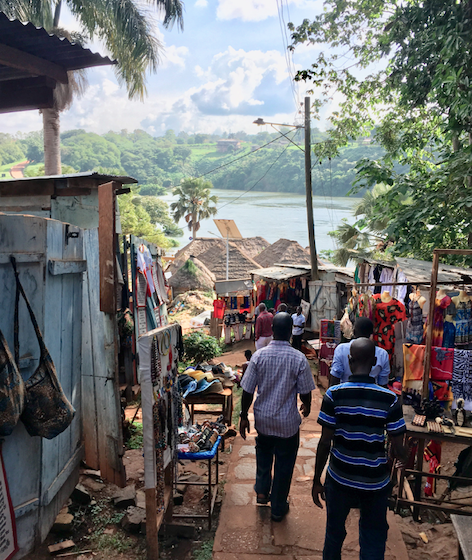 Hike To Itanda Falls
Found north of Jinja, Itanda falls is a series of rapids on the "White Nile" that are some of the most challenging areas to kayak, but makes for a beautifully scenic hiking area. There are frothy white falls spilling out over dark red rock, and is a total off the beaten track adventure. Some tourists are lucky enough to see a few kayakers navigate the rapid waters, but even if you don't see anyone on the water, you'll love the pictures from this place.
Off the road, there's a red dirt pathway that winds through the green trees before you reach the water's edge — there are a couple of rocky points you can hike to in order to get up close and personal with these thundering falls.

Getting here: It's about a 45 minute drive, so hiring a driver for the day is your best bet or negotiating a taxi. Your hotel/hostel can help you out with both of these options.
Cost: It's about $15 for the entrance ticket to the park to see the falls.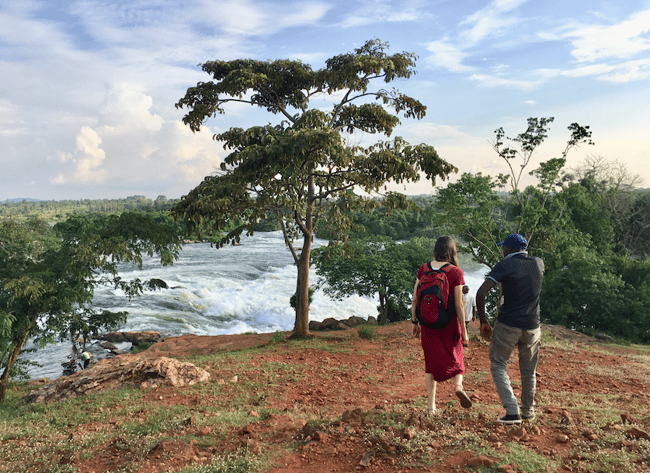 Hang Out At This Waterfall + Pool
You're more than welcome to book yourself a stay at the Wild Waters Resort, but we love just visiting for a day. It's found about an hour north of Jinja along the Nile, where you can take a canoe over to a private island and hang out at this pool that faces the rapids of the Nile. It's amazing. You'll need to pay $15 to canoe to the island (it's part of national park) and pay a $10 fee to use the pool.
Make sure to make a reservation — they only allow about 20 people a day who aren't staying at the resort come eat lunch and hang out at the pool. Unreal views, am I right?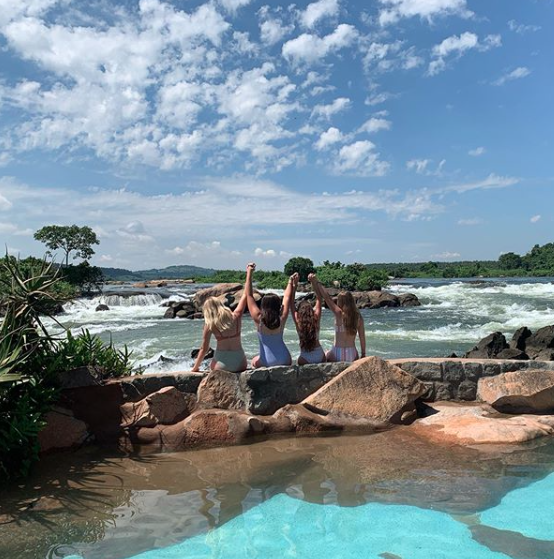 Zip Line At Griffin Park
About an hour away from Jinja is the Mabira forest, Uganda's biggest forest where you can zip line above lush treetops, zooming past monkeys and colorful parrots. There are two zip line tours a day (one at 8:00 AM and the other at 2:00 PM), and the zip line tour is about 3-4 hours, making it an ideal day activity if you're already in the neighborhood. There are multiple packages you can choose from ranging from $50 to $100+. We have more information about zip lining in Griffin Park here.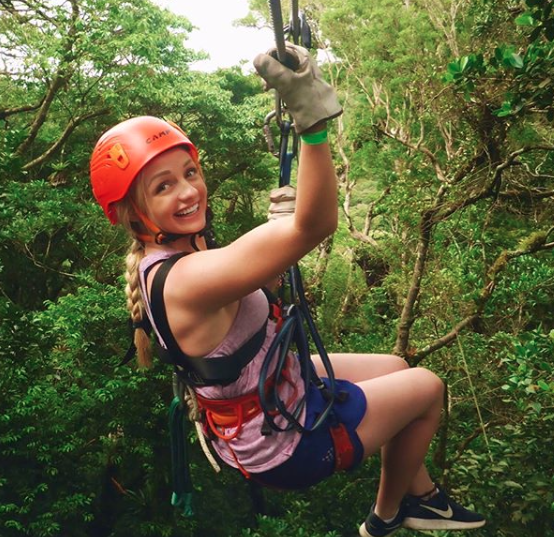 Places to Stay
Nile Village Hotel
According to one volunteer, the Nile Village Hotel is "really nice with good food and a nice pool", so what more can you want? It's also a not-too-bad walk to visit downtown Jinja. If you book with Adrift tours to go white-water raft the Nile, the include the price of an overnight here in their price of a rafting tour.
The hotel is equipped with a restaurant serving international dishes (everything from mushroom soups to local Ugandan fare). It's nice 4-star hotel and according to our volunteers, worth the splurge. Get more info and book your stay here if you're not already getting a stay here through Adrift Rafting.
Places To Eat
The Deli
Probably the most popular restaurant in the area (at least for foreigners) and our volunteers can see why. The staff is incredibly friendly and the food is bomb. Things like bagel sandwiches, fresh juices, BLT sandwiches, Eggs Benedict, fluffy pancakes topped with fruit, frothy milkshakes, fresh juices, really good coffee, and other drinks. It's a must-stop place for breakfast, lunch, or dinner (but we won't tell if you visit twice in one day).

Address: 2, Main St, Jinja, Uganda
Hours: 8:00 AM to 7:00 PM, 9:00 AM to 3:00 PM on Sundays.
The Source Cafe
A huge favorite for a few reasons. Maybe it's the grilled cheese and the fresh passion fruit juice? Or the milkshakes (flavors like peanut, chocolate, strawberry, vanilla, are favorites)? Or the coffee? Take a peek at their menu and find gems like omelets, waffles, banana bread, and breakfast burritos for their breakfast menu, or favorites from home like an avocado burger, fried chicken, and a grilled sandwich if you want lunch or dinner here. Of course, you have to at least look for dessert options — we think you'll be persuaded to try the brownie sundae or the chocolate cake.
Address: 20 Main Street, Jinja, Uganda
Hours: 8:00 AM to 6:00 PM, closed Sundays
Java House
Found a little bit outside of the city center, this place is another volunteer favorite. You'll find a menu full of favorites like scrambled eggs and bacon, pancakes, fresh salads, toasty sandwiches, thick wedges of cake and other things you may be craving.
Address: Shell Service Station Jinja-Kampala highway, Jinja, Uganda
Hours: 6:00 AM to 10:00 PM
Igar Cafe
Ready for another recommendation? Of course you are! We're big fans of the burgers and sandwiches you can order at this cafe, but you'll also find dishes like grilled cheese, roasted chicken, and a few pizza options. They also have a slamming breakfast menu (and are open early). It's a popular place with expats and tourists.
Address: Main St, Jinja, Uganda
Hours: 6:00 AM to 12:00 AM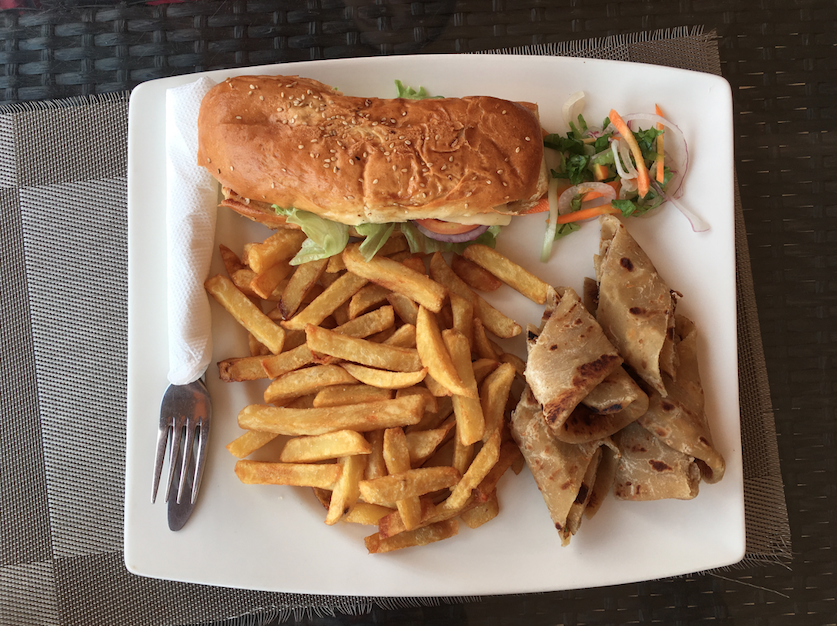 Getting To Jinja
From Kampala
Quite a few rafting options will take you from Kampala to Jinja as a part of their tour, but taking a shuttle with Pineapple Express is also a popular option. Right now, they have a shuttle for $14 per person, from Kampala to Jinja. ILP volunteers in the past have also hired a taxi or a private bus to take them, though prices are typically higher for that option.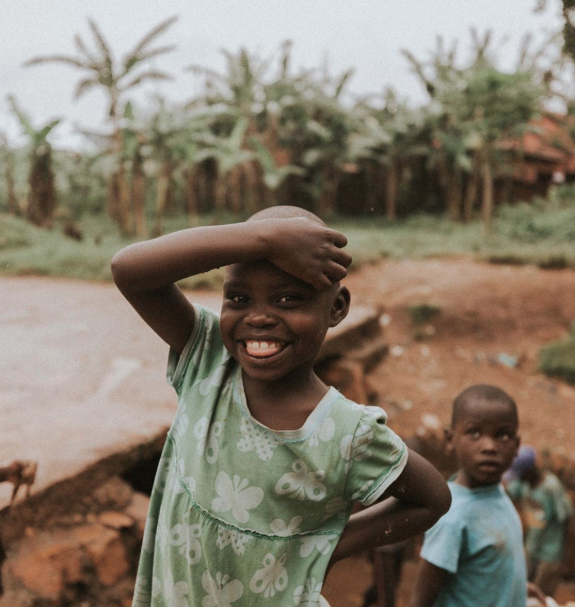 Ready for Africa? We're accepting applications now.
Come to Uganda with ILP! Spend time teaching English, helping with other humanitarian programs, and as always, you'll get weekends off + vacation days to experience Africa. That means weekend trips to Jinja, and dreamy vacations to places like Tanzania (we love the beaches in Zanzibar!)