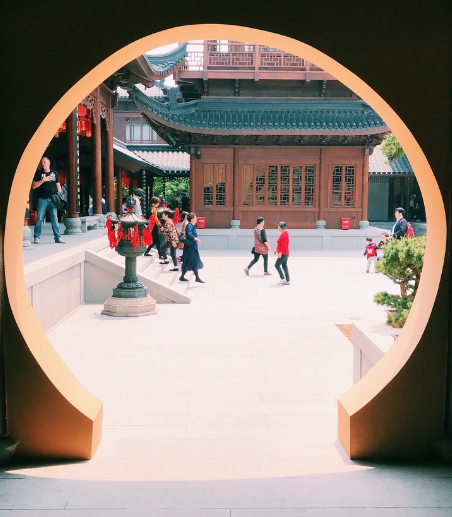 Traveling in China may seem a little bit daunting (especially if you don't know Chinese) but the metro in the sprawling city of Shanghai makes it easy.

Even if you don't speak Mandarin, it's easy to navigate China. Trust me, I was in the same exact situation ... living and vacationing in China without knowing any Mandarin. But my vacation in Shanghai was seamless, thanks to the metro. The Shanghai Metro makes getting around easy, even with a language barrier. And don't worry — even if you've never used the metro before, you'll be able to get around the huge city of Shanghai, China without a problem once you know a few tips. That's where we come in.
---
If you're into the idea of vacationing in China
You'll love volunteering and teaching English in China with ILP.
---

I've pulled together all the info I knew and stuff I figured out while I was there. Follow this breakdown to help you plan the perfect itinerary in Shanghai, whether you're here for a quick weekend visit or a longer trip:
Get Yourself A Metro Pass

Download This App

Find Where You Want To Go

Time To Map It Out

Know How To Find The Metro
Get Yourself A Shanghai Metro Pass
We suggest getting a metro pass for however long your stay is. You can always buy single-use tickets at the kiosks underground every single time you board the train, but it'll be easier to just have a reusable pass that's pre-loaded with money that you can use without limit for a certain amount of time. Here's a bit more about that:

One Day Pass: Pay 18 CNY (about $3) and ride the metro (all lines) as much as you want for 24 hours after your first use. You can purchase these at the ticket kiosks where you would purchase single use tickets.
Three Day Pass: Pay 45 CNY (about $7) and ride the metro as much as you want (all lines) for 72 hours after you first use it. You'll need to purchase these at a ticket window, but they are available at most stations.
Pro tip — these passes are absolutely the way to go. For the Shanghai Metro, you pay per ride with a single-use ticket and how much that costs depends on how far you are traveling. Since you're going to be in Shanghai to see all the things (like a day at Disneyland and a day shopping and a day exploring) you are going to be riding all over this city which can add up. Save money and buy a One Day or Three Day pass.

If you'll be in Shanghai longer or plan to visit several times, you can get a reloadable card (A Shanghai Public Transportation Card) where you pay 100 CNY ($15) which includes a 20 CNY card deposit and 80 Yuan to use on the metro and some public buses. You can reload the card with more money when you run out. You can buy this card option at the Pudong Metro Stop (the airport) and the Hongqiao Railway Station.
Download This App
The app Metroman will be your best friend when you're living in China for a semester, or even if you're just visiting for a week or two. Find it free on IOS here and free on Android here.

Basically, the app comes with the metro maps of several cities (Shanghai included) so once you select your city, you can type in any metro stop and it will tell you how long your ride will be from station to station, how much your ride costs, which transfers to make, etc. It makes traveling by metro a total cinch.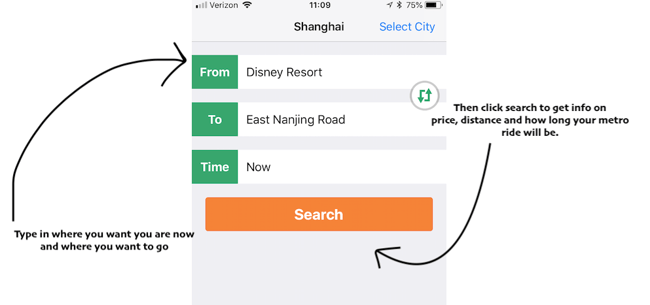 Find Where You Want To Go
Shanghai is a massive city (about 24 million people live here) so needless to say, there is loads to do here. Most of our volunteers come here for a weekend visit (it's close enough for a weekend trip for a few ILP schools) or a 2-3 day vacation if you live in the northern or southern parts of China. You can obviously spend as much time as you'd like and explore whatever you'd like to see, but here's how ILP volunteers typically spend their time —
The Bund
You've probably seen pictures of this if you've stalked the ILP Instagram (make sure you check out #ILPChina to see what our volunteers are posting). This iconic skyline of Shanghai is called "The Bund" and is a sight to see in the day, and all lit up at night.
To get here: Take the metro to the East Nanjing Road stop (Line 2/10)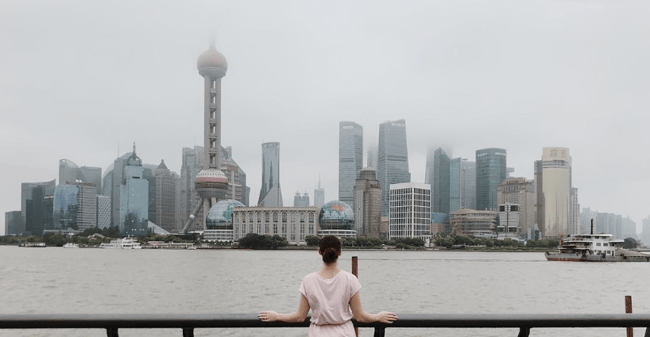 Tianzifang Alleys
Found in the fringes of the French Concession, this is network of dizzying, maze-like alleyways crammed full of artists, galleries and food vendors. Pick up souvenirs like intricately carved papercuts after lunching on a basket full of steamed dumplings.
To get here: ride the metro to the Dapuqiao Station (Line 9) and leave the station at Exit 1
French Concession
Feel like you've stepped into a European street in the French Concession; cafes sit under tall shady trees in front of a backdrop of colorful restaurants and apartments. It looks and feels just like France.
To get here: there's several stops where you can get off and explore, but a popular one is South Huangpi Road (Line 1) Exit 1
Friends Cafe
Any Friends fans out there? This is the cafe for you (see pictures and get more info here!) The menu is delicious and themed just like the classic sit-com so plan on staying for lunch to have a burger, pizza, pasta fries and some awesome drinks.
To get here: get off at Hailun Road metro stop (Line 10)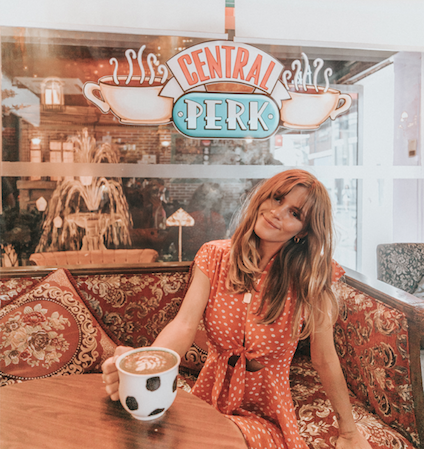 Yu Gardens
A very popular tourist attraction, these gardens are tucked between the busy center of Shanghai, giving you a bit of relief from the city-life. Wander traditionally styled architecture, koi ponds and gorgeous gardens. Bring your camera because place is pretty (but tends to be very, very crowded — so plan on visiting earlier rather than later and plan on seeing lots of people there).
To get here: YuYuan Gardens (Line 10)
Shanghai Disney
We're pretty sure you'll visit the Disneyland Park while in Shanghai, right? We have a massive breakdown of everything you need to know about Shanghai Disney on the ILP blog so be sure to read that before you visit.
— Volunteers spend at least one full day here.
To get here: Disney Resort (Line 11)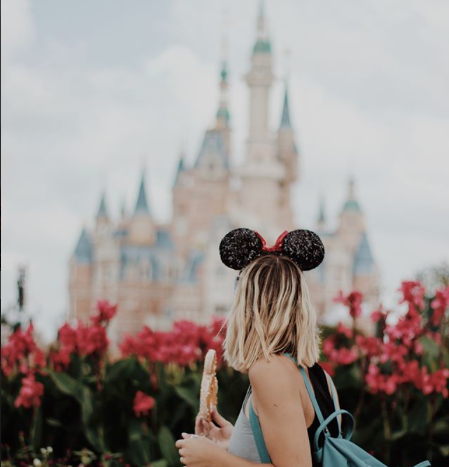 Longhua Temple
Admire hundreds and hundreds of golden buddhas in this temple complex after you take pictures of the pretty pagoda and other sites. This is a favorite temple to visit in Shanghai.
To get here: Longhua (Line 11/12) (Exit 2)
People's Park
Stroll around the pretty park and see if you can visit the iconic marriage market, where Chinese parents print out fliers of their child's info to help find them a partner. The "marriage market" is a portion of the park, but the rest of the area is filled with plenty of trees, gardens and other pretty things.
To get here: People's Square (Line1/2/8) (Exit 9)
Shanghai Wild Animal Park
Hang out with giraffes, play with lemurs and get close with a few other favorite animals at this park. Get info on tickets and other crucial info before you visit, right here.
Volunteers typically spend at a full day here.
To get here: Wild Animal Park (Line 16)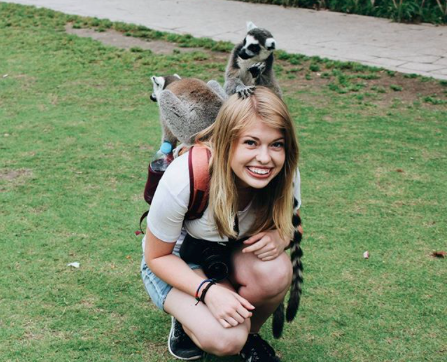 Knock Off Mall / Bargain Shopping
Get all of your shopping done in Shanghai. Learn how to barter, then stop off at this metro stop to pick up anything from knockoff purses and shoes to traditional style paper fans and chopsticks. If you want to shop till you drop, this is heaven.
Volunteer tend to spend several hours shopping here; if you want to do a lot of shopping plan on being here half a day.
To get here: Shanghai Science & Technology Museum (Line 2)
Jade Buddha Temple Knock Off Mall
While you'll see lots and lots of Buddhas while in China, this one is quite unique: This buddha is carved out of iridescently white jade. Get ticket info and other details here.
To get here: Jiangning Road Station (Line 3) Exit 4
Time To Map It Out
Since Shanghai is so huge, it's nice to know where all of these places are. We've snagged a metro map from China Travel Guide and put a box where all of these classic sites are so you can see sort of where things are in relation to each other. We've also color coordinated the places that you might want to plan on the same day. For example, if you're going to see the Bund you'll likely want to also schedule in People's Park, Friend's Cafe, Yu Gardens, and the Jade Buddha Temple on the same day (shown in red) because those stops are all very close together.
Schedule a trip to Disneyland on another day because see how far it is from the Bund? Hopefully this helps you group together activities you can see in one day.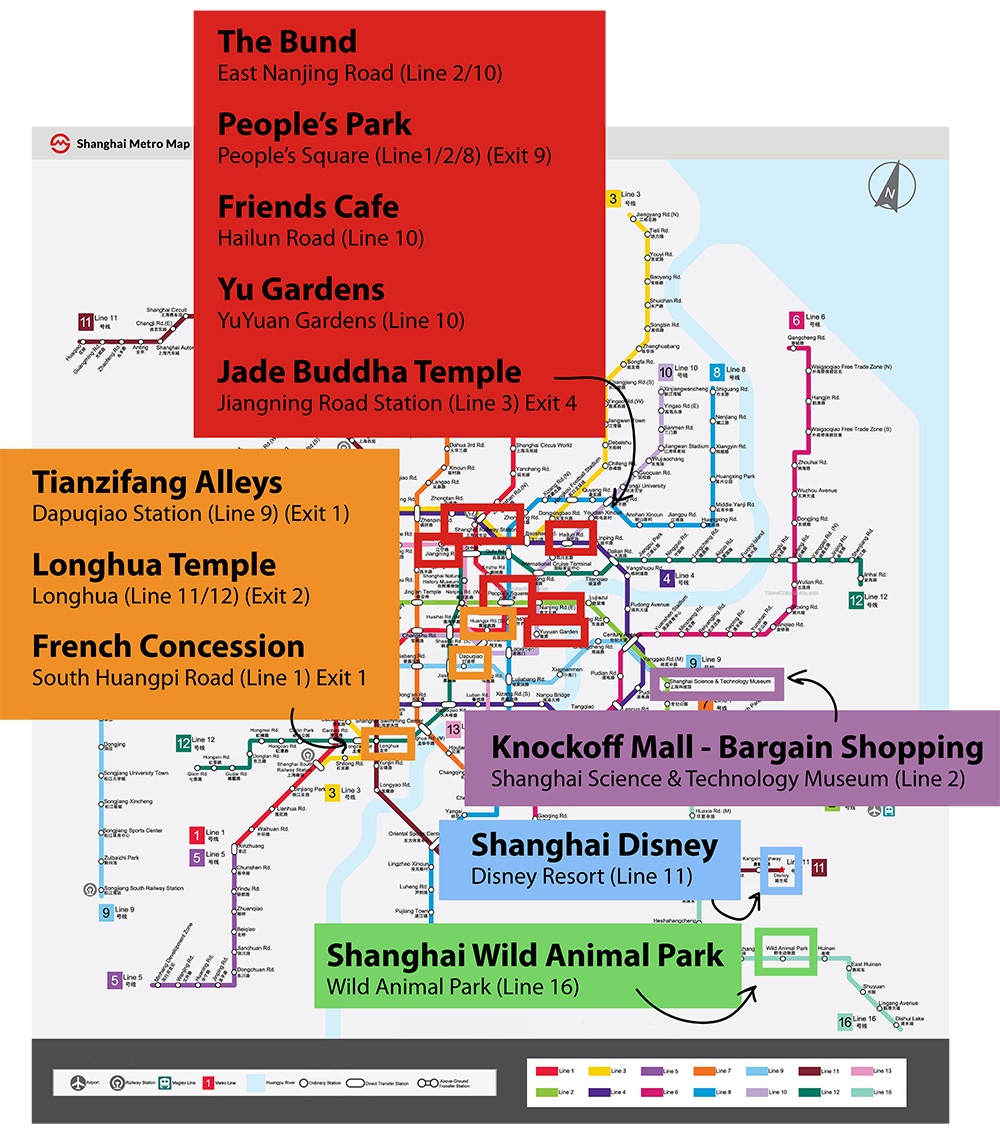 Know How To Find The Metro
This post doesn't do you much good if you don't know how to find the metro stops, right? The entire metro runs underground, you can find metro stops with this symbol: just look for a set of stairs going underground underneath a sign with that red "m".
If you have a data plan, just open up your Maps or Google Maps app and metro stops are visible there. That is the best way to find the nearest one to you while you're out exploring.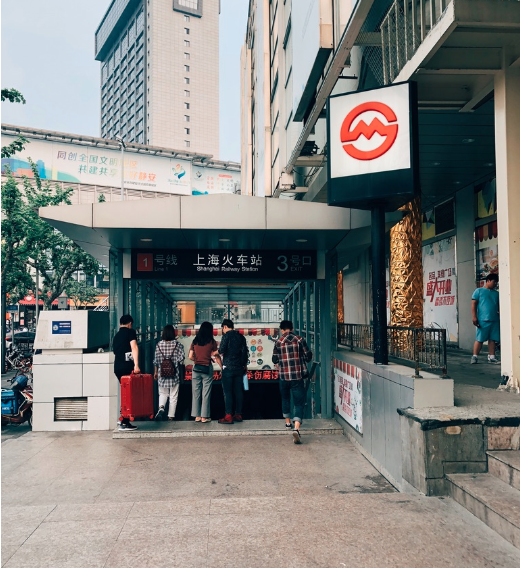 Still have China on your mind?
Get more info on what it takes to be an ILP volunteer here and click below to get more China in your life: