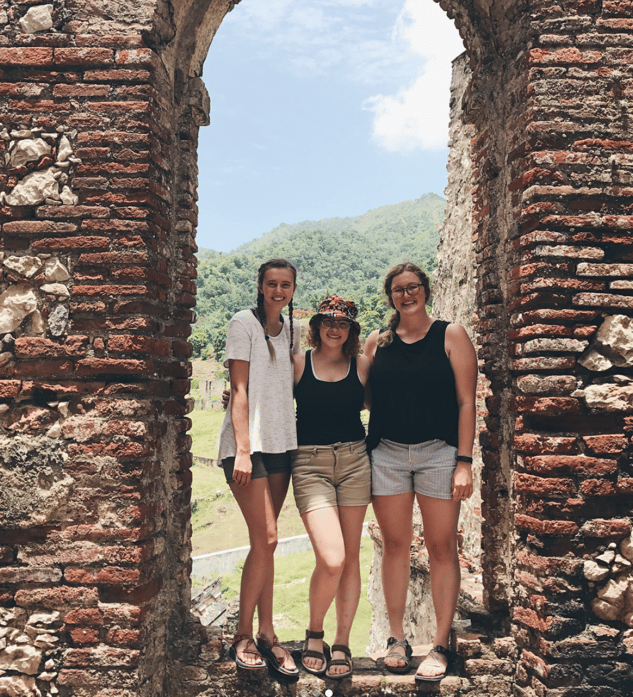 Who would have thought this giant mountaintop fortress is hiding in Haiti?
A semester living abroad in Haiti means making a difference in an orphanage, spending weekends finding hidden gems, soaking in the Caribbean sun and getting vacation time to explore places like this rad, massive, mountaintop fortress. Sound like the perfect semester to me.


---
Want to volunteer with this orphanage program?
Come fill out an application right here!
---

A group of ILP volunteers got to see this place up close during a vacation to Cap-Hatien and we're sort of obsessed with how cool (and huge!) this place is. Who knew something like this was hiding in the Caribbean? Here's what you gotta do and see while you're there —
How To Get To Cap-Haitian
Hiking The Cidadelle
Visiting The Beach
Where To Eat
Where To Shop
Where To Stay
How To Get To Cap-Haitien
Infrastructure in Haiti isn't as developed as other countries so getting around can be a bit rough .... luckily, ILP volunteers are set up with an awesome local coordinator who has driven groups to Cap-Hatien for the weekend or a three day weekend. It's about a five hour drive (which is VERY rough ... bring anti-nausea if you're prone to car sickness), but the drive is very much worth it.
The city is found on the northern coast of Haiti if you're trying to orient yourself.
Once you get there, your Local Coordinator can drive you around to the spots you're wanting to see, like the Citadel and the beach.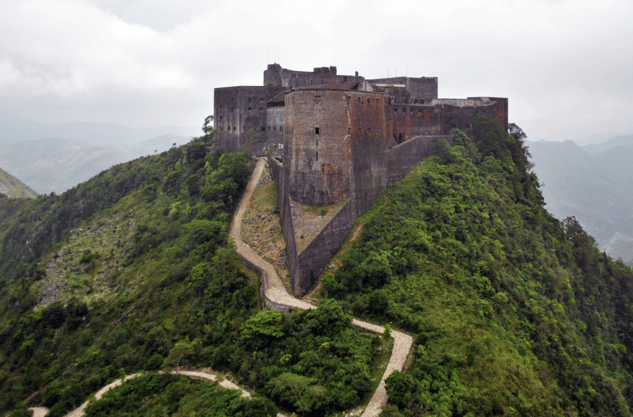 Hiking the Citadel
Here's Why This Place Looks Familiar
If you're living in Haiti, you might notice this fortress is on the back of the Haitian currency (so that's why it may look familiar). It's also been around for almost 200 years — The Citadel Laferrière was originally built to help keep out the French, but the French never came to attack the fortress. It was occupied for a bit, but has been abandoned for years and years … but you can still see piles and piles of cannonballs around the grounds.
Hike Or Horseback
You might notice that the only way to get up to this looming fortress is to hike up that hill. Luckily you can also borrow horses for the afternoon to take you up and down.
It should be about $30 USD per person which includes your entrance fee, horses up to the top (& back), and a tour guide to help you understand the history of the place. Horses are about $10 each way ... it's a 2-3 mile hike just a head's up.
Oh, and groups suggest brining smaller bills for tipping the guys who helped you set up your horses and a tip for your tour guide. Anywhere from 250-500 gourds should be fine.

Tips: Pack plenty of water but you might be able to get some fresh coconut water on the way up. Sometimes, vendors meet you on the trail with fresh coconuts. Yum.
Some Things To Look Out For
Once you ride to the top, don't forget to take a million photos with your ILP group; this place is gigantic. It's never really been used (and has escaped damage from earthquakes) so there is lots to explore. There supposedly was enough storage space for food and water to feed an army of 5,000 soldiers for an entire year — it's that huge!
If it's a clear day, you might be able to spot Cuba to the west. This island is only about 90 miles away from Haiti.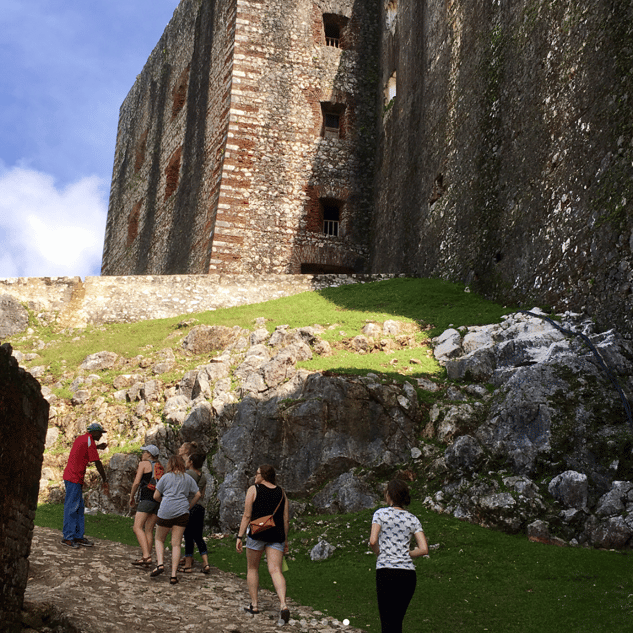 Visiting The Beach
The city of Cap-Haitian sits on the northern coast of Haiti, which is home to some of the prettiest beaches around. A bit to the west is a famous cruise port beach called Labadee (or Labadie). You can't actually visit this beach unless you're on a cruise ship, but don't worry. There is another beach just around the corner which is equally gorgeous. It's smaller and a lot more private; some ILP groups have had this place all to themselves for an afternoon.
Your Local Coordinator will drive you to where you can hire the water taxis.

It costs about 100 gourdes to hire out a water taxi to take you over, then about the same to get into the beach.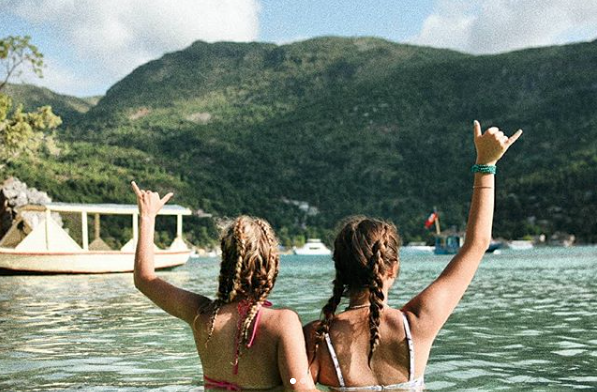 Where To Eat
If you have a craving for some American food (believe me, you will during your semester) Cap Deli has your back. Serving up big burgers and fries, french salads, pasta and meatballs, sandwiches, milkshakes, and other American food, you'll be in heaven. One ILP group came here three different times on their Cap Haitien visit.

Oh, and good news! This place takes cards, so you don't have to worry about paying cash. Prices are from $7 - $25, so pretty comparable to home. There is also free Wifi available.
Cap Deli Address:
Rue 24
|
Boulevard
,
Cap-Haitien 1113,
Haiti
Hours:
Monday - Saturday: 10:00 AM to 11:00 PM
Sunday - 1:00 PM to 11:00 PM
Another spot volunteers love is LaKay; it also has American food but the prices are a bit cheaper which is nice.
Where To Shop
There is a street close to the Mont Jolie hotel (we get to this later) which is lined with little vendors. You'll find paintings, wood carvings, masks, dolls and all kinds of trinkets. Make sure you bring small bills!! Packing up small bills (both American dollars and gourds) will help you haggle down the price and avoid needing to get change back.
Here's the address of the Mont Jolie hotel: Rue 29 B, Cap-Haitien, Haiti
(The souvenir street is nearby).
There are also a few vendors that camp out near to Citadel so you can do some souvenir shopping after you ride to the top and explore a bit.
Where To Stay
Groups in the past have stayed at
Satama Hotel
which is very nice (there are only a few places to stay in town, and they are all about the same price point).
Mont Joli
is also another pick — the two hotels and right by each other, just down the road a bit. Satama Hotel is up a very steep road, and Mont Joli sits at the base of the road.
Here's what one ILP volunteer said about Satama:
"The hotel has a pool, A/C, hot showers, nice beds, a TV, and a restaurant that we ate at every night and it was SO good. It also has a complimentary breakfast buffet. The staff is all so nice and we loved our stay."
Both have a pool, so groups typically break up their vacation by doing one full beach day, then hiking the Citadel and going swimming at the hotel pool on the second day.
Groups say it worked out to be about $100 per person, for two nights when it came to paying for accommodations.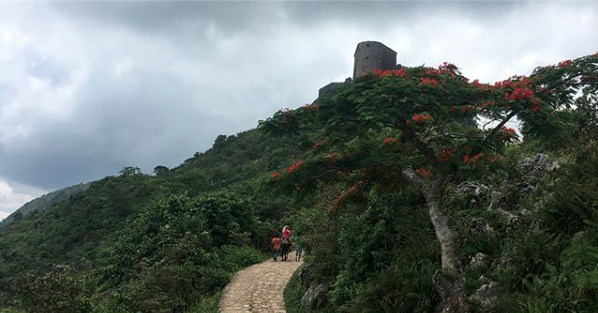 Ready to see this place in person?
Haiti's one of International Language Programs' newest humanitarian programs (we also have a program in the Dominican Republic and Romania). You'll part of your time during the week teaching English in an orphanage in Haiti (with lots of free time) and still get weekends off and vacation time to see places like this. For more info about an ILP semester here, click that green button!