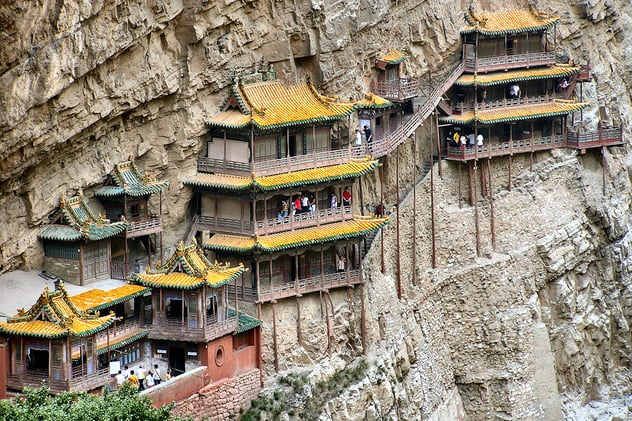 When traveling in China, besides seeing some of the main tourist attractions (I mean you can't go to China and NOT see the Great Wall!), I love going to culturally significant places. Hengshan Hanging Temple in Datong (near Beijing) is a must see for anyone who wants to take a step into Chinese culture and see a really cool hanging Buddhist temple!
If you're teaching English in China with ILP, you will have vacation time so you can travel and see other parts of the country. After you check out the Great Wall, consider visiting nearby Hengshan Hanging Temple.
Hanging what???
The Hengshan Hanging Temple in Datong is exactly what it sounds like, it's a hanging temple. This monastery stands at the foot of Mt. Hengshan, and since it hangs on the west cliff of Jinxia Gorge more than 160 feet above the ground, it is called the hanging temple or monastery. Pretty cool right?!
Why Visit?
Well first, if you're vacationing in Beijing but looking to spend a day or two exploring outside the city, this is a great option.
The temple was first built in 491 and has survived more than 1400 years of intense winds and storms, making it an architectural wonder and a must see. The temple's unique mixture of Buddhism, mechanics, and aesthetics give visitors a glimpse into some of the great cultural achievements of the Chinese people. Come and see for yourself how the ancient Chinese people half-inserted crossbeams into the cliff side, using the rock as the foundation and as the temple's main source of support.
Although Buddhism was the original religion practiced within the temple, the temple is actually dedicated to not just one religion, but three, with Confucianism, Taoism, and Buddhism all practiced within the temple and represented in 78 statues and carvings throughout.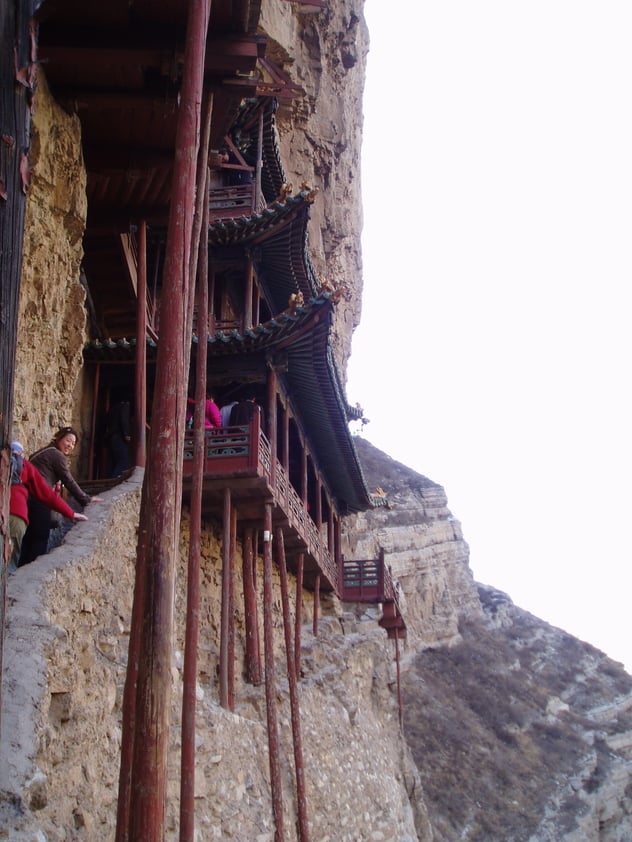 Why was it built here?
Surprisingly, building a temple/monastery on the side of the cliff has ultimately helped protect the temple from rain, snow, floods and has helped diminish damage that is caused by long sun exposure. Mountains are also known to hold sacred meaning to the Chinese, and Hengshan Mountain is one of the 5 sacred Taoist Mountains, so having a temple on the mountain makes sense.
What You Need to Know When You Visit
Cost: Entry fee is 130 Yuan (which is a little less than $20!)
Operating Hours: 9 AM - 5 PM (I recommend spending about 2 hours exploring the temple)
How to get there: First, get to Datong. From Beijing, you can take a short 1-hour flight or a 6-hour train ride (costs about $7) to get there. Once in Datong, take bus 8 from the Datong Bus Station on Yantong Road. You can also hire a van or taxi to take you to the hanging monastery. Round trip taxi trips shouldn't cost you any more than about 150 Yuan (about $21).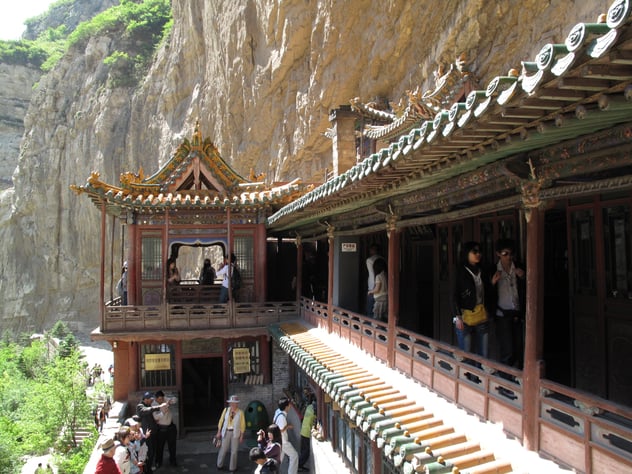 Ready to spend a semester traveling through and immersing yourself in Chinese culture? Click the button below to learn more about how ILP volunteers are making a difference in the lives of Chinese children by volunteering there.