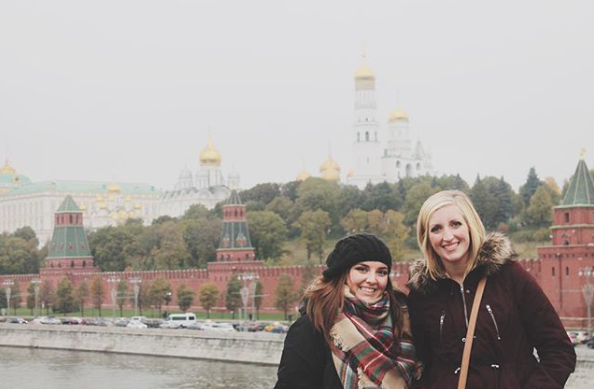 Headed to Russia? Here's how to try some local food and keep your budget.
We love all the adventures in Europe, but sometimes don't love the price tag that comes with it. If you need to keep a backpacker budget and eat out, you can find some spots to do just that.


---
Still figuring out a couple of details when it comes to Moscow?
Get insider tips with our Moscow Go To Guide.

---

Believe it or not, there are quite a few places around Moscow that are delicious and cheap. You don't need to spend a lot to experience the food! Here are a few places you can try some of the best budget meals in Moscow:
Vai Me!
Stolovaya N°57
Marukame
Cheburechnaya 'Druzhba
Grabli
#FARSH
Marketplace
Vai Me!
We looooove Georgian food, a popular cuisine to eat in Russia. You'll find dozens of Georgian restaurants around the city (and the country) but we love the prices at a place called Vai Me. While the menu has a variety of grilled meats, breads, salads, dumplings, and other dishes, you can snag a meal of Khachapuri for just a few USD dollars. Not sure what Khachapuri is? It's a warm boat of bread filled with melty cheese and topped with a pat of butter and an egg. Stir it all together, and it's like an amazingly delicious fondue. YUM. Peek the menu (in Russian) here.

Address: There are several all around Moscow:
Pyatnitskiy Pereulok, 8 строение 1, Moskva, Russia, 115184
Myasnitskaya Ulitsa, 11, Moskva, Russia, 101000



Hours: 10:00 AM to 11:00 PM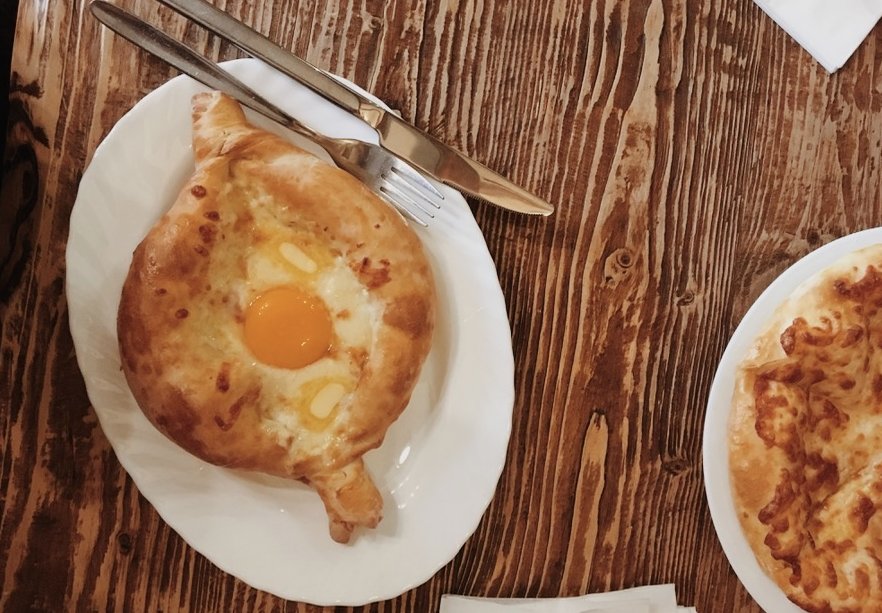 Stolovaya N°57
This is a great place to eat when you are visiting Red Square and don't want to eat at more expensive places in that part of the city. You'll find a smattering of very expensive options around Red Square, but not here! This restaurant is a classic Russian canteen style where you'll grab a tray, and walk down the line selecting what you want. You'll find Russian classics like borsch, soups, dumplings, beet salads, and other favorites for a few rubles. Since you're selecting exactly what you want on your tray, you get really get away with a budget meal. See their website here.

Address: the GUM department store, 3rd floor
Hours: 10:00 AM to 10:00 PM
Marukame
If you are looking for something a little different, Marukame is your place. They serve all kinds of Japanese food, boasting a menu full of dishes like udon, ramen, tempura, and dumplings. There are 6 around Moscow, but the original is located on Pyatnitskaya Street.
Address: Ulitsa Pyatnitskaya, 29, Moskva, Russia, 11503
Hours: 11:00 AM to 11:00 PM
Cheburechnaya 'Druzhba
Get a cheap lunch, and a bit of a history lesson when you visit this cafe. The main dish to order here is a "cheburek", stewed meat in a fried triangle of pastry. This style of eatery has remained relatively unchanged for ten's of years, with a self-service style and all stand-up tables. You'll likely not run into a menu, so best to know what you're ordering before hand .... cheburek! You'll just need to know how many to order (one is enough for snack or a very light meal, so best to get several if you're feeling hungry). One is just under a dollar, so something that's more than affordable.
Address: Pankrat'yevskiy Pereulok, 2, Moskva, Russia, 107045
Hours: 9:00 AM to 9:00 PM
Grabli
A classic canteen style eatery, where you'll walk up the counter and point to what you want to order. You'll find a whole selection — potato salads, salmon, chicken wraps, baked proteins, pasta options, stacked pastries, layered cakes, filled pies, grilled chicken, sandwiches and more. You'll see the prices by the item (either the price per item, or a set price per weight, usually 100 grams) so you can control what you're ordering by the item and the amount you're ordering.

Address: Ulitsa Solyanka, 1/2с1, Moskva, Russia, 109028
Hours: 8:00 AM to 11:00 PM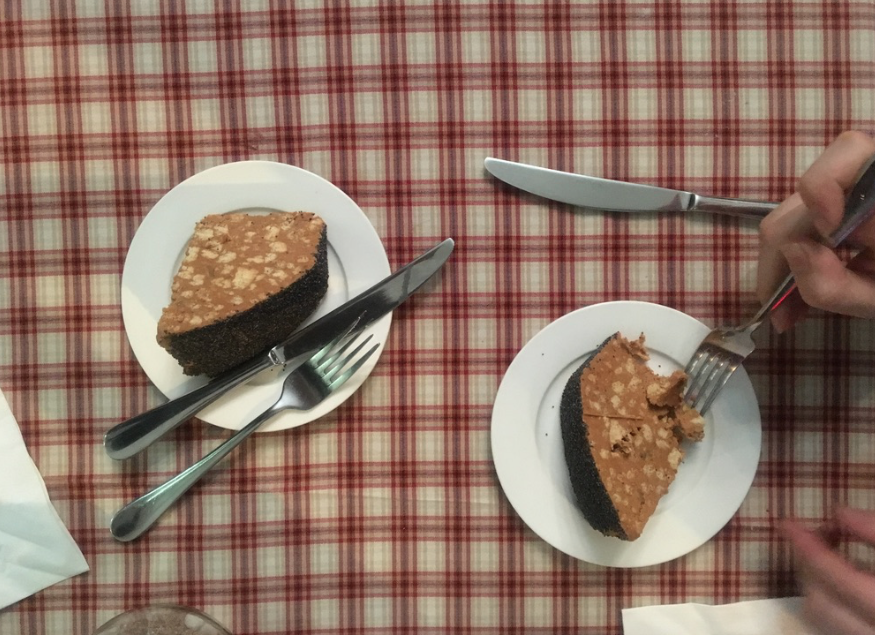 #FARSH
A burger chain that's found all over the city is a little slice of American cuisine with pretty reasonable prices. You can get a pricier meal if you order a burger with fries and a drink (and one of their more deluxe burger options) but their standard Hamburger is just 290 rubles. Even then, an order of fries is 150 rubles, or around $2. Not bad at all! Check their whole menu here.
Address: Multiple locations in Moscow
Hours: 10:00 AM to 12:00 AM
Tip: Try getting a student discount (15%) if you show your ISIC card!
Market Place
Found in Moscow and St. Petersburg, you can come for a bit of shopping and for lunch. The whole space is an open air market where your meal is cooked right in front of you. Find dishes like Cashew Chicken for 299 rubles, rice noodles with chicken for 249 rubles, and Sichuan style beef for 339. Get more of their menu here.
Address + Hours
Kiyevsky Station Square, 2 Evropeyskiy Shopping Center
Monday and Sunday: 10:00 AM - 10:00 PM
Friday through Saturday 10:00 AM - 11:00 PM
Myasnitskaya Ulitsa, 13
Chistye Prudy/Lubyanka stations
Monday and Sunday: 8:00 AM - 11:00 PM
Friday through Saturday: 8:00 AM - 1:00 AM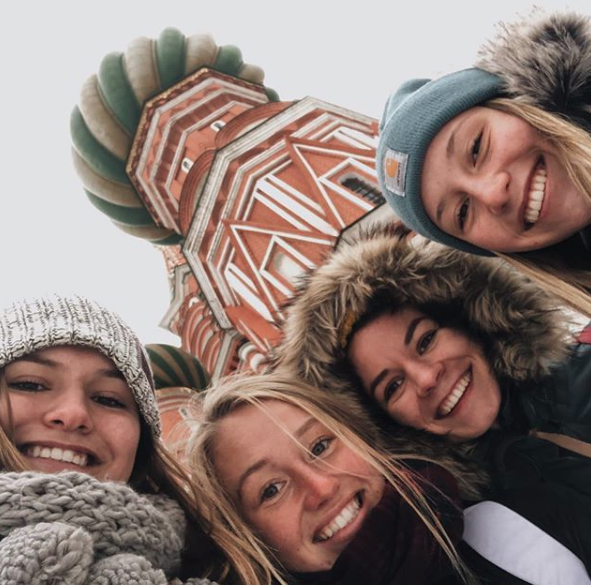 Do you want to teach English abroad in Russia?
Easily done with International Language Programs! Plus, your program fee includes your visa, round trip airfare, housing and meals — not a bad deal, right?