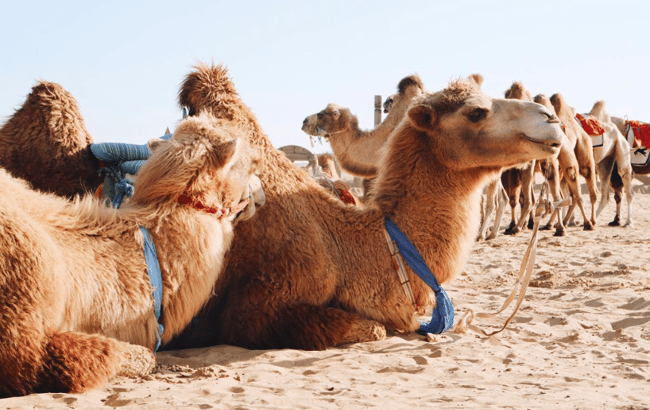 If you've already seen Shanghai and Beijing and are looking for a new adventure, you should come hang out in this fantastically unique part of China during your semester.
Our ILP volunteers living in China for a semester can't leave the country on their vacation, but that doesn't mean they have limited vacation spots. We have had ILP Alumni do multiple semesters in China … and they still come home without seeing everything this country has to offer.


---
We've pulled our best tips and favorite spots in China:
Get a glimpse at what China is really like in this China Destination Guide
---

Ever considered adding Inner Mongolia to your list of vacations during your ILP semester? One adventurous ILP group did! To help you plan a trip into Ordos (one of the main subdivisions of Inner Mongolia), we've talked to some ILP volunteers who took the leap to this particularly unique vacation spot.
Exploring The Desert

A Place To Stay

Places + Things To Eat

Helpful Tips

Getting To Ordos
Exploring The Gobi Desert
Also known as the Singing Sand Ravine, this section of the Gobi desert is a huge pull for those wanting a really unique China experience, and you can really only have that experience if you vacation in Inner Mongolia. Here are some of the highlights of this part of China:
Hang out with camels (!!)
Have a photoshoot on the dune
Go sand boarding in the Gobi desert
Explore places not too many tourists get to experience.
Here's some help on how to make it happen.

Heading To Singing Sand Raving (The Xiangsha Wan)
First you'll need to take a bus from the Kangbashi district of Ordos to the Dongsheng district. It's the same city, just the two halves of Ordos are split and separated. You can catch this bus to the long-distance station in Kangbashi (ask around if you're not sure).
At the ticket counter, you'll need to get 35 Yuan tickets to 响沙湾 (Xiangshawan, the Singing Sand Ravine).
You can also get a ticket at the counter for ¥20 to 达拉特旗 (Dalateqi, the nearest town to the desert, 达旗 Daqi for short), which is what happened to this ILP group. You'll find in China that there are often people at bus stations who will help you arrange your transport. After being dropped off in Daqi, there was a taxi waiting to take them into the desert.
Inside The Dunes
You can pay for mini excursions like camel treks, sandboarding, and other adventures out on the dunes, but as Megan said, they just hung out in the sand and took some amazing pictures.
The Xiangshawan is actually a huge resort complex. If you wander in deep enough, you'll find yurts and pools, play grounds and hotels that really liven up in the high season (May to September). While it's rather pricey to enter the resort and take part of the activities (cable cars can take you around, but plan on paying around 130 Yuan), the area is so photogenic you might just want to hang around and take pictures.
Getting Back
You will need to double check your bus drop off to make sure you have the return times ready, or hope that you can get a security guard to call you a cab to take you back to a city where you can get a bus back to Dongsheng. Megan's group was able to get a security guard to call them a taxi, and made sure the bus from Daqi to Dongsheng waited for them, before getting a bus back to Kangbashi.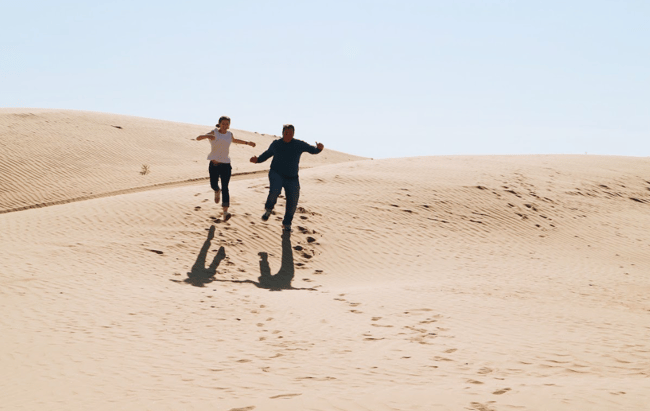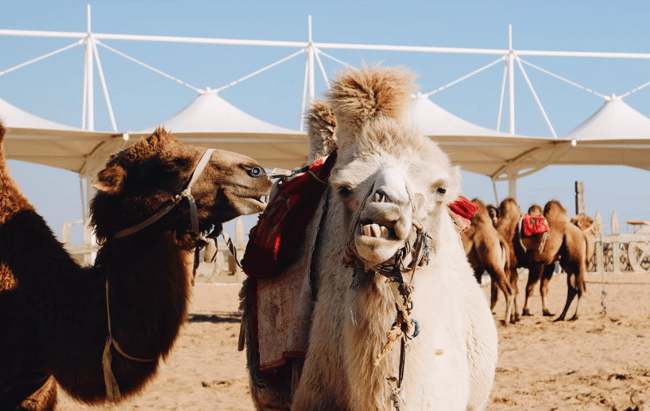 Other Things To Do
Enjoy The City
Here's what Megan had to say: "Ordos is fascinating because almost no one lives there, so it's oddly quiet and feels deserted, and a lot of buildings have been left unfinished. Enjoy the peace and quiet while you can before going back to 'real China' with its millions of people. If you see something cool, go check it out. Honestly that's what we did and it was the best vacation ever."
Walk Along The River
The Wulan Mulun River winds its way through the semi-deserted city, making it an ideal place to just wander around. This ILP group found a huge Buddha statue, some cool murals, a pagoda perched atop a hill.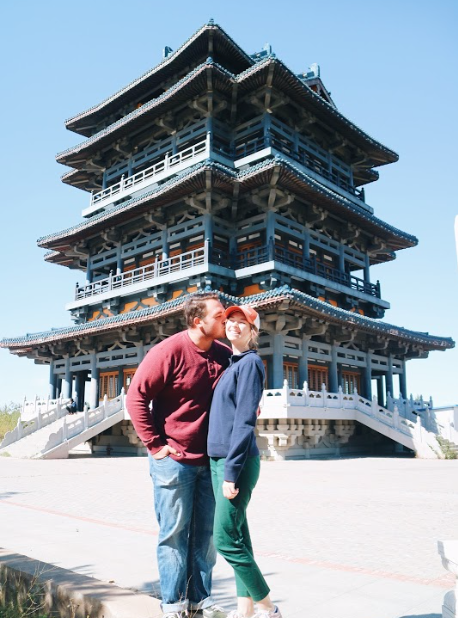 Visit The Museum
Megan's instructions? "Find the funky wobbly-shaped building in the middle of the city". Ordos is actually an architectural marvel, made even more interesting because the city is built for millions, yet barely 100,000 live there. Anyways, the museum is free to enter with your passport, and you can spend a couple of hours exploring the history between Mongolia and China.
Here's the name in Chinese to help you find it : 鄂尔多斯博物馆
Visiting A Few Parks
Best to start from the main square which is called Genghis Khan Square (peek the statues of horses in the center as a reference to the nomadic nature of Mongolia's past). Anyways, you'll walk directly toward the river and cross over to several different parks. Around 8:00 PM there is a free night light show, full of music and colored fountains that happens right on the river.
Places + Things To Eat
Grandma's Restaurant
"Near Long Yuan Hotel there is a Mongolian restaurant called Grandma's. If you're walking out the front door of the Long Yuan Hotel you will turn right, then turn right around the corner (so you've done a 180 since walking out the front door), walk straight a few blocks until you see a group of quaint restaurants on your right. The green restaurant with a wagon wheel and flower pots is Grandma's.
"The food was incredible, we wanted to eat there every day for breakfast, lunch, and dinner. We ate all the Mongolian specialties like pumpkin and camel stew, ox tongue, glazed cheese balls, millet cream, and AMSU! Amsu is a pumpkin/millet porridge best served at dinner time that now holds a special place in each of our hearts."
This Fancy Yurt
"In the shopping mall next to the food plaza is a really really cool restaurant on the 5th floor. It looks super fancy when the elevators open up, but just walk in and find the front desk and ask to eat in one of their yurts! I think the yurts are only available upon reservation. We walked in around noon and made a reservation for 6 that night."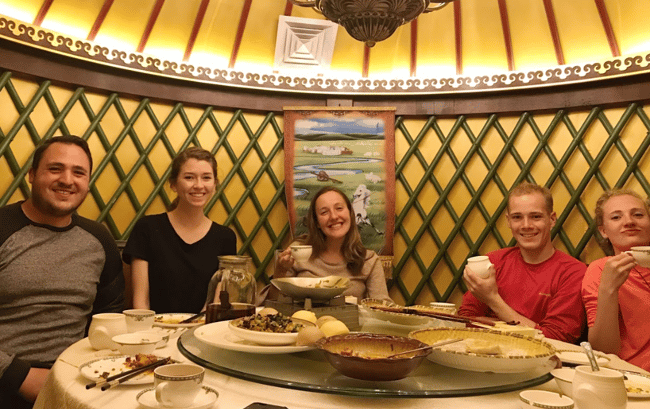 The Food Court
In the mall in the center of town find the food plaza next to the mall. Inside, you'll find an awesome food court on the 3rd floor. Go up the escalator and you'll find a little stand facing you a bit to the left. Just find the flat-buns on display, with a red sign overhead. Megan and her group tried the egg and meat sandwiches for breakfast, and loved the brown sugar buns which were "amazing".

YUM!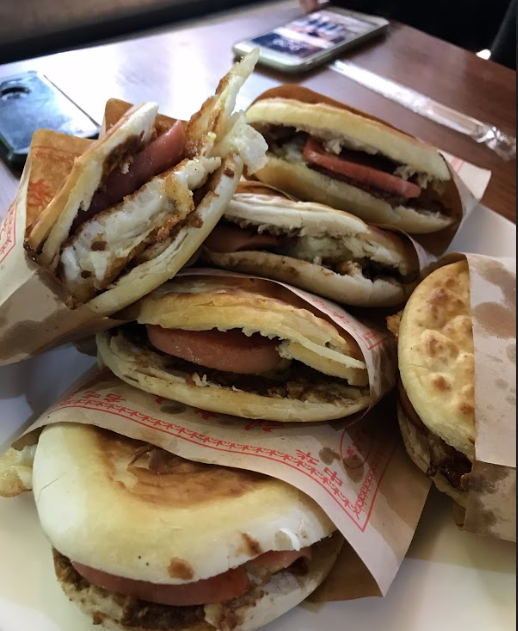 A Place To Stay
Megan and her group booked a place on Booking.com in an apartment, but their taxi driver was pretty confused why they wanted to go there … turns out the apartment doesn't exist! Oddly enough that seems to happen occasionally in China, where there are false reports of places to stay. Look for recent reviews from a variety of people (families, traveling for business, there with friends). Reviews that include specific facts (you can use Google Translate) or pictures of the room are also a good way to authenticate a potential reservation.

It took the group some time to find a hostel or hotel that would take foreigners (some are for locals only which you'll find other places in China) but they did find Long Yuan Hotel, which is within walking distance of the city center. Get a room on the upper floors if you can! You get an incredible view. For a five person group, it was around 260 Yuan for a four night stay.
Helpful Tips
Why Should I Vacation Here?
With so many spots in China … why inner Mongolia? Megan S. has a pretty difficult point to argue with: "I would recommend this trip for alumni who have already seen the major cities, those wanting to travel off the beaten path, people who thrive in calm environments, and anyone who wants to eat Mongolian food!! Inner Mongolia has such a heavy Mongolian influence that it's easy to forget you're in China."
How Long Should I Spend?
Again, from Megan: "We spent about 5 days there and I thought that was plenty of time. Take your time. Don't rush to get from one place to the next."
Ordos Is Pretty Spread Out
The main district Megan and her group hung out in is called Kangbashi, though there are other attractions and such in Dongsheng. But to give you some perspective, it takes about an hour plus to reach Dongsheng which is about 40 km away. You'll want to map out the things you want to see just to make sure it's all in the same district or you have ample time to travel to the district you're wanting to explore.
It's Not A Huge Tourist Attraction
Unlike the huge cities like Beijing that tourists flock to, Ordos is definitely off the beaten path. Megan's group had Garrett, who spoke Chinese which ended up being really helpful when it came to affirming direction, asking about opening hours, or other details.
You don't have to speak Chinese to volunteer in China with ILP (the majority of our volunteers don't!), but in a place like Ordos, you will rarely run into people who speak English.
Dress For The Weather
This trip happened in October, where temperatures were already in the 40s and 50s. You'll want layers to help you stay cozy if you're visiting in the fall, winter, or spring, but this place gets into the high 80s.
And A Huge Thank You
Big shout out to @meganshumwayy (and her fellow travelers Todd, Garrett, Taylor, and Halle) for all of the info that helped write this post and for the fantastic photos!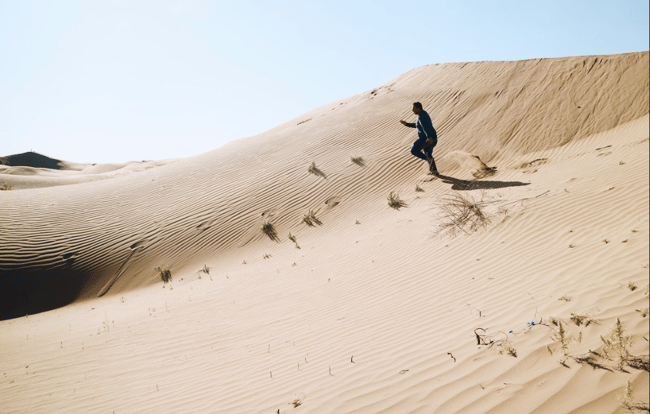 Getting To Ordos
Our group of volunteers headed out from Weihai, but you can replicate their itinerary once you land in Ordos. From Weihai, you can take a van to Yantai which is a bigger airport hub (plan on 100 Yuan per person for the van).
You'll want flights from your airport (Yantai, in this case) to the Ordos Ejin Horo Airport (DSN). For all of our volunteers in China, booking plane tickets on Trip.com seems to be the best method. It's in English, you can pay on the app, and have your tickets on your phone.
Here's what Megan S. said, "Landing in Ordos was kind of shocking because the land is so flat and there is literally nothing in sight, just the yurt-shaped airport. No tall buildings, no bustling locals, just grass and sky for miles." Certainly a shock from the huge sprawling cities you might spend another vacation!
Getting Around Ordos
You can grab a taxi to where you are staying from the airport. Be prepared for a few questions … it's not a common tourist stop for a lot of people, though they are certainly hiding some of China's best kept secrets. If you can read Chinese, use 高德地图 Gaode Ditu, which is China's version of Google Maps. Apple Maps usually works as well, too, but Gaode Ditu was really helpful when figuring out what bus to take to places.
You can also take a bus to get from the airport to the city. There's a shuttle that will take you from the airport to Kangbashi, which is the main district (and probably where you'll want to book your accommodation). Shuttles are 15 Yuan, and run pretty much all day, every hour or so. It takes about an hour to get you from the airport to Kangbashi.
The tourist center will also be helpful: In the city square of Ordos (Kangbashi), there's a tourist center in the city square where you get a map and some more details about the tourist attractions in the area. Look out for the little yurt-like building.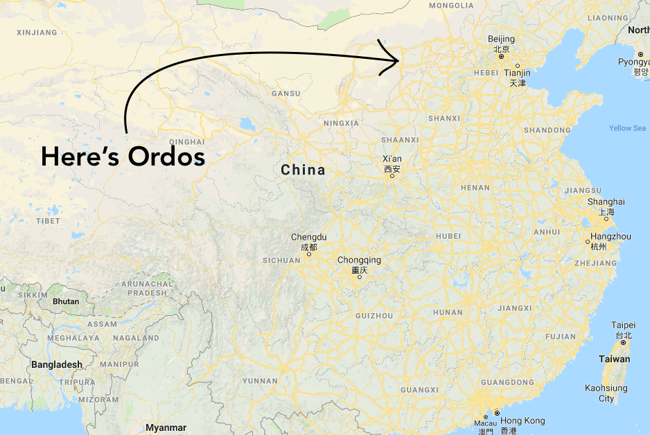 Dying to see this all for yourself?
ILP sends college-aged volunteers abroad to teach English and vacation around China for a semester. You're set up with an ILP group to teach and travel with, which is pretty much the ideal set up for experiencing everything you'd like to explore in China.